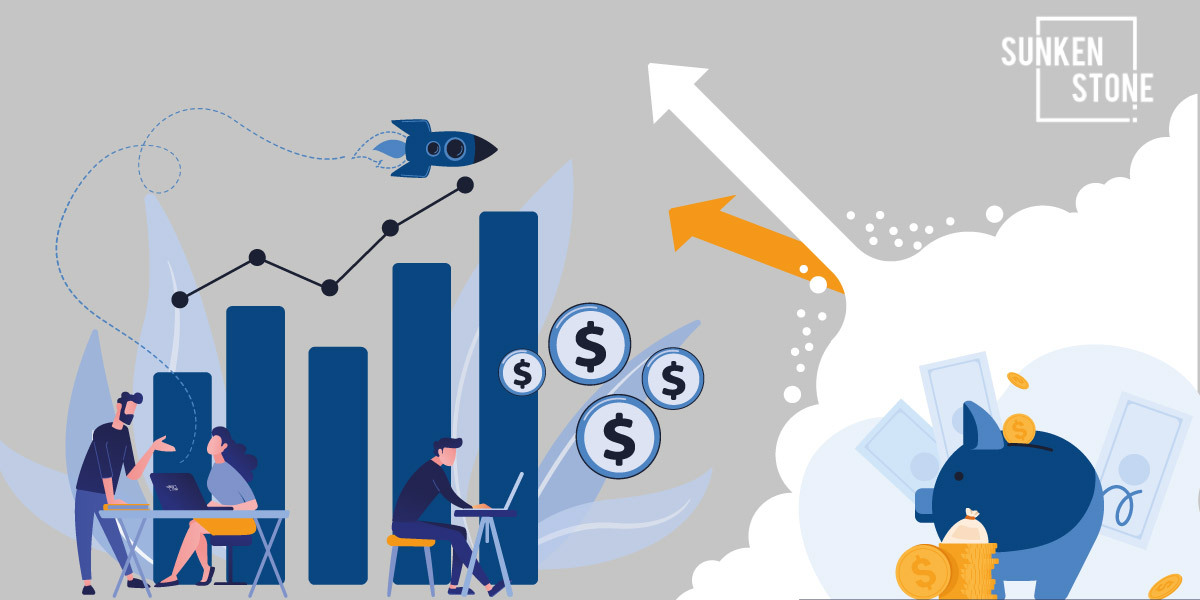 Why Sunken Stone? 10 Great Reasons To Work Together
How can you grow your brand on Amazon with Sunken Stone? We're all for delivering consistent growth to consumer packaged goods brands looking to implement or optimize Amazon as a sales channel. That's why it's time to reintroduce ourselves by answering the question, "why Sunken Stone?"
So, why work with Sunken Stone rather than any of the other Amazon Marketing Agencies out there?
It's our holistic approach to growing an Amazon brand that helps grow our partner's businesses, by focusing on a wide range of services. When it comes to selling on Amazon, success depends on more than just PPC, listing optimization, keyword rankings, and customer service.
Instead, brands that succeed on Amazon understand that it's about a successful combination of marketing, advertising & branding strategies working together in harmony, both on and off the platform.

And with that comes customized technology that supports all the important KPIs & business metrics you need to monitor in order for your brand to succeed. That's why Sunken Stone focuses on scaling retail businesses by helping brands create or improve their Amazon sales channels.
With that in mind, let's discuss why an Amazon Marketing Agency like Sunken Stone might be the right call for your eCommerce brand.
How Can Sunken Stone Expand My Business On Amazon?
If you have made the decision to implement or optimize Amazon as a sales channel, congratulations! Now, there's a lot of work to complete if you want to make this endeavor successful.
By the time you're done, you'll have spent more time on marketing than anything else in your business. That's why it's vital for brands to invest in an Amazon marketing agency with extensive experience in helping businesses build successful presences on Amazon.com.
>> REQUEST A FREE PROPOSAL: Take 30 seconds to request a proposal and receive a customized roadmap to skyrocket your sales, beat your competition & make your brand thrive on Amazon.
What's So Special About Working With Our Amazon Marketing Agency?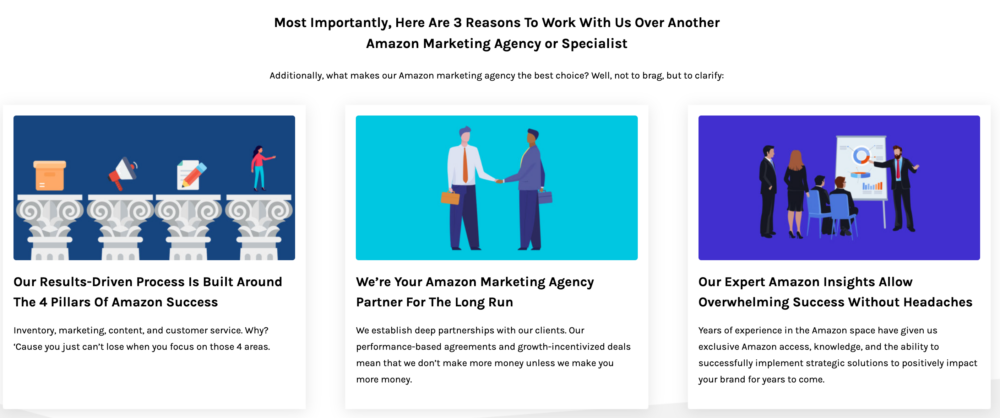 One of the most frequent questions we hear is, "how can your Amazon agency help my business grow on Amazon?" The truth is, when it comes to Amazon management services, our team at Sunken Stone has you covered.
Why Should CEOs & COOs Work With Sunken Stone?
Sunken Stone is the solution for all of your headaches while growing your Amazon sales channel. But why Sunken Stone? CEOs and COOs have several options to select from, including:
Doing Nothing
Doing nothing is the best option if you want other brands to outpace you on Amazon while losing hundreds, if not thousands, in revenue. Obviously, your brand can't afford to ignore Amazon as a sales channel if you want to diversify your revenue streams and maximize profitability.
Expanding Your Brand On Amazon Using An In-House Team
The first option that makes sense for some companies is using an in-house team to grow your brand's Amazon sales channel. However, expanding your brand using an in-house team comes with significant risks.
Growing your Amazon sales channel in-house makes your brand dependent on a single point of failure. If your team members leave your company or your organization hires the wrong individual, this will set you back valuable time and money.
Working With A Consultant Or Solopreneur
Another option is to work with a consultant or solopreneur. Going this route is typically very costly and slow, especially if the Amazon sales specialist is in high demand. As the solopreneur's business expands and they win new clients, their work quality will suffer, which can harm your brand's expansion.
Hiring An Enterprise Agency
Alternatively, your brand can hire an enterprise agency, which typically delivers good results at a steep price. Enterprise agencies are exceptionally slow at building and growing Amazon sales channels, which is the most expensive option for your brand.
Growing With Sunken Stone
Finally, you have the option to work with Sunken Stone as your Amazon Marketing Agency. Why Sunken Stone? We're going to build and expand your brand's Amazon sales channel better, faster, and at a more competitive rate than any other option.
We have backups and processes in place and can ensure that your brand is always our primary focus. With a team of nearly 100 employees, we'll always take care of your brand and help it grow without the risk of high costs or central points of failure.
Benefits For Marketing Vice Presidents
Marketing VPs also decide to work with our team at Sunken Stone instead of hiring in-house for several reasons.
First, VPs have to deliver exceptional results for their company while also dealing with constraints. Failing to expand your organization's brand on Amazon could mean losing a bonus.
Second, if your organization doesn't have time to train employees on growing an Amazon sales channel, it makes sense to work with an experienced Amazon Marketing Agency. We already have the processes and tools in place to expand your brand to Amazon.
Finally, some organizations don't have the budget to find new hires and teach employees the latest Amazon strategies. Your company's brand avoids these issues by working with Sunken Stone.
Unlike other companies out there, we don't just focus on pay-per-click ads and call it a day. Instead, we take a holistic approach to expanding your brand with Amazon. We have experience with every marketing lever your business needs to build brand awareness and create steady, long-term growth.
Why Sunken Stone? We're The Data-Driven Technology-Led Amazon Marketing Agency Your Brand Needs
Our strategy to build your brand on Amazon with Sunken Stone begins with a proven process centered on 4 Pillars of Success—content, advertising, inventory management, and customer service. This strategy is how we're able to generate a 3-to-1 ROAS on Amazon Advertising (among several other benefits).
While partnering together, we'll use specific turnkey solutions that deliver results, while saving money, time, and effort that your brand can direct on more essential tasks. It's how we provide such exceptional service for your brand and for your customers.
And with so many tasks to complete as a brand on Amazon, it makes sense to work with those who can manage every step of selling on the most dominant online marketplace.
Brand Building On Amazon Is About More Than Running PPC Ads
Don't settle for an agency whose idea of growth on Amazon is limited to running subpar PPC campaigns or one with a focus on the dollar amount your brand spends on PPC. Without focusing on the other tasks that establish your brand, chances are your Amazon advertising will only lead to increased ad spend.
Why Sunken Stone? We help our clients create marketing plans, build review funnels, and generate sales while focusing on every task in-between. Aligning your brand with our values and processes here at Sunken Stone will move your brand one step closer to turning Amazon into a multi-million dollar sales channel.
We're not going to lie and say there isn't a lot to learn while expanding your brand to Amazon. It's part of the reason why Sunken Stone works with brands that want to know how to grow their business using Amazon. But it isn't always easy.
It requires constant work and collaboration to achieve our goals and deliver consistent growth. But don't worry—we'll guide you through every step along the way. And your company can decide how involved you'd like to be, whether you need us to manage your whole Amazon sales channel or improve your team's existing Amazon operations.
Don't just take our word for it. Since every brand is on its own journey, let's look at 10 reasons you should work with an experienced Amazon brand management agency like Sunken Stone.
Here Are 10 Reasons Why Sunken Stone Is The Amazon Marketing Agency To Work With
Why Sunken Stone? Not to boast or anything, but there's a lot that Sunken Stone offers that other agencies just can't match. And since we're not into the fluff, let's just jump into the reason you're here—to understand how your brand benefits from working with an Amazon agency like ours.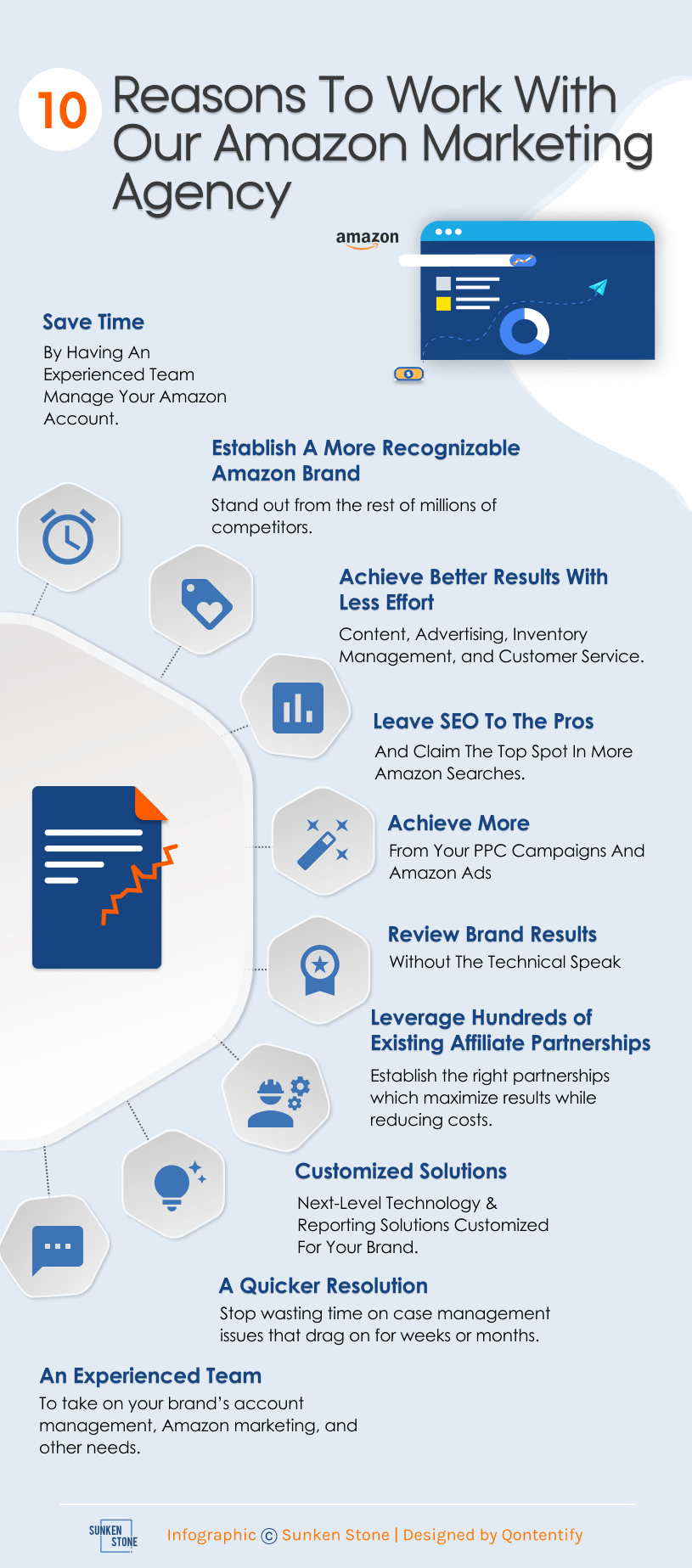 Why Sunken Stone Reason #1: Save Time By Having An Experienced Team Manage Your Amazon Account
The feeling of generating sales, building brand recognition, and fulfilling products on Amazon is spectacular. But you know what isn't so fun for brands selling on Amazon? Account management. Knowing exactly what to do next.
And that's why Sunken Stone exists.
Exceptional Amazon agencies handle all the work for you, so you can focus on building your brand and executing your plan to grow sales on other channels—while still getting an Amazon account managed by true experts who know exactly what they're doing.
No need to worry about hiring new people or training them in-depth on ever-changing Amazon policies & processes. Say goodbye to the stress of optimizing every product listing and building ad campaigns. Leave it to the professionals instead; rank your products higher, get a higher return on your Amazon investment & dominate your competition!
Why Sunken Stone Reason #2: Establish A More Recognizable Amazon Brand
Building a recognizable brand on Amazon sets the foundation for business growth. Unfortunately, it's difficult to establish a brand that stands out from the rest when millions of competitors are actively looking to steal your market share.
An exceptional management agency understands how to take your brand's cohesive style and tone from all channels—including social media pages, website content, and product descriptions—and turn it into a winning branding strategy on Amazon.
This is how Sunken Stone grows brands on Amazon: we work together with clients to identify their goals then use our proven process to help them execute flawlessly on Amazon. We believe in offering an experience unlike any other agency because what good are marketing services if they don't deliver real business results?
Why Sunken Stone Reason #3: Achieve Better Results With Less Effort
We can guarantee that whoever came up with the saying, "if you want it done right, do it yourself," never worked with an exceptional Amazon agency.
When you operate a consumer product brand that earns anywhere from $1 million to $40 million in revenue, you simply cannot complete all essential business tasks alone. For this reason, selecting the right partner to manage your brand's presence on Amazon becomes even more important.
The same can be said of transitioning your retail brand online, improving the growth of your existing Amazon CPG brand, or adding Amazon as a new revenue stream for your existing online brand. It takes a team to manage every step of the process to earn consistent revenue on Amazon.
Would you rather have one with decades of experience, or a team that's just learning the ropes? When you partner with the team at Sunken Stone, we use a variety of tools and processes to deliver better results with less effort. All our efforts are guided by our focus and commitment to the four pillars; content, advertising, inventory management, and customer service.
Why Sunken Stone Reason #4: Leave SEO To The Pros And Claim The Top Spot In More Amazon Searches
Monitoring the competition, locating high-traffic keywords, and grabbing customer attention on Amazon are all tasks that require skill and knowledge to utilize correctly. Breaking the rules or failing to focus on Amazon SEO can dampen customer interest and reduce brand sales, even if your business produces wonderful products.
So, what types of Amazon SEO practices can help brands like yours? Here are a few tasks that an Amazon agency can handle for you:
Optimizing Keywords Within Product Titles And Descriptions
Adding High-Quality Images
Monitoring And Adjusting Prices To Stay Competitive
Improving Product Branding To Differentiate Your Products From Competitors
Understanding these processes, and many other SEO best practices lead to improved brand visibility across your entire product lineup. And when you have more visibility on Amazon, your brand also benefits from increased traffic and higher sales.
While conducting keyword research and making slight adjustments to product descriptions may seem like tedious work, it delivers huge results to brands that want more attention and sales from customers on Amazon.
Experienced brand management agencies like Sunken Stone study all the newest changes to Amazon SEO. Our experience gives your brand an advantage over the competition. It's one of the main reasons your brand cannot ignore the importance of product search engine optimization—and why selecting the wrong Amazon agency is a costly mistake.
Why Sunken Stone Reason #5: Achieve More From Your PPC Campaigns And Amazon Ads
So far we've discussed saving time with Amazon account management, creating a stronger brand presence, and optimizing your brand's product catalog. Now, it's time to maximize your brand's efforts by partnering with an exceptional Amazon PPC management company to scale your results.
Earlier, we (lightly) bashed average Amazon agencies that focus solely on PPC for driving growth on the world's most competitive eCommerce marketplace. How is it possible for your brand to run profitable advertising campaigns without making all the other optimizations we discussed above?
The truth is, succeeding as an Amazon brand requires you to look at the complete picture, instead of focusing only on Amazon PPC. One of the most significant benefits of working with an experienced Amazon PPC management agency such as Sunken Stone is that we understand that your brand's success requires more than a few set-and-forget ads.
That's why our team of PPC specialists provide fully-managed pay-per-click advertising campaign services which maximize ROAS, after ensuring that your brand is ready to handle the additional attention and sales. That way, you'll never throw advertising spend on products that aren't likely to convert Amazon buyers.
Why Sunken Stone Reason #6: Review Brand Results—Without The Technical Speak
Do you know when people try to sound smart and use really large words to impress others? 99% of the time, that plan backfires. Shocking, we know… 😎
Our team of about one hundred members uses a variety of tools and systems to deliver results for your brand. Thus, we promise, you'll never feel like you're speaking with a robot while discussing our performance.
Instead, you'll hear straightforward answers and non-technical speak while discussing how we're growing your brand. We care about helping your brand sell more products to customers. Thus, we'll never bog you down with the details.
Even though we're a bunch of analytic, data-loving, number-crunching nerds, we promise effective communication on where your brand is and where it will be in the future. Shouldn't it be this way with all of your brand partners?
Why Sunken Stone Reason #7: Leverage Hundreds of Existing Affiliate Partnerships
We work with hundreds of referral partners in all aspects of eCommerce operations. All our strategic partnerships help brands improve every aspect of their business. As an official Amazon partner, we'll help you establish the right partnerships which maximize results while reducing costs.
There's power in numbers, and our wonderful affiliate partnerships will set your brand's Amazon account up for success. Tap into reduced costs on everything from shipping rates, credit card transaction reductions, cash advances, and more.
Oftentimes, the amount of money we save our partners is more than the cost of our services! And that, ladies and gentlemen, is a win-win.
Why Sunken Stone Reason #8: Next-Level Technology & Reporting Solutions Customized For Your Brand
We have a collection of in-house software that we integrate with your systems. Unlock the potential of your brand with next-level technology that improves your Amazon performance.
Some tools we provide include unauthorized seller MAP monitoring and custom dashboards. We also have powerful keyword research solutions. However, that's not the only way we integrate technology into your business. We even make custom technology solutions that increase your business ROI. A few of the tools we can integrate with your brand include:
Amazon Reseller Management Software
Custom Amazon Sales And Metrics Reporting Software
Amazon Seller Alerts
Amazon Agency Commission Reporting Software
Automatic Amazon Catalog Backup Software
Amazon Review Funnel Landing Page Creation Software
Business Intelligence Connections – which connect data from other tools like Tableau, Qlikview, and other software.
With your own custom solutions, your business can say goodbye to frustrating technological problems. Instead, your business will say hello to integrated business technologies that streamline operations.
Why Sunken Stone Reason #9: Receive A Quicker Resolution To Case Management Issues
Stop wasting time on case management issues that drag on for weeks, or never even get resolved at all. As an Amazon Partner, we have access to insiders in Amazon who can handle and resolve any account issue quickly. By partnering with Sunken Stone, case management issues won't cost your brand valuable sales.
There's nothing worse than an error notification on Amazon. They occur while attempting to upload products, improve product descriptions, or complete tasks on your to-do list.
When your team needs help resolving an issue, we'll send your case management ticket to the right person. After all, your listings should be live and generating sales, instead of sitting behind unknown website problems. Working with Sunken Stone is an easy way to take control of the Amazon marketplace.
Why Sunken Stone Reason #10: Work With An Experienced Team That Can Handle Your Workload
Why Sunken Stone? The team at Sunken Stone is ready to take on your brand's account management, Amazon marketing, and other needs. We're the right partner for your business because we've been Amazon experts since 2008.
With over a decade of experience, we understand the Amazon marketplace like few companies can. Whether you're a new brand or an established one, we'll provide guidance and support to make your business successful. That's one great reason why Sunken Stone is a great Amazon Brand Agency for your business to work with.
Unlike working with one-man shows, small teams, or consultants, we have over 90+ full-time employees. Our employees dedicate their time to your success on Amazon from day one. Your brand will benefit from our proprietary processes and standard operating procedures. These methods deliver the highest return for your brand on Amazon.
Experience The Sunken Stone Difference
Why Sunken Stone? With our team's years of experience, we understand how important it is to select an exceptional Amazon brand management partner. Do you want to bring your consumer packaged goods brand to Amazon? Is it time to enhance your existing Amazon sales channel? If so, we can help.
So, how do you start the process? Begin by taking our Amazon Success Quiz. It will ensure that your brand is ready to compete on Amazon. Alternatively, schedule your strategy call to see if your business is ready to compete with top eCommerce sellers.
We look forward to discovering information about your brand while finding solutions that grow your business. And we also can't wait for you to learn why Sunken Stone is the right choice for growing your Amazon sales channel.
Request A Free Proposal
Are you tired of losing sales to your competition on Amazon? It's frustrating for otherwise successful brands to underperform on the leading eCommerce platform.
Sunken Stone will help you find a solution to increase your profits on Amazon. Click "Request My Proposal" below to receive a customized roadmap to beat your competition and uncover new areas of opportunity for increasing sales.