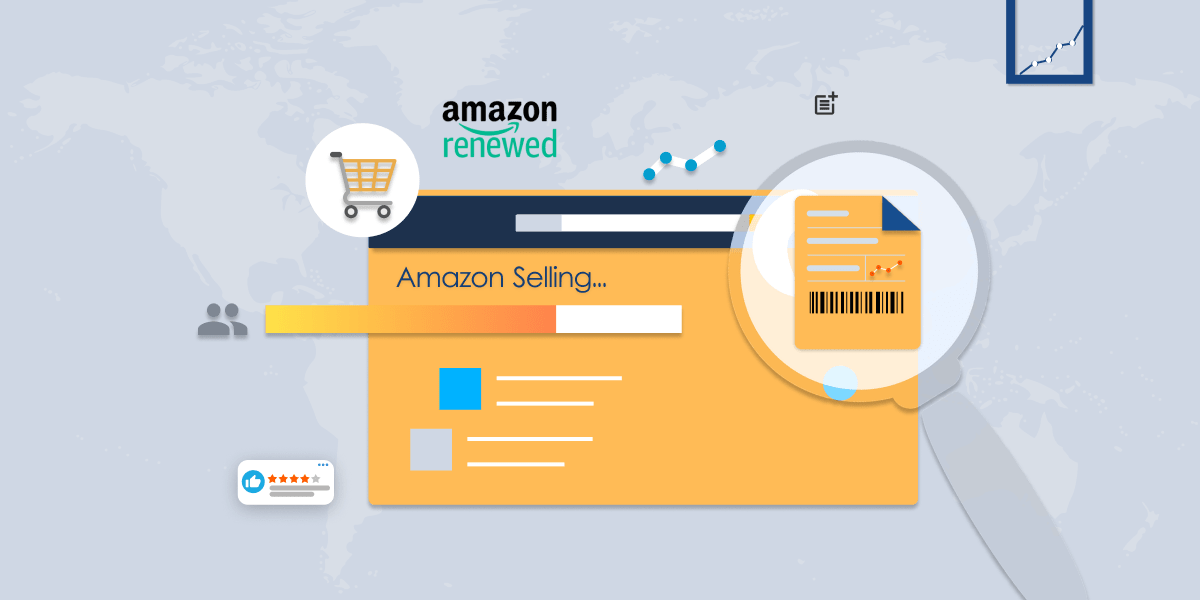 The Sellers Guide To Amazon Renewed: How The Program Works In 2022
Amazon Renewed is an exciting new program that will help Amazon Sellers to sell more products and generate more revenue aside from their current inventory. The program is designed for people who want to invest in their business with the goal of making a ton of money by selling on Amazon.
Amazon Renewed is also perfect for sellers looking for ways to grow their business, increase sales, and make a name for themselves in the renewed marketplace.
In this blog, we're going to talk about why Amazon Renew might be right for you and what you'll need to get started.
>> TAKE THE SUCCESS QUIZ NOW: This 2-Minute Quiz Accurately Predicts Whether Your Brand Has What It Takes To Succeed On Amazon Today
What Is Amazon Renewed?
Amazon Renewed is a program that was designed to help Amazon sellers increase their sales and revenue. It's perfect for sellers looking to invest in themselves, grow their business, or make more money on the platform aside from their current offerings.
The products accepted through this program are items that have been used by consumers but were sent back because they didn't meet expectations, which may fall under the categories of:
Open-Box: Open-box products are unused items that may not have met expectations. However, the products are still brand new and work as advertised. They may not include the original packaging.
Pre-Owned: Pre-owned items have been used before but have had no issues in functionality. These products tend to have a longer shelf life because there were no defects to begin with.
Refurbished: Refurbished products typically had some type of issue, such as faulty wiring or a damaged part that prompted a customer's return. With refurbished products, sellers must fix them, so that they function as good as new.
Amazon renewed products may have minor issues such as dents or scratches but are generally in excellent condition. These unused products then undergo rigorous testing procedures before being sold again as "Renewed."
When customers purchase an Amazon renewed product, they can be sure that it's good as a brand new product and functions the way it should. You won't see products sold in this category that have significant defects on non-functional components.
What Qualifies As An Amazon Renewed Product?
In order to be eligible for the exclusive Amazon Renewed products, you'll need to meet specific standards set by Amazon. All products must be thoroughly tested and certified to ensure they work and look brand new.
This might include repackaging, cleaning, or replacement of bad parts.
Plus, not every product category is eligible for this distribution process. However, items in the following categories are allowed:
Smartphones
Computers
Home & Kitchen
Tools
Smartwatches
Gaming
Tablets
Cameras
Lawn & Garden
Office Products
Home Entertainment
Headphones
Unlike other selling processes, sellers must have the inventory before selling through the Amazon Renew program, which means it's essential to pick the right category of product.
How To Join Amazon Renewed
If you're ready to join the program, it's easy to get started. There are only a few steps you need to complete to become a part of the program, which we've listed below.
Step #1: Sign Up To Become An Amazon Seller
If you're not a seller on Amazon already, you'll need to sign up in order to become eligible for the program. Simply log on to Amazon's website, and apply to create a seller account. You'll need to fill in some information about yourself, as well as tax information and bank account info, to get started.
Step #2: Read Through The Program Qualifications And Apply
In order to join, you'll need to provide proof of at least $50,000 in qualified refurbished purchases within the last 90 days of your application, an ODR of 0.8% or less, and agree to back your products in accordance with the Amazon Renewed Guarantee.
Once you've ensured that you meet this criterion, you can apply through the Amazon Renewed program page.
Step #3: Start Selling Your Products
Once your application has been approved, you're able to start selling your pre-owned inventory by adding the items to your existing listings. With this program, you can either use FBA (Fulfilment by Amazon) to complete your orders or fill them yourself.
Advantages Of Using Amazon Renewed
Reach More Customers
Once you've established yourself as a legitimate seller, Amazon Renewed will help to widen your customer base by increasing the visibility of your listings and products. Additionally, customers can be sure that they're buying from a trusted source who is committed to quality assurance with this program.
Set Yourself Apart From Your Competitors
Not everyone is eligible to become a part of the Amazon Renewed program. If you get accepted, you're part of an exclusive group of limited sellers.
If you have the Amazon Renewed product approval accompanying your products, it will help to ensure you're standing out from your competitors selling similar products. Plus, you'll be able to sell more of your returned products that you might not have been able to sell otherwise.
Grow Your Refurbished Business
The refurbished market is estimated to be worth more than 10 billion dollars! If you've considered starting a refurbished business or have tons of returned products you want to get rid of, the Amazon Renewed Products program is an excellent opportunity for you.
Disadvantages Of Using Amazon Renewed
FBA Pricing Restrictions
The one downside to using FBA for amazon renewal items instead of filling them yourself is the limitations on pricing. In order to participate in both programs simultaneously, sellers must offer their inventory at or below 5% of the price of new products in the US (or local currency equivalent) or list it in preowned condition internationally. This can have an impact on how much you'll end up making from your products.
Competition From New Products
While Amazon will add you to their catalog of Renewed products, that doesn't mean that you won't have any competition from new products. When customers search for the product you sell, they'll be listed along with new versions, which may pull customers away from buying a refurbished product.
Big Commitment To Get Started
Not only must you be sure of the category of product you want to sell, but you'll also need to buy a large inventory of it before even being considered for the program.
You won't be able to even apply to the Amazon Renewed program without having at least $50,000 for qualifying refurbished purchases in the last 90 days before your application date, which may not be feasible for every seller.
Thankfully, if you're an Amazon FBA seller, you'll already be eligible to participate in the program.
Is Amazon Renewed Worth It?
To figure out if Amazon renewed is worth it for your Amazon business, you'll first need to consider your Amazon seller goals and objectives. Do you want to focus on reselling products, or does it make more sense to expand your current product line to find the growth you need?
It's essential to consider your brand and how you want your business to be portrayed. If you're not sure if this is the right move forward for your brand, you'll want to consider working with a brand professional at Sunken Stone, a top-tier, results-driven Amazon marketing Agency for growing eCommerce brands today.
Request A Free Proposal
You're not alone. Many businesses find it difficult to scale on Amazon. That's where we come in. We are a full-service, technology-driven Amazon Services agency focused on driving results for our clients..
We have a proven 4-pillar process that helps businesses achieve higher sales, AOVs, ROIs, and other 3-letter acronyms. Let us show you how we can help you achieve the same success. Click below to request a free proposal.
---
FAQ For Amazon Renewed
What Is The Renewed Guarantee?
Amazon's Renewed Guarantee allows customers to access free troubleshooting and claims through a single point of contact at Amazon. Plus, they'll be able to return the product within 90 days with receipt of purchase and can either receive a refund or a full replacement.
What Does Renewed Mean On Amazon?
Amazon renewed products are a one-stop-shop for all open-box, refurbished, and pre-owned items. They offer an attractive price point and are guaranteed to work just as well as a brand new product.
What Does Certified Refurbished Mean On Amazon?
Amazon's certified refurbished products are tested to ensure they work like new. These items may have been returned under warranty or simply because they didn't meet customers' expectations. They then are fixed to return the item to like-new status, even undergoing Amazon's rigorous testing process before being offered to customers.
Can I Still Sell Used Products If I'm Not Approved For Amazon Renewed?
Yes, you can still sell used products if you're not approved for the Amazon Renewed program. When creating your listing, you can label it with the "Used" condition to showcase a used program. However, it won't be offered through Amazon's Renewed program, making it harder for customers to find your used items.
Is Amazon Renewed Legit?
Yes! Amazon Renewed is a program created through Amazon that showcases items that are certified and safe to purchase. Plus, every product is guaranteed through Amazon's Renewed Guarantee, so customers can feel confident about buying any of the products featured in this program.
How Can I Make Money With Amazons Renewed Program?
With Amazon's Renewed program, you're able to make money off of used or returned products. It's essential to ensure that there is a market for the products you're going to sell and that you can purchase them at a low enough price that it yields a profit for you. Consider running campaigns through Amazon's advertising program and pricing your products competitively to increase your sales.