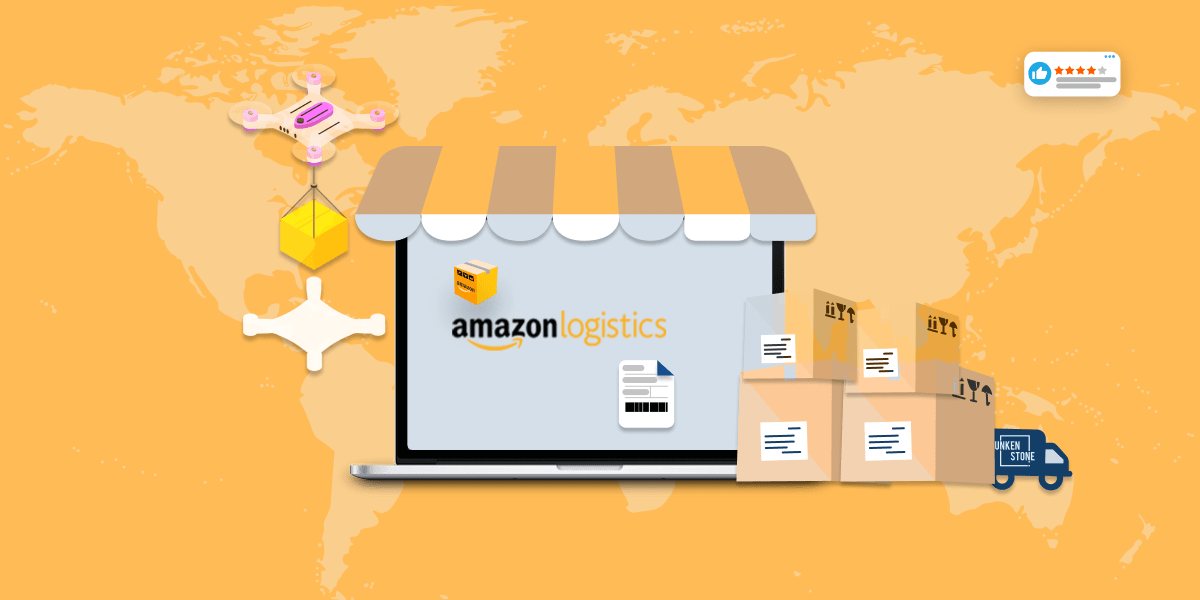 What Is Amazon Logistics? Here's What You Need To Know In 2022
Amazon Logistics is a service created by Amazon that allows business owners to receive items quickly and easily. A business can send their packages to an Amazon warehouse, and then they will be delivered to the customer's address within two days or overnight.
Is this great news for Amazon sellers? We'll dive deeper into this topic to help you decide if this shipping strategy will work for you.
What Is Amazon Logistics?
Amazon Logistics is a service created by Amazon that allows business owners to receive items quickly and easily by using their own fleet of delivery vehicles and contracted workers instead of third-party vendors like UPS and FedEx.
Amazon logistics shipping allows customers to receive their purchases faster than ever before by using a combination of motorcyclists, bicyclists, walkers, and delivery drivers, instead of having to wait for other delivery services.
While there are criteria that third-party vendors need to go through before they can become part of the Amazon logistics shipping team, including managing employees and vans, investing capital, and delivering 265 days a year, it's essential to remember that they're not actual Amazon employees.
>> REQUEST A FREE PROPOSAL: Take 30 seconds to request a proposal and receive a customized roadmap to skyrocket your sales, beat your competition & make your brand thrive on Amazon.
Is This Good News For Third Party Sellers?
In 2020 the amount of Amazon orders doubled due to the pandemic shifting customer ordering habits online. To keep up with the influx of online activity, Amazon implemented amazon logistics shipping to keep up with the volume and ensure customers get their packages as quickly and efficiently as possible.
Companies with packages that fall under Amazon logistics shipping are tracked using the code AMZL_US. These shipments are sent to a sorting facility where they can be picked up by third-party providers and shipped to customers. Amazon provides the technology needed to help with customer service and GPS instructions.
However, since Amazon deals with individuals instead of a large company, the service or delivery experience may not be up to par with your expectations. While some deliveries may go without any issue, others can be problematic.
Poor Amazon Logistics Shipping Can Lead To Negative Seller Reviews
Having a poor experience with Amazon Logistics Shipping can impact your success as a seller. While poor delivery is not your fault, customers will be able to post negative seller feedback, which can stop future customers from ordering or impact your ranking.
If you're shipping with Amazon FBA, Amazon will handle item replacement and customer support if there is an issue with a customer's order. However, that won't necessarily stop customers from posting about a negative experience.
There is no way to choose which Amazon logistics provider you get, so it's all up to chance that your buyers receive their package on time and in good condition.
Get Ahead Of Negative Feedback
The best way to ensure that you don't receive negative customer feedback is to be proactive and open the line of communication with your shoppers. You can do this in a few ways:
Thank Them For Their Order: As soon as they purchase, let the customers know that you appreciate their order and that you'll be fulfilling it as quickly as possible.
Update Them With Shipping Information: Once it has been shipped, you can

send over the tracking link

for them to follow. Let them know that they can contact you directly if they have any questions.
Ask For Feedback: After the order has been delivered, encourage feedback and reviews for their order.
By getting ahead of your competition, you're likely to ensure your seller feedback score, reputation, and reviews are safe.
Find The Branding Success You Need With Sunken Stone
While you can impact the success of your brand by understanding and being proactive with your customers, it won't fix any more significant branding issues or help you find the growth your company needs. If you want expert guidance to see the growth you need for your business, it's time to work with the professionals at Sunken Stone, a top-tier, results-driven Amazon marketing Agency for growing eCommerce brands today.
Request A Free Proposal
Are you tired of losing sales to your competition on Amazon? It's frustrating for otherwise successful brands to underperform on the leading eCommerce platform.
Sunken Stone will help you find a solution to increase your profits on Amazon. Click "Request My Proposal" below to receive a customized roadmap to beat your competition and uncover new areas of opportunity for increasing sales.
---
FAQ About Amazon Logistics
How To Ship Inventory To Amazon?
If you want to know how to ship inventory to Amazon, it's straightforward. All you need to do is go to your inventory tab on your seller central page and select the product you want to ship.
From the drop-down menu, you should be able to click an option labeled "Replenish/Send Inventory." Follow the prompts on that page, confirm where you're shipping from, and you'll be ready to send your inventory to Amazon.
How To Avoid Amazon Logistics?
There is not an easy way to avoid Amazon logistics. If you're using Amazon to ship out your products, you'll most likely have your orders sent using the Amazon logistics shipping service. If you would rather opt-out altogether, you can ship out your own packages yourself and use the carrier you prefer.
However, this means you'll have to spend more time labeling, packing, and shipping your products, instead of letting Amazon handle them. This may not be the best use of your time or guarantee better shipping results.
What Time Do Amazon Logistics Deliver?
Amazon Logistics deliveries usually arrive during the day. This is a great way to avoid making your customers wait until after work hours or even on weekends. However, there is no guaranteed delivery time, just a window of when the delivery will be delivered.
What Is Amazon Logistics?
Amazon logistics shipping service provides sellers on Amazon with a way to send their products directly to their customers in a shorter amount of time by using third-party shipping services. This alleviates the need to wait on FedEx or UPS shipping services to deliver your orders.
Why Are Amazon Logistics Shipping Experiences Inconsistent?
The only downside to Amazon Logistics is the inconsistency of shipping experiences. Customers have reported shipments arriving too early or too late during the time window, and packages being delivered without any notification whatsoever until it arrives at their doorstep. 
This is because Amazon uses third-party providers. Each provider does not necessarily provide the same level of service, which means you may have an excellent shipping experience or a not-so-pleasant delivery.