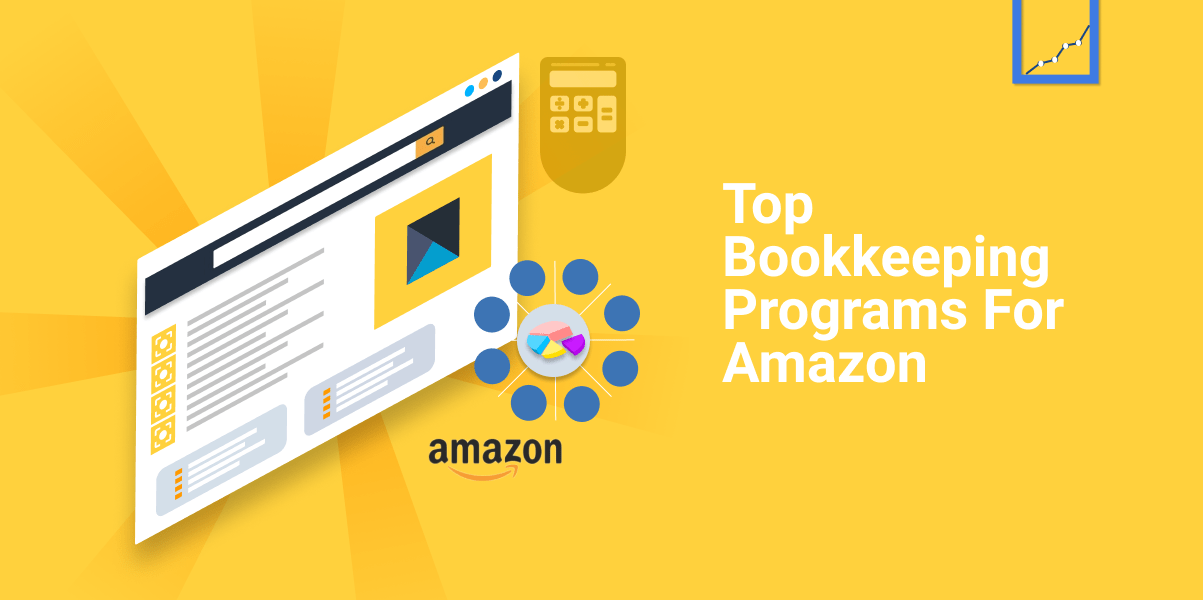 The Top Accounting and Bookkeeping Programs for Amazon Sellers
You shouldn't need an accounting background to track your sales and expenses accurately, but it's worth knowing what you're looking at when trying to make some sense of the numbers.
Let's face it, when you're tax planning, you need to have a complete picture of your operating expenses, financial statements, and income. But if you don't know how to read those numbers, you'll be lost in the weeds.
Staying on top of your brand's accounting and bookkeeping needs is a lot easier with these bookkeeping programs for Amazon Sellers:
A2X.
Taxomate.
QuickBooks Online.
These accounting tools are not only affordable but powerful enough for Amazon Sellers who have specific bookkeeping needs.
Managing an Amazon store is already difficult enough. On top of optimizations, customer service, and more, your Amazon store needs a way to measure its success.
Accounting and other bookkeeping programs have always been around, but what are Amazon Sellers' top accounting and bookkeeping programs?
Here, we break down some of the best software for Amazon sellers to manage their accounting and bookkeeping needs.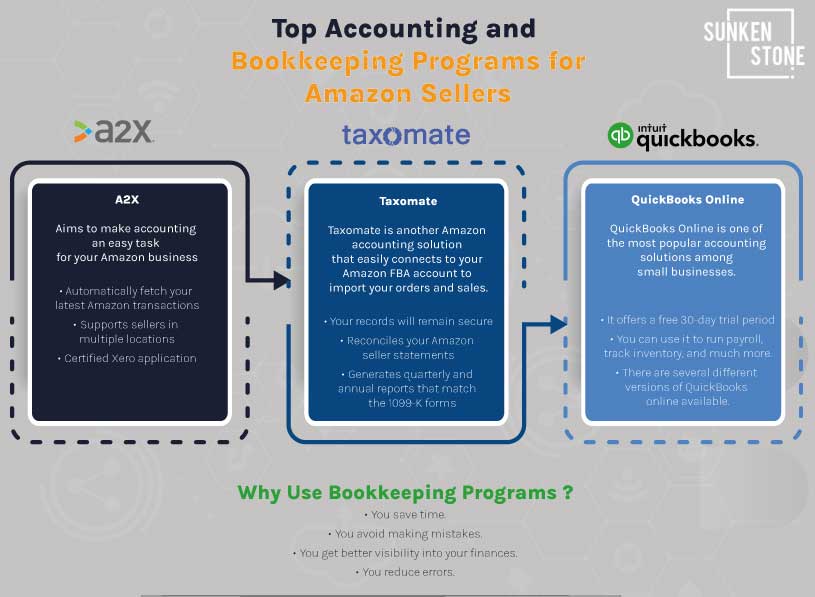 A2X
This software aims to make accounting an easy task for your Amazon business. A2X will automatically fetch your latest Amazon transactions and place them within your company's accounting program (such as QuickBooks).
(1) It's an Amazon accounting software that supports sellers in multiple locations, such as France, Australia, India, and Spain.
A2X is also a certified Xero application. Being a certified Xero application can make it easy to export your invoices and also allows you to view all of your revenue and expenses quickly through Xero. Sellers can easily configure A2X to summarize sales by product SKUs. product type, country, and more.
Taxomate
Taxomate is another Amazon accounting solution that easily connects to your Amazon FBA account to import your orders and sales.
(2) Your records will remain secure, as Amazon and QuickBooks do not share any sign-in credentials with Taxomate.
Taxomate reconciles your Amazon seller statements by importing data into Quickbooks, Xero, or the company accounting software you prefer. Sales taxes for eCommerce businesses are complex, but tools like Taxomate make it simple to manage.
Taxomate also generates quarterly and annual reports that match the 1099-K forms Amazon automatically sends to the IRS. It integrates with ten worldwide marketplaces, including Australia, Mexico, the UK, etc.
QuickBooks Online
QuickBooks Online is one of the most popular accounting solutions among small businesses. It offers a free 30-day trial period so you can test out the system before committing to a full purchase.
It's an excellent option for a business owner looking to simplify their financial reports. Because you can connect it with an assortment of powerful apps, you can use it to run payroll, track inventory, and much more. Yes, even Amazon FBA inventory management is easier when using QuickBooks Online.
There are several different versions of QuickBooks online available. The version you choose depends on how many users you need to support.
For example, if you're just starting, you may want to start with the Small Business edition. If you plan to grow your business, you'll want to upgrade to the Pro Plus Edition.
Why Use Bookkeeping Programs For Amazon Sellers?
Bookkeeping tasks such as calculating your profit margins, reviewing your balance sheet, and tracking multiple sales channels are vital for businesses that sell on Amazon.
These tasks are time-consuming and require a lot of manual work. But there's no reason why you should have to manually enter every transaction into a spreadsheet. Why not automate this process instead?
Automating your bookkeeping processes makes sense because:
You save time.
You avoid making mistakes.
You get better visibility into your finances.
You reduce errors.
Automated bookkeeping systems are designed to streamline these tedious tasks so that you can focus on moving your business along rather than manually calculating profit margins and adjusting your balance sheet.
Amazon Sellers' top accounting & bookkeeping programs make it easy to track your bank accounts, bank feeds, and credit card data. Without the proper bookkeeping services, it's difficult to have an accurate picture of your business finances.
Which Bookkeeping Product Features Are Vital For Amazon Sellers?
There is a wide range of product services that are helpful for Amazon Sellers, including:
Multi-Currency Support (if you sell on multiple Amazon Marketplaces)
Double-Entry Accounting Capabilities
Inventory Tracking
Financial Reports Creation (such as being able to create a cash flow report and other financials)
Seller Central Connectivity
Sales Tax Tracking
Sales Volume & Inventory Level Tracking
A Bank Reconciliation Feature
Which accounting software options work best for your brand depends on how you do business. For example, if your organization prefers cash-based accounting over accrual-based accounting, you might be better off with a certain bookkeeping program.
Regardless of which type of accounting solution you decide to go with, you should find one with all the features that will help you manage your business effectively.
If you're new to Amazon selling, you may consider starting with a simple accounting package first. This way, you won't have to worry about learning the ins and outs of the system before you've started generating revenue.
However, once you know what works well for you, you can move to a more advanced accounting package. You can also add additional products later on, depending on your needs.
Final Note
Managing your books on a regular basis can be strenuous. Thankfully, the performance-based team at Sunken Stone can help take care of all your accounting woes and much more.
From reporting, product listings, and taxation, the team at Sunken Stone can help you run your Amazon business on autopilot, giving you time to do what you do best.
Sources:
https://quickbooks.intuit.com/