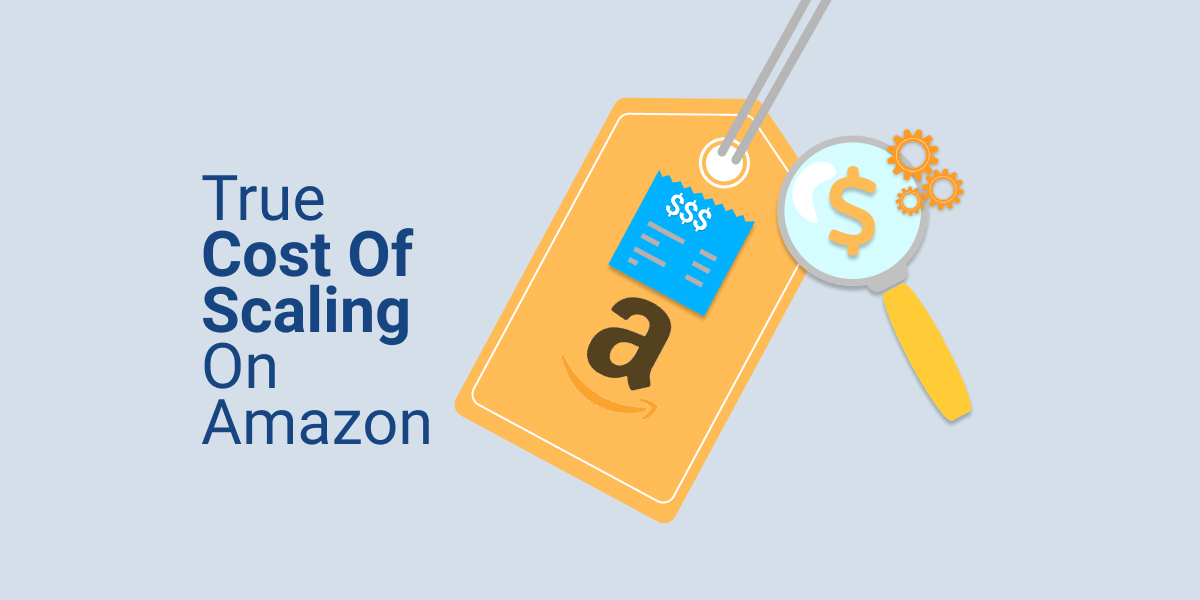 The True Cost of Scaling on Amazon
If you're looking to start selling your products on Amazon, you're not alone. Amazon now hosts nearly has over 5 million sellers on its platform (1). Selling on Amazon can seem like a daunting task for brands. After all, there's are multiple factors that make a successful brand on Amazon.
A successful brand will need to make continued optimizations, fulfill products, and much more. It's safe to say, Amazon brand management can be a full-time position.
This can lead many companies to ask whether they should hire an Amazon manager internally or partner with an Amazon brand management company. Here, we break down some things brands should consider.
Upfront Costs
Hiring a new employee can be a large expense to a growing company. On top of payroll, you'll need to worry about payroll taxes, benefits, weekend sales, etc.. One single employee could set you back as much as $75,000 per year with all things considered. In reality, you may need 2+ employees to handle all the complex aspects behind being an Amazon seller.
On the contrary, an Amazon brand management company can accelerate your Amazon presence on a performance basis.
Starting to sell on Amazon also has significant upfront software and program costs. Here are some examples of common programs Amazon sellers use:
Amazon seller tools – $50-200/mo
Email auto responding software – $50/mo
PPC management software – $100/mo
Help desk software – $100/mo
Project management software – $50/mo
Inventory management software $100-$500/mo
And much more….
Experience
Successfully growing and scaling a brand on Amazon requires experience with its complex platform. As a brand just starting on Amazon, you'll need to learn all the aspects important to becoming a successful seller.
This can include countless hours of time spent towards handling customer service issues, technical errors, and other growing pains. In Amazon's competitive marketplace, the barriers to entry are larger than most companies think. You will also need to have the experience necessary to take professional product images, optimize listings, and more.
On the contrary, Amazon brand partners can have the experience to handle all aspects of managing your brand's presence on Amazon.
Results
When searching for a person to handle your brand's Amazon channel, it can be hard to find somebody experienced to lead your brand into profitability immediately. Brand owners must also consider the opportunity cost when it comes to training and other growing pains.
The opportunity cost presented by hiring an in-house Amazon manager can be high.
Final Note
Taking the leap of faith to sell on Amazon can be a hard decision. If you're looking to end your Amazon woes, the performance-based team at Sunken Stone can help. As an Amazon Solution Provider Network Partner, our team can help your brand grow it's a presence on Amazon while allowing you to do what you do best. To learn more about our Amazon consulting services, schedule a free demo with one of our Amazon experts here.
---
Sources:
Request A Free Proposal
Are you tired of losing sales to your competition on Amazon? It's frustrating for otherwise successful brands to underperform on the leading eCommerce platform.
Sunken Stone will help you find a solution to increase your profits on Amazon. Click "Request My Proposal" below to receive a customized roadmap to beat your competition and uncover new areas of opportunity for increasing sales.