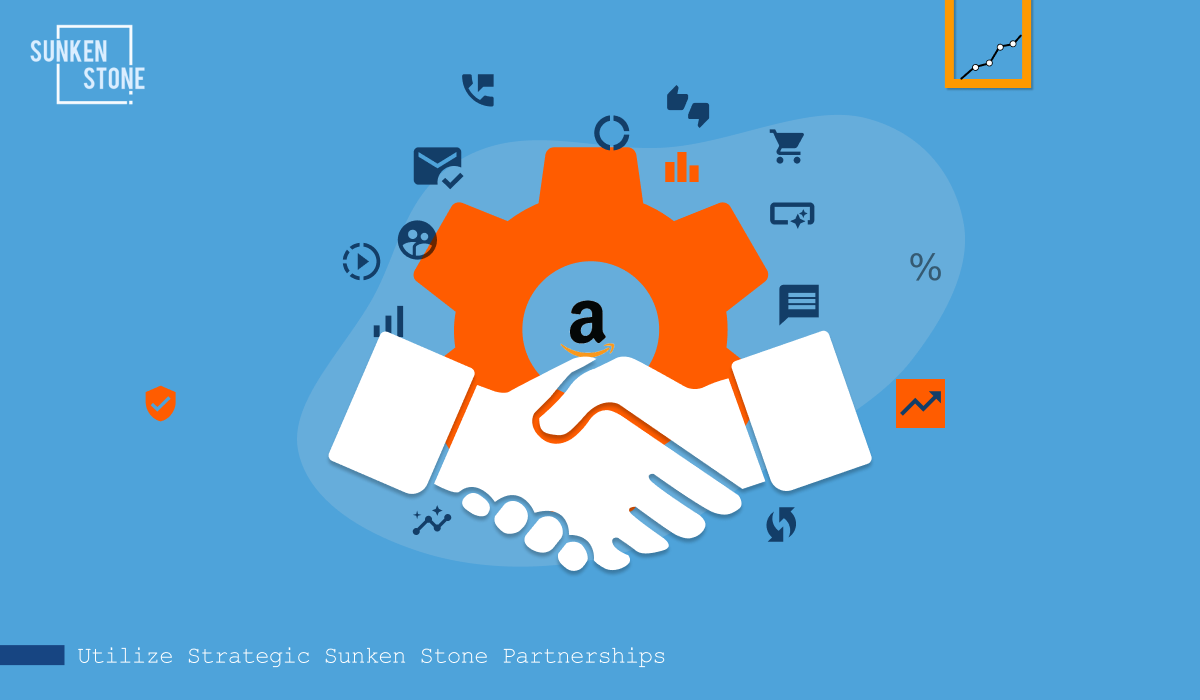 Utilize Strategic Sunken Stone Partnerships
In the constantly changing & evolving Amazon space, eCommerce brands seek strategic solutions to decrease their bottom line and make the most out of their investments in services. No matter what the size of your brand, Sunken Stone pairs deep industry experience with scalable turnkey Amazon solutions that overdeliver in performance & provide the ultimate customer service experience. Offering expert Amazon insights & next-level advantages you our clients, Sunken Stone is the ultimate strategic agency partner to expand your brand.
Our List Of Strategic Partners
Over the course of our 11+ years of managing over 200+ successful brands on Amazon, we have created strategic partnerships to provide even more solutions for our clients that will help reduce the costs of your current services.
Just tell our friends that Sunken Stone sent you and they'll take care of you.
ShipJosh – Heavily Discounted Shipping Rates (100% Guaranteed Lower Shipping Costs)
Reduce the amount you're spending on shipping by partnering with our shipper of choice. Tap into exclusive access to a huge discount on shipping rates worldwide.
Take a look at our customer login portal here.
Clickbank (Affiliate Marketing Program)
Take advantage of our partnership with Clickbank to maximize the potential of your affiliate sellers program. The best solution for brands with a low number of SKUs or a low number of "flagship products" that are best suited for a direct response program that has a specific solution for a specific need. Clickbank gives you the tools to maximize the success of your affiliate marketing efforts.
Shoot them an email if you'd like to know more.
PingPong (Discounted Credit Card Processing Fees)
Take advantage and partner with a trusted leader in global payments to take control of your profit and make the most of your money. Safeguarding more than 15 billion in capital for 750,000 customers around the world, the team at PingPong will certainly lower your credit card processing costs.
Shoot them an email if you'd like to know more.
Payoneer (Cross-Border Payments & Cash Advances Up to 500k)
Receive payments from global companies & online marketplaces with rates as low as 1%. Get paid by businesses and marketplaces in USD, EUR, GBP, JPY, AUD, CAD & MXN as if you had your own local bank account and save on conversion costs.
Shoot them an email if you'd like to know more.
Bottom Line
If you're looking to reduce your bottom line cost of selling on Amazon, please take full advantage of our strategic partnerships. More often times than not, the amount of money that our clients save more than pays for our services. Not sure where to start? The performance-based team at Sunken Stone can help. Our Amazon gurus can help maximize your potential on Amazon. To learn more about how we can help you grow your Amazon business, reach out to our head of strategic partnerships today!