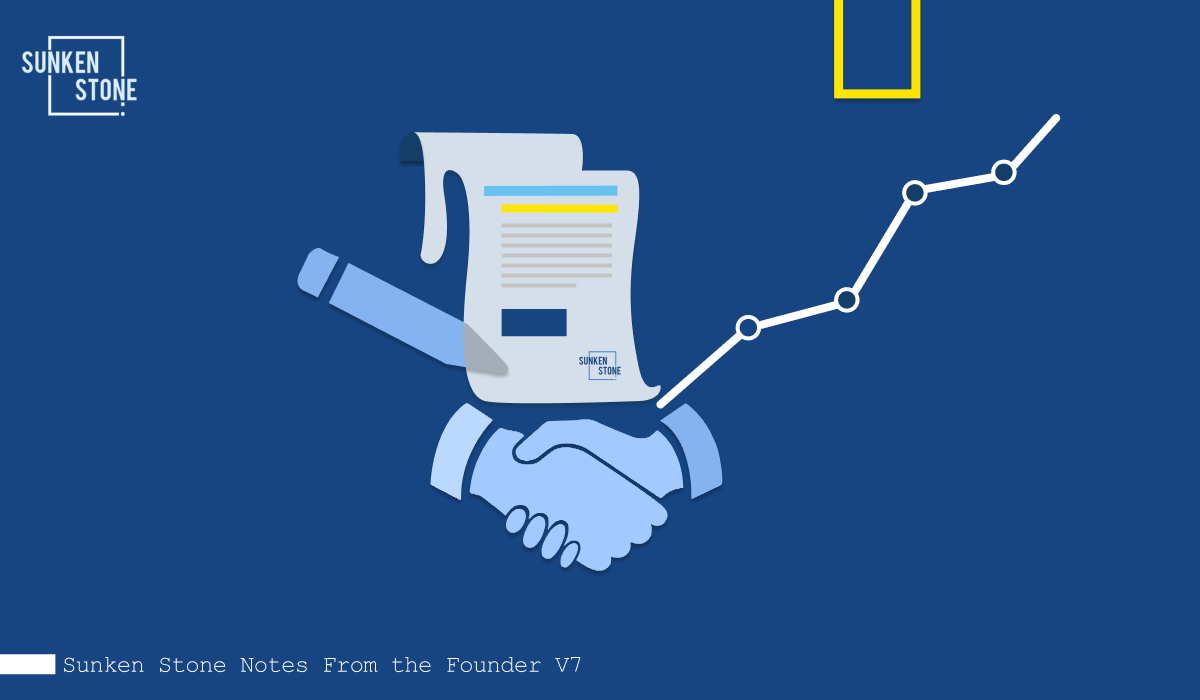 Sunken Stone Notes From the Founder V7
Notes from the founder v7- Growth, Shipping and Partnership
Hi all, Adam again and I wanted to take a moment to check in and give you an update on projects we're working on internally and talk about some high level items that myself and the leadership team have been working on for the past few months, plus a look ahead to new upcoming things on our roadmap.
First off I am excited to announce that we are hiring for multiple US positions internally (Account Managers, Inventory Managers and Customer Service Managers) This lets us keep providing great service across all our partners without having to sacrifice quality. We worked with a fractional CFO/Controller/Bookkeeper company to really dial in the growth model to ensure we're setup for success and can grow effectively. I think also putting myself in our partner's shoes, it's also reassuring to see the companies that you work with growing and staying strong during these crazy times. 
My ask! If you know any candidates that you think would be a great fit for the team, please send them our way (you can also have them apply using this link https://bit.ly/3cpGJRE). 
The second item I wanted to cover was an amazing new shipping partnership that we've finally been able to implement. An Amazon and EO contact I've had for a number of years developed the software to allow his company to aggregate and share his Amazon UPS/FedEx/USPS rates with our current partners. Previously there was no way to give individualized logins and billing for each separate account, so was not "ready for primetime." now the process is dialed in and the operations switch to your current shipping process is minimal or non-existent (as easy as swapping out an account #). 
A few of our brands have already taken advantage of this offer and are seeing savings immediately. I've personally been in ecommerce for almost 15 years and have never seen shipping rates as low as these. In fact if you take the time to submit your shipping information and you can't save money with these rates I'll personally venmo you $500. Either go directly to https://www.sunkenstone.com/shipping/ or ask your Account Manager for more details.
Another offer that some of you have take us up on is our overseas talent recruiting offer. Please feel free to utilize our in house recruiter to find quality candidates in the Philippines that can help your business grow. These candidates are really solid talent with cost savings to allow you to focus on higher level projects for your business.
Some of you have been asking about Prime Day and while we don't have anything concrete we are hearing rumors that it's going to be moved to September. Our Account and Inventory Managers are staying on top of any updates and will keep you up to date as you know things can change weekly or even hourly on Amazon.
And finally, at the direction of our EOS/Traction implementer, we will be rolling our partner surveys over the coming weeks. Please give your direct/honest feedback so that we can learn and grow from it. The implementation of EOS has been amazing as far as focus and growth internally, and we want to make sure that is reflected externally as well. 
Thank you for being a partner, and we are honored and grateful we get to work with you during these crazy times that we're living in. Let us know how we can help get you to your company and personal goals a little easier and faster. We're here for you.
–Adam