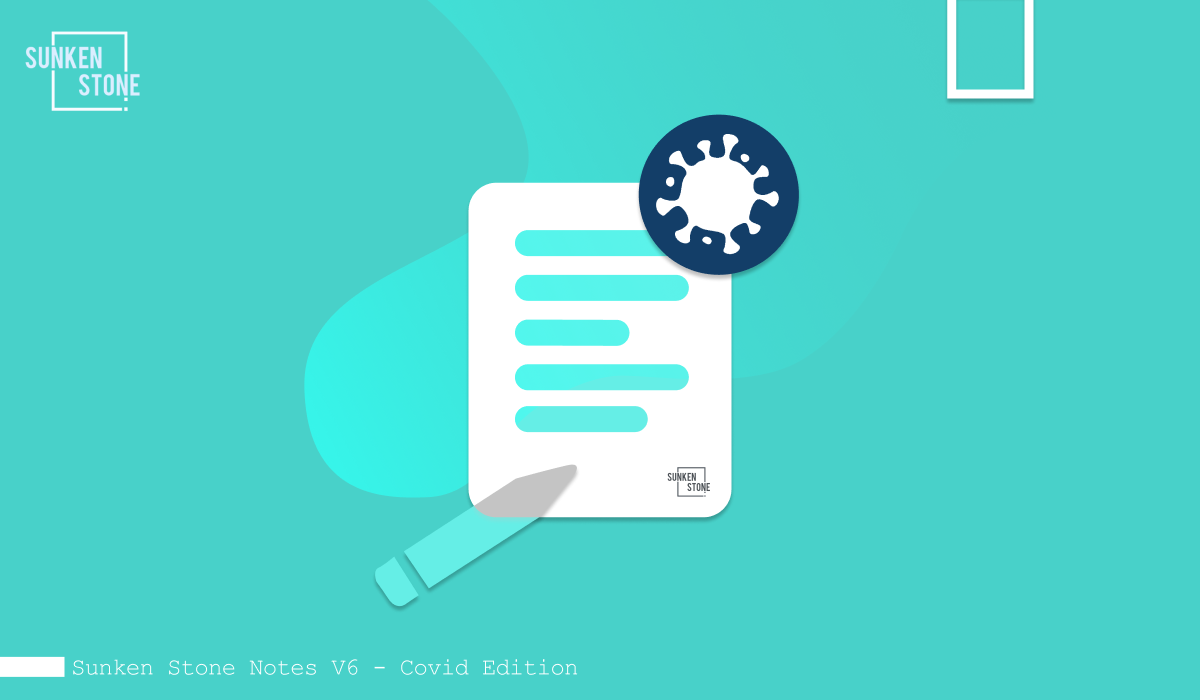 Sunken Stone Notes From the Founder V6 – Covid Edition
Sunken Stone Notes From the Founder V6 – Covid Edition
Hey everyone normally for these updates I'm giving an update on what's going on in the Amazon landscape, at our company and what we've got in store for the next quarter.
As we're fresh off of our all team and leadership off sites I would love to be giving you in-depth quarterly and yearly rocks that we came up with and give you a little peek into the future, or even a humble brag about the new baby boy I just had a few weeks ago, but I think the time now is best served talking about what seems to be on most people's minds and talking about how we plan on responding.
This crazy virus seems to be throwing a monkey wrench in the world's supply chains, our normal way of lives and definitely how we participate in this economy. Last week we gave the option to our employees to work from home, this week we strongly encouraged it and from the looks of the numbers of cases, I think most everyone will be working from home next week. Just as an FYI to all of our partner brands- this is how the team usually works during certain periods in Q4 so we're well-versed in communication and meetings while being remote.
A little note on a time that this reminds me of – I remember starting to sell on Amazon in 2007-2008 during the financial crisis and it was a weird time being around other business owners who were talking about their businesses flatlining or failing completely all the while spend dollars shifted towards Amazon and e-commerce. I think that we're in another one of those phases currently my hypothesis is that as long as power water and other crucial supply lines stay active and people can work from home, there's going to be a plethora of discretionary dollars that need to be spent somewhere and no one's going out to eat or to a concert.so far we're starting to see this across all of our brands obviously I can't share specifics but this hypothesis is playing out so far.
Now in addition to potentially increasing sales we are also facing some constrained supply chains from some of our partners and I wanted to talk about that for a second. If you see your brand heading for an inventory crunch, please contact your account managers and let us know because we can potentially pull back on certain marketing levers and or raise pricing to slow down that rate of sale while not damaging that long-term Amazon SEO. Now if you have other problems w/ inventory and there's nothing you can do I want to talk about one of our core values of partnership. you know a lot of companies put their core values on the wall and never really talk about them or have any interaction with them But I think that during these times of uncertainty are when we should cling to those values even more so if you're facing inventory issues or supply chain issues or your business isn't doing well please reach out to your account manager and we can work something out. We don't want to see any businesses hurt because of this situation and if it means putting Amazon on hold for a couple of months until inventory gets straightened out we're all for that as long as it's the best for you and your company.
On the flip side if you've got enough inventory to sustain an increase in sales which we're seeing especially in the health and personal space, in that case also let your account manager know so we can hit the gas.
Being a hub for multiple consumer product brands we do get some insights as to how the general market is going, so far we're not seeing any slowdown as far as brands that want to get optimized on Amazon we've had a couple with Chinese New year / supply chain issues that have had to hold off but other than that we're hoping that this macro shift into e-commerce outweighs the overall slide that the economy seems to be moving in. And that because of our partnership you're positioned to be in a great spot to enjoy the ride.
Thank you again for your partnership- If you know anyone that can use some help please send them our way and look forward to hunkering down and enjoying the ride.
–Adam