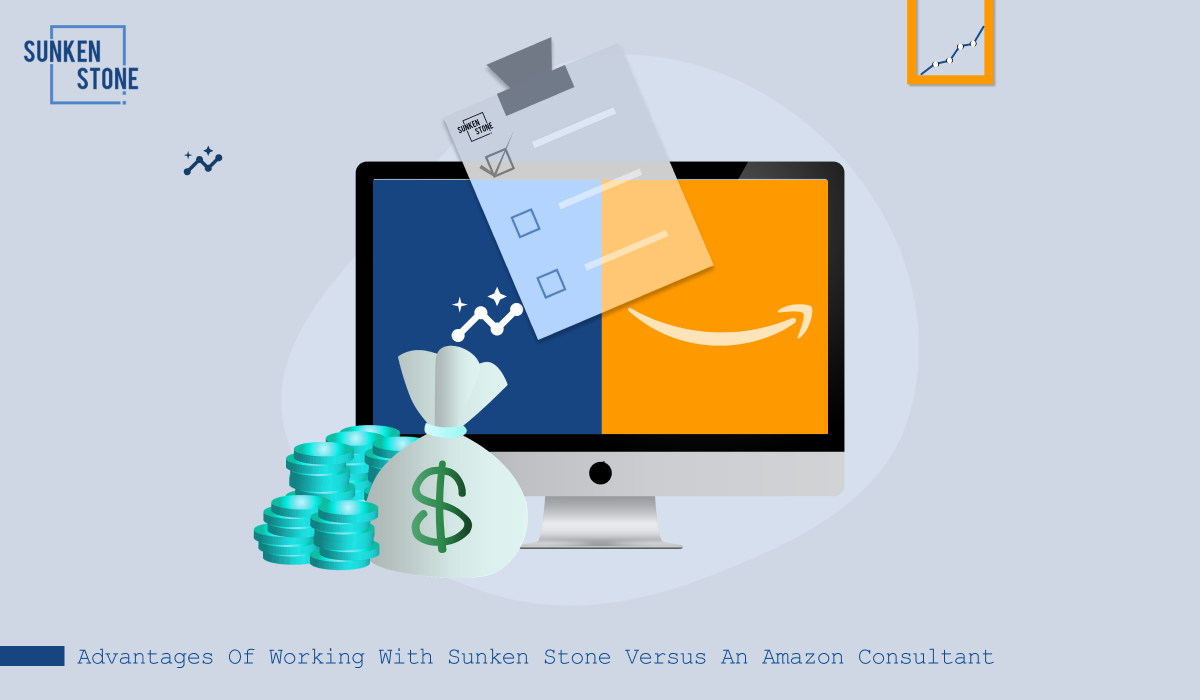 Advantages Of Working With Sunken Stone Versus An Amazon Consultant
---
In the constantly changing & evolving Amazon space, eCommerce brands seek strategic solutions to increase the effectiveness of their channel & scale their brand. Depending on the scope of the project and the amount of work required, there are several factors to consider when choosing what type of solution is right for your brand.
How To Select The Right Solution For Your Company
No matter what the size of your company, one of the first things to consider is the available amount of budget that you have to work with. The second thing to consider should be the amount of resources (time, software, etc.) in which you have to devote to the project. And the last thing to consider should be the ROI and the solution implementation rollout time.
>> REQUEST A FREE PROPOSAL: Take 30 seconds to request a proposal and receive a customized roadmap to skyrocket your sales, beat your competition & make your brand thrive on Amazon.
Evaluating When To Use Consultants
Working with a consultant can be a smart solution for only a few certain types of problems in which brands face today. For the most part, consultants are used when a brand currently manages Amazon in-house themselves and they provide a fixed-project scope that will help their customers on or off the platform.
Examining Working With Consultants Further
Lack of resources versus agency
Viewed as hands-off advisor
Works on a fixed project scope that runs on a retainer basis
Solution for in-house efforts
More of a band-aid
Often times, less experience than agencies
Limited capabilities/services
Technologically advanced
Not the most efficient processes
Uses a cookie-cutter approach
Examining Working With Sunken Stone Further
Turnkey solutions built on 4 pillars of Amazon success: content, marketing, customer service, & logistics
Flexibility (three options to use our services)
Performance-based (more bang for your buck)
Does ALL the work for you using a more hands-on approach & our expertise
Access to a vast amount of global resources (access to 50+ team members)
Access to the most efficient internal/external processes
Capability to scale solutions
Complete Amazon management without the headaches or frustrations
Viewed as a partner
Final Thoughts
Whether you're looking to give your Amazon product listings a professional look with either a consultant or an Amazon management agency, the performance-based team at Sunken Stone can help. Our Amazon gurus can help manage your Amazon listings on autopilot. To learn more about how we can help you grow your Amazon business, reach out to our head of strategic partnerships today!
Do You Feel Like Your Amazon Business Is In A Rut?
You're not alone. Many businesses find it difficult to scale on Amazon. That's where we come in. We are a top-tier, turnkey, performance-based Amazon marketing agency that can help you take your business to the next level.
We have a proven 4-pillar process that helps businesses achieve higher sales, AOVs, ROIs, and other 3-letter acronyms. Let us show you how we can help you achieve the same success. Click here to schedule a call with a strategist.
Request A Free Proposal
Are you tired of losing sales to your competition on Amazon? It's frustrating for otherwise successful brands to underperform on the leading eCommerce platform.
Sunken Stone will help you find a solution to increase your profits on Amazon. Click "Request My Proposal" below to receive a customized roadmap to beat your competition and uncover new areas of opportunity for increasing sales.
---