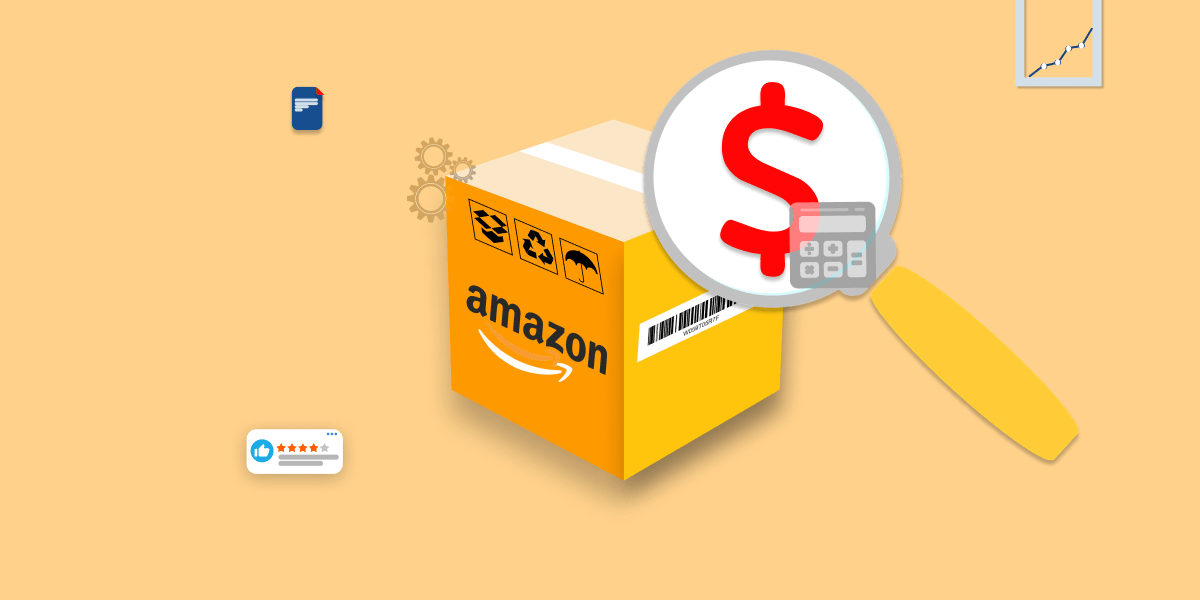 What Are Amazon Storage Fees & How Can You "Avoid" Them?
Amazon storage fees suck, but they exist for a reason.
Indeed, if you've noticed a considerable increase in storage fees in the past few months, there are a few things you can do.
First though, a bit of an overview.
There are two different ways to sell through Amazon:
Fulfillment-by-Merchant (FBM), and
Fulfillment-by-Amazon (FBA)
First, there's FBM, where the merchant packs and delivers goods to customers directly. While with Amazon FBA, the merchant provides the goods to the Amazon warehouse, and everything is handled by Amazon–from storing to delivering the goods. Amazon even turns returns into warehouse deals, relieving the seller of the tedious task.
In fact, Amazon has a different fee structure for FBM and FBA based on the services received. In fact, sellers can use FBA revenue calculators to gauge whether they are still profiting after fees.
Therefore, your objective as a seller is to understand the fees and costs incurred and ensure to earn a profit by selling products on Amazon. So, what should sellers know? Well, Amazon charges monthly fees for labeling, storing, packing, and delivering goods. However, this fee is not the same for everyone and varies based on the size and nature of the products.
>> REQUEST A FREE PROPOSAL: Take 30 seconds to request a proposal and receive a customized roadmap to skyrocket your sales, beat your competition & make your brand thrive on Amazon.
What Are Amazon Storage Fees?
Amazon sets storage fees by calculating the daily average volume that your goods occupy in cubic feet. Thus, Amazon determines volume after sellers pack products as per FBA policies and requirements.
Amazon also charges a monthly storage fee for its FBA sellers between the 7th and 15th of every month. For instance, storage fees for January will incur in February, between the 7th and 15th.
Likewise, the fees depend on the product-size tier and the time of the year that sellers store in the Amazon warehouse. During peak seasons, Amazon charges a high storage fee as compared to the off-season.
Goods are also categorized as dangerous and non-dangerous.
With that in mind, here's a handy table that recaps storage fees for Amazon sellers:
Month
Standard-size
Oversize
NON-DANGEROUS GOODS
January–September
$0.75 per cubic foot
$0.48 per cubic foot
October–December
$2.40 per cubic foot
$1.20 per cubic foot
DANGEROUS GOODS
January–September
$0.99 per cubic foot
$0.78 per cubic foot
October–December
$3.63 per cubic foot
$2.43 per cubic foot
Long-Term Storage Fees On Amazon
Long-term storage fees are also known as overage fees and are charged for products that remain in inventory for 365 days or more. Amazon charges overages in addition to their monthly storage fee. Typically, Amazon's overage fees are $6.90 per cubic foot or $0.15 per unit, whichever is higher every month.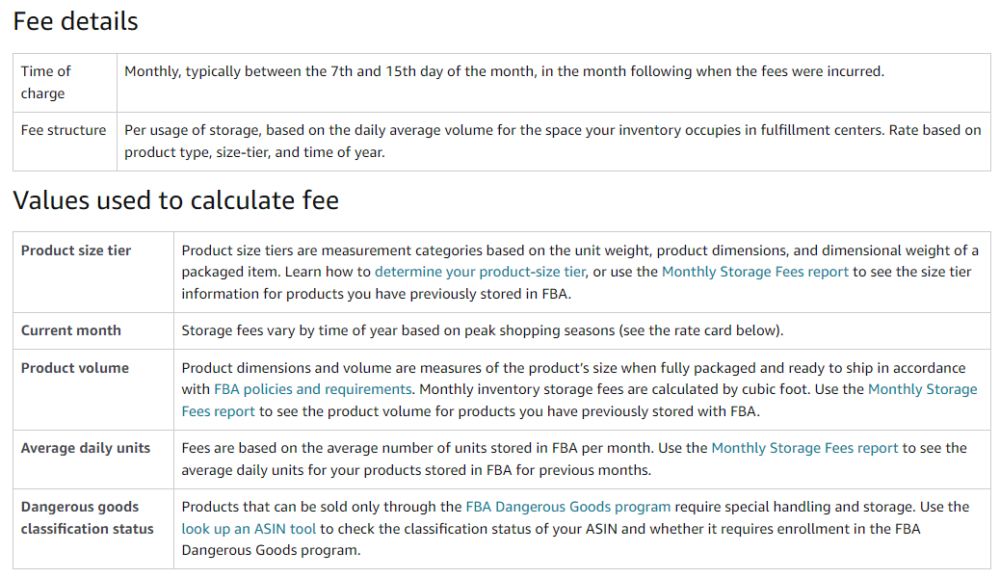 Amazon Storage Fees Calculator
To calculate your storage fees, Amazon uses the following formula:
Storage fees = Average daily units x volume per unit x applicable rate
Here is a quick explanation of all three metrics:
Average daily units refers to the average number of units stored in the warehouse.
Amazon sets volume per unit by space when a product is fully packed.
In addition, the applicable rate refers to the rate based on the nature and size of the products.
3 Ways To "Avoid" Amazon Storage Fees
FBA sellers can avoid long-term storage fees through effective inventory management.
Here are four strategies to help you lower fees down to a minimum:
(Unfortunately, you cannot avoid all of them)
Method #1 of Lowering Storage Fees: Old Inventory Management
The Amazon storage system works on the concept of First-in-First-Out.
If there's any inventory, which is expected to be in the warehouse for 365 days, it should be removed.

For this, you can send out a request to Amazon to remove the inventory, which will process your request without incurring long-term storage fees. Removing the items may take 14 to 30 business days, but Amazon will not charge the fee after the request. Any stock that doesn't sell should also be removed and replaced with items that are more likely to sell.
It may take 14 to 30 business days to remove inventory when requested but you will not incur the fee anyway after the request.
Because of long removal times, sellers should order less quantity in the beginning and track sales for 30 to 40 days.
If the product is high in demand, sellers should order stock for at least six months.
Method #2 Of Lowering Storage Fees: Alter the Pricing Strategy

To avoid long-term storage fees, sellers should alter their pricing strategies.
Even if you have to sell the products at a lower profit margin, you should consider it.
The reason is that requesting the products back may bear the cost, which can be higher than the loss expected to incur after selling at lower prices.
Thus, selling at a lower profit margin and in large quantities is appropriate to avoid additional fees.
Method #3 Of Lowering Storage Fees: Amazon Free Inventory Removal Offer
Amazon sometimes offers free inventory removal to sellers.
Thus, sellers should not waste this opportunity.
If a seller expects any products to sit longer than 365 days in the warehouse, they should remove these items from the warehouse by using Amazon's free removal offer.
Without this offer, Amazon will charge a certain fee per product to remove it from its shelves.
There are ways to keep storage fees at a minimum on Amazon. However, it's not as simple as "avoiding" them; instead, you need a sound inventory management strategy to ensure that things that stay with Amazon make it out of its warehouses in time and that you sell enough items to make the fees worth it in the first place.
With so many moving parts, managing your inventory isn't easy. Sunken Stone helps with ensuring that your inventory management strategy isn't an afterthought leading you to lose 1000s of $ in overage fees down the line.
Request A Free Proposal
Are you tired of losing sales to your competition on Amazon? It's frustrating for otherwise successful brands to underperform on the leading eCommerce platform.
Sunken Stone will help you find a solution to increase your profits on Amazon. Click "Request My Proposal" below to receive a customized roadmap to beat your competition and uncover new areas of opportunity for increasing sales.
Frequently Asked Questions
What is the difference between Amazon fees and FBA fees?
Amazon charges fees when an actual sale occurs, while FBA fees occur when placing your goods in the warehouse, along with charges for packing and delivering the goods.
How are Amazon storage fees calculated?
Amazon sets storage fees using the following formula: Storage fees = Average daily units x volume per unit x applicable rate as per size and nature of the product.