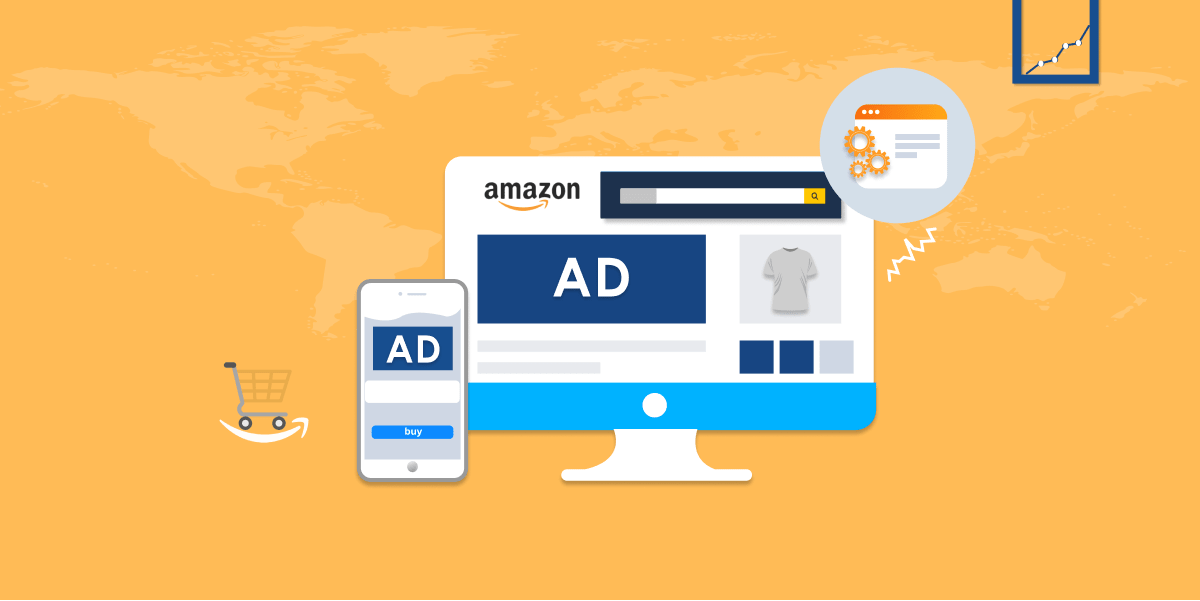 7-Step Checklist For Effective Sponsored Brand Ads On Amazon
Advertising on Amazon is no longer an option but a necessity. The marketplace is getting more and more competitive, meaning brands that do not run effective advertising campaigns will get lost in the crowd. Fortunately, there's a simple process to follow while building effective sponsored brand ads on Amazon.
Sponsored Brand Ads are one of the advertising options that advertisers can use to create brand awareness and boost product visibility. While this post explains how to create Sponsored Brand Ads on Amazon, we understand that some advertisers already know the basics. For more advanced strategies for advertisers, see our LinkedIn post, 7 Ways To Improve Sponsored Brand Ads On Amazon.
For brands that are getting started with Amazon advertising, running Sponsored Brand Ads Amazon effectively can be a challenge.
Let's look at what Sponsored Brand Ads are, how to run a successful ad campaign, and if they're worth it.
>> REQUEST A FREE PROPOSAL: Take 30 seconds to request a proposal and receive a customized roadmap to skyrocket your sales, beat your competition & make your brand thrive on Amazon.
What Are Amazon Sponsored Brand Ads?
Amazon Sponsored Brand Ads are cost-per-click ads that include a brand logo, custom headline, and multiple products.
Formerly known as Headline Search Ads, this ad type appears at the top of search results or within shopping results. These ads are an effective way to share your brand message, connect with shoppers, and engage shoppers in a captivating way.
Amazon Sponsored Brand Ads are keyword-based, meaning brands selling on Amazon can use them to target shoppers with the highest intent.
You can include enticing imagery and headlines in these ads to make them appealing to potential customers.
How To Run Successful Amazon Sponsored Brand Ads on Amazon In 7 Steps
If you want to improve your Amazon sponsored brand ads, here's a 7-step checklist that will keep your PPC on track:
Many advertisers on Amazon hardly get the results they want to achieve because they don't set up their campaigns the right way. Let's look at the steps to follow in running successful Amazon Sponsored Brand Ads.
Log In To Your Amazon Seller Central & Go To Campaign Manager
In your Amazon Seller Central account, go to the Advertising tab and then navigate to Campaign Manager.
Click On "Sponsored Brands" & Create A Campaign
When you click on Campaign Manager, you'll see a section title "Choose your campaign type." Select Sponsored Brands and proceed to the next section where you'll enter your campaign name.
Give It A Name & A Start Date
Next, give your campaign a name and set your campaign duration as well as your daily budget.
If you don't choose an end date, your campaign will run longer, and this can work to your advantage as you will get better insights that will help you optimize your campaign.
Keep in mind that your ads will stop showing when your budget runs out for the day. They will start showing again when the daily budget resets at midnight. That's why it's advisable to set a daily budget that will keep your ads running throughout the day if that's the goal you want to achieve.
Choose Up To Three Products To Advertise
The next step is to add up to three products that you want to advertise and proceed to add creative content.
Upload Your Logo & Write A Headline
Customize your ad by uploading a captivating logo and include a headline. If you don't have the skills to create a good logo or come up with a headline for your products, you can hire a freelancer from sites like Upwork and Fiverr and let them create a great logo and headline for you.
Select A Keyword Strategy
Once you've customized your ad with a logo and headline, decide the keywords to target and the amount to bid for clicks. Amazon will provide suggested keywords related to your products, but you'll make the final choice as to which keywords to choose.
You can use keyword research tools to find the best-performing keywords that improve the discoverability of your products.
Check out this guide and learn how to perform keyword research to reach as many customers as possible. You can target keywords based on product categories, brands, and other product features.
It's advisable to include broad, short-tail, and more specific keywords.
Decide Your Budget & Bids
Decide how much you want to bid for clicks. You can allow Amazon to automatically optimize bids for placements other than the top of the search.
The last step is to submit your ad to Amazon for review. The ad will be reviewed within 72 hours, and it will be up and running once it's approved. If there are any issues that need to be resolved, Amazon will let you know.
How To Evaluate Amazon Sponsored Brands Ads?
The best way to evaluate Amazon Sponsored Brand Ads is to use Amazon PPC management tools. Some of the tools you can use for this purpose include SellerApp, Helium 10, and PPC Entourage.
Are Amazon Sponsored Brand Ads Worth It?
Amazon Sponsored Brand Ads Amazon is an effective way of getting your products in front of the right audience. Provided you run an effective ad campaign, you're sure to make the most of these ads.
Access The Amazon Advertising Strategy Guide
To learn more on how to set up a successful Amazon PPC campaign, get our Amazon advertising strategy guide. This guide outlines expert tips and recommendations that will help you skyrocket conversions and make more sales.
You can also get in touch with our Amazon PPC specialists if you need help with setting up Amazon Sponsored Brand Ads.
Request A Free Proposal
Are you tired of losing sales to your competition on Amazon? It's frustrating for otherwise successful brands to underperform on the leading eCommerce platform.
Sunken Stone will help you find a solution to increase your profits on Amazon. Click "Request My Proposal" below to receive a customized roadmap to beat your competition and uncover new areas of opportunity for increasing sales.
---
Frequently Asked Questions
How Do You Get Sponsored Brand Ads On Amazon?
1. Here are the steps to follow to get Sponsored Brand Ads on Amazon:
2. Log in to your Amazon Seller Central & go to Campaign Manager
3. Click on "Sponsored Brands" & Create a Campaign
4. Give it a name & a start date
5. Choose up to three products to advertise
6. Upload your logo & write a headline
7. Select a keyword strategy
8. Decide your budget & bids
9. Submit your ad to Amazon for approval
How Do Sponsored Brands Work On Amazon?
These ads work on a cost-per-click basis. That means you only pay when a shopper clicks an ad for your product. When a shopper clicks on your brand logo, they are directed to your Amazon store or custom landing page, but when they click on a product in the sponsored brand, they're directed to your product detail page.  
What Are Sponsored Display Ads On Amazon?
Sponsored Display Ads are designed to target previous customers, shoppers who have previously viewed that product or a similar product, or products that use keywords relevant to that product.