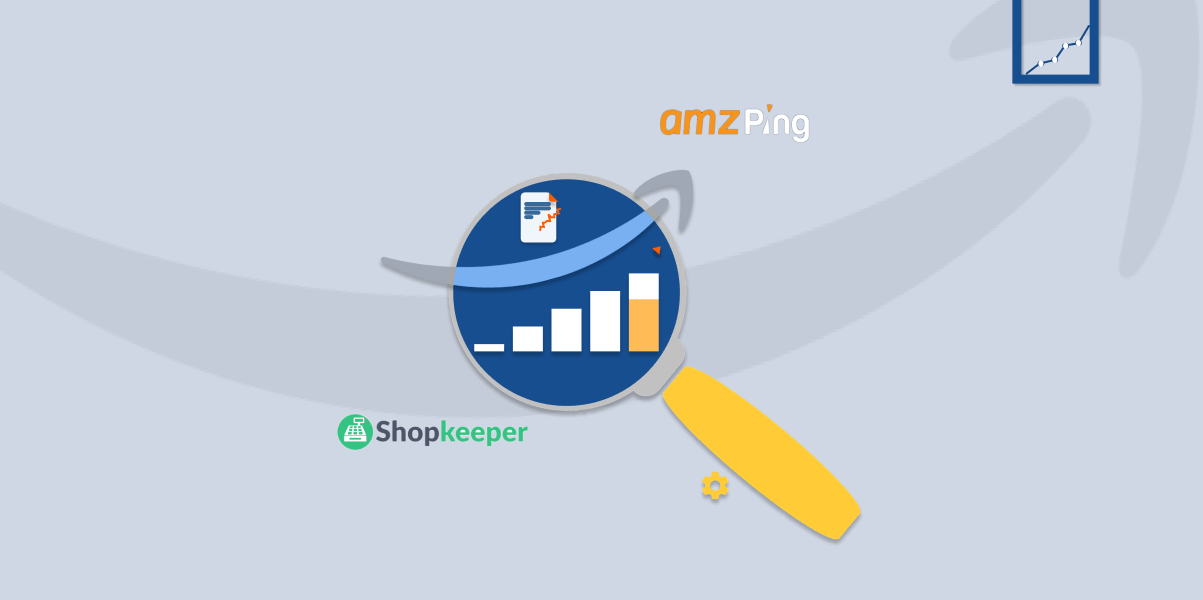 The Ultra-Honest Review Of Shopkeeper's Amazon Dashboard
Software tools like Shopkeeper, also known as AMZPING inc, can make the experience of selling on Amazon a lot easier to deal with. That's because they give you "superpowers" that only technical people can bring to life.
Shopkeeper's software is a dashboard that displays your profits and sales in an easy, digestible format. The dashboard offers bright tables and a simple user interface that can break down the data according to your interest, whether you want to know your cost of goods, compare your sales data, or check your inventory.
Understanding your business's profit is the key to success as an Amazon store. Without profit, you have a hobby, not a business. As Amazon brand management experts, we work with our clients to ensure their products are always performing exceptionally well and their profit margin is high.
While your business can track these profit metrics for free with excel spreadsheets, this may be harder for new sellers or large companies to maintain. Shopkeeper's software aims to fix this issue by providing various profit tools in one dashboard.
What Is Shopkeeper? It's Popular Among Amazon Sellers
Shopkeeper claims to solve a big problem for Amazon sellers helping them analyze whether their products are profitable at scale without having to wrangle spreadsheets together. The three main modules that Shopkeeper offers include profit tracking, inventory forecast, and business dashboard.
Each module allows businesses to customize their dashboard and choose metrics or comparisons that are important to their business. The Shopkeeper management dashboard aims to capture all sellers, with the idea that they can track all 72 types of fees from Seller Central spreadsheets to provide accurate data on seller's products.
Common questions like, "How much did I make this week compared to last week?" or "What is my current inventory stock?" can be answered using Shopkeeper's tools.
Amazon Profit Tracking With Shopkeeper
Shopkeeper's profit tracking feature is an easy way to know exactly what your Amazon fba profit margin looks like. Plus, every time you make a sale, a cash register sound will play, alerting you of your sales.
Shopkeeper's Amazon Profit Tracking automatically compares your current performance against your historical sales record, making it simple to see how your products and business stack up.
Multiple customization options allow each individual to set up their dashboard to display the information most relevant to their business. Shopkeeper provides additional tools to break down your sales even further to compare profits by individual products or marketplaces to assess your current standing. You can further analyze your results by comparing your sales based on the previous day, week, month, or year.
>> REQUEST A FREE PROPOSAL: Take 30 seconds to request a proposal and receive a customized roadmap to skyrocket your sales, beat your competition & make your brand thrive on Amazon.
Amazon Inventory Forecast with Shopkeeper
Shopkeeper's bright design and easy-to-read dashboard make it very simple to see how your products are performing, the amount of stock you currently have, and what products need to be re-ordered.
You can set up automatic alerts to let you know when product inventory has become too low or can log in from a smartphone to check your stats on the go. Shopkeeper's Inventory Forecast allows complete customization to your dashboard to only view what's important to you. Choose only to see your best-performing products or filter your results based on marketplace or country.
Amazon Business Dashboard with Shopkeeper
The business dashboard allows you to see multiple statistics about your Amazon business in one place. It will display features such as your current sales, prior day sales, sales in the last thirty days, along with the best sellers in each category.
Clicking into any of your products on the Business dashboard allows you to instantly see your profit margins, cost of goods, and sales each day. The Shopkeeper Amazon Business Dashboard takes all redemption fees, refunds, PPC costs, and FBA fees into the final price displayed so you can always count on an up-to-date margin.
These are the 3 major capabilities of the Shopkeeper management dashboard, and they streamline the process of analyzing the profitability of your operations significantly, with a full view of your business metrics.
---
Shopkeeper Review: What We Think Of The Amazon Suite
Based on our experience working with 100s of Amazon sellers, we've tested many software suites in the past. On the surface, Shopkeeper does its job pretty well. It takes the appropriate data and provides it in a clean, easy-to-understand format.
The platform offers four different plans, depending on the number of orders and volume your online business handles. The price of the packages starts at $20 up to $250 every month. Shopkeeper even offers a 14-day trial to allow new users to experience the benefits of the software.
While it may help users find important statistics about their Amazon store and reduce the amount of time required to do manual calculations, it can all be duplicated in a spreadsheet with a bit of time and effort.
At Sunken Stone, a top-tier, results-driven Amazon marketing Agency for growing eCommerce brands, we compare this type of data every day without using this software. While testing the software, we liked that the information was presented in an appealing way. However, we are able to pull the same type of data directly from our seller's dashboard and create an excel sheet with formulas to do the same work.
While we think this tool is excellent for beginners because it offers basic information any Amazon seller needs to know, more advanced sellers will not find use out of paying a monthly fee for data already available to them for free.
Why Shopkeeper Isn't The End-All Be-All Solution For Your Amazon Brand
When organized correctly, a spreadsheet will most often be fine for most Amazon sellers. While Shopkeeper is a nice software suite, you shouldn't replace time-test practices with a shiny, bright dashboard.
The tool is credible because of the large amount of data it pulls straight from Amazon, allowing you to quickly find information and compare your historical success to your current metrics.
While it offers information in an accessible and digestible way, which may help newer Amazon sellers, it's nothing you can't find or figure out yourself. With Shopkeeper's software, you're offered a glammed-up version of information already available to you at a steeper price point.
Plus, it doesn't provide any tools that would add unique value to their platform, such as keyword tracking.
Keep Your Brand Profitable On Amazon
With the Shopkeeper app, analyzing your product metrics to keep your operations profitable becomes simple. But the software has significant limitations that won't let you grow to a certain point.
The software won't help you scale or find profitable markets for your brand to enter. Plus, knowing your brand's stats won't help if you don't have a clear way forward to grow it.
Focus on creating your own processes to grow your business instead of relying on other products to do the work for you.
If you're interested in finding a way forward to create a long-term solution to increase your brand's profitability and growth, chat with a Sunken Stone expert who can help your brand implement a customized marketing & growth strategy tailored to your business.
Request A Free Proposal
Are you tired of losing sales to your competition on Amazon? It's frustrating for otherwise successful brands to underperform on the leading eCommerce platform.
Sunken Stone will help you find a solution to increase your profits on Amazon. Click "Request My Proposal" below to receive a customized roadmap to beat your competition and uncover new areas of opportunity for increasing sales.
Frequently Asked Questions
What Is Shopkeeper?
The shopkeeper app, also known as AMZPING, is a profit dashboard that allows you to keep track of your sales, forecast inventory, and calculate your Amazon fba profit margin.
How Do I Contact Shopkeeper's Customer Service?
The Shopkeeper Dashboard has an instant live chat button, so you can connect with a representative immediately to discuss whatever issue you're having. They offer an in-platform e-mail address you can send a message to if you're unable to connect via chat. There is no current phone number to call for Shopkeeper customer service.
Do Shopkeeper Products Rank Or Track Keywords?
No, this feature is not available in any of Shopkeeper's products. Their products focus on inventory management and profitability instead.
What Does Shopkeeper's Pricing Look Like?
Shopkeeper offers four different plans for your business, ranging from $20 to $250 a month, depending on the number of orders you have each month. Shopkeeper also provides a 14-day trial to let new users experience their features. The four plans include:
Novice Plan: This plan costs $20 per month. You can only have up to 250 orders per month to qualify for this plan.
Intermediate Plan: This plan costs $45 per month. You can have up to 1,000 orders per month to qualify for this plan.
Master Plan: This plan costs $90 per month. You can have up to 5,000 orders per month to qualify for this plan.
Ballin Outta Control Plan: This plan costs $250 per month. You can have unlimited orders per month with this plan.
All plans feature updates on statistics every ten minutes, notifications on new sellers, inventory levels and sales, inventory and sales overview reports, and a business dashboard.
What Are The Selling Features Of Shopkeeper's Products?
There are a few features that users of Shopkeeper's products enjoy. Including:
– An inventory Tracker that tells you how many products you have in stock and when you need to restock. It even features alerts that can be sent to your phone to remind you to reorder more inventory.
– Profit Tracking allows you to know exactly how much you've made. You can use filters to split this data by day, week, month, or year. Plus, Shopkeeper adjusts your final profit against over 72 different expenses associated with Amazon to ensure you see the correct number.
– The Business Dashboard allows you to check how you're performing with every product by view sales, profit margin, and cost of goods. Clicking into each product or category will show you a deeper analysis.