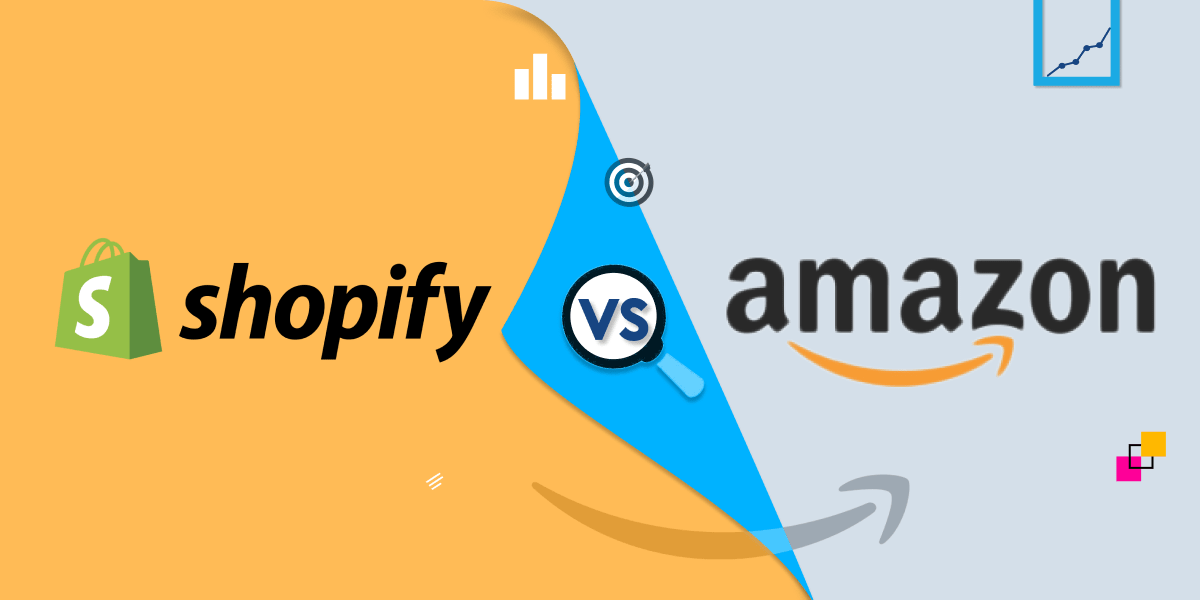 Shopify vs Amazon: What's Best For Sellers?
Shopify vs Amazon what's best for sellers? Those looking to take an existing brick-and-mortar business online have several options. But should your brand begin its online journey with a Shopify website or sell on Amazon instead?
With Shopify, sellers build online eCommerce stores. You can provide products, services, and more to your customers. Focus on one brand, or many, while selling unique products!
On Amazon, sellers add listings to a popular eCommerce marketplace. As a result, there are millions of sellers here competing for Amazon's large customer base.
But which one will be most beneficial for growing your income and generating sales? Let's compare Shopify vs Amazon and determine which platform is right for your business.
Before jumping into what you must know about Shopify vs Amazon, how about learning advanced tactics Amazon sellers use to generate millions in sales? Here's Sunken Stone's Ultimate Amazon Playbook, a guide for new and existing Amazon Sellers.
Use the link above to download your copy of The Ultimate Amazon Playbook today!
>> REQUEST A FREE PROPOSAL: Take 30 seconds to request a proposal and receive a customized roadmap to skyrocket your sales, beat your competition & make your brand thrive on Amazon.
Comparing Shopify to Amazon
| | |
| --- | --- |
| Shopify | Amazon |
| | |
| Essential Features | |
| Offers Website Hosting | Simple To Sell Products And Services |
| Build An Ecommerce Brand Store Website | A Large Marketplace With Millions Of Customers |
| Integrates With Analytic Software | Provides Inventory Management, Packaging, And Shipping Services |
| | |
| Support | |
| Access To 24/7 Support | Access To Phone And Online Chat Support For Professional Account Sellers |
| Shop Set Up Video Tutorials | Support Tickets For Individual Account Sellers |
| Online Store Setup Instructions | In-Depth Instructional Guides And Tutorials |
| | |
| Ease Of Use | |
| Use Customizable Templates With Zero Coding Needed | Become A Seller Quickly Using Simple Signup Features |
| Complex Dashboard Often Requires Instruction For Advanced Features | Add New Products And Make Stores Without Coding Experience |
| Create Your Own Fully Functional Online Store Website | Tools That Make The Selling Process Simple |
| | |
| Pricing | |
| Basic Shopify Plan: $29 USD Per Month | Amazon Individual Seller Plan: $0.99 Per Item Sold (Plus Selling Fees) |
| Shopify "Standard" Plan: $79 USD Per Month | Amazon Professional Plan: $39.99 Per Month (Plus Selling Fees) |
| Advanced Shopify Plan: $299 USD Per Month | Fees From 8% To 45% Per Unit |
| Annual And Biennial Subscriptions And Discounts | Fulfillment By Amazon Service Has Extra Fees |
| | |
| What Needs To Improve? | |
| Complex Shop Management With Limited Customization Options | Amazon Enforces Guidelines And Strict Rules |
| Not Ideal For Business To Business Products Nor Services | High Levels Of Competition Between Sellers |
| No Free Seller Plans | Significant Seller Fees Depending On Product Category |
| | |
| What Will You Enjoy? | |
| Buying A Domain With Hosting And Building Your Site For A Monthly Fee | Joining An Existing Online Marketplace With Millions Of Buyers |
| Creating A Branded Website And Taking Online Payments | Having An International Reach With A Worldwide Trusted Brand |
| Making It Simple For Buyers To Purchase Products | Making A Connection With An Existing User Base |
Selling On Shopify Vs Amazon Webstore
Amazon is a giant of online eCommerce. Its sales are comparable to Walmart, which is the largest U.S. retailer. Marketplace sellers list their brand's products on the leading eCommerce platform to generate sales from a large customer base.
On the other hand, Shopify makes it simple to build a website with eCommerce functionality. A company's brand is the focus of its eCommerce website. Thus, a business website will always have more customization options than a marketplace listing.
Yet, there are pros and cons to both platforms. To determine which option is best for you, let's dive into the offerings of each platform and discuss the pros and cons.
What Is Shopify?
Shopify is a website builder and e-commerce platform for business owners. It's perfect for those who sell at traditional brick-and-mortar businesses, online or using a combination of both.
You can even use Shopify on blog posts and external websites if you prefer not to build an entire eCommerce site for your business. In this way, Shopify is also a payment platform that makes it easy for retailers to sell products to their customers.
Pros
With that in mind, what are the pros of building an eCommerce store using Shopify? First, let's discuss how simple it is to create a website using the platform. One reason product sellers use Shopify is that you don't need technical experience to build a great-looking website.
Shopify is simple to use without knowledge of technical computer languages. Individuals also like the assortment of design options. You can use one of Shopify's free layouts, purchase a premium layout, or build a custom one for yourself.
Overall, the main draw to Shopify is the fact that you can build an online business without technical skills. Here are some other pros to using Shopify:
There's A 14-Day Free Trial
It's Simple To Build An Ecommerce Shop
You Have Ownership And Control Over Your Website
There's Analytics And Built-In Ecommerce Tools
Add Functionality To Your Site Using Shopify Apps
Shopify Websites Are Mobile Friendly Without Any Additional Setup
Low Payment Processing Fees Depending On Your Shop Plan
Cons
As you can tell, there are several benefits to using Shopify. However, that does not mean this platform exists without cons. There are many reasons why you may decide not to use Shopify over Amazon or other eCommerce builders.
First, you can add many additional functions to your website if you use a platform like WordPress. Second, other functionality usually does not require monthly subscription fees as many Shopify apps do.
Second, significant marketplaces like Amazon spend millions on advertising. Large marketing budgets mean that individual sellers do not need to worry about off-platform marketing as much. Therefore, if you plan to build a Shopify store, you should also consider the potential marketing costs.
Finally, Shopify limits access to specific reports unless you use their membership plans. Thus, smaller sellers or those trialing the platform may not have enough data to create efficient marketing plans. Without access to reports, the challenging task of marketing products may end up overwhelming sellers.
Here are some cons to Shopify eCommerce websites:
There's A Monthly Subscription Fee For Shopify And Add-On Functions
It's Not A Great Platform For Publishing Content
There's More Customizability With Other Website Builders Like WordPress With WooCommerce
Since Shopify is an eCommerce website builder and Amazon is an eCommerce marketplace, the comparisons aren't exactly apples-to-apples. However, since a business can sell on its website and eCommerce marketplaces, companies can use both platforms to achieve business goals. So now that you know about the pros and cons of Shopify let's move our attention to Amazon.com.
What Is Amazon?
Amazon is a competitive marketplace where millions of sellers compete for billions of dollars in sales. Sellers upload product listings and have the option of letting Amazon handle the shipping logistics. As a result, it's simple for sellers to add new products to Amazon after learning the platform rules.
There are restrictions on what you can and cannot sell on Amazon. Platform rules protect buyers and make it an even playing field for product sellers. However, if you sell products in restricted categories, Amazon will not be the eCommerce marketplace for you.
With that in mind, sellers can register their brands through the Amazon Brand Registry program to receive certain perks. Brands can also sell in several categories that standard sellers cannot. For example, if you plan to sell jewelry, music, watches, or DVDs, you'll need to submit a seller application.
Pros
So, what are the pros of selling on Amazon? It's simple for you to list products on the leading eCommerce marketplace to start making sales. Millions of buyers shop on Amazon every day and are currently searching for products like yours.
There are several other pros of selling on Amazon, including:
Amazon Has An Outstanding Reputation Which Sellers Benefit From
There's Plenty Of Traffic On This Ecommerce Marketplace
It's Easy For Customers To Buy Products, Since Most Shoppers Save Payment Information
Your Products Will Have A Global Reach
Cons
While there are some fantastic benefits to selling on Amazon, there are also drawbacks to know. So here are the cons of selling on Amazon:
Amazon Charges Several Fees For Product Sellers
Every Category Has Its Fee Rate
There Are Millions Of Other Sellers Competing For Attention
You Have No Control Over Amazon's Policies And Guidelines
Product And Inventory Management Is Challenging For Any Business
It Takes A Team To Scale Your Business
Fortunately, you can avoid many of these cons by working with Sunken Stone. Bring your business to Amazon with professional assistance from a team that grows your sales. Download The Ultimate Amazon Playbook and learn how to sell on this popular eCommerce site effectively.
Is One Platform Easier To Use Than The Other?
So, when it comes to Shopify vs Amazon, which platform is easier to use? Honestly, this question is a toss-up. Amazon is a ready-made marketplace, yet with Shopify, you build your website.
Because millions of buyers shop on Amazon, a business can reach potential customers quickly by listing on the leading eCommerce site. However, with a Shopify site, you must bring traffic to your site to make sales.
Registering for both platforms is simple, but it's everything you do after joining Amazon or Shopify that makes the difference. For example, adding product listings to your Amazon storefront is simple, while building a website to your brand's specifications takes more effort.
Then, there's marketing to consider. There are several ways for companies to promote products within Amazon's already popular platform. However, with Shopify, your marketing initiatives are as important as your shop design.
Which Platform Provides The Most Design Options?
Speaking of shop designs, which option provides the most design options?
On Shopify, you build a custom eCommerce website. There are also hundreds of themes that change the design of your shop. Shopify beats Amazon in this way because there are fewer ways that a business can showcase its brand on Amazon.
However, that's not to say that it's impossible to build creative stores in Amazon. For example, businesses that complete the brand registry process can develop their store page for their brand. In addition, there are ways to customize these stores with branding visuals, logos, product images, and more.
But overall, if you care most about customizability, then you'll likely prefer Shopify. However, it's important to note that product sellers can sell on both platforms. That way, brands can sell products on their website and websites like Amazon.
Shopify Vs Amazon For Ecommerce Tools and Features
When it comes to eCommerce functions, both Amazon and Shopify have powerful tools that benefit businesses. You can sell handmade products, digital products, services, and physical goods using both platforms. So, what are some notable features from each platform?
First, let's discuss Shopify. You're already aware that you can sell products, take payments, and build an eCommerce website. Yet, the features you add to your shop depend on precisely what you need. There are several apps in the Shopify app store that add new functionality to your business website.
Are you looking to integrate dropshipping, fulfillment, and even marketing tools with your online presence? If so, you'll find several that you can add to your website in a few clicks. However, most apps require subscription services.
Now, let's discuss Amazon. Through the Fulfillment by Amazon (FBA) program, your business can focus on producing goods while Amazon packages, stores, and fulfills your orders. There are also special programs for getting your first reviews on Amazon and growing your sales.
As you can tell, there are several ways that both platforms make it easy to do business online. However, it does not come without the hard work of editing your website and uploading product listings. Thus, both are great at providing essential eCommerce tools and features to product sellers.
Are There Differences In Platform Prices?
The overall goal as a business owner is to earn more revenue than you spend producing, storing, and shipping your items. Fortunately, both platforms fit within your budget.
There are three Shopify plans you can select, depending on your business needs.
The Basic Shopify Plan Is $29 A Month
The Shopify Plan Is $79 A Month
The Advanced Shopify Plan Is $299 A Month
Each plan provides sellers with additional features. For example, the standard Shopify plan lets sellers create gift cards and professional reports. With Advanced Shopify, you pay lower fees to accept credit cards, receive additional staff accounts, and access advanced sales reports.
Since Amazon doesn't charge for hosting your website and domain fees, there are fewer monthly fees with Amazon seller plans. There are currently two plans for sellers, including:
The Individual Selling Plan
An Individual Selling Plan is ideal for those who sell less than 40 products per month. You have less access to Amazon features as an individual seller, but you only pay a seller's fee of $0.99 per listing. There are also additional seller costs you pay, depending on the products you list on Amazon.
The Professional Selling Plan
Sellers that plan to sell more than 40 units per month should sign up for a Professional Selling Plan. It's $39.99 a month and provides access to additional selling resources. You can also register your brand with a Professional Selling Plan, which comes with added benefits.
Once again, the cost of the Professional Selling Plan varies with the products you sell. Several additional selling fees depend on the individual product category for every sale you make. Some sellers in the FBA program pay anywhere from a couple of dollars to $140 per unit to have Amazon fulfill their brand's orders.
Fees and Payment Options With Shopify
With Shopify, you can use several different payment gateways to process your transactions. Expect to pay around 0.5% to 2% for transaction fees using debit cards or bank accounts. Businesses that accept credit cards will produce about 2.4% to 2.9% + $0.30, depending on your Shopify Selling Plan.
How Amazon Seller Pricing Works
There are several costs of doing business on Amazon that sellers should be aware of, especially if you're looking to maximize business profits.
There are referral fees between 8% and 15% of every unit sold, additional fulfillment fees, and several other costs for advertising or receiving premium account services.
Should You Use Amazon or Shopify?
Now that you know the fundamentals of both businesses, which one should you use? The answer is both!
Fortunately, you can use both platforms by selling on your website and Amazon. While you are building up your website, you can grow your customer base and sell products using the popularity of Amazon's marketplace. Once your website is complete, you can increase revenue from a second source while scaling up your Amazon business.
In conclusion, there are pros and cons to both Shopify and Amazon. Yet, both platforms are excellent places to sell products. Sellers can use both platforms to build a brand where customers are free to purchase how they are most comfortable.
Would you like to learn more about selling on Amazon? Download your copy of The Ultimate Amazon Playbook and learn to take your existing business online to generate more sales and business revenue. In addition, you will learn new tips for starting and growing an Amazon retail business from professional sellers.
Request A Free Proposal
Are you tired of losing sales to your competition on Amazon? It's frustrating for otherwise successful brands to underperform on the leading eCommerce platform.
Sunken Stone will help you find a solution to increase your profits on Amazon. Click "Request My Proposal" below to receive a customized roadmap to beat your competition and uncover new areas of opportunity for increasing sales.
---
Frequently Asked Questions
Is Amazon An Ecommerce Site?
Yes, Amazon is an eCommerce marketplace that makes billions in sales annually. Sellers add their product listings to the site to drive sales and win new customers.
Which Platform Will Bring More Revenue To Your Business?
Both Shopify and Amazon can generate revenue for your business. While you will pay lower fees as a Shopify store owner, more customers actively search for products like yours on Amazon. Of course, there are tradeoffs to both platforms, but both can be successful at generating revenue.
Are There Better Ecommerce Website Builders Than Shopify?
There are several eCommerce website builders available online. Shopify is by far the most popular. However, some alternatives include website builders like Squarespace or WordPress powered by WooCommerce.
Amazon Vs Shopify, Which Is More Affordable?
It's challenging to determine whether selling on Amazon is more affordable than creating your own Shopify storefront. Both platforms use different fee structures and provide unique services. Additionally, you can add third-party apps and pay for premium themes on Shopify to make your shop unique, but the costs add up.