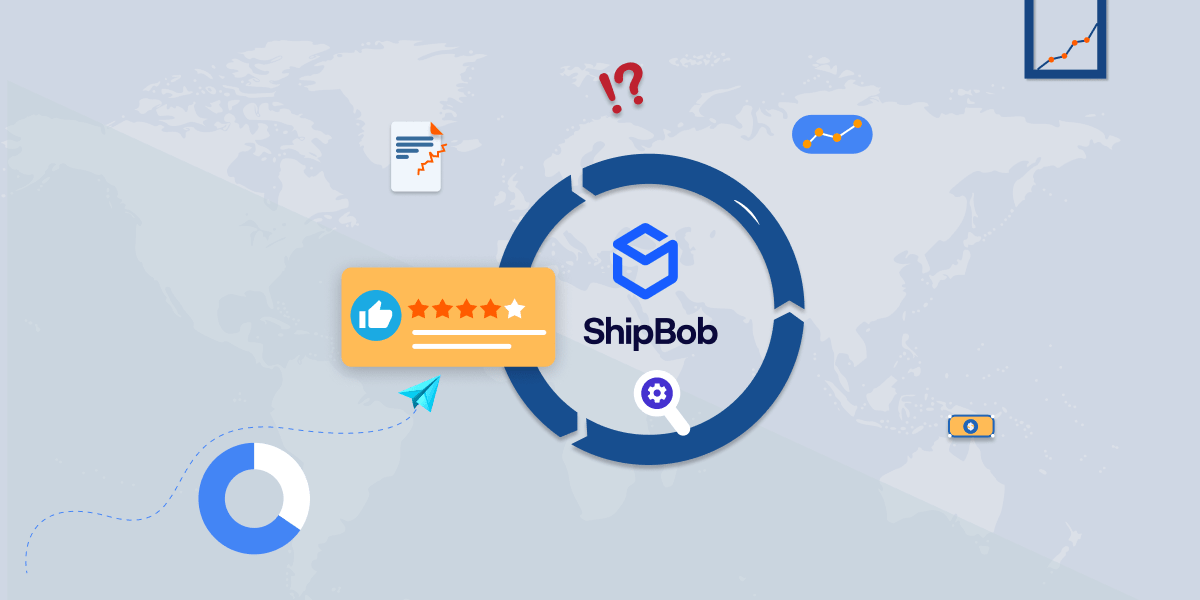 ShipBob Reviews: Is ShipBob Right For My Business?
ShipBob is a leading third-party logistics platform that offers reliable and affordable fulfillment solutions for eCommerce businesses. Let's dive into the detailed ShipBob reviews in this post.
This platform combines best-in-class logistics for eCommerce businesses, optimized inventory management, advanced reporting, and excellent customer service. It comprises two parts—an easy-to-use software solution and a logistics solution.
ShipBob's software solution offers capabilities such as order management, inventory management, warehouse management system, advanced analytics, and many more. The logistics part deals with the fulfillment of orders for eCommerce businesses.
Let's say you sell phone accessories on eBay. When a customer places an order on your eBay store, you'll need to pick the product from your warehouse and ensure it gets to the final consumer.
However, fulfilling orders can be quite a hassle especially if you don't have what it takes to offer fast shipping. This is where ShipBob comes in. ShipBob provides speedy and reliable fulfillment of orders directly to the consumer.
Perhaps you're running a new online business, and you're struggling to keep up with the shipping process, or you're looking for a more scalable shipping solution to cater to the needs of your growing business. ShipBob can be a perfect match for your eCommerce business because of its intuitive web-based software and efficient supply chain.
With strategically located fulfillment across the U.S., ShipBob is able to provide fast shipping at a lower cost. What's more, ShipBob's web-based software seamlessly integrates with all major eCommerce platforms and technology solutions, including eBay, Shopify, Magento, WooCommerce, BigCommerce, Shopify Plus, and many more.
Aside from allowing users to sync their eCommerce store, ShipBob lets users manage inventory, track orders, and streamline all operations.
---
---
>> REQUEST A FREE PROPOSAL: Take 30 seconds to request a proposal and receive a customized roadmap to skyrocket your sales, beat your competition & make your brand thrive on Amazon.
How ShipBob Works
As we've already mentioned, ShipBob's services are divided into two:
A Web-Based Software Solution
A Logistics Service
The web-based software solution enables merchants to manage customers' orders, track inventory levels, and keep in touch with customers, while the logistics service works in the back end to fulfill orders on behalf of merchants.
Here's how ShipBob works.
First, you'll be required to connect your store with ShipBob's web-based software and import your products onto the platform.
After that, send your inventory to their fulfillment center. ShipBob will store your inventory and keep the products in a good condition. You'll be required to provide information about your inventory for record-keeping purposes and to avoid confusion.
When a customer places an order on your online store, it will be sent to ShipBob, who will pick the product from their fulfillment center, pack it and ship it to the customer.
Once the product has been dispatched, ShipBob sends your order tracking information that enables you and the customer to track the order as it's being shipped.
It's that simple.
ShipBob partners with reliable shipping companies to ensure a smooth order fulfillment process.
---
Who Is ShipBob Designed For?
ShipBob is suitable for small businesses, mid-size businesses, large enterprises, and freelancers. Whether you're running a new business or an already established eCommerce business with a huge customer base, ShipBob can help you streamline fulfillment and improve your bottom line.
Key Benefits Of Using ShipBob
Save Time – This platform ensures speedy fulfillment of orders to customers. They offer next-day and 2-day shipping options, allowing merchants to deliver orders in a timely manner and save time. Merchants using ShipBob to fulfill orders can free up more time to focus on growing their online businesses.
Streamlined Fulfillment– ShipBob employs a simple and straightforward process in fulfilling orders. All a merchant needs to do is connect their online store to ShipBob, send their products to ShipBob's fulfillment stores, and they'll handle everything from picking to packing and shipping on behalf of the merchant. They simply take the hassle out of order management and fulfillment.
Good Shipping Rates – ShipBob manages the fulfillment of orders for thousands of merchants across the globe, so they qualify for great discounts from major carriers. The discounts are passed onto merchants. Although ShipBob isn't always the cheapest when it comes to shipping rates, at least they offer good rates that match the exceptional services they offer.
Exceptional Customer Service – ShipBob offers phone support 24/7, email/help desk, and live chat support to address users' concerns and answer their questions at any time of the day. No matter the issues you may experience, you're sure to get the help you need in a timely manner.
Excellent Interface – ShipBob boasts an intuitive interface that's easy to use and navigate. Merchants can keep tabs on the entire fulfillment process and gain control over order status through the intuitive dashboard. This not only allows merchants to make better decisions but also enables them to keep their customers in the loop always.
Several Fulfillment Centers to Choose From– ShipBob has warehouse locations across the U.S., including Los Angeles, New York, Dallas, Chicago, and San Francisco. This makes it easy for merchants to choose the most convenient fulfillment center.
---
ShipBob Features
ShipBob is a global logistics platform that fulfills eCommerce orders for direct-to-consumer brands. Here is a list of the most important features:
Advanced Filters
Users can use advanced filters to show orders that meet specific criteria. You can filter orders based on fulfillment center, order date, tracking number, and so on.
Training Options
ShipBob offers various training options for merchants to choose from. They offer in-person training, live online, webinars, videos, and documentation. If you want to get trained, you can choose the option that works best for you.
Inventory Management
ShipBob's web-based software comes with a range of tools that enable users to seamlessly sync inventory with their online store for easier monitoring. Besides, merchants can sync inventory with multiple eCommerce stores with just a few clicks.
Order Management
ShipBob's order management tool allows users to track orders in real-time, make changes to orders, and keep customers updated on their orders' status.
Return Management
ShipBob's web-based software supports hassle-free return management in case a customer is not satisfied with the product. With automated returns, ShipBob reduces the chances of getting negative reviews in case a customer is not satisfied.
Advanced Reporting
ShipBob enables users to track their expenses, revenue generated from orders, peak fulfillment hours, total sales, sales by channel, and much more. This information helps merchants to make better decisions.
Dedicated Support Specialist
Merchants have access to dedicated support specialists 24/7 to respond to their queries.
---
Cons Of Using ShipBob
Some pages might load a bit slower, especially if your internet is not strong. But with fast internet, you'll not experience any problems.
ShipBob's pricing structure may be complex for beginners, but users can always seek clarification about pricing from the customer support team.
The interface may be a bit confusing at first for beginners
If you're looking for a top-rated logistics partner that can help you save money while growing your eCommerce business, look no further than ShipBob.
Get In Touch With Stone Shipping For Reliable Shipping Services
Looking for a reputable shipping company that offers the best shipping rates? Look no further than Stone Shipping. We are a reliable shipping company with a proven track record. If we can't save you money on your shipping rates, we will PAY YOU $500.
Contact the team at Sunken Stone, a top-tier, results-driven Amazon marketing Agency for growing eCommerce brands, to learn more about our shipping services and discover how much money we can save you!
Request A Free Proposal
Are you tired of losing sales to your competition on Amazon? It's frustrating for otherwise successful brands to underperform on the leading eCommerce platform.
Sunken Stone will help you find a solution to increase your profits on Amazon. Click "Request My Proposal" below to receive a customized roadmap to beat your competition and uncover new areas of opportunity for increasing sales.
---
Frequently Asked Questions
What Is ShipBob?
ShipBob is a third-party logistics platform that allows eCommerce businesses to fulfill orders.
How Do You Use ShipBob?
Using ShipBob is absolutely simple. The first step involves connecting your eCommerce business with ShipBob's web-based software and then importing your products onto the platform. Next, send your products to their fulfillment centers, and once a customer places an order, ShipBob will fulfill the order on your behalf. 
Is ShipBob A Good Company?
ShipBob is one of the reliable fulfillment companies you can trust to fulfill orders on your behalf. With their cutting-edge features, you're sure that they'll handle the fulfillment process in a hassle-free manner. 
Who Does ShipBob Use For Shipping?
ShipBob partners with reputable shipping companies such as UPS, USPS, FedEx, and DHL.