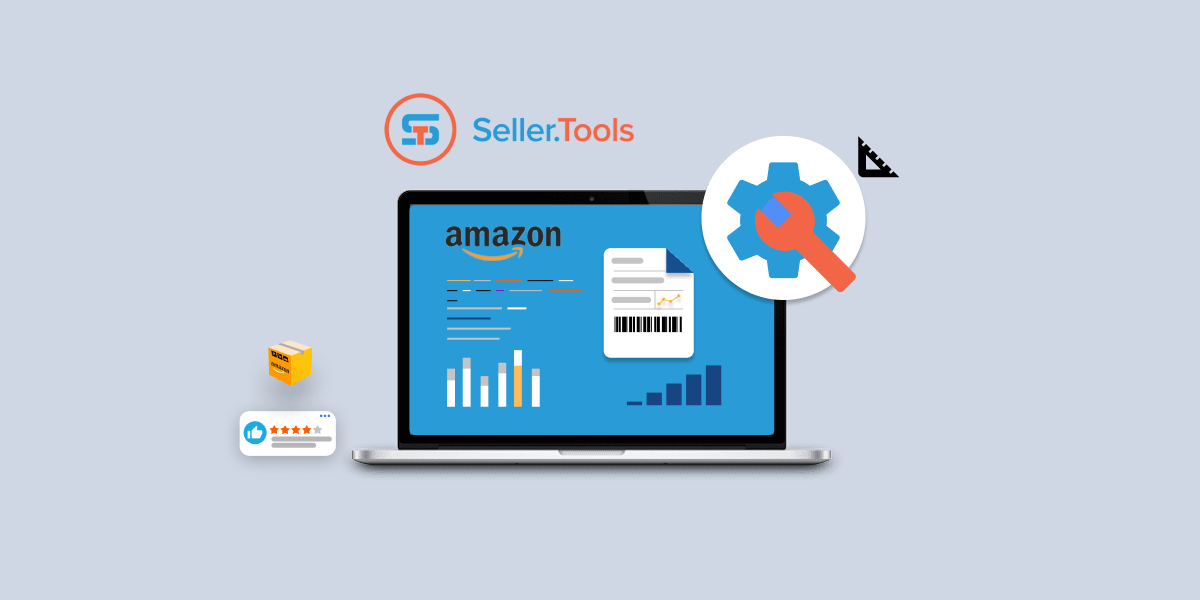 The Unbiased Review Of Seller.Tools: Is It Worth It? [2022]
Amazon is an incredibly competitive marketplace. To be successful as an Amazon seller, you must put up your A-game in everything you do. It includes using the best Amazon selling tools to stay ahead of the pack. In this Seller.Tools review, we will cover everything you need to know about the tool, including its features, the good and the bad side, pricing, and much more.
Amazon selling tools will not only help you to solve various pain points in your business but will also save you time and help you to make better business decisions.
There are countless Amazon seller tools that can help you optimize your Amazon business. That means choosing the most reliable tool can be a challenge.

Luckily, there's a reliable Amazon selling tool that has collected thousands of positive reviews from users because of its powerful features, simple interface, affordability, and many other benefits. We're talking about Seller.Tools.
What Is Seller.Tools?
Seller.Tools is an all-in-one Amazon seller tool that leverages Amazon data to help Amazon sellers take their businesses to the next level. It comprises a full suite of tools that you can use for various purposes.
With Seller.Tools, you can optimize your listing, find the most relevant keywords for your products, take your PPC campaign to the next level, find the best products to sell, protect your Amazon business from bad actors, and do so much more.
If you're looking to save hours of manual work while optimizing your Amazon business, it's time you included Seller.Tools in your Amazon seller toolset.
>> REQUEST A FREE PROPOSAL: Take 30 seconds to request a proposal and receive a customized roadmap to skyrocket your sales, beat your competition & make your brand thrive on Amazon.
Features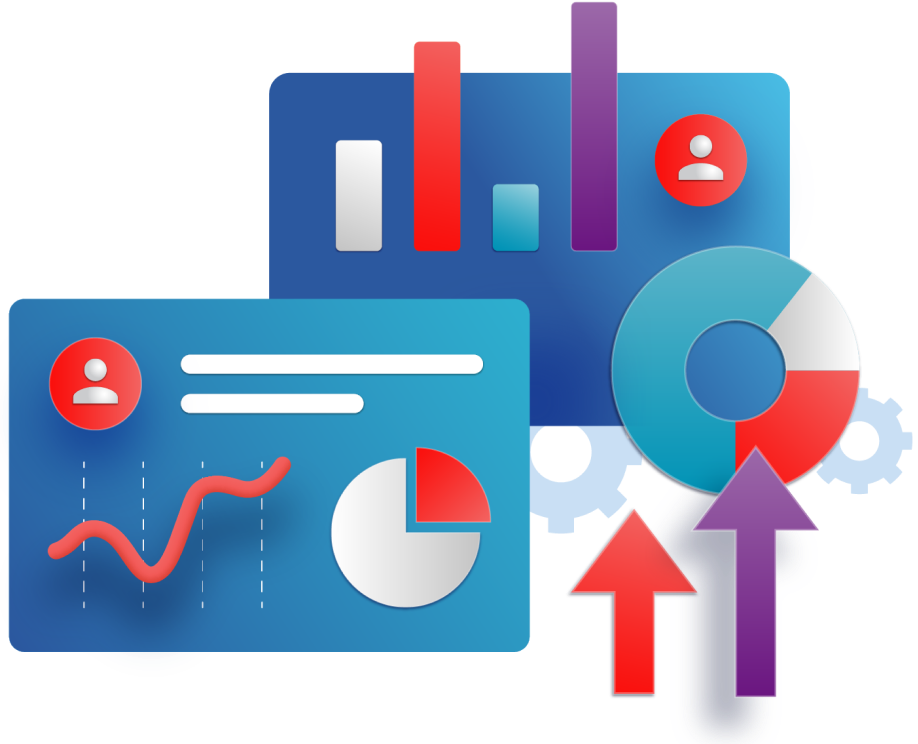 Listing Manager
The Seller.Tools listing manager makes listing optimization easy. This tool allows sellers to find and leverage the highest-volume keywords to improve their ranking.
Optimizing your listings is one of the effective ways to improve your sales on Amazon and grow your customer base. The Seller.Tools listing manager utilizes Amazon data to provide you with the best keywords to use in your product listing.
Expert-Level Integration
This tool easily integrates into your business model allowing you to access advanced seller tools, save time, and maximize sales. Instead of spending countless hours finding high search volume keywords or trying to find out the keywords, your competitors are using, this tool makes everything easy for you because it refocuses your time and energy on other areas of your business.
Keyword Manager
Seller.Tools keyword manager not only provides Amazon sellers with thousands of high search volume keywords but also makes it easy to manage keywords from a central point.
This keyword manager leverages brand analytics, live traffic, and reliable Amazon data to provide sellers with the best keywords and insights because it can help them take their business to greater heights.
PPC Management
Seller.Tools provides Amazon sellers with a suite of PPC management tools to help them get the most out of their advertising spend. With the Seller.Tools PPC management tools, sellers can automate keyword bidding and save time.
If you're having challenges streamlining your Amazon PPC campaigns, or your conversion rate is low yet your advertising spend is high, consider leveraging Seller.Tools to streamline your Amazon PPC campaign.
Alerts
Seller.Tools comes with a surveillance system that notifies users on things like Buy Box status, title changes, adult product attribution, color variations, weight changes, Best Sellers Rank, pricing, and much more.
The alerts feature allows sellers to avoid mistakes that can lower their ranking on Amazon. Besides, these alerts can help you protect your listing from hijackers and unauthorized sellers.
Product Research
Seller.Tools makes product research easier for any Amazon seller thanks to its product research tool known as PRIZM. This tool provides Amazon sellers with data-based product research insights and allows sellers to perform a customized product search.
Whether you're a new seller looking for profitable products to sell on Amazon or a seasoned seller looking to expand your product catalog, you can rely on PRIZM to discover the best products to sell.
Keyword Wizard (Keyword Research)
Keyword Wizard comprises three features—AMZ Report Card, R2A, and Last Search. AMZ Report Card allows you to find the right keywords that will improve discoverability for your products. With this keyword research tool, you can discover the keywords your competitors are using and leverage that information to gain a competitive edge.
R2A is a reverse ASIN tool that enables Amazon sellers to find the keywords the competitors are ranking for. You can leverage this keyword research tool to stay ahead of your competitors.
Last Search allows you to find thousands of underutilized keywords to help you reach your target audience.
Pros
Leverages Reliable Amazon Data
This tool takes the guesswork out of keyword research, competitive analysis, and product research by utilizing accurate data from Amazon. When you use this tool to perform various tasks, you're more likely to achieve positive results.
Seamless Integration
Seller.Tools integrates seamlessly into your business model and it's easy to use thanks to its intuitive interface. You'll have no problems using this tool even if you've not used it before.
Save Time & Money
Seller.Tools eliminates the need to do things manually. Whether it be keyword research, competitor research, listing optimization or PPC management, this tool automates many tasks, allowing you to save time. Instead of hiring someone to perform these tasks, Seller.Tools helps you to complete the tasks within minutes.
If you're looking to lower your operating expenses, you may want to leverage this tool to get things done at a lower cost.
Gives You A Competitive Edge
Gaining a competitive edge on Amazon is more difficult than ever. But with Seller.Tools, you can perform comprehensive competitor analysis, find out the keywords your competitors are ranking for, and utilize up-to-date Amazon data to beat your competitors.
Affordable
All the five plans—Lite, Starter, Professional, Growth, and Mastery are affordable for many Amazon sellers. If you don't want to pay more for the Mastery plan which costs $497 per month, you can opt for the Lite plan which costs $57 per month. Besides, they offer a 14-day free trial, whereby you can test the tool and make a decision whether it's good for you or not.
Cons
Some Plans Are Expensive
The Growth and Mastery plans are quite expensive for small Amazon businesses, though they offer more features and capabilities.
Lite Plan Has Limited Features
Though the Lite plan is cheaper, it doesn't include PPC management capabilities and offers up to 50 alerts and 100 ASINs. Since PPC management is an integral part of running an Amazon business, you may have to subscribe to the other plans which cost more money
As you can see, the advantages of this tool outweigh the cons by far. That means Seller.Tools is definitely worth it if you're looking to scale your eCommerce business.
Pricing
Seller.Tools offers five plans to choose from. These plans include:
Lite
This plan costs $57 per month and works for only one Amazon seller account. It offers up to 50 alerts, 100 ASINs and allows users to search up to 1000 keywords. However, it doesn't include PPC management, wallet dashboard, and API access.
Starter
This plan costs $97 per month and supports up to two Amazon seller accounts. It offers up to 500 alerts and up to 10,000 ASINs and allows users to search up to 2000 keywords.
Professional
This plan costs $197 per month. It can support up to 5 Amazon seller accounts and provides unlimited alerts and ASINs. With this plan, users can search up to 5000 keywords.
Growth
The Growth Plan costs $297 per month and supports up to 10 Amazon seller accounts. It offers unlimited PPCs, alerts, and ASINs. This plan allows users to search up to 10,000 keywords.
Mastery
This plan costs $497 per month and while it's quite costly compared to the other plans, it's ideal for established sellers with a huge product catalog. It supports up to 15 Amazon seller accounts and offers unlimited alerts, ASINs, and PPCs.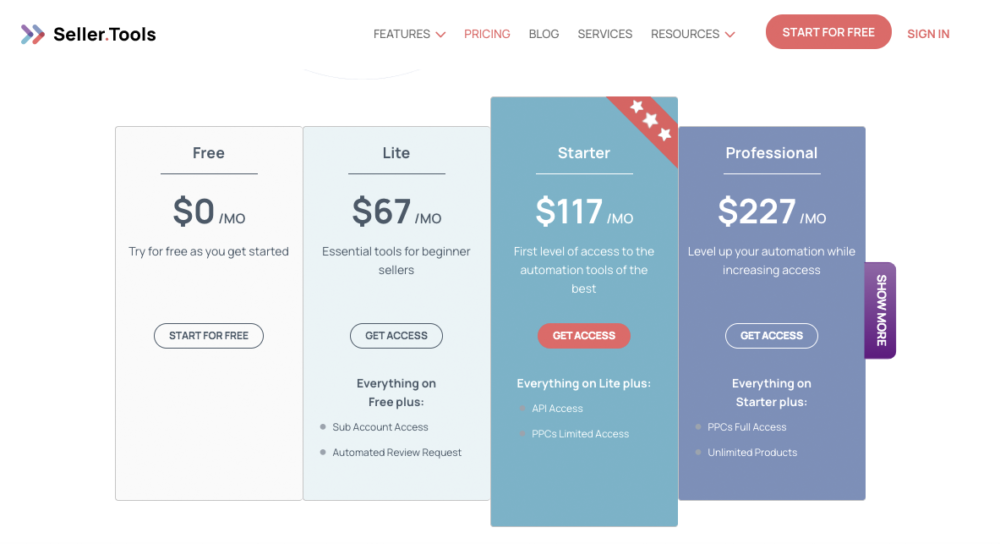 You can learn more about the features under each plan on the Seller.Tools pricing page.
Who Is Seller.Tools Designed For?
Newbie Amazon sellers seeking to establish a robust presence on the marketplace
Ecommerce brand owners looking to save time and money
Sellers and eCommerce brand owners with a low ranking on Amazon and are seeking to improve their ranking and make more sales
Sellers who are drowned out by their competition and they're looking for ways to gain a competitive edge
Amazon sellers who are looking for ways to streamline their PPC campaign and lower their advertising spend
Any Amazon seller who wants to grow their business to greater heights
Final Thoughts
Seller.Tools is a great Amazon seller tool you can leverage to maximize your sales. This tool solves many pain points in an Amazon business. Whether you're concerned about listing optimization, competitor analysis, or PPC management, Seller.Tools has got you covered.
With this tool, you'll be able to improve your ranking on Amazon, drive quality traffic to your listing, and improve conversion rate. You can learn more about Seller.Tools on their official website.
Request A Free Proposal
Are you tired of losing sales to your competition on Amazon? It's frustrating for otherwise successful brands to underperform on the leading eCommerce platform.
Sunken Stone will help you find a solution to increase your profits on Amazon. Click "Request My Proposal" below to receive a customized roadmap to beat your competition and uncover new areas of opportunity for increasing sales.
Frequently Asked Questions
What is Seller.Tools?
This is a platform that comprises a full suite of tools for Amazon sellers. It leverages Amazon data to provide sellers with insights to drive sales and maximize efficiency.
What Are Seller Tools?
These are tools that Amazon sellers and ecommerce brand owners leverage to drive sales, save time and maximize efficiency.
Which Is The Best Amazon Seller Tool?
There are many incredible Amazon seller tools that help sellers maximize efficiency in different areas. Some of the top Amazon seller tools include Seller.Tools, Helium 10, Jungle Scout, and IO Scout.
What Are Amazon Tools?
These are tools Amazon sellers use for purposes such as keyword research, product research, listing optimization, Buy Box monitoring, competitor analysis and much more.