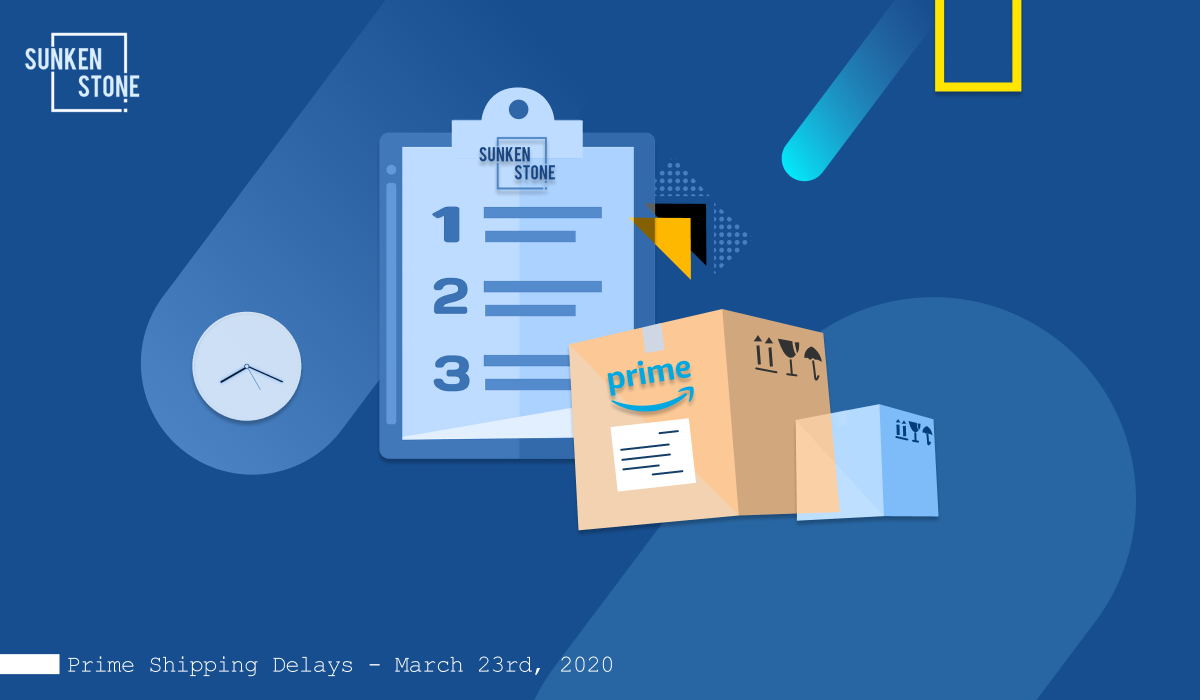 Response To Prime Shipping Delays – March 23rd, 2020
Hello from Sunken Stone,
We hope everything is going well and you all are staying healthy!
We wanted to share some updates, as well as a potential plan of action to work around the current restrictions, and any potential future restrictions.
Amazon has started updating shipping times from their warehouse to customers, and as of right now – for all products – shipping times are being quoted about 1 week from purchase. This is the new normal right now for all Prime goods.
Unfortunately, due to Amazon attempting to prioritize essential items, we are seeing sporadic cases of products being quoted at 4+ weeks to delivery. In these cases, the shipping timelines have sometimes been moved up (the item gets to the customer quicker), and sometimes pushed back (it takes even longer). All in all, as this change occurred in the last 24 hours, it's very up in the air when a customer will receive your product, and we are anticipating that this is going to hurt conversion and sales in the coming month(s).
We know a lot of these items are still in demand by the Amazon customer, and to help both you and your customers, we planned out some ways to make sure they can get products in a more reasonable/reliable time frame
If your products are being affected by this 4+ week shipping quote, we have a couple options in place . Your Account Manager will follow up with you specifically to discuss which skus have problems, as well as go over a suggested plan. If you do not hear from us today, your SKUs are not affected.
Plan 1: There is an immediate "hack" where we can create an FBM (fulfilled by merchant) SKU on Amazon that will quote a 7 day shipping. Once that order comes in, we will turn around and create a fulfillment order in Seller Central to have inventory shipped from FBA. This is a temporary fix and we assume it won't work forever if a lot of sellers figure this out. Also, this is only an option if we have plenty of FBA inventory.
Plan 2*: Sunken Stone has a partner warehouse that is certified as an essential shipper. This warehouse has the infrastructure to continue to ship currently and for the foreseeable future under standard UPS/USPS/FedEx shipping windows. We would ask that you ship roughly 60 days of product from your warehouse to our partner warehouse. This would allow us to offer an FBM listing for your products that would be able to reach the customer in 7-10 days. This is going to be a key option we can help you with, as we already have this established relationship that gets us past any minimum fees a shipping partner like this would normally charge, and with their certified essential status, there is no risk of their shutdown.
Once Amazon shipping times are no longer a concern, we can replenish FBA from this warehouse until the inventory is sold through.
*If your products are not being affected, but you are interested in possibly using our essential shipper to house some of your inventory in the meantime to protect from any future Amazon changes or issues in your own warehouses, please let your Account Manger know, and we can look at how to best tackle this for you.
We're going to continue to monitor for any changes in policy or updates to Amazon and logistics systems as a whole during this period. We will continue to over-communicate as we learn more.
Thank you for your partnership and please let us know how we can help.