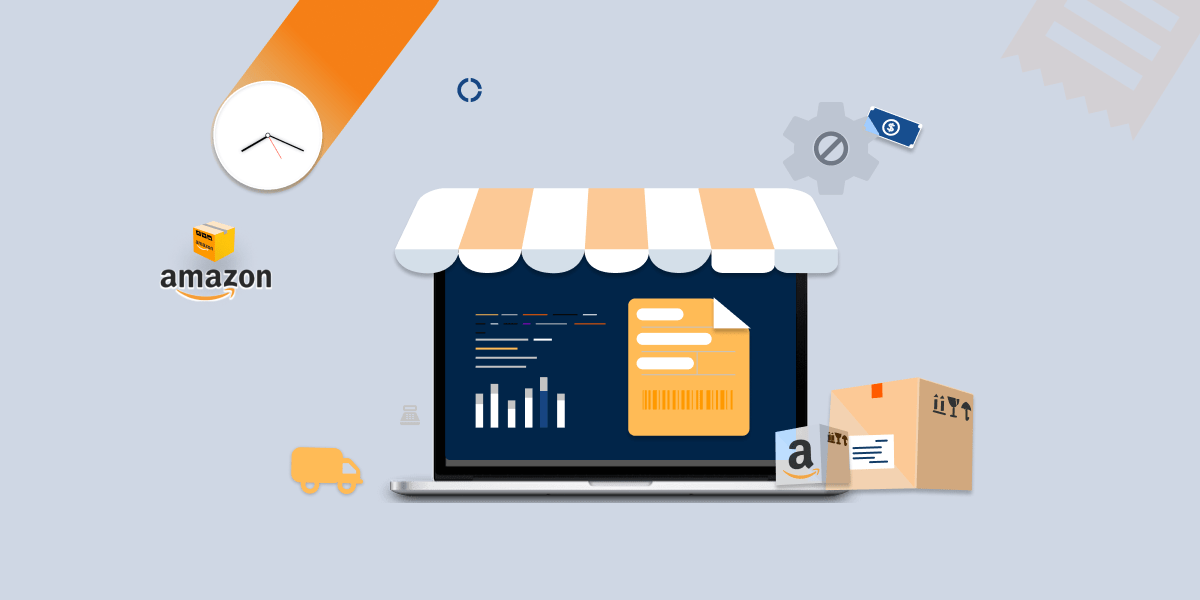 Inside an Amazon Fulfillment Center – A Look At Next-Day Delivery
We all make Amazon purchases at one point or another. Perhaps you've bought products a little too much over the last year after becoming bored from being locked inside the house. Maybe some of us even decided to ride the wave and start selling on Amazon. But don't you ever wonder what happens inside an Amazon fulfillment center and how packages arrive at your doorstep?
In 2020, 1.3 million new sellers joined Amazon Marketplaces worldwide, driven by the strong demand and the simplicity of FBA, Amazon's fulfillment services.
At Heroes, we acquire and operate successful FBA businesses, and part of our job is to understand how Amazon FBA works from the inside out. So in this article, we'll take you on a virtual visit to Amazon's El Prat Fulfillment Center, the e-commerce giant's leading distribution platform in Southern Europe.
Whether you're an Amazon seller looking to understand how Amazon fulfillment centers work or a curious consumer who wants to get a peek behind the scenes, keep reading!
» REDUCE SHIPPING COSTS NOW: Discover How To Lower Your Small Parcel Shipping Rates By 20% Or More
What is Fulfillment by Amazon (FBA)?
Launched in 2006, Fulfillment by Amazon (FBA) lets third-party sellers use Amazon's vast warehouse and distribution network, comprising more than 175 fulfillment centers worldwide in more than 150 million square feet of space, to fulfill their orders.
All they need to do is send their stock to an Amazon warehouse, and for a small fee, Amazon will pick, pack, and ship orders to their customers.
By using FBA, sellers benefit from the state-of-the-art infrastructure that enabled Amazon to set the industry standard in terms of 2-day delivery, next-day delivery, and, more recently, 2-hour delivery.
They also benefit from easy returns and Amazon customer service. In short, sellers can focus on growing their business while outsourcing logistics to Amazon.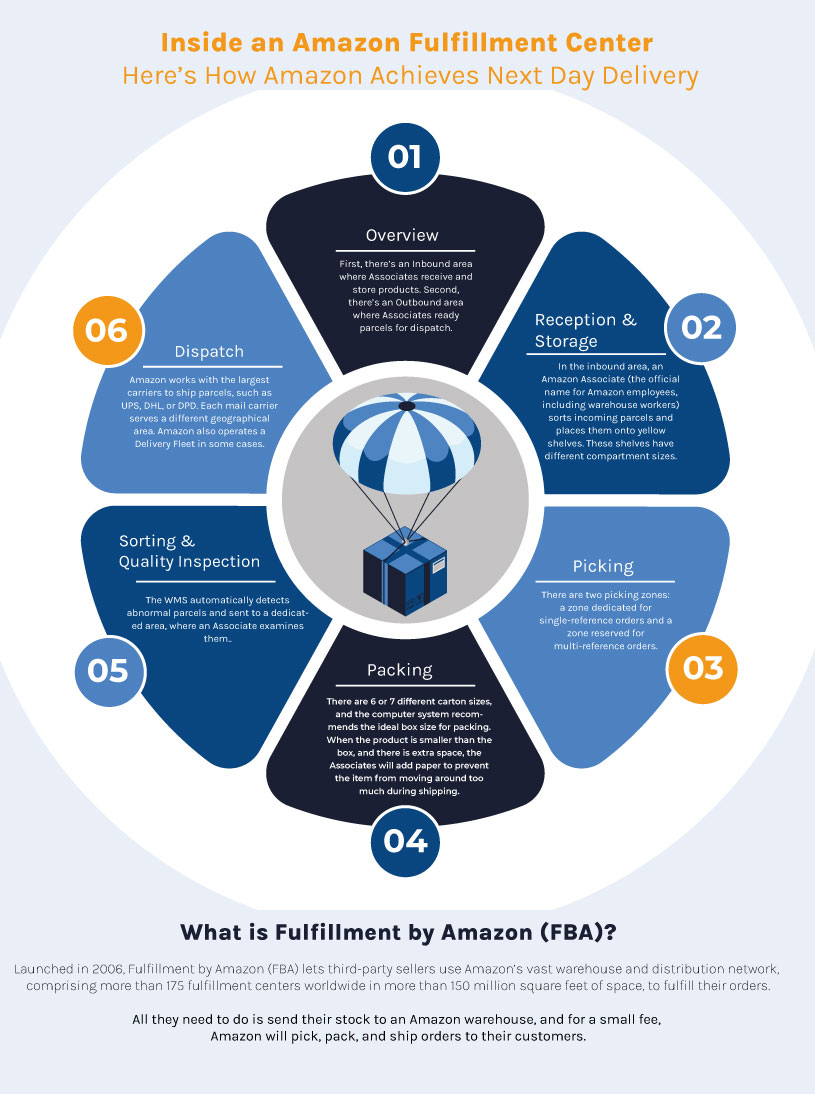 A Look Inside Barcelona El Prat – The Amazon Fulfillment Center
Now that we know what Amazon FBA stands for, let's look at how Amazon Fulfillment Centers work. For that, we're going to walk you through every step of the fulfillment process inside Amazon's El Prat Fulfillment Center in Barcelona, Spain, from the moment a product enters the warehouse to the moment it leaves in a truck.
Overview
The El Prat Fulfillment Center is Amazon's central distribution platform in Southern Europe. It fulfills smaller orders from the whole European continent. Amazon's Fulfillment Center in Madrid handles all the larger boxes and packages.
Amazon also operates a fulfillment center in the heart of Barcelona for orders requiring 2-hour delivery.
The fulfillment center spans across 2.3 million square feet, split into two sections:
First, there's an Inbound area where Associates receive and store products. Second, there's an Outbound area where Associates ready parcels for dispatch.
At the center's entrance, you can find an office area dedicated to the Support teams, including the Training team, the Security team, the IT team, and the HR team. The facility also houses the Spanish AWS team.
Reception & Storage
In the inbound area, an Amazon Associate (the official name for Amazon employees, including warehouse workers) sorts incoming parcels and places them onto yellow shelves. These shelves have different compartment sizes.
The product placement on the shelf is at the discretion of the Associates, who have received prior training. Each time an Associate puts a product away, she scans the product, as well as the compartment in which she has placed the product, to keep the virtual inventory up to date.
You'll find the shelves on robots that look like robot vacuum cleaners. A company called Kiva Systems built these robots. They were acquired by Amazon in 2012 and renamed Amazon Robotics. According to the Warehouse Management System (WMS) instructions, these robots automatically move the shelves to the picking stations.
Associates will divide the product batches into several different shelves to reduce picking time. For example, if there are three simultaneous orders for water bottles and the water bottles are stored on three extra shelves, these three shelves can simultaneously move to 3 other picking stations.
The robot-mounted shelves move around the warehouse by scanning the QR codes on the floor to locate themselves in space. There are 4 QR codes for every square meter. They also feature sensors that help prevent them from bumping into each other.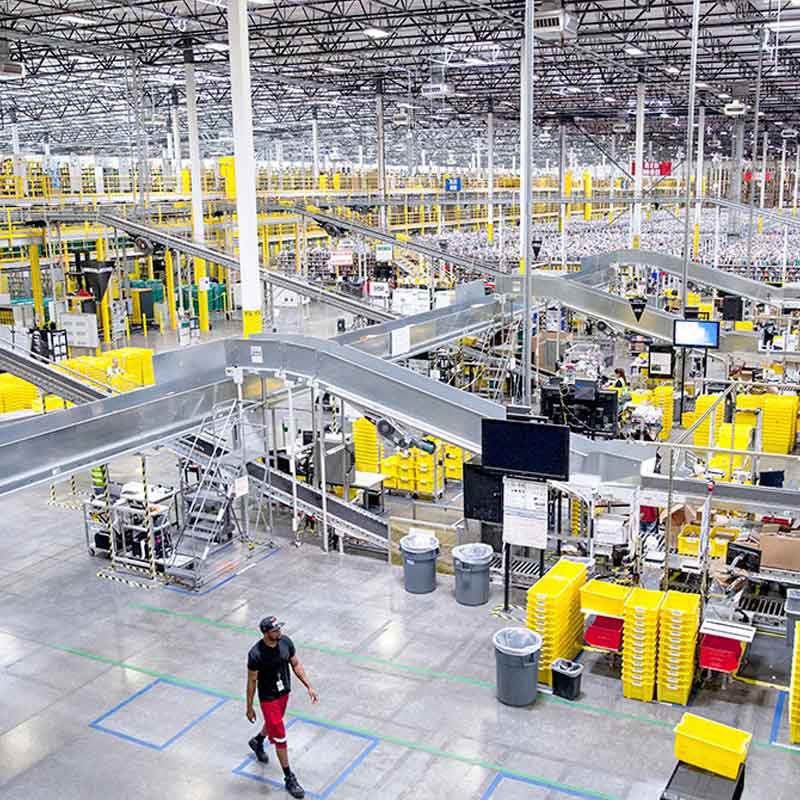 When a product stored on a shelf falls on the floor, the robots can detect it and alert the WMS. An Associate will then enter the storage area to put it back on the shelf.
Amazon secures the storage area, and not all staff can access the space except for a particular type of Associate with specially designed vests that inhibit radio signals. Robots within a certain radius of an Associate wearing a vest will automatically stop, thus avoiding accidents.
Picking
There are two picking zones: a zone dedicated for single-reference orders and a zone reserved for multi-reference orders.
When a single-reference order comes in, the WMS instructs the shelves containing the item to bring it to the designated picking station. The Associate working at that picking station will read the screen, retrieve the item and pack it.
Similarly, the shelves will automatically move to the designated picking station when a multi-reference order comes in. Associates work in teams of 2 to fulfill multi-reference orders. The 2 Associates in every group will face each other, separated by a shelf with compartments.
The first Associate retrieves the items and places them onto the shelf (one order per compartment). Once the things are on the shelf, she presses a button that notifies her colleague to pack the order. Each shelf space has a notification button.
Packing
There are 6 or 7 different carton sizes, and the computer system recommends the ideal box size for packing. When the product is smaller than the box, and there is extra space, the Associates will add paper to prevent the item from moving around too much during shipping.
To protect customers' privacy, the label on the package does not contain the customer's name and address at the packing stage. These appear on the final packing label, which a machine later applies.
Sorting & Quality Inspection
Once packed, employees place parcels on the conveyor belt, dividing them into lightweight boxes that can be "thrown" into the trucks and heavier packages that require more attention from the carriers. There are 15 miles of conveyor belts in the El Prat Fulfillment Center.
The WMS automatically detects abnormal parcels and sent to a dedicated area, where an Associate examines them.
Dispatch
Amazon works with the largest carriers to ship parcels, such as UPS, DHL, or DPD. Each mail carrier serves a different geographical area. Amazon also operates a Delivery Fleet in some cases.
When a customer places an order, it only takes 2 hours for the fulfillment center employees to prepare the parcel. What takes up the most time is the shipping.
What's it like to work inside the Amazon Fulfillment Center at El Prat
Amazon Associates work from Monday to Friday and on Saturdays only in the afternoon. The rest of the time a worker will spend on maintenance of the infrastructure.
Associates have collective targets regarding the number of products to be processed by the fulfillment center per day. If an associate is too slow on a process, she receives additional training or learns another method.
When an Associate starts working for Amazon, she receives training on a single process. After three weeks, she will learn a second process, and so on. Generally, experienced Associates will alternate between several methods every day to avoid monotony.
Conclusion
If you've ever wondered how Amazon manages to keep up with the next-day delivery deadline, now you know! The secret is a state-of-the-art, well-oiled machine with careful planning, breakthrough technology, and a human touch.
This fully-automated fulfillment center is the closest you'll get to understanding the Supply Chain innovations that have fueled Amazon's growth over the past decade. It's also reassuring to know that your orders are in good hands.
Speaking about putting your brand in good hands, if you're an Amazon seller and you're considering selling your business, our team at MakeHeroes will take up the torch and make sure it grows for years to come. Get in touch with us to get a free valuation of your business!
» REDUCE SHIPPING COSTS NOW: Discover How To Lower Your Small Parcel Shipping Rates By 20% Or More
Do You Want To Reduce Your Shipping Costs?
Stone Shipping offers small parcel shipping solutions for eCommerce brands because we want to help your business become more profitable.
Reducing your shipping rates can have a massive impact on the profitability of your business. Save on eCommerce shipping with major couriers and ship products cheaper than ever.