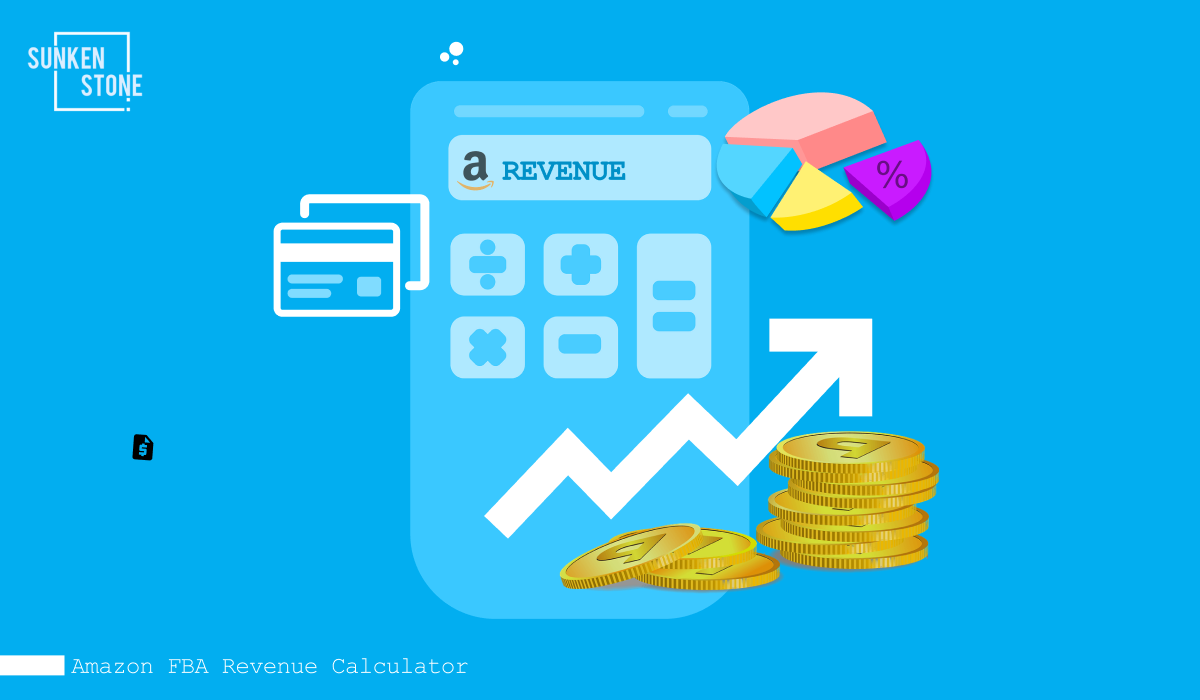 Amazon FBA Revenue Calculator: How to Use It Effectively
The FBA revenue calculator is a tool by Amazon which helps sellers gauge product profitability after factoring in FBA fees.
This free tool enables Amazon sellers to determine the maximum profit potential of their products. Sellers use this information to choose the best fulfillment method. The FBA revenue calculator comes in handy for sellers to analyze the value of investing in specific products.
You can leverage this tool to determine the most profitable product by playing with different pricing points and costs.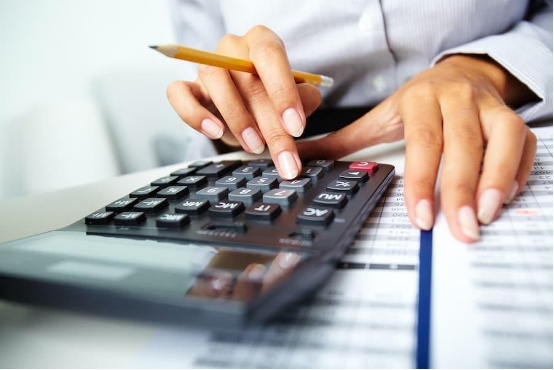 If you're new to Amazon FBA, you may not know how to use the Amazon FBA calculator.
In this blog post, we'll help you understand the details of this vital tool. You'll learn how it works and how to use it. Read on to learn more on how to use the Amazon FBA calculator.
Understanding The FBA Revenue Calculator
You have your seller central account and a few products ready to go. Now what? You must figure out how much you can expect to make with FBA before starting.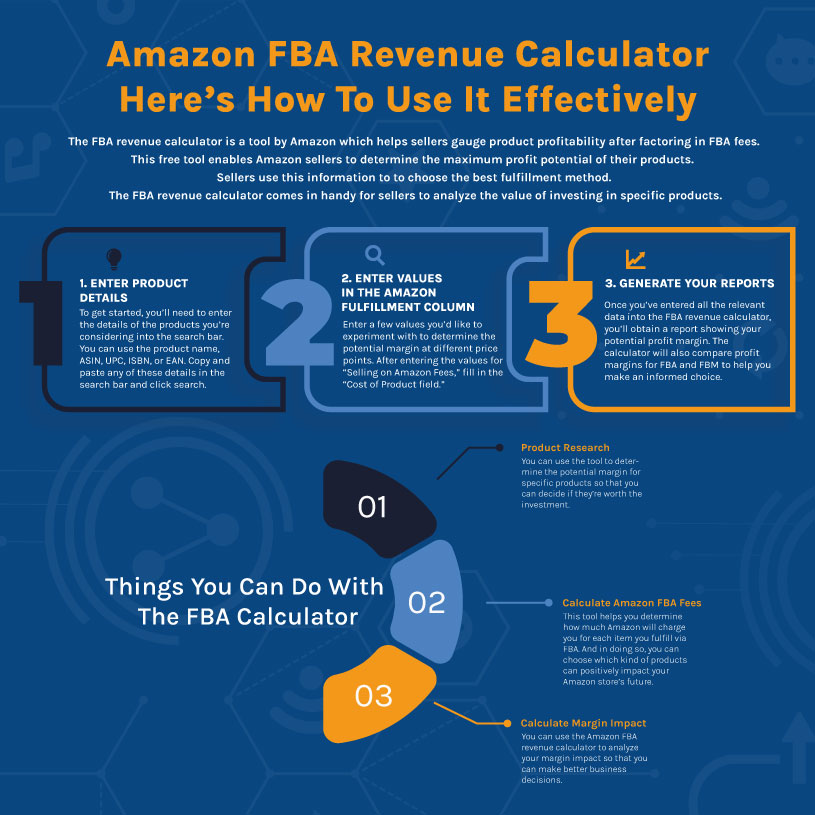 There are many fees associated with Amazon FBA. These fees include 30-day storage, order handling, outbound shipping, weight handling, and pick & pack expenses.
The FBA revenue calculator makes everything easy for you by giving you a real sense of FBA costs. However, it typically doesn't consider taxes you'll pay which depend on your business type.
To start using the FBA revenue calculator for analyzing margin impact, enter the product's price you're considering. Next, input an estimate of the shipping cost and the total cost of the product per unit.
The calculator will estimate Amazon Fulfillment costs, net profit, and net margin to help you make the right decisions.
It will also provide an accurate estimate of profit margins you can expect as well as the costs you'll incur. You can play with different price points and product costs to get an idea of margin impacts.
With this calculator, you can determine the ideal product cost budget range. You can also calculate a minimum purchase price to reach a specific level of profit. Additionally, it can help you decide the best method of fulfillment, whether FBA or FBM.
Apart from calculating potential profit, the FBA revenue calculator comes in handy when researching new products to sell on Amazon.
>> REQUEST A FREE PROPOSAL: Take 30 seconds to request a proposal and receive a customized roadmap to skyrocket your sales, beat your competition & make your brand thrive on Amazon.
How The FBA Calculator Works In Practice
The FBA revenue calculator works with existing products. Its purpose is to explain how much you can expect to generate in profits after accounting for FBA fees. Amazon determines FBA fees using several factors, including dimensions, size, and storage costs.
Using the Amazon FBA calculator is not as complicated as many people assume. This section will highlight how to use the Amazon FBA revenue calculator for checking margin impact.
Step 1: Enter Product Details
To get started, you'll need to enter the details of the products you're considering into the search bar.
You can use the product name, ASIN, UPC, ISBN, or EAN. Copy and paste any of these details in the search bar and click search.

Step 2: Enter Values In The Amazon Fulfillment Column
Enter a few values you'd like to experiment with to determine the potential margin at different price points.
After entering the values for "Selling on Amazon Fees," fill in the "Cost of Product field."
The cost of the product field explains the total cost of purchasing the product from the manufacturer.
Business owners can play with different values for the product's average per-unit selling price. You can also try other development, shipping and fulfillment costs. Use estimates to run the calculation if you don't have exact figures.
Additionally, you can find similar products on Amazon and use their values to get a sense of price range as well as the margin impact you'll get by making specific price changes.
Step 3: Generate Your Reports
Once you've entered all the relevant data into the FBA revenue calculator, you'll obtain a report showing your potential profit margin.
The calculator will also compare profit margins for FBA and FBM to help you make an informed choice.
The reports you'll obtain from the Amazon FBA revenue calculator will help you adjust different prices to remain competitive.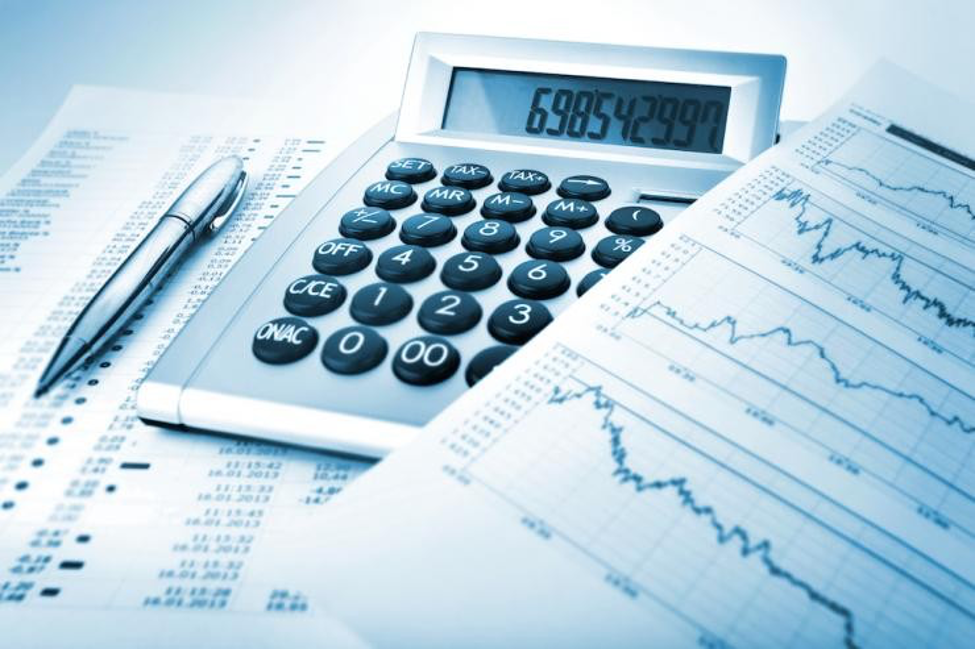 The FBA revenue calculator will showcase all the values you need to make the best product decisions from net profit to net margin, comparative revenue, and cost.
It also displays bar-graphs to give you a clear representation of various values. You can adjust multiple figures, and the calculator will provide you with the different outcomes you'll experience with FBA.
Generally, suppose you're getting started with Amazon FBA, or you're already an FBA seller looking to add more products to their portfolio. In that case, the FBA calculator is an essential tool in your tool belt that will help you gain valuable insights.
The FBA calculator will help you determine if the product you're considering adding to your inventory is worth the investment so that you can take the best action.
Your success on Amazon depends on the profitability of the products in your inventory. So it's a good idea to use the FBA revenue calculator as a guideline to make the most out of your store.
Remember those specific FBA fees are not included in the FBA revenue calculator to avoid unpleasant surprises later.
These include—long-term storage fees, returns processing fees, incidental service fees, and removal order fees.
Things You Can Do With The FBA Calculator
To test drive the calculator, search for a specific type of product available on the platform and place values in both "Your fulfillment" and "Amazon fulfillment" fields, then adjust the estimated monthly volume after clicking on "Calculate."
Here are some things you can do:
Product Research
When getting started with Amazon FBA, you may find it challenging to choose the right products to include in your inventory. Having the wrong products in stock is a recipe for failure. Inventory management is where the Amazon FBA revenue calculator comes in.
You can use the tool to determine the potential margin for specific products so that you can decide if they're worth the investment.
For example, if you want to add a multivitamin supplement to your inventory, go to Amazon, and find a similar product.
Copy and paste the ASIN of the product to the FBA calculator search bar and click search. You can enter different values in the Amazon fulfillment column to get a clear overview of the amount of profit you'll get.
Sellers can also use this tool for repricing. Sometimes, it is necessary to adjust your prices to remain competitive and profitable.
The FBA revenue calculator can help you determine the best prices for your products.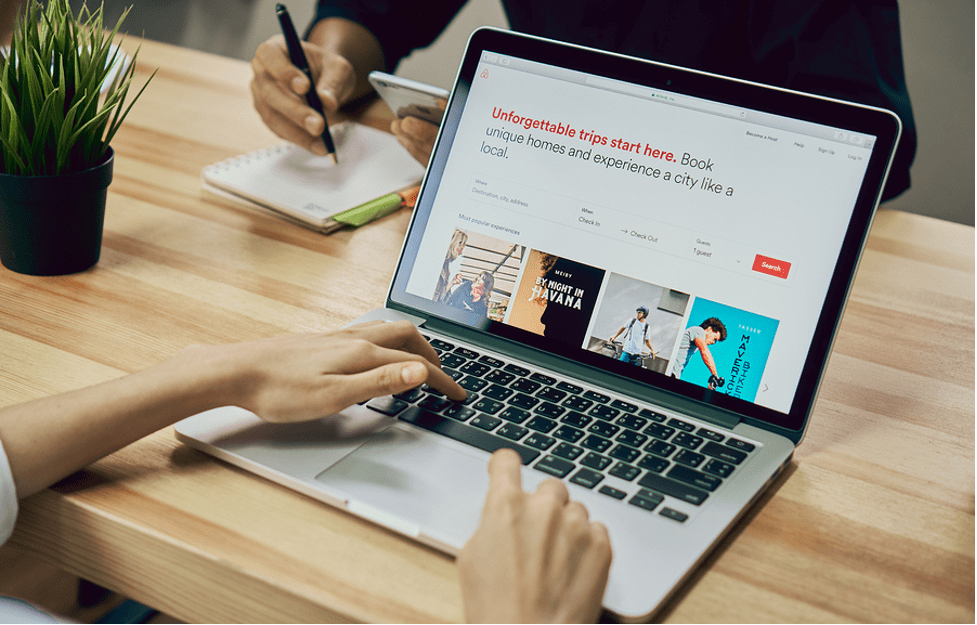 Calculate Amazon FBA Fees
This tool helps you determine how much Amazon will charge you for each item you fulfill via FBA. And in doing so, you can choose which kind of products can positively impact your Amazon store's future.
The main reason why most Amazon FBA sellers struggle to get a good return on investment is that they don't leverage this tool to make the right call.
Without a good evaluation of all the fees charged by Amazon FBA and how it compares with the proceeds you're making from your products, your chances of creating a profitable FBA business are slim.
Also, the FBA calculator helps you to determine the fulfillment method that makes more sense.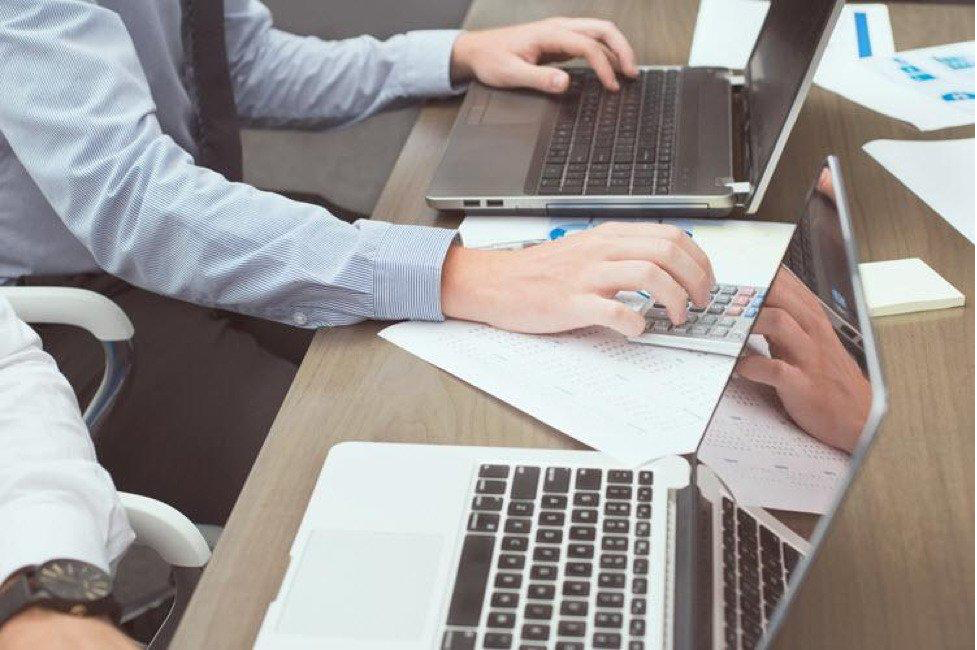 Calculate Margin Impact
You can use the Amazon FBA revenue calculator to analyze your margin impact so that you can make better business decisions.
For instance, if your competitors are gaining an edge against you because of the pricing factor, you can utilize this tool to adjust your prices to become more competitive.
Besides, the calculator can help you determine the optimal pricing point to make your products more competitive while making a good profit. The FBA calculator will help you understand how different product costs will impact your margin by playing around with the Cost of the Product.
Generally, Amazon sellers can leverage this tool to understand how Amazon FBA fees before taking any steps forward. Rather than taking chances with products you're not sure about their profitability, the FBA calculator eliminates guesswork and gives you a chance to make the right call.
If you haven't started selling on Amazon yet, this tool comes in handy for comparing bottom-line profit estimations between FBA and FBM. For sellers already onboard with FBA, this tool will help them determine if a product is worth stocking.
While it is great to get a sense of how much FBA is approximately going to cost you, the revenue calculator should be used with caution as real-life scenarios are more indicative of its actual costs.
The calculator should only give you an approximation of profit margin, which means you'll also have to rely on real-life clues to make decisions.
The 4 Steps To Precisely Calculate Your FBA Margins
Getting the best out of the calculator depends on the revenue data you want to extract and how to use it. We recommend following these exact steps to calculate your margins.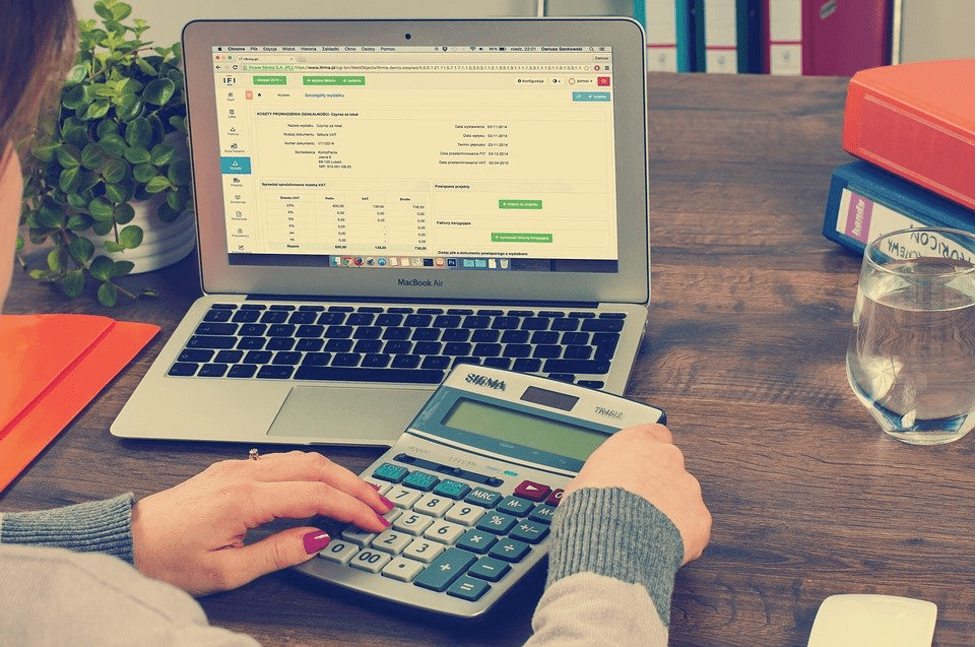 Step 1: Use An Identifier To Find The Product You Are Researching
You can use ASIN, ISBN, UPC, or search terms to pull up the specific product. If your product is already on Amazon, log in and search your FNSKU to see your listing details.
Step 2: Enter The Values In The Amazon Fulfillment Column
The values you'll enter in this section include the item price and shipping cost. You can enter as many expenses as you want to see what margin you get from different price points.
Step 3: Fill In The Ship To Amazon Field
This field is simply the average unit price to ship your product to Amazon warehouses. It tends to vary with the size, quantity, and weight of your products.
You can enter as many values as you want in this field to determine your margin at different price points.
Step 4: Fill In The Cost Of Product Field
The cost of a product refers to the per-unit cost to purchase a product from a manufacturer. It may include packaging fees, overseas shipping costs, customs, and other expenses.
Once you've filled this field, click the "calculate" button. The calculator will give you the margin for your product based on the values you input.
You can adjust and recalculate using different values.
With the proper FBA setup, selling products on Amazon becomes an absolute breeze. Using the FBA revenue calculator is a great way to plan your pricing strategy ahead of time and launch confidently.
You don't want to invest in products that will bring in negligible profit or where you'll incur losses. Your pricing strategy can make or break your Amazon business, so it makes sense to utilize the FBA revenue calculator to determine whether to raise or lower your prices.
Rather than doing guesswork when adding new products to your inventory, this tool alleviates the aspect of gambling with your store's future and allows you to invest with confidence.
Making The Best of Amazon's Seller Central Tools
The Amazon FBA calculator is just one of the many tools offered for Amazon sellers to maximize their chances of success in the marketplace. You may also consider the following Amazon seller central tools:

Amazon Seller App
The Amazon seller app is a free tool available to registered sellers on Amazon. You can use this app to list items in your Amazon store, contact customer support, respond to customers' questions, fulfill orders, analyze your sales, and many more.
The Amazon Seller App makes it easy to manage your Amazon business on the go.
Amazon Seller Refund
This tool helps you get money back from Amazon in issues like lost and damaged inventory, goods not received, reimbursement issued, overcharged fees, and customer returns.
Amazon A+ Content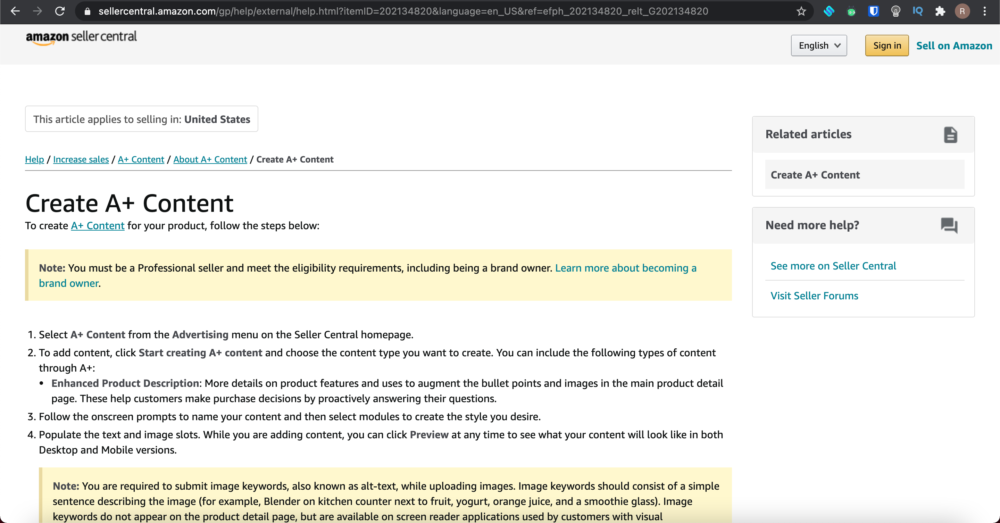 Amazon A+ Content is a tool that enables brand-registered sellers and vendors to enhance their product listings with high-quality imagery, videos, banners, and eye-catching visuals.
You can use this tool to enhance your standard listing to make it stand out.
Amazon PPC Entourage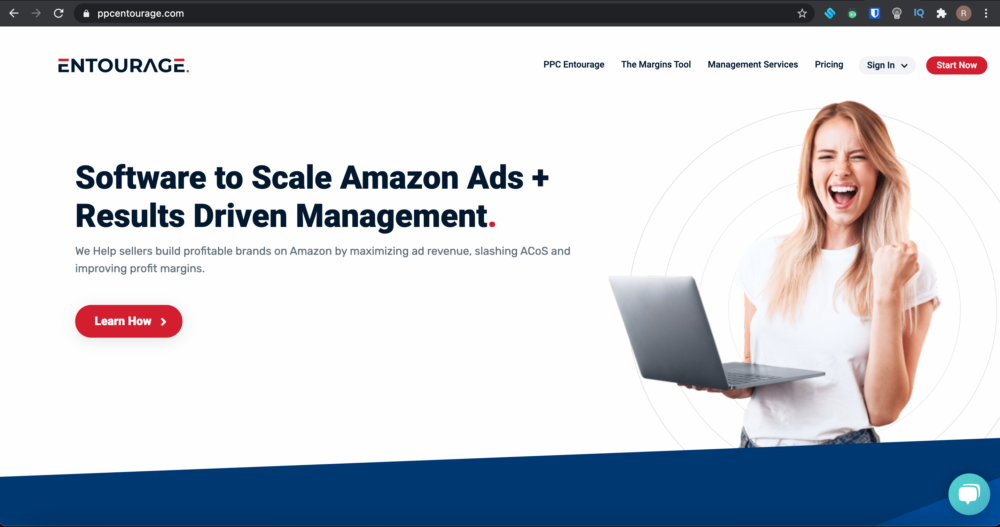 This software allows sellers to put Amazon Sponsored Product Ads on autopilot and gain a competitive edge in the marketplace.
You can also leverage the PPC entourage software to maximize ROI, save money on Amazon PPC, and drive up sales.
AMZFinder
This software comes in handy for sending feedback, managing reviews, requesting emails, and sending invoices automatically.
It comes with a feedback request system and reviews management features that enable sellers to get more reviews and improve their store's credibility.
Amazon SEO Consultant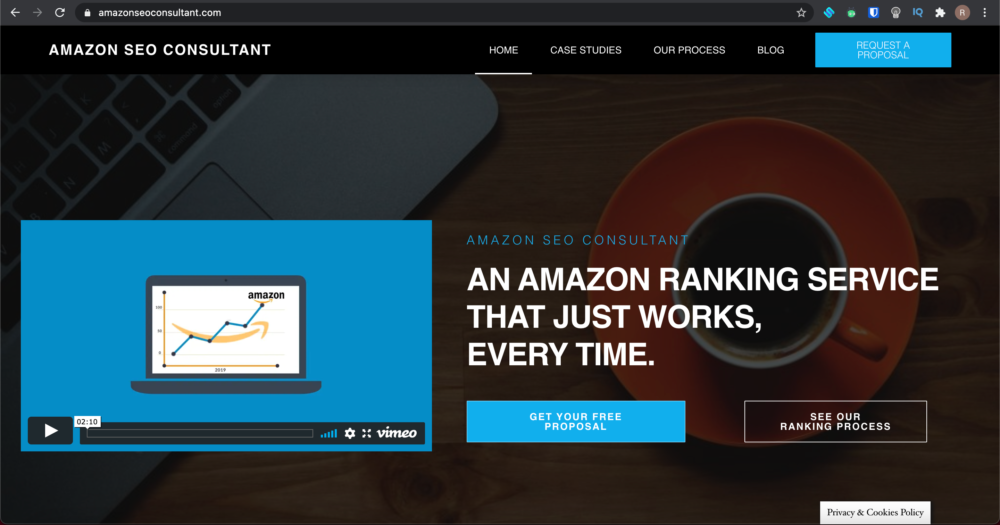 This tool helps Amazon FBA sellers to rank their products and drive up sales. Sellers can use this tool to generate high ROI and grow and scale their business efficiently.
Splitly – An Amazon Split Testing Optimization Tool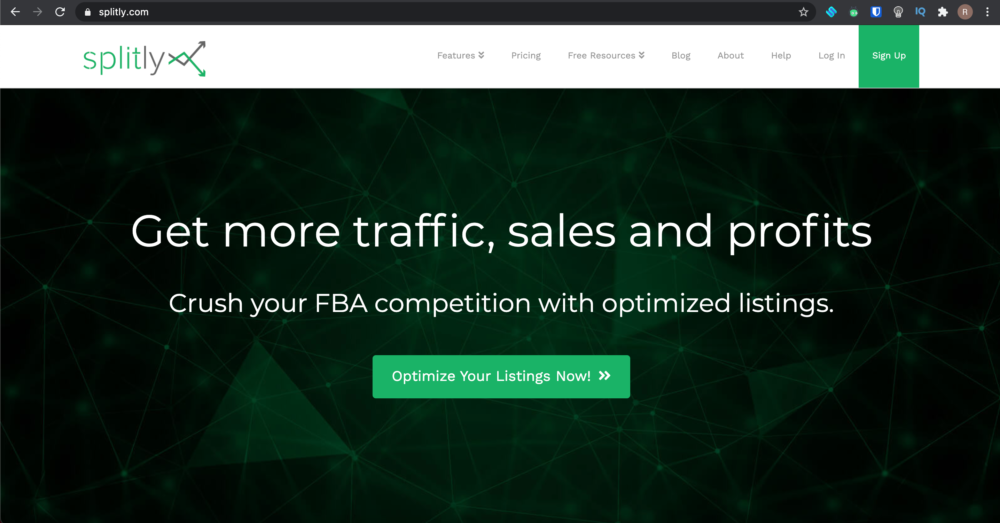 This tool enables Amazon sellers to get feedback regarding their product listing to help them improve their listing and rank higher on Amazon SERPs.
Keyworx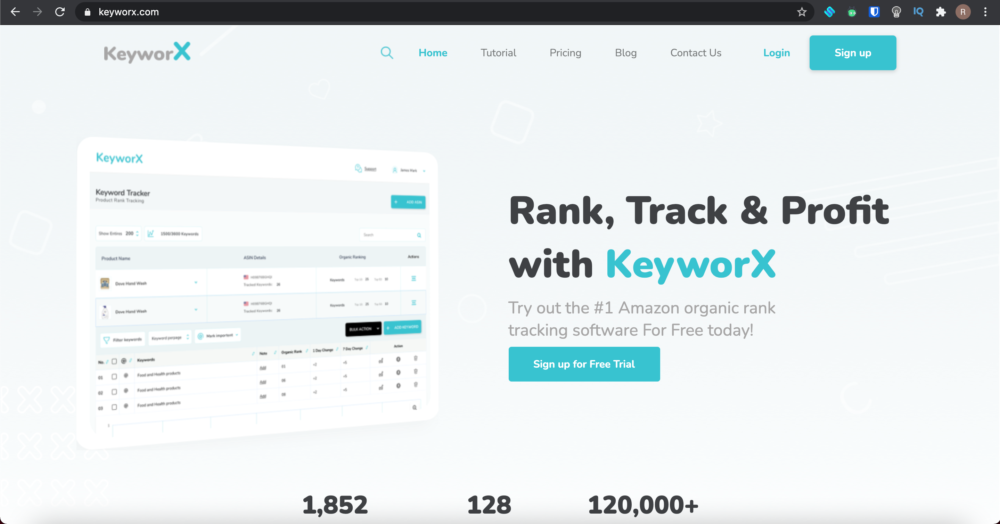 Keyworx is a keyword tracker tool available to Amazon sellers to help them find the right keywords for Amazon SEO.
Bottom Line
The Amazon FBA revenue calculator is a valuable tool for calculating Amazon FBA fees, shipping costs, and other expenditures to determine profits. It's perfect for those who want to calculate costs of selling via Amazon Prime.
Whether you're new to Amazon FBA and have yet to decide the products to add to your store, or you're an established seller considering adding new products to your Amazon FBA inventory, it is in your best interest to use this calculator to eliminate guesswork.
The calculator is also helpful while deciding whether to use FBA or an alternative fulfillment method with fewer requirements. Take the guesswork out of your Amazon FBA investment decisions with the help of the Amazon FBA revenue calculator.
And of course, if you're looking for new ways to grow your Amazon sales channel and want expert advice, Sunken Stone, a top-tier, results-driven Amazon marketing Agency for growing eCommerce brands. Tap into our managed services to take your eCommerce or Amazon business to the next level today! Start by taking our success quiz to determine how your brand compares to other businesses on Amazon.
Request A Free Proposal
Are you tired of losing sales to your competition on Amazon? It's frustrating for otherwise successful brands to underperform on the leading eCommerce platform.
Sunken Stone will help you find a solution to increase your profits on Amazon. Click "Request My Proposal" below to receive a customized roadmap to beat your competition and uncover new areas of opportunity for increasing sales.
---
Frequently Asked Questions
Are FBA Calculators 100% Accurate?
Amazon FBA revenue calculators are not 100% accurate. The fees quoted in the calculator may not be the same as the actual end payment. However, these estimates may not be very far from the actual end payment.
Which FBA Fees Appear In The Amazon FBA Calculator?
FBA fees included in the calculator include Amazon referral fees, picking and packing costs, and order handling costs. There are also weight handling, shipping, packaging supplies, shipping to the customer, Amazon seller fees, prep service, customer service, and monthly storage fees.
Which FBA Fees Are Not Included In The Amazon FBA Calculator?
Long-term storage fees, returns fees, and item removal order fees only apply in specific circumstances; hence they are not included in the Amazon FBA calculator.
Why Do You Need To Use The FBA Revenue Calculator?
This tool will help you determine profit margins for specific products to decide which products make sense. You can also use the calculator to determine the ideal fulfillment method.