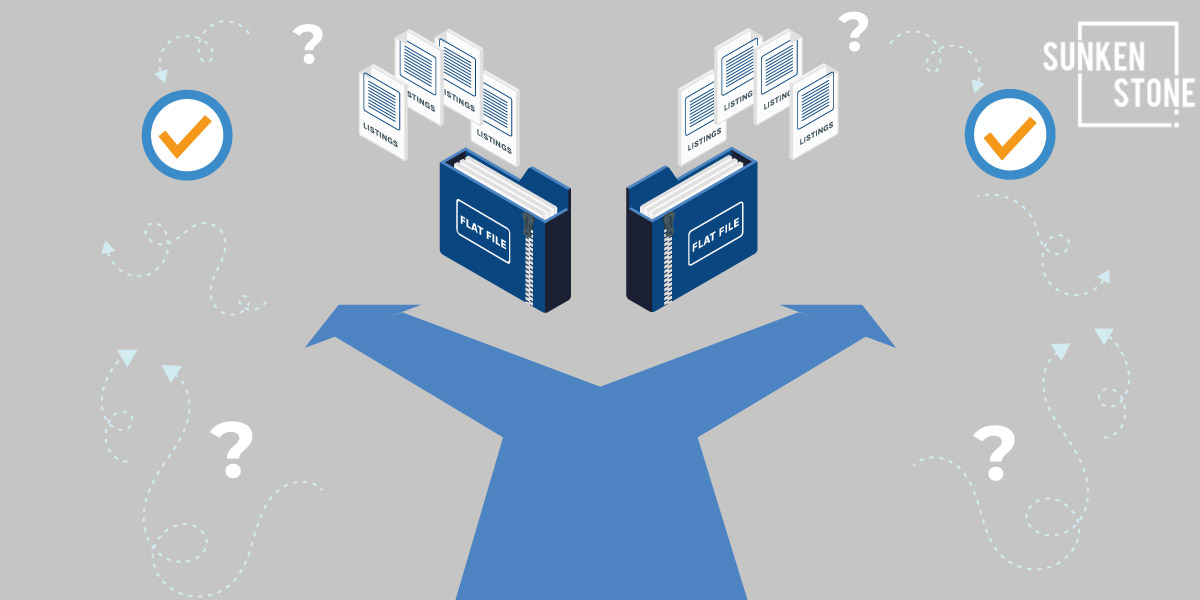 How To Upload Flat File In Amazon: 2 Ways To Achieve Success
If you're searching for a way to add products to Amazon in bulk, one way to do so is with a flat file upload. But if you're a newer brand on Amazon, or you're just not familiar with inventory files, you may not know the process of how to upload flat file in Amazon.
Luckily you clicked here. We're going to solve this problem for you today by discussing two topics. By the end of this post you'll understand:
How to upload flat file in Amazon, and
Whether a flat file is the ideal way to make product listing changes (spoiler: it's not.)
There are three ways to create new product listings as an Amazon Seller, but some methods are more time-consuming than others.
Here are the different ways you can create product listings (or jump directly to how to upload flat file in Amazon.) You can either:
a) Add products one-by-one.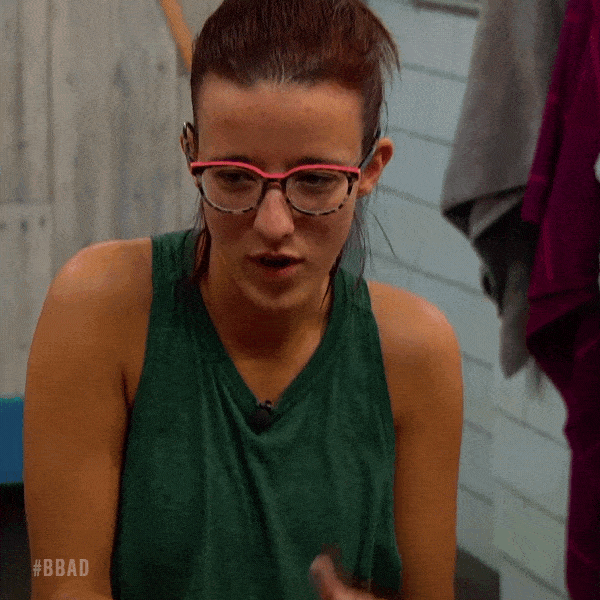 It's easy, but it's time-consuming and boring. If you're a beginner, this is an effective way to start. But when you list and require updates for hundreds of products on Amazon, it's not feasible.
Enter option two.
b) Use a flat file.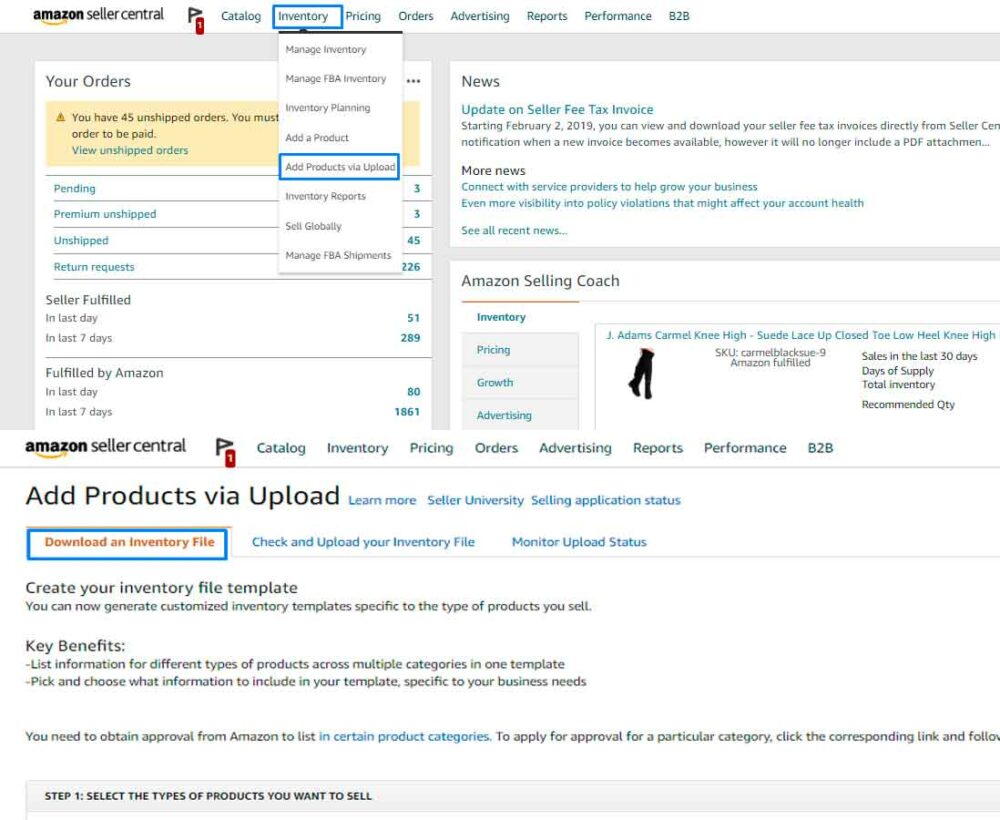 This option is where you're at and the reason you're learning how to upload flat file in Amazon.
Amazon flat files are an excellent option if you're searching for a faster, less time-extensive option for creating and editing product listings.
I mean, come on, it's literally a spreadsheet. Who can't make those? Well, the issue is, there's a lot to know when it comes to creating flat files. One mistake and ka-poof, your listing is down.
No seller needs this problem. But fortunately, there's a third option.
So, to recap. Although all methods take time, creating and uploading a flat file isn't always the best way to make product listing changes in bulk on Amazon.
This article will show you how to upload flat file in Amazon using a flat CSV file or XML format file type spreadsheet.
We'll also explain how Flat File Pro, a listing software for Amazon, reduces the time it takes to create a bulk inventory file. Enter the third option for adding listings to Amazon.
c) Use an Amazon listing software (like Flat File Pro, for instance.)

Both methods require you to have a professional account with Amazon, but they differ in their ease of use. We'll get to the reasons why using Flat File Pro is more helpful than learning how to upload flat file in Amazon in another post.
But for now, let's compare and contrast solutions to the question, "how to upload flat file in Amazon. Here's how uploading a flat file in Amazon works.
How To Upload Flat File In Amazon: Here Are The Two Ways To Achieve Success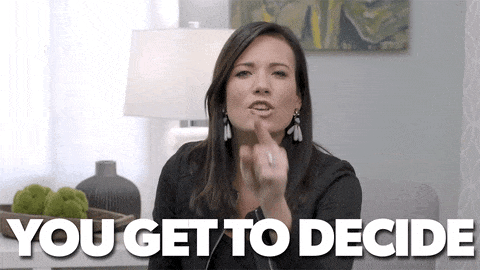 As a business that sells on Amazon, you don't have enough time to make manual listing changes. Not only do manual listings require your time, but they can be error-prone.
If you're not careful when making inventory file changes, you could send out duplicate or incorrect items. And any mistakes take a long time to correct.
That's where flat files and Flat File Pro come in handy. Both tools allow you to update multiple product listings at once quickly.
>> SECURE & PROTECT AMAZON SELLER DATA: Protect Product Listings Against Data Loss, Fraudsters, And Human Error With Flat File Pro
However, flat files aren't always perfect since CSV file errors often occur for inexperienced and advanced sellers alike.
Fortunately, Amazon listing software minimizes the likelihood you'll experience errors that require Amazon support ticket resolution.
If you don't want to dedicate tons of time and resources to adding and updating product listings, then a solution like Flat File Pro makes it easy to manage your inventory without manually entering each item.
With that in mind, let's explore the traditional flat file item upload process as an Amazon merchant.
Afterward, we'll explain why it's not always the ideal method for top brands on the marketplace—and address what you can do to make eCommerce marketplace listing creation easy as a professional seller.
Although it's beneficial to know how to upload flat file in Amazon, Amazon listing software can help your team update and secure your listings, without the hassles of working from a spreadsheet.
Option One: Use A Traditional Flat File
The first way to update product listings in bulk is with a traditional flat file. But what should you know about flat files and how do they work? Here's what to know before learning how to upload flat file in Amazon.
Let's create your first inventory XML format spreadsheet and learn how to upload flat file in Amazon. This step-by-step guide for Amazon merchants will explain how.
What Is A Flat File? Explaining Amazon Inventory Files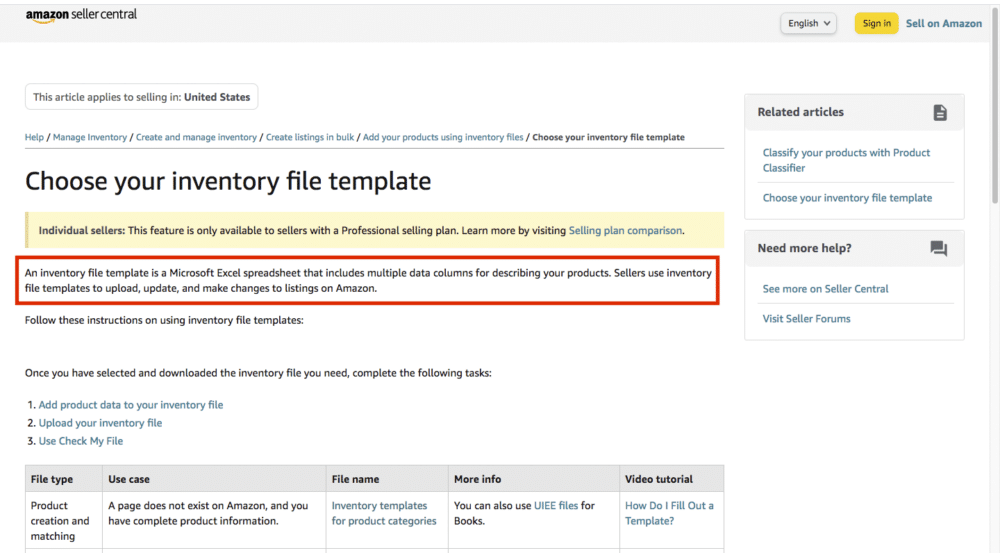 A flat file is a simple text document that contains information about individual items. It's an excellent tool for small businesses because it allows you to change Amazon product listings in bulk.
You've likely seen a "flat file" in an XLM format or a CSV file, commonly an Excel spreadsheet.
These spreadsheets list metadata, product listing information, and other data about each item.
You can use flat files to add new items to your store, edit existing ones, and delete unwanted items.
Updating listings is fairly simple with flat files. You open the file, edit the data, and save it again.
Afterward, you upload the inventory file to Amazon and check for errors. You can even share this file with other people so they can access it too.
The traditional process of changing listings on Amazon using flat files is often a tedious process. After saving the data, upload the products via upload page on Amazon and cross your fingers that you did everything correctly!
Amazon uploads all the data in your inventory file in bulk and creates new product listings or updates existing ones. That's why it's helpful to know how to upload flat file in Amazon.
If there's an error with any of your changes, Amazon might delist your products until you resolve issues. And if your team doesn't notice the listing error for months or longer, you'll lose revenue.
That's why Amazon listing software is so convenient. But we'll get to that soon.
Now that you understand what a flat file is let's discuss the process of uploading an inventory file to provide a partial update to Amazon about your product listings.
Here's an in-depth guide explaining how to upload flat file in Amazon to add, delete, or change listings.
How To Create Amazon Inventory Listing Data Using The Flat File Template Tab
Learning how to upload flat file in Amazon isn't challenging when following these simple steps.
Step #1: Download Your Amazon Seller Central Inventory File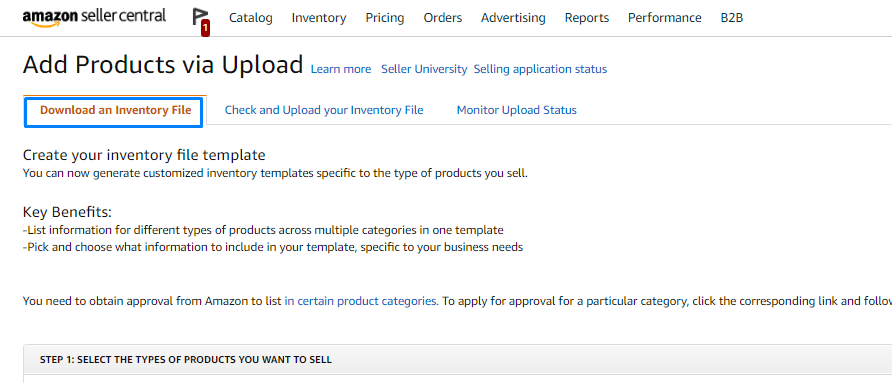 Amazon provides flat file templates for Sellers looking to avoid the manual listing process. You can download each flat file template from Amazon or read our flat file template download article. Since you want to know how to upload flat file in Amazon, chances are you've already completed this step.
Regardless of which flat file template download option you prefer, you'll need to use an inventory file template download to start the process off. Once you download the Amazon flat file templates you need, the next step is to become familiar with the document and product inventory rules.
Each template has unique functions, but most have similar methods for inputting product data. That's what we'll discuss next. Let's continue learning how to upload flat file in Amazon.
Step #2: Add Data By Completing To The Excel Table Template Tab

The first tab of every flat file template should contain data definitions or instructions on correctly adding product information to the document.
In addition to a data definitions tab, there's also an inventory tab where you can navigate through the main section of the flat file.
Most of the time, the inventory file tab in the flat file is labeled "template." It's here where you'll upload information about your products.
However, the amount of information differs for each template, with every spreadsheet having unique file upload settings.
Step #3: Upload Your Inventory File
Now we're getting to the good step, where you must upload your inventory file. Here's how to upload flat file in Amazon after editing your
After inputting product data in the flat file, your next step is to load the inventory file into Amazon. You can achieve this by uploading your inventory file to Amazon Seller Central.
Don't worry—we will explain the basics of how to upload flat file in Amazon right now. Continue reading the following sections if you want a more in-depth explanation.
We'll also note some common errors to avoid, so be sure not to skim.
Here are some tips that will explain how to upload flat file in Amazon quickly:
How To Upload Flat File In Amazon The Traditional Way (Step-By-Step)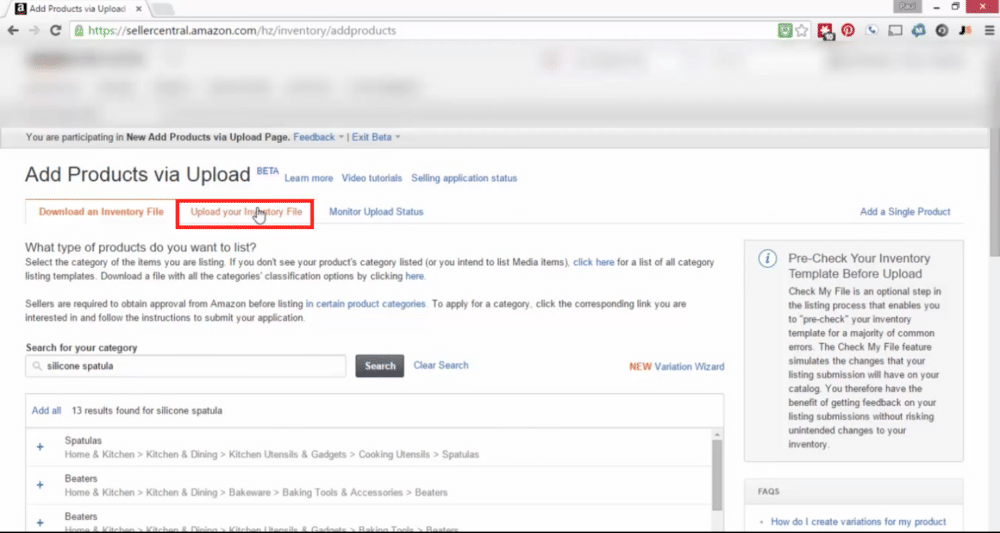 In Amazon Seller Central, hover over the drop-down menu for inventory reports. Select the option in the drop-down menu to Add Products Via Upload.
Next, review your document to ensure it matches Amazon's file upload settings. The data in a flat file has to be correct. Otherwise, your bulk upload products file might lead to headaches.
After navigating to the page where you can upload your database table, click Upload Your Inventory File. When you consider the traditional process of how to upload flat file in Amazon, this is a pivotal moment. Upload the wrong file and you'll have hours of listing headaches!
Although there is not only one standard for most flat files, the ideal file type is .txt for Amazon. Save your inventory loader spreadsheet, for example, in this format rather than another file.
You can use a tab-delimited text file to create your flat files. Just create a list containing all mandatory data that Amazon requires, such as potential vendors for a food item. These documents also work as a backup file if you lose Amazon data.
Decide if you want to purge and replace your listings or update them. Regardless of what you decide, update your file upload settings to match and use the partial upload option if necessary. After choosing, upload your database and get ready to correct errors if they appear.
Track data after uploading category-specific inventory file templates or any other flat file on the monitor upload status tab. Amazon will validate the data, showing a status bar, so be sure to track the upload status.
Access The Amazon Product Flat File Upload Results
If you have uploaded a flat file successfully, you should see an "Uploaded Successfully" notification under the "Your Account" section of Seller Central. This means you've completed the process of uploading your flat file. Now, you can access the results from the uploads.
To view the results from your uploads, go to the Monitor Upload Status tab. Click the link at the top of the page to open the results. Here, you'll find information about each upload, including the upload date, the total number of items added, and the full price. You can also download a CSV export of the entire upload.
Note: After the upload status completes, Amazon will determine if you created a flat file using non-Amazon files or any templates they supply. If you're bulk uploading products with a custom file, you must manually input a file type. Otherwise, you will receive a database table error message, which you'll need to resolve.
Check Your Amazon Product Flat File Upload Results & Check For Format Error Messages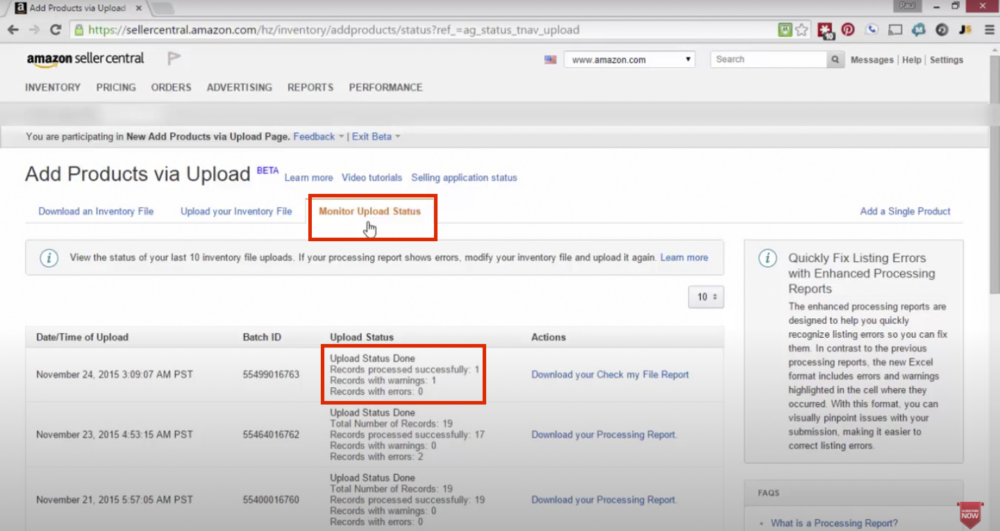 The best way to check your upload results is by viewing the results on Amazon's website.
When you visit the product listing page, you'll see a notice that says "Bulk Upload Complete." Scroll down to the bottom of the page to see the details of your successful upload.
If you don't see the Bulk Upload Complete notice, then you may have encountered an error during the upload process. To troubleshoot these issues, follow the steps below:
Go back to your Seller Central dashboard.
Select the Uploads tab.
Click the View Details button next to the upload you'd like to review.
Review the details of the upload. If you see any red flags, resolve the issues or contact Amazon immediately.
Now you know how to upload flat file in Amazon. But is it best to spend time creating bulk inventory files in a spreadsheet where you must input multiple buyer fields rather than finding an easier way to complete the process?
The Amazon marketing professionals here at Sunken Stone don't think so.
Option Two: Use An Amazon Listing Software Like Flat File Pro
In the next post, we're going to discuss how to improve the upload process within your organization using the Amazon listing software Flat File Pro.
Don't have your team spend too much time figuring out how to upload flat file in Amazon. Let us show you how to update listings within Flat File Pro in our article on how to improve the flat file upload process in Amazon using Flat File Pro.
What Happens If You Lose All Of Your Amazon Product Data?
Flat File Pro protects your Amazon business against data loss from human error, fraudsters, and other digital threats.
You can use this Amazon listing software to backup & restore your listing data and never worry about losing it again. Click the image below and sign up for your free trial of Flat File Pro!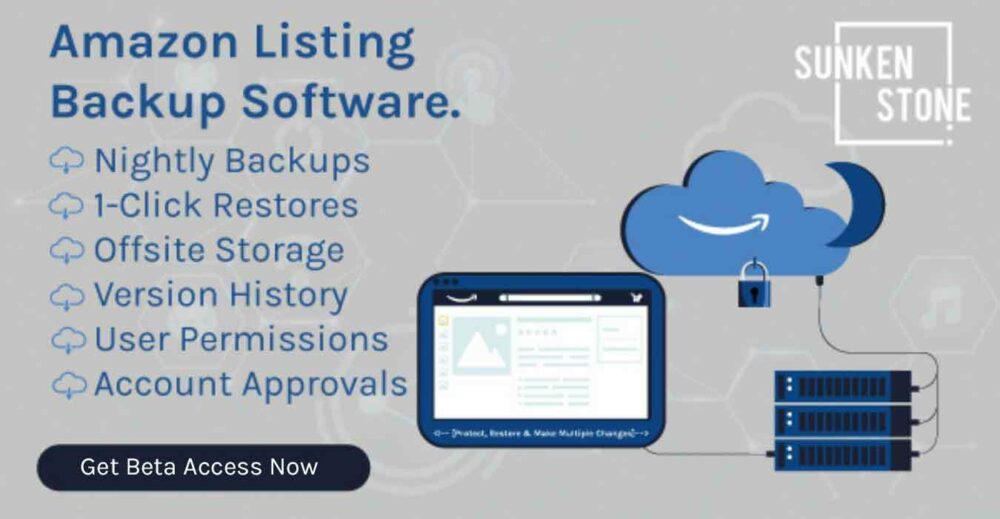 ---
What is a flat file in Amazon?
A flat file is a set of records that are organized into rows and columns. These records contain all of the data necessary for an Amazon seller to create or update a listing.
How can I upload a flat file?
Here's how to upload flat file in Amazon Seller Central. Visit the inventory tab and select the Upload Files option. Select the Browse button to locate the file you want to use as the basis for your new listing. Once you've selected the file, click the Open button. Finally, Amazon will process your data.
How do I upload files to Amazon?
Most commonly, people upload files to Amazon S3. However, there are other ways to upload files. The easiest method is to upload them directly to Amazon via FTP. However, this upload method (which is not for Amazon Sellers, but S3 users) is not recommended because it requires technical expertise.
How do you update a flat file on Amazon?
You can use a spreadsheet editor like Excel to edit the contents of your flat file. You can also use a third-party tool such as Flat File Pro to make changes to your flat file. Amazon listing software doesn't require you to edit documents or learn how to upload flat file in Amazon. Flat File Pro requires less technical knowledge and experience, leveling the playing field for all Amazon Merchants.