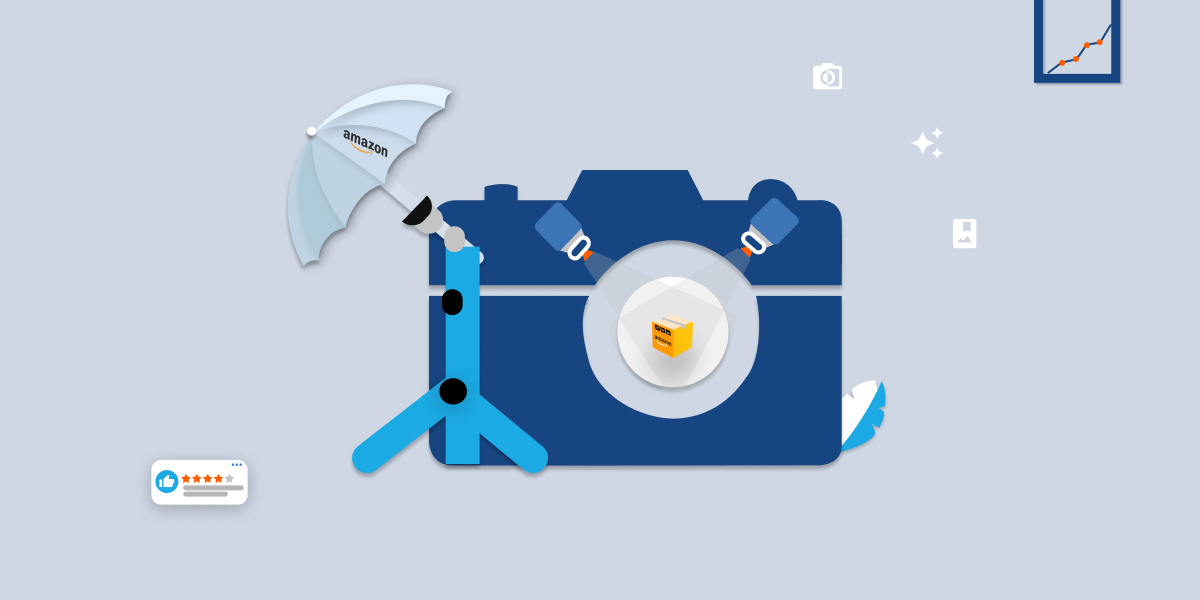 How To Take Stunning Amazon Product Pictures
The perceived value of your products can often be rated through the quality of your Amazon product photography. Thankfully, brands don't need to spend thousands on professional photography equipment or a professional photographer to create captivating Amazon product pictures that only increase consumer trustworthiness.
DIY product photography isn't rocket science. As long as you have the proper tools, capturing breathtaking product images can be well within your grasp. Here, we discuss how you can save money on Amazon product listing photography and give your listing a boost through compelling imagery.
Amazon Product Pictures 101
Camera
To get started with Amazon product pictures, you'll need some basic tools. The most important aspect is the camera you use. In recent years, they have become extremely affordable.
A good starting camera for product pictures is the Nikon D7000, used by a vast majority of e-commerce professionals.
Although many may splurge on a high-end DSLR, the iPhone X can take stunning photos with it's 12 MP dual-camera. Before you commit to an expensive camera, explore using your smartphone after getting the proper equipment listed below.
Tools
Other tools needed for product images include a white backdrop, tripod, and lighting. You can find photography kits online with all the necessary items for $70 or less.
Ensure that the lighting setup you purchase operates in a "continuous" mode, rather than a flash only mode. This makes it so that the same lighting setup can be used for videos as well. LED lighting can add additional brightening effects to the product without any harsh shadows or off-coloring.
A tripod is necessary to help avoid blurry images from long exposures. If your brand sells smaller products, you can get an all-in-one photography booth online like the one pictured below. You can find many photo boxes in Amazon's photography shop.
>> REQUEST A FREE PROPOSAL: Take 30 seconds to request a proposal and receive a customized roadmap to skyrocket your sales, beat your competition & make your brand thrive on Amazon.
Your Photography Setup
Shooting product images behind a continuous white background help convey the details of your product to the consumer. The location of where you take your pictures can also have an impact on the outcome.
Be sure to place your photography setup near a bright window with ample amounts of natural sunlight. If you are able to find a window with ample lighting, avoid using the supplementary lights.
If you do not have access to a window, we recommend placing your photography setup in a dark room with all of your photography lights in use. Avoid using too many lights when your photography light from the sun, this can cause excessive harshness in the image.
Use Wide Aperture
The aperture refers to the opening that lets light come into the camera. It is specified with an "f-number", such as "f/4" or "f/16". A wider aperture (a smaller number on the f-number) helps to produce a narrow depth of field. For product images, it is advised to set your aperture to "f/2". Most camera manuals have specific instructions on adjusting or setting the aperture. If you have an iPhone, you can use "portrait" mode to capture stunning pictures.
Shadows
Harsh back lighting can lead to significant shadows that draw away from the main focus- your products. Ensure that you keep your picture lights on the same side of the objects and camera to avoid harsh shadows. In order to avoid other defective photos, be sure that the camera and the lens are clean. Often times, fingerprints will not show in photo previews until the picture has been uploaded to a larger display, such as a computer monitor.
Last Tips For Amazon Product Pictures
When taking Amazon product pictures, don't be afraid to experiment. Often times, taking a handful of images from each angle can help to ensure you don't have to go back to retake images due to simple lighting or photography issues.
Be sure that you take at least four pictures from all angles. This includes the front, back, and both sides of the product. Multiple pictures can give the shopper a better idea of what they are purchasing.
Although you may make a few mistakes on the way, you will gain a more in-depth understanding of how Amazon product pictures works.
If you want to take your Amazon pictures to the next level, you can use programs such as Photoshop or Illustrator to enhance your pictures. Some of the best effects come from brightening and sharpening the product pictures.
Final Note
If you are looking for a turnkey solution to selling on Amazon, let the Amazon consultants at Sunken Stone help. Our team of performance-based Amazon gurus can help increase your products ranking in Amazon, along with taking care of professional photography, customer service, and much more. To get started, schedule your free Amazon Strategy Call today.
Request A Free Proposal
Are you tired of losing sales to your competition on Amazon? It's frustrating for otherwise successful brands to underperform on the leading eCommerce platform.
Sunken Stone will help you find a solution to increase your profits on Amazon. Click "Request My Proposal" below to receive a customized roadmap to beat your competition and uncover new areas of opportunity for increasing sales.
---