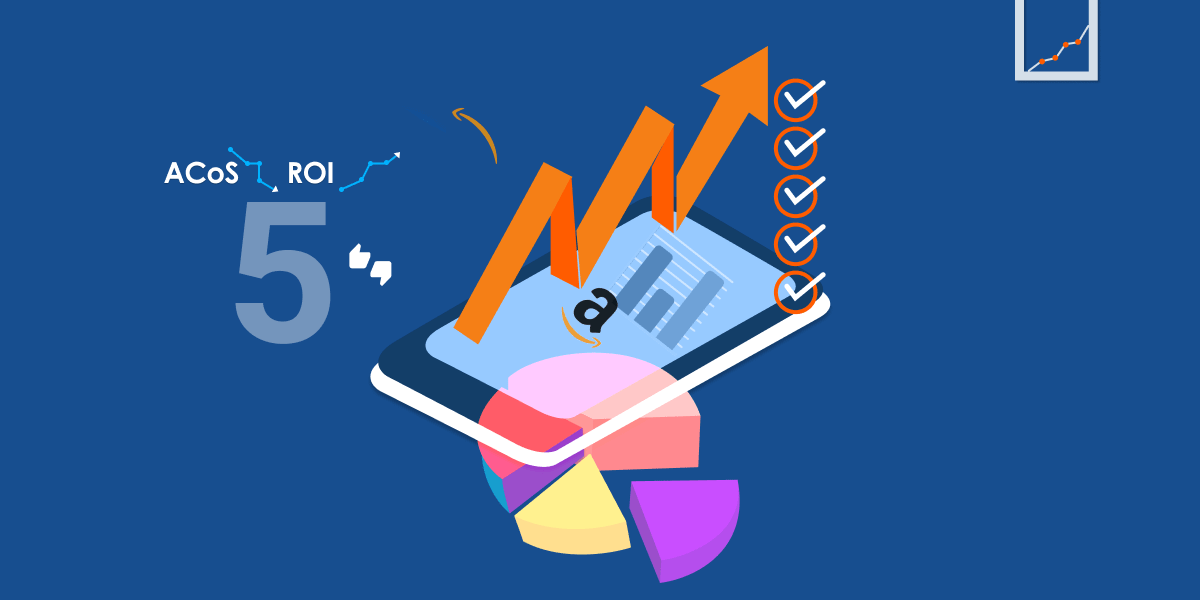 5 Easy Ways To Reduce ACoS On Amazon & Increase ROI [How To]
ACoS (Advertising Cost of Sales) is one metric Amazon uses to measure the performance of PPC campaigns. If your goal is to maximize profits, you should aim for a low ACoS.
In this blog post, we examine ACoS, the scenarios when high ACoS on Amazon isn't necessarily a bad thing, and what you can do to reduce ACoS on Amazon and increase ROI.
Keep reading to learn more on how to reduce ACoS on Amazon and keep profits high.
What is ACoS on Amazon?
ACoS is a metric that measures the ratio of advertising spend to target sales. It evaluates the effectiveness of your Amazon PPC campaigns relative to your advertising spend.
Brands on Amazon can calculate their ACoS by dividing the amount they spend on PPC advertising by total sales from advertising.
>> REQUEST A FREE PROPOSAL: Take 30 seconds to request a proposal and receive a customized roadmap to skyrocket your sales, beat your competition & make your brand thrive on Amazon.
3 Scenarios Where Having A High Amazon ACoS Doesn't Matter
Although most brands aim to maximize their profits by reducing their ACoS, there are scenarios where having a high Amazon ACoS isn't necessarily a bad thing.
Let's look at those scenarios.
Scenario #1: Within The First 10 Days Of A Campaign's Start Date
When you launch a new campaign, you'll have to wait at least ten days to review your ACoS metrics to understand the complete picture. If you review your ACoS within the first ten days of the campaign's start date, you may not have enough data about your brand's advertising. Thus, having a high Amazon ACoS doesn't matter during the first several days of the campaign start date.
Scenario #2: While Maintaining Position On Your Brand Terms & Flagship Non-Brand Keyword
If your brand's main goal is to maintain position on a specific search term then accepting a higher ACoS makes sense because you'll gain more visibility. When you compare the value of the visibility you'll gain, a higher ACoS isn't necessarily a bad thing. Without putting enough ad spend toward your brand's most important keywords, your business may lose out on sales that are essential for your organization.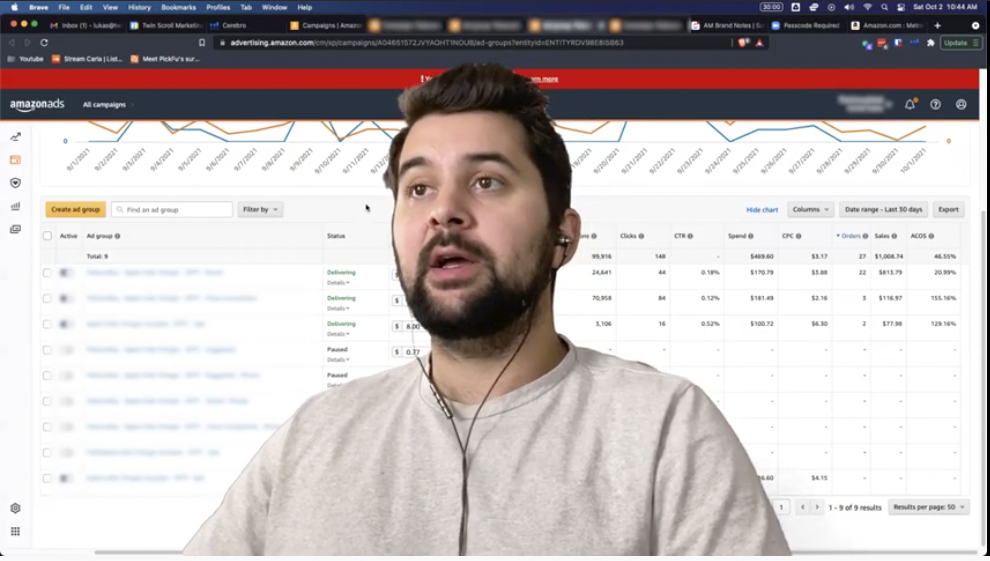 Scenario #3: While Viewing The Last Two Days Of Data (Sales Data Delay Will Make Your ACoS Figures Inaccurate)
The most recent two days of ACoS data typically isn't accurate. Therefore, it's best to view data for at least one week to get an accurate picture of your brand's ad results. Thus, having a high Amazon ACoS when viewing the last two days of data doesn't matter, since it's not providing all the information your brand should rely on.
5 Easy Ways To Reduce ACoS On Amazon [How To]
Typically, a lower ACoS means your PPC campaign is performing well. Therefore, lowering your ACoS is key to generating higher profits.
Let's look at how to decrease ACoS on Amazon.
ACoS Reduction Tip #1: Modify Automatic Targeting Campaigns
One of the most effective ways to decrease ACoS on Amazon is to modify your automatic targeting campaigns.
After launching a new ad campaign, let it run for a couple of weeks and check back to see which search terms are generating sales. There are many aspects of your campaign that will change over time. You'll need to review your automatic targeting campaigns frequently and make adjustments to keep your brand's ads profitable.
Keyword dumping refers to the excessive use of keywords or keyphrases in your Amazon listing in an attempt to manipulate your ranking in search results. This practice will not only attract unqualified traffic to your pages but will also create a negative experience for shoppers.
Furthermore, excessive use of keywords only wastes the space you can use to index or rank additional keywords.
We recommend placing the most relevant keywords naturally within your product titles, in bullet points, and in product descriptions.
Here's a helpful tutorial that shows brand owners how to use Amazon keywords like the top-sellers.
ACoS Reduction Tip #3: Reallocate Amazon PPC Spend
It's a good idea to examine your Amazon PPC spend and make adjustments where necessary. Keyword performance, shopper search behavior, and competition change over time. That's why it's important to review your PPC spend from time to time to ensure you're getting the most out of every ad.
For instance, if competitors are outbidding you, you'll want to increase your bid amount to remain competitive. And in cases where your competitors our outspending you by a significant amount, it might be best to reallocate campaign spend to new PPC ads with less competition.
ACoS Reduction Tip #4: Adjust Top Of First Page Placement Modifiers
Every single campaign that you're running on Amazon has placement data that shows you where your ads are going. This data gives you insights into the amount that you should bid.
Look at the placement report for all your campaigns and adjust the top of first-page placement modifiers.
You can get your placement report through Amazon Seller Central. Simply go to reports and navigate to advertising reports, then click on performance by placement and request report.
ACoS Reduction Tip #5: Remove Generic Keywords
Generic keywords or head keywords are broad, unspecific terms that shoppers use to search for products on Amazon. Unfortunately, these common search terms often attract shoppers who have no interest in what you're selling.
Generic keywords are also extremely competitive, meaning they can easily drain your advertising budget. Therefore, it's best to go for more specific keywords which can attract more qualified traffic much faster.
So, there you have it! With these five tips, your brand can reduce your ACoS and increase ROI.
Additional Resources To Help Reduce Amazon ACoS
Sunken Stone is a top-tier, results-driven Amazon marketing Agency for growing eCommerce brands. Tap into our managed services to take your eCommerce or Amazon business to the next level today!
Discover how our PPC experts will evaluate your business and advise you on profitable PPC campaigns that will grow your customer base and increase sales, without the stress of managing and optimizing the process in-house. Learn more about our Amazon PPC Management services from Sunken Stone.
Request A Free Proposal
Are you tired of losing sales to your competition on Amazon? It's frustrating for otherwise successful brands to underperform on the leading eCommerce platform.
Sunken Stone will help you find a solution to increase your profits on Amazon. Click "Request My Proposal" below to receive a customized roadmap to beat your competition and uncover new areas of opportunity for increasing sales.
---
Frequently Asked Questions
How Do I Lower My ACoS On Amazon?
Some of the best strategies you can implement to lower your Amazon ACoS include:
Conduct proper keyword research to find the best keywords that will help you attract more leads
Optimize page content to attract more traffic 
Set the right bid amount
Use automated Amazon PPC tools to optimize your campaigns
Leverage Sponsored Products and Sponsored Display Ads
Prioritize best-selling SKUs 
Get the help of Amazon PPC management specialists such as Sunken Stone.
What Is A Good ACoS On Amazon?
The average ACoS on Amazon is between 25% and 40%. However, there's no set ACoS that brands should aim for. A good ACoS on Amazon depends on your goals.  
How Is ACoS Calculated On Amazon?
ACoS is calculated by dividing ad spend by target sales (expressed as a percentage). 
ACoS = Ad Spend/ Target Sales * 100
Let's say that an ad campaign generates $1,000 in sales, and the ad campaign costs $300 to run. 
ACoS= 300/1000 * 100% = 30%
What is Amazon PPC ACoS?
Amazon PPC ACoS is a metric that indicates the ratio of ad spend to target sales. It helps brands to measure the success of their Amazon PPC campaigns.