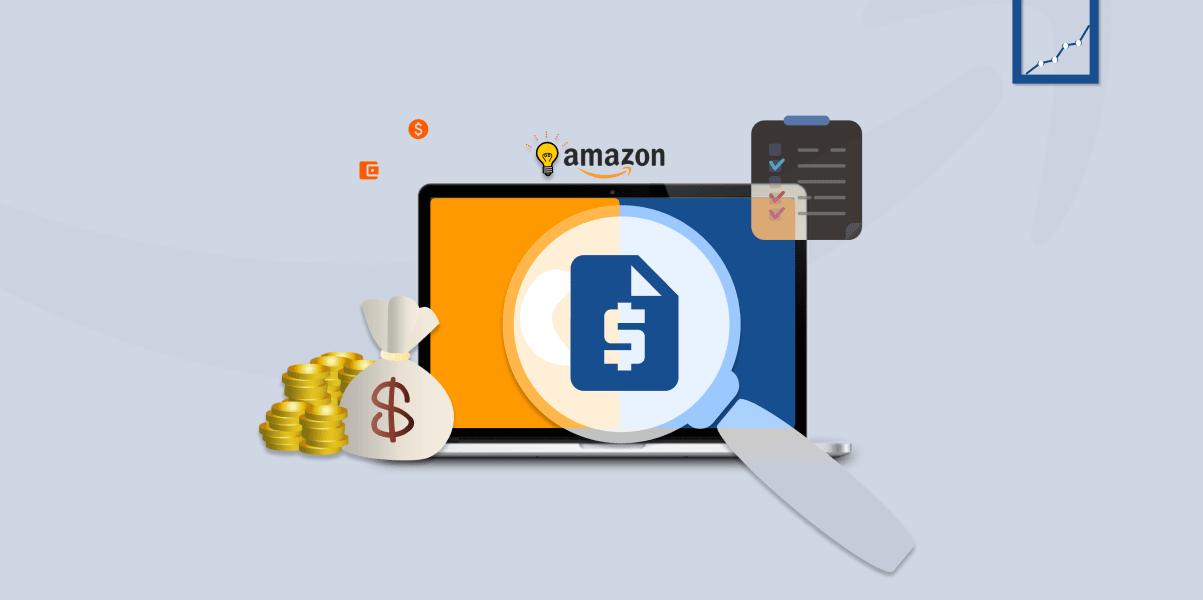 How To Make Money On Amazon: Top Ways In 2022
Jeff Bezos' Amazon is one of the most profitable companies on the planet after Apple and Microsoft. More than 197 million people around the world visit Amazon.com each month. The global eCommerce giant is the undisputed king of eCommerce marketplaces.
Aside from giving shoppers access to almost everything they could possibly want, Amazon is a very convenient website for shoppers. It's also secure, reliable, and customer-centric.
While most people visit Amazon to spend money, there are millions of sellers who've learned how to make money on Amazon. The eCommerce giant offers tons of ways to make money on Amazon. From selling products with Amazon FBA and selling wholesale products to publishing your own books and becoming an affiliate through Amazon Associates, you have many options to choose from.
How To Make Money On Amazon
Whether you're looking to make money on Amazon as a side hustle or a full-time gig, there are so many opportunities to leverage.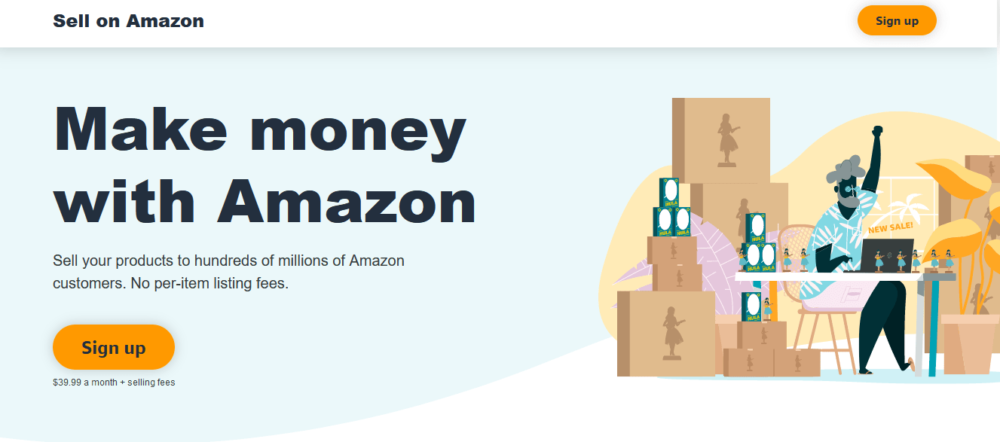 This blog post dives into the best ways to make money on Amazon. More specifically, we'll tackle the following sub-topics:
Best ways to make money on Amazon
What you can sell on Amazon to make money
The amount of money you can make on Amazon
How to make money on Amazon without selling
The following are some of the proven ways to make money on Amazon:
>> REQUEST A FREE PROPOSAL: Take 30 seconds to request a proposal and receive a customized roadmap to skyrocket your sales, beat your competition & make your brand thrive on Amazon.
Sell Products with Amazon FBA
You simply need to register as a seller on Amazon and send your inventory to Amazon. Once you join Amazon FBA and create a listing for your product, Amazon will take care of the shipping and customer service on your behalf.
You'll make money by selling the products for a higher price than you pay for them.
Flip Products with Retail Arbitrage
Retail arbitrage entails sourcing products from local retail stores or wholesalers at discounted prices and then reselling them on Amazon for a higher price. With retail arbitrage, you simply buy low and sell high.
All you need to do is conduct research to find retail stores or wholesalers who offer discounted products, buy inventory from those retailers or wholesalers and resell them on Amazon for a profit. These retailers could be eBay, Groupon, Barnes, Noble, Target, Walmart, etc.
You can also source your products from online websites that offer free shipping, though the best discounts are found in local retail stores.
However, retail arbitrage requires you to be very good at sourcing discounted products. Luckily, there are product sourcing tools for Amazon that you can utilize to find discounted products to sell on Amazon. You can also take advantage of clearance deals and coupons to maximize your profits. Using the FBA Revenue Calculator, you can determine the most profitable products to sell on Amazon.
While 'buying low and selling high' may seem easy, it requires a lot of time and effort to succeed. Besides, it's a very competitive space; hence difficult to scale.
By joining the Amazon FBA program, you can easily grow your retail arbitrage reselling business. Amazon FBA will take care of storing your items, shipping, and customer service, allowing you to focus on sourcing products for the cheapest retailers.
Retail arbitrage can be a great way to make money with Amazon whether as a part-time hustle or full-time gig.
Sell Products Under Amazon's Private Brands
Selling your own private label products is still one of the best ways to make money on Amazon. Nearly two-thirds of private-label sellers on Amazon have profit margins over 16%.
Private labeling on Amazon involves buying products directly from a manufacturer, putting your branding and logos on it, and selling them under your own brand.
The process of private labeling on Amazon is quite simple. Choose a best-selling product, order it from a reliable manufacturer, put your branding on it, and as simple as that, you'll be a brand seller.
However, some sellers prefer to create their own version of the product for purposes of originality and differentiation.
The main advantage of selling products under Amazon's private brands is that you get to stand out from the rest of the pack, thereby reducing competition.
When you sell under your own brand on Amazon, you have total control over your products. You can modify your products to suit your customers' preferences. By using Amazon Brand Registry, you can protect your private label from counterfeiters and other bad actors on the Amazon marketplace. There are many other advantages that come with selling brand-registered products on Amazon.
Private labeling on Amazon is also very competitive, so you'll have to offer an exceptional customer experience to stay ahead. Also, it's best to use Amazon FBA to fulfill your orders so that you can focus on growing your Amazon business.
Affiliate Marketing via Amazon Associates
Do you have a website or blog with some traffic and you'd like to make some money on the side? If so, you can make a commission-based income by joining the Amazon Associates program.
This is how it works.
You simply add Amazon affiliate links to Amazon products on your blog. When a visitor clicks through and buys the product, you earn a commission. You can earn up to 10% of the purchase price for every sale that is generated from the affiliate links you place on your website or blog.

To join the Amazon Associates program, your website must meet Amazon's site requirements. You'll be required to submit an application on the Amazon Associates homepage. Once you're approved, you'll get a unique code for the products you promote on your blog.
Amazon provides you with various linking tools that will help you add affiliate links to your website.
While blogging with Amazon Associates won't make you rich overnight, it's an easy way to earn extra money without selling.
For you to succeed in affiliate marketing via Amazon Associates, you must make your content appealing to your target audience.
How To Make Money On Amazon Using Dropshipping
Dropshipping on Amazon is one of the best ways to make money in the marketplace. This strategy involves selling products on Amazon without holding any physical inventory.
Getting started with Amazon dropshipping is much easier because you don't require a big upfront investment to sell products on Amazon.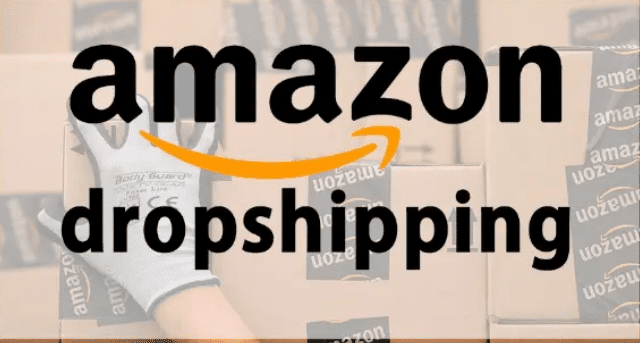 This Is How Dropshipping On Amazon Works:
First, you'll choose a profitable product niche and select the right products to sell. The next step is performing a competitor analysis to determine what the competitive landscape looks like. This step is crucial because you don't want to choose a product niche with cut-throat competition or products with low demand.
Once you've selected profitable products to sell, you'll find a reliable supplier through platforms like Alibaba. Next, create your Amazon seller account, list your products and start selling.
When a customer buys from your dropshipping store, you'll forward the order to your supplier who will fulfill the order on your behalf. As a dropshipper, you'll focus on getting more customers through marketing.
Since you don't hold physical inventory as a dropshipper, your overhead expenses are lower. Besides, this fulfillment method offers incredible flexibility as you can work from anywhere provided you have a computer, an internet connection, and of course, customers.
However, dropshipping on Amazon is highly competitive which means you'll have to stay on top of your game to make good profits. Besides, quality control can be a challenge, especially when you are drop surfing. It's best to work with reliable suppliers who can guarantee top quality at all times.
Sell Wholesale Goods On Amazon
Selling wholesale involves buying bulk quantities of products at discounted prices and reselling them via Amazon Business. This option entails sourcing products from manufacturers or distributors who offer special prices, so you don't have to worry about manufacturing your own products.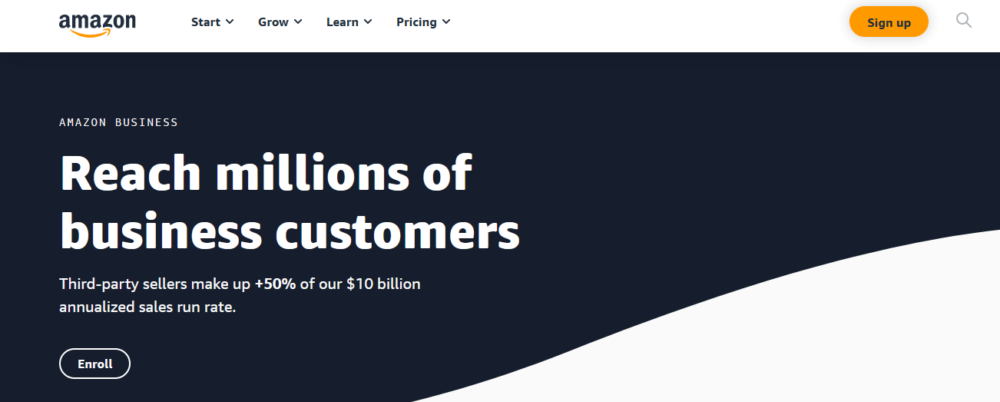 Amazon Business is a trusted B2B marketplace with a range of features designed to help businesses of all sizes engage customers.
Getting started with selling wholesale products on Amazon is simple. First, you'll need to register for a Professional Selling Account on Amazon.com and create a business profile. Next, set up your products using listing tools provided by Amazon and start selling.
On average, you can expect to make up to $5000 or more in monthly sales by selling wholesale goods on Amazon.
One of the challenges that come with selling wholesale goods on Amazon is tough competition. This niche is considerably competitive, which means you'll have to stand out from the rest if you want to make good profits.
Another challenge associated with selling wholesale products on Amazon is high FBA fees which can eat into your profits. Having your own warehouse space as a wholesaler can be more cost-effective.
Sell Handcrafted Items On Amazon Handmade
Are you someone who's artistic and likes to make their own handcrafted items? Then Amazon offers you a platform to sell your unique, handmade products. Through Amazon Handmade, you can sell a wide range of handcrafted items from jewelry and toys to décor products and stationery.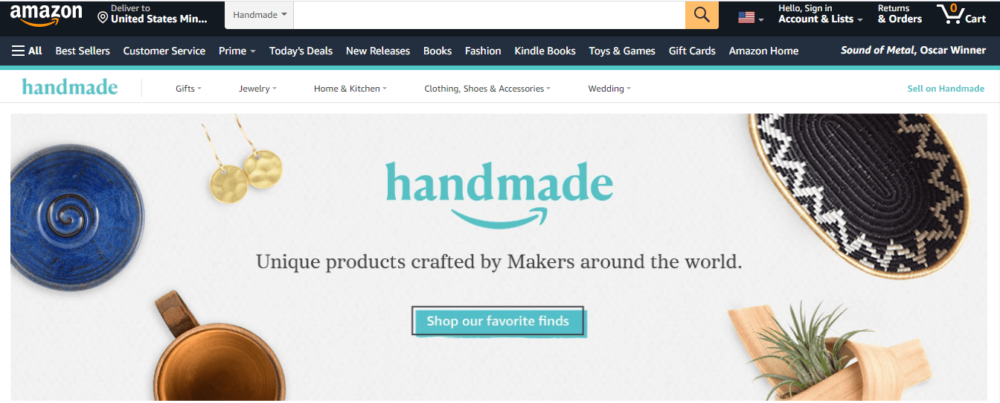 Amazon Handmade is an artisan-only platform where artists and crafters can sell handcrafted goods to customers around the world. This platform is specifically dedicated to handmade, hand-altered, or hand-assembled goods. That means you cannot sell mass-produced goods on Amazon Handmade.
The best thing about selling handmade goods on Amazon Handmade is that the platform offers many exciting opportunities for growth. Aside from getting a custom short URL that makes it easier for your customer base to reach you, Amazon Handmade gives you access to a massive customer base. Besides, you can use Amazon FBA to fulfill your orders.
With Amazon Handmade, there are no hidden fees or listing fees to pay. You'll just say a 15% referral fee on your total sales price.
If you make handmade products, you can apply to join Amazon Handmade and sell your products in 14 categories.
Read more about the eligibility requirements to join Amazon Handmade here.
Sell Designs Through Merch by Amazon
If you're a talented designer, you'll love to make money by selling unique designs with Merch by Amazon. This is a print-on-demand service by Amazon that allows you to upload your artwork into Amazon's database and reach millions of customers around the world with no upfront investment or costs to you.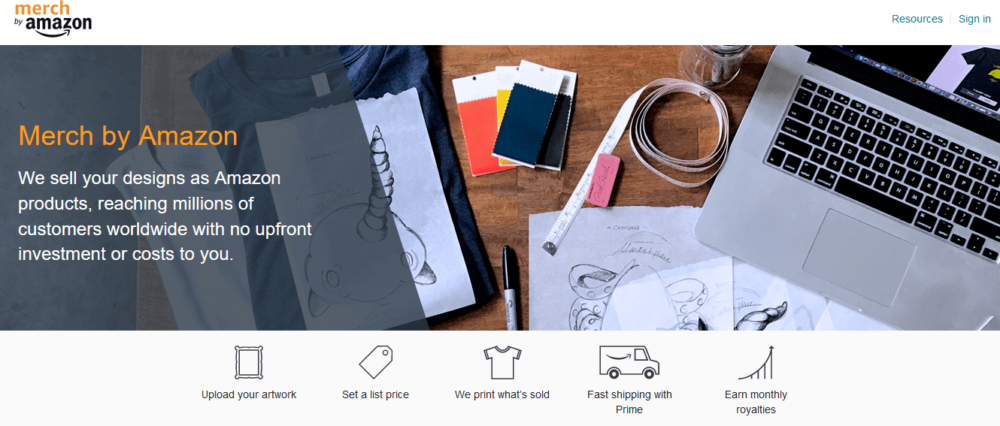 Your designs can appear on t-shirts, sweatshirts, tote bags, PopSockets, coffee mugs, hats, and many other items.
All you have to do is sign up to Merch by Amazon, upload your design, choose a product type and color, and write a product description.
When a customer buys your design, Amazon will handle the production for you, ship the product to the customer, and you'll get paid a small royalty from every sale.
Since there's no cost to get started with Merch, this is a great way to make money on Amazon without holding physical inventory.
Publish eBooks Through Amazon Kindle Direct Publishing
Are you a writer and you're wondering how to make money with Amazon? Gone are the days when you had to wait for a book deal from a major publisher to make money. With Amazon's Kindle Direct Publishing, you can publish your e-books on the platform and start making money.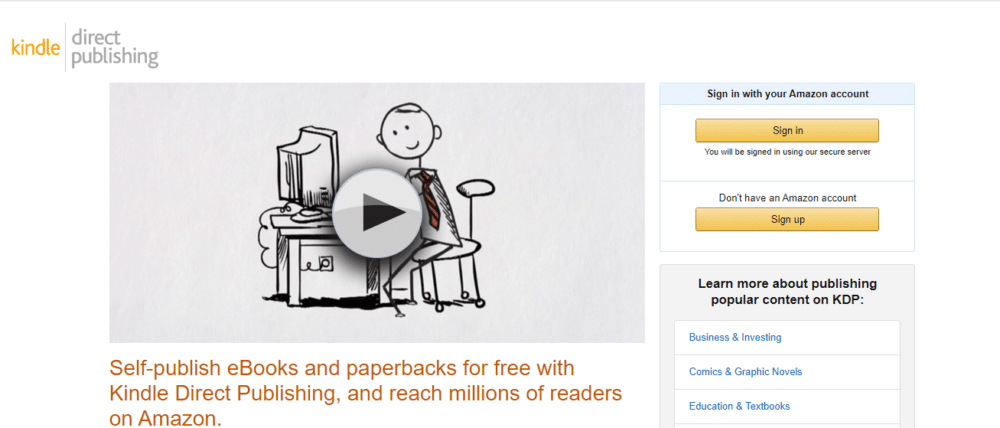 This platform allows writers to self-publish eBooks and paperbacks and reach millions of readers on Amazon.
All you need to make money from publishing eBooks on this platform is an idea and a lot of commitment.
You can earn up to 70% of royalties on overall sales to customers in many countries. Moreover, you're not limited to eBooks on this platform. You can print hard copies of your book too. Another advantage of publishing eBooks on Kindle Direct Publishing is that you're able to set your own prices and keep control of your rights.
Publishing eBooks and paperbacks on this platform take less than 5 minutes, and your book will be available to millions of readers across the globe within 24 to 48 hours.
Keep in mind, however, that you need to write exceptional eBooks to find success with this option. Also, the income from Amazon Kindle Direct Publishing is rather passive and more dependent on your marketing techniques.
If you're a good writer, you can earn a decent income through Amazon's Kindle Direct Publishing.
Complete Tasks On Amazon Mechanical Turk
Amazon Mechanical Turk (MTurk) is a crowdsourcing marketplace that allows users to make small amounts of money, completing easy tasks. Businesses and individuals post work requests on this platform for specific prices and remote workers who are interested in those tasks complete them and get paid.

Some of the tasks you can complete on Amazon Mechanical Turk include completing surveys, research work, data validation, data entry, transcription, image recognition, and many more. If you have some free time and the ability to do such tasks, you can consider joining Amazon Mechanical Turk.
While completing tasks on MTurk is not a way to get rich fast, you can earn some extra income in your free time. In this program, you can expect to earn between $8 to $15 per hour.
All you need to get started is signing up, picking the tasks you're able to complete, and submitting them for payment.
The good thing about joining MTurk is that you can work virtually from anywhere in the world. Also, most of the tasks are easy to complete.
Generally, joining Amazon Mechanical Turk is an easy way to make money without selling anything.
Sell Used Gadgets, Books, and Amazon Devices for Amazon.Com Gift Cards through Amazon Trade-in Program
While this option won't earn you any cash, you'll be able to get Amazon.com gift cards in exchange for used gadgets, gaming equipment, Amazon Devices, books, and any other eligible items.

You can only use the gift cards to buy items on Amazon's site but you cannot transfer your Amazon gift cards to other people or sell them for cash.
If you have old or slightly used eligible items in your house, you can exchange them for Amazon gift cards. You can find out if your items are eligible for trade-in from the Amazon trade-in store. You can check these work opportunities on Amazon's virtual location page.
Amazon Trade-in program is only available to Amazon users in the U.S.
Sell Services On Amazon
Are you an expert in product installation, cleaning, or landscaping?
Amazon offers you the opportunity to sell professional services through Amazon Services.
Deliver Packages As A Flex Driver
You can earn between $18-$25 an hour by making deliveries for Amazon. The good thing about this program is that you can select your working hours. To become a Flex driver, you must have a legal car, a smartphone, and be at least 21 years.
Work Remotely For Amazon
Amazon offers part-time and full-time work-from-home opportunities. The nature of the work involves positions like customer service representatives, marketers, technical support, business development, human resource officers, and many more.

What Can I Sell On Amazon to Make Money?
If you're new to selling on Amazon, you may be wondering which are the best products to sell.
Here are some of the most profitable product categories for Amazon sellers:
Books
Books are a popular item to sell on Amazon. Apart from having a huge profit margin, they are easy to source.
Toys & Games
Toy & games are among the best-selling product categories. You can check some of the best sellers in this niche to see if you can come up with similar or better products. Remember, this is a restricted category whereby you need the approval to sell items.
Baby Items
Baby products are in high demand all year round. Besides, most of them are small and lightweight, so they are cheaper to ship.
Electronics
Amazon shoppers love to buy electronics and their accessories. And since there's a variety of new gadgets coming out all the time, you can expect to build a successful Amazon business selling electronics.
Home & Kitchen
More and more consumers are looking for items that can make their lives easier and more comfortable at home and in the kitchen. So it's no surprise that items such as vacuum cleaners, utensils, and beddings are in high demand.
Beauty & Personal Care
Beauty and personal care products will always be in high demand as long as consumers are concerned about their hygiene, everyday well-being, and overall look. You'll need to do some research to identify best-selling products under this category.
Lawn and Garden
Gardening and lawn maintenance are tasks that consumers love to do either as hobbies or chores. This category has considerable demand, so it's worth considering if you're looking for products to sell on Amazon.
How Much Money Can You Make Selling On Amazon?
Your earning potential on Amazon is unlimited. It all depends on the products you sell, the platform you sell on, and the strategies you implement to stay ahead. Generally, you can make at least $12,000 per month in annual sales. Nearly half of Amazon sellers make from $12,000 to $300,000 in annual sales. Top sellers make more than $3 million in annual sales.
If you're looking for ways to increase the amount of money you make with Amazon, please contact Sunken Stone, a top-tier, results-driven Amazon marketing Agency for growing eCommerce brands. Tap into our managed services to take your eCommerce or Amazon business to the next level today!
Request A Free Proposal
Are you tired of losing sales to your competition on Amazon? It's frustrating for otherwise successful brands to underperform on the leading eCommerce platform.
Sunken Stone will help you find a solution to increase your profits on Amazon. Click "Request My Proposal" below to receive a customized roadmap to beat your competition and uncover new areas of opportunity for increasing sales.
Frequently Asked Questions
How Do You Earn Money On Amazon?
You can sell private label products under your own brand, publish your own eBooks on Kindle Direct Publishing, become a blogger, deliver goods for Amazon, and many more.
Is It Profitable to Sell On Amazon?
You can make a decent income on Amazon in many ways. You can sell products via Amazon FBA, a blog with Amazon Associates, complete tasks with Amazon Mechanical Turk, publish eBooks on Kindle Publishing, and many more. All you need to make good profits on Amazon is choosing what works best for you and following the best practices.
How Can I Make Money On Amazon Without Selling?
You can create designers with Mercy by Amazon, do affiliate marketing via Amazon Associates, or join Amazon Mechanical Turk.