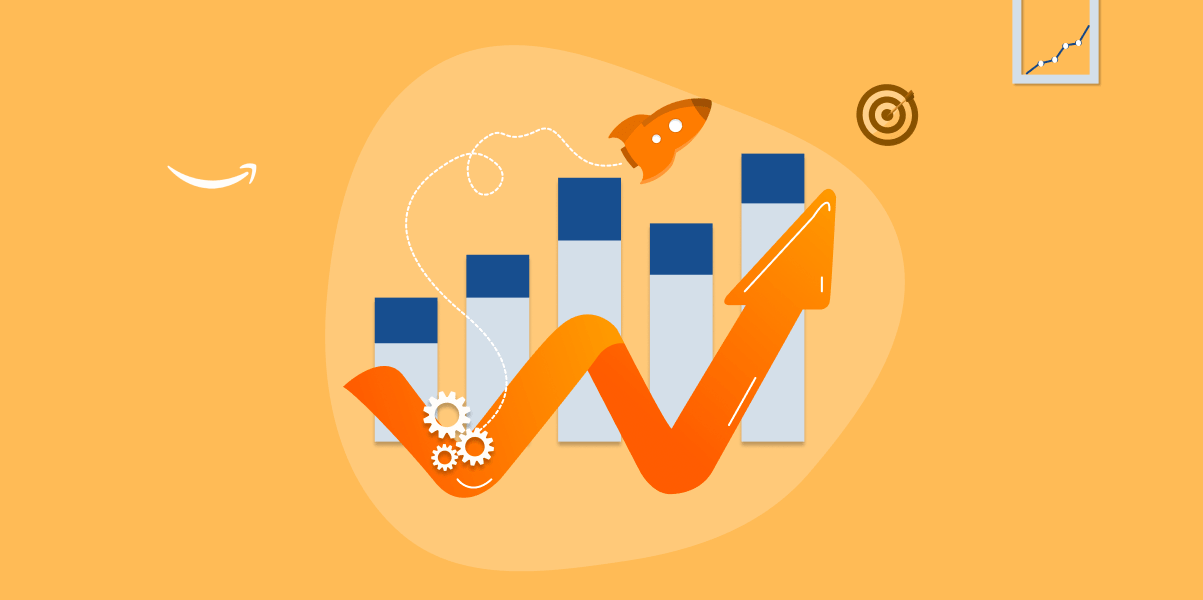 5 Simple Steps To Get A Quick Increase In Amazon Sales [2021]
Success on Amazon is most often associated with increasing sales quarter-by-quarter while keeping operating margins high (i.e., turning all the hard work into profits).
There are plenty of tips for boosting sales, which vary depending on your sales techniques, your products, and your brand's identity.
As a seller, it's your responsibility to be familiar with your product and to know what will work to promote it. For example, you should know your target audience understand how your brand product appeals to them.
While optimizing sales can be a little tricky, familiarity with your product and your brand can go a long way to making a sales technique work for you.
Knowing how Amazon operates (and understanding the rules) is crucial. There are a lot of products available on Amazon – you need to stand out. It's also good to make the Amazon ecosystem work in your favor.
>> TAKE THE SUCCESS QUIZ NOW: This 2-Minute Quiz Accurately Predicts Whether Your Brand Has What It Takes To Succeed On Amazon Today
You may have noticed Amazon's internal ads, as well as sponsored products and the "top-rated" category. Customers pay attention to these sections, so getting your product featured is a good strategy.
It's in Amazon's best interest to connect their shoppers with their desired product as quickly as possible, and most shoppers don't bother to search beyond the first page or two. The first page of Amazon product listings contains what the platform and algorithm believe is the best quality product for that buyer's particular search term.
Investing in internal ads and becoming a top-rated seller can also convince Amazon that your product deserves a spotlight.
Want to discover how your business can sell more products using Amazon? Download The Ultimate Amazon Playbook from Sunken Stone. You'll learn tips that skyrocket your sales on Amazon and take your brand to new heights!
If you're an absolute beginner, you might not be able to implement these steps right away. These are advanced sales tactics, and while you'll quickly get the hang of it, you will require a specific setup.
For example, creating a social media page for your product is no good if you haven't made a solid brand identity, complete with brand guidelines.
Of course, this doesn't mean you can't take notes for future reference. It's never too early to start a suitable sales protocol and begin forming into good habits!
Setting Up Your Amazon Sales Process For Success
Even if you have a rock-solid sales process that's been working for years, you want to make sure it fits specific requirements before going ahead with the tactics in this article. The Amazon landscape changes regularly, which is a big part of why it's such a successful platform. If you don't keep up, you may be left behind.
Amazon is a customer-focused platform, and it expects its sellers to do the same. For these sales tactics to work, your sales process needs to have the basics down, including:
Optimizing Product Titles
You must optimize your product titles by including well-researched keywords. A shopper will see plenty of results that meet their search criteria. Having necessary details in your title will make the difference between a customer clicking on your listing – or not.
Tip: You can use online tools to find out what keywords customers are searching for and use that to make your product appeal.
Using Good Product Images
A good-quality, relevant product image might seem to be too obvious to think about, but remember, your prospective customers are scanning. Eye-catching pictures with good definition are essential, but you don't want to copy everyone else's images. Instead, check out your competition and see if you can make your image stand out.
Being Competitive With Pricing
Simply put, customers are going to go for the product that seems to offer the best value. They'll balance price with the features a product offers, so be sure to draw attention to your product's selling points.
While you don't want to undersell yourself and your product, remember that this is a marketplace, and you need to stay competitive. It's important to consider your Amazon pricing strategy.
Regularly Monitoring Competition
Keeping an eye on the competition can help you with all the issues above. Staying abreast of your competitors is a vital part of becoming a successful Amazon seller. Whether you're comparing prices and products, or just reading reviews, use the information to collect to tweak and polish your sales technique.
Sticking To The Amazon Rulebook
You won't be able to get away with cutting corners or ignoring rules on Amazon. Staying proactive with your inventory is just as important as updating your product listings. Selling a product that is out of stock often happens with new sellers. Ignoring the rules even accidentally can get your Amazon seller account suspended.
Packaging, shipping times, product listings, titles, and images all must comply with Amazon rules. These rules make it challenging to build a brand identity, but there are ways of dealing with this, which we'll discuss later.
Once you've got a basic selling process in place and understand how to increase sales on Amazon, you can start using other tools to optimize your sales. There are plenty of good sellers on Amazon, so simply being a "good" seller likely isn't going to make you and your product stand out.
To use these tools, however, you'll need to have other assets in place. Brand guidelines, a messaging platform, and a positioning statement are crucial parts of presenting your product to your audience.
If you don't have the right tools, your message won't come across clearly. Without certain assets, you can't access those tools. Properly presenting your product requires work and a lot of moving parts.
Building Brand Guidelines
Creating a brand identity involves deciding how to present your product lines. It's all about the details: colors, packaging, logos, and more. As you expand to new products, more customers will notice you on Amazon.
Brand guidelines help you keep your brand identity consistent. An inconsistent brand won't make an impression on customers' minds.
However, creative choices on Amazon need to be approved by the platform and must stay within the guidelines. Guidelines limit your brand customization options, but Amazon provides some tools to make it easy to follow branding rules.
If you haven't made solid decisions about your brand's look (colors, logos, style, etc.), your brand guidelines will change over time. A constantly evolving brand creates confusion with customers. Thus, it's essential to build a consistent brand identity at the beginning of your design process, not as a last-minute addition right before your product goes on sale.
You should also register your brand on Amazon. Becoming a brand on Amazon protects an organization against counterfeit goods and offers brands new ways to optimize product listings.
Create A Positioning Statement
Once your brand guidelines are in place, you can begin positioning. A positioning statement isn't a mission statement. A mission statement is aimed at the public, telling them what the product aims to accomplish.
A positioning statement gets to the core of your product, who it is for, and the company's aims.
Without brand identity, a mission, and a thorough knowledge of your audience, a positioning statement is useless.
You won't be able to create an accurate positioning statement without understanding these things. It's essential to craft your product and marketing strategies, and you need to have a clear understanding of what you aim to accomplish and where your product is going.
Build A Messaging Platform
A messaging platform is another great way to help customers see into the heart of your business. You might create a website or blog or use SMM (Social Media Marketing).
Whichever way you choose to get your message out there, there are several assets you must have in place before setting up your messaging platform. These include your mission statement, your "big picture" plans, your elevator pitch, positioning statement, and more.
You need to put in the work and properly understand your brand before creating a messaging platform. If not, your message may be garbled and change over time. An inconsistent voice will build distrust in your brand and reduce sales.
Once you have the fundamentals in place, you can move on to more advanced tactics. While these tactics can get you "quick" results, remember that you'll need to put the work in. Even if you don't see the lightning-fast results you hoped for, don't give up.
---
5 Advanced Tactics To Increase Your Sales on Amazon
If you already have traffic going to your product listings, then turning it into sales is a matter of optimizing them. In other cases, you'll want to make some investments in Amazon ads.
A new product on Amazon is nothing groundbreaking, so promoting your products is a must. Off-Amazon ads are also an option, allowing you to funnel back your customers to your Amazon account.
Some of the most common ways to boost Amazon sales involve research.
For example, keeping an eye on your competition allows you to see what they're doing wrong – and what they're doing right. Keyword research shows what customers are searching for and how you can bring your product to their attention.
We've already briefly mentioned off-Amazon ads and tools like Google ads can be beneficial. Google is a fantastic tool and the go-to search engine for countless consumers. A Google ad will direct a customer to your Amazon site, getting their attention on another platform.
So, with no further ado, let's go into the five sales tactics that can boost your Amazon sales – quickly!
Sales Tactic #1: Use SMM
SMM, or Social Media Marketing, is rapidly becoming a juggernaut in the marketing world. Why is it so effective?
Nearly everyone uses social media, and those platforms usually contain ads. It can be a great way to reach people who don't use Amazon and draw attention to your product. However, you can do better than just ads.
Creating a social media presence (if appropriately crafted and maintained) can give a massive boost to your business. Facebook, Instagram, Twitter, and more all provide platforms for you to connect with your ideal audience. Collecting a good number of organic followers can spread the word just as well as any advertisement.
Regular posts with photos, links, and new product information generate excitement for new products and draw attention to more established products. Giveaways, competitions, and more are an excellent opportunity to collect new customers.
For example, you could host a giveaway of a selection of your products. A person must follow your social media account and like a photo and tag a friend or two in the comments to be eligible.
One person will win the giveaway, but thousands will view your product pages. Plus, viral content brings free promotion.
Links in your bio and posts can take customers back to your Amazon page. More importantly, a social media page can help present and explain your brand to customers, turning viewers into buyers.
Sales Tactic #2: Sponsored Products
One of the fastest ways to get your product noticed is by investing in an Amazon Sponsored Product campaign. With this type of campaign, Amazon will place your listings at the top of the search results pages. Your products will also appear in other vital areas on the platform.
Amazon works hard to keep its buyers' trust. This trust benefits buyers who purchase sponsored ads by Amazon. These ads are more likely to appeal to a prospective customer, and your product will be more appealing while generating sales.
Of course, this tactic can cost money. Like most ads, you pay per click. However, this is still a great way to drive traffic to a website to generate sales.
Sales Tactic #3: Good Customer Service Practices
Good customer service is essential. However, customer service requires more than just successfully sending your buyers the products they've purchased.
Amazon reviews can make or break a business. Most, if not all, buyers check the reviews before buying a product. Even one bad review could put a potential customer off their product.
Highly rated products are more likely to receive more traffic. Many shoppers add filters to their search so that they only see 4 and 5 star rated products.
Paying close attention to customer reviews is essential. You might notice a problem with your product or a gap in your services which competitors could fill. Deal with any complaints straightaway.
Frequently Asked Questions sections are also handy. FAQs can help you save time for your customer service department. If there's a common question about your product, add it to the FAQ section and in the product description.
Fast shipping times, providing a good quality product, and quickly resolving any issues is the best way to leave your customers satisfied. This, in turn, will get you good reviews and high star ratings, all the better to tempt new buyers.
Sales Tactic #4: Craft the Perfect Customer Buying Experience
Do you tell a brand story and enhance it with an outstanding buying experience? The "buying experience" includes far more than a transaction. It involves everything in your customer's journey, from clicking on your listing to opening their new product after arriving in the mail.
While you will need to stick within Amazon's packaging guidelines, user-intuitive, eco-friendly packaging can enhance a buyer's experience. Small details such as adding a thank-you note in the package may make a big difference.
A large part of sales is convincing a customer that they need your product in their lives. Whether you appeal to their sense of convenience or offer some luxury, it's essential to follow through on this promise. An inferior quality product, or something not reasonably described, will leave a customer feeling deflated and disappointed – and ready to write a bad review.
Your customer will feel appreciated and satisfied with their smooth transaction. Coupled with your high-quality product, they're far more likely to leave you a glowing review and possibly buy from you again.
Sales Tactic #5: Mobile eCommerce and Optimization
An often-overlooked section of eCommerce and Amazon product optimization is that of mobile devices. Just about everyone has a mobile phone in their pocket, and approximately 79% of customers order via their mobile devices.
Your listing will appear differently on a mobile screen than it will on a desktop. This means you need to consider how it will look to a mobile user. Often, only your product image and title listing will appear above the fold on the Amazon app.
So, it's essential to make sure your product's selling points are short and memorable for mobile device users.
Checking how well your listing translates to mobile is as simple as using a mobile phone to check out a product listing to see how it will appear.
In our experience working with 100s of Amazon sellers, these are the five tactics we've seen generate the most results in a short timeframe. Why not give them a try?
Turning Your Amazon Brand Into a Sales Machine
With a sound strategy and the right tactics to back it up, your presence on Amazon is ready to become a full-on sales machine. For that, you will need suitable systems and people in place.
While we've discussed "quick" tactics – and these steps certainly can boost your sales in almost no time at all – speed shouldn't be your first concern. Customer service, proper brand positioning and identity, and a good-quality product are the absolute basics.
Without these in place, your sales will gradually fall over time. Disappointed customers won't return and may even leave poor reviews. Speedy tricks to boost sales won't work if you're cutting corners.
Having the "big picture" in mind should keep you from getting stuck in a short-term mindset. Cultivating a good reputation and a solid brand identity can help your product go the distance. Rome wasn't a built-in day – and earning a reputation as a trustworthy seller won't happen after only selling a few products.
The eCommerce marketplace is constantly changing, and Amazon is no exception. Keeping abreast of newer sales tactics is a good idea, but don't rush to throw out your old sales processes if they're still working.
It's usually best to use new strategies to polish up your old tactics. Constantly refining your selling process is critical – you can always be better.
If you're looking for new sales techniques, there is plenty of online information available. However, research with caution – not every piece of advice will be suited to an Amazon seller.
Creating a brand image can be tricky, especially when you need to stick within Amazon's guidelines. Sunken Stone helps you build your brand, providing a unique and smooth customer experience.
Sunken Stone also helps to protect your brand. Perhaps you've noticed some other sellers replicating your product, selling cheaper goods (that look just like yours!) for a lower price.
Aside from the fact they're taking revenue that should be yours, inferior quality knock-offs can give your brand a bad name.
Customers may not notice that they're buying counterfeit products, or at the very least, they'll associate your brand with cheap, sub-quality merchandise.
Amazon's brand registry protects against counterfeit products stealing your brand identity. Clamping down on fake goods helps to maintain buyer and seller trust.
So, with these steps all lined up and ready to spring into action, you can start making improvements. The basics of Amazon selling are great, but you need to start learning how to sell to see results.
Now that you understand five simple steps to quickly increase Amazon sales, why not expand your knowledge of this eCommerce giant? Download your copy of The Ultimate Amazon Playbook. This guide will teach you new ways to boost sales on Amazon in simple, easy to follow steps.
---
Frequently Asked Questions
Why Is Social Media Effective For Selling Amazon Products?
Wondering how to increase sales on Amazon FBA? Social media marketing (SMM) might be the solution. SMM helps your business connect with more buyers, and drives traffic to your products on Amazon.

You can also use it to create an email funnel, where customers receive regular marketing messages from your business. These techniques help you gain consistent sales of your new and existing products.
Should My Business Consider Amazon Advertising?
Advertising on Amazon is central to your performance on the platform. Whether you purchase Amazon ads influences your product's placement on search result pages, how many units you sell each month, and a lot more. Every seller on Amazon should consider utilizing the ads program.
Must I Optimize My Product Listings For Mobile Viewers?
If you want better search visibility, higher click-through rates, and improvements in conversion rates, you must optimize your product listings. Although updating product listings seems tedious, it's incredibly effective. Product listings aren't static, you should update them regularly.