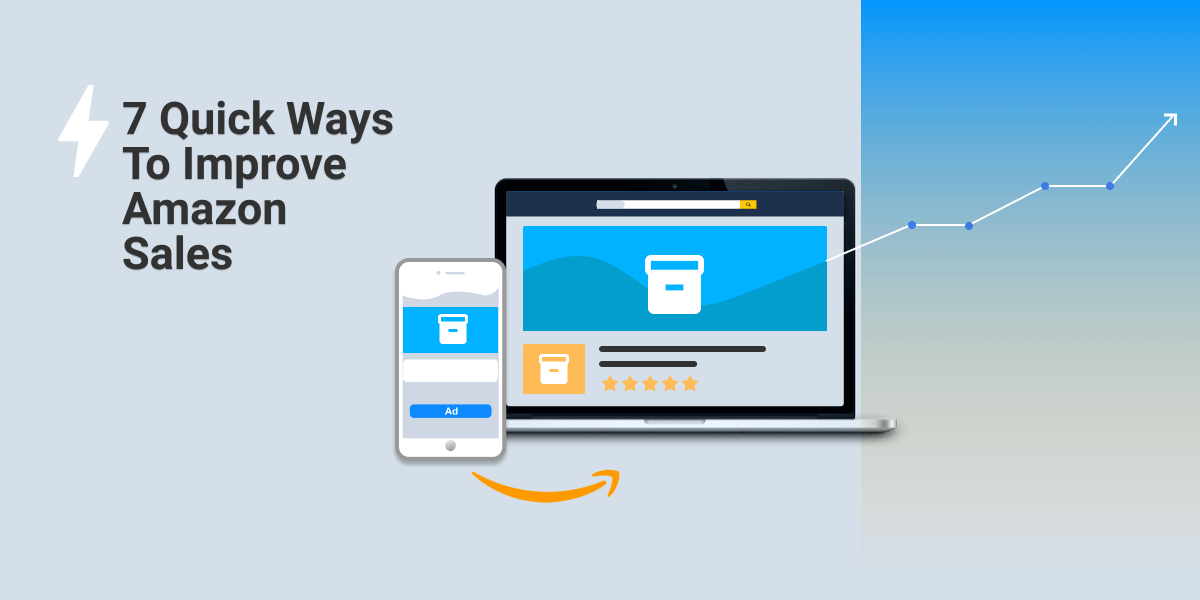 How To Improve Amazon Sales: 7 Epic Ways
As an online retailer, you know the importance of attracting visitors to listing and converting that traffic to sales. There has never been a better time to sell online. The eCommerce market grew by a massive 25.6% in 2020 and is likely to increase by a further 16.8% this year.
Selling online isn't easy, as you compete with millions of other sellers. Yet many brands do very well, increasing sales year after year. If you want to get in on the action and boost your Amazon sales, you'll have to do your research and optimize your listings.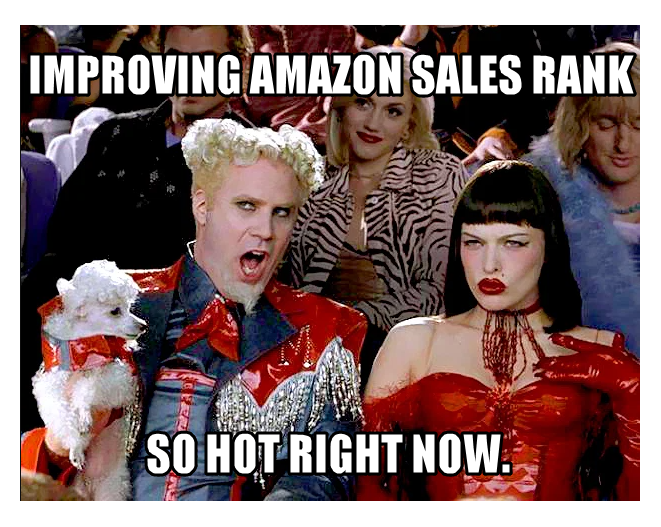 Amazon remains the most prominent online platform, so find ways to improve your Amazon sales, and you'll quickly grow your business. Below, are seven tried and trusted methods that explain how to improve Amazon's sales rank.
What Is Amazon Sales Rank?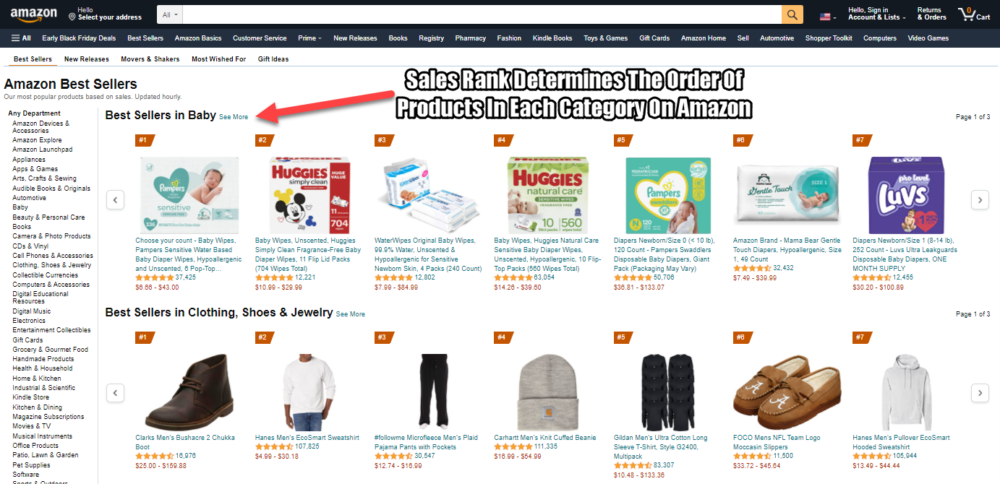 Before explaining how to improve Amazon sales rank, it's good to know what that means. Amazon sales rank is a performance metric that orders products by sales volume within the same product category.
Sellers also refer to sales rank as the "best seller rank." It's vital to improve this metric because it leads to more impressions, clicks, and sales. And who doesn't want those?
Now that we know why it's crucial to improve your Amazon sales rank, let's discuss how to improve Amazon sales! These seven methods will enhance your brand's sales velocity and help you generate more eCommerce profits.
How To Improve Amazon Sales: Seven Methods
#1 – Stand Out From The Competition
Understand your target market. Knowing your target audience will help you to establish your products' key differentiators.
Once you know the pain points your product addresses, you can explain those aspects in your product descriptions.
Thus, the main aim of knowing your audience is to help companies grow their brand awareness and attract as many target users as possible.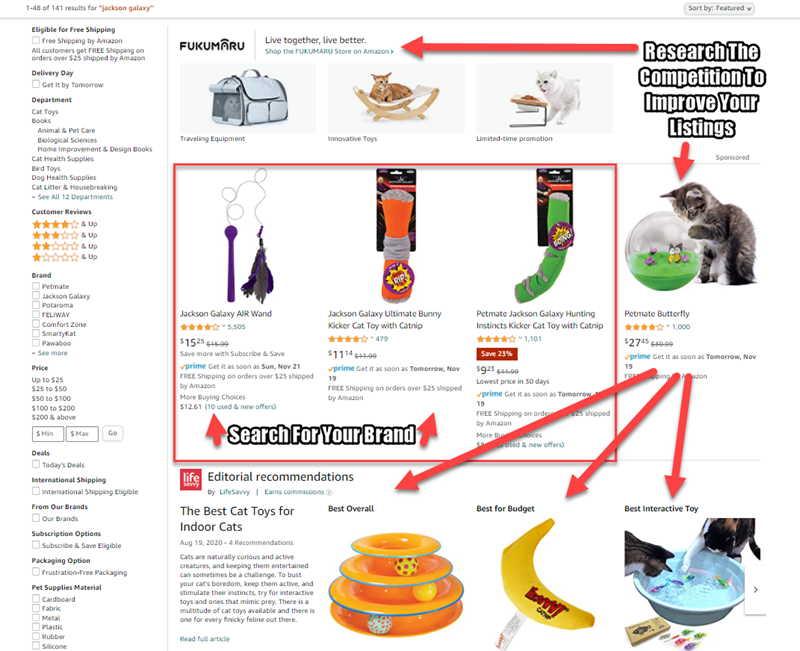 Check your competitors' product reviews to evaluate what people say about products similar to yours. What do the buyers like about the product, and what don't they want? Use this information to write the best copy and produce images that sell your product.
To attract customers, you have to provide them with the information that they seek. Get your content right, and you'll earn user trust and new customers to boost your sales.
Of course, the price also matters. Ensure that your planned pricing fits with what else is available on the Amazon marketplace.
#2 – Optimize Your Amazon Listing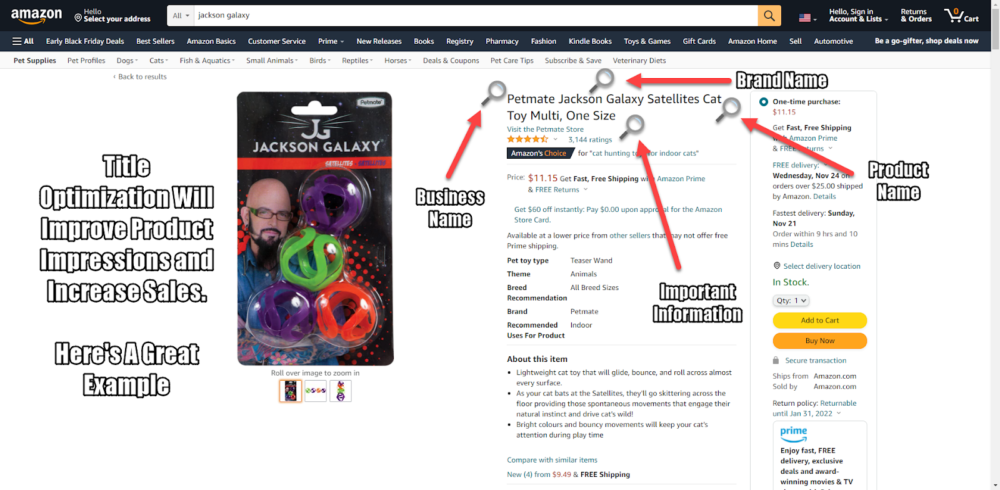 When optimizing your listing, you have to get the basics right, and it starts with the title. Your title must contain appropriate keywords. It must be short and adequately describe your product. Make sure to include the brand, the product name, and essential features.
You must know the keywords that drive users to products like yours. Finding the right keywords takes some research, and it starts with understanding your target market.
Unless you use the keywords that your targets use to search for products, you don't stand a chance of selling on Amazon. Amazon uses keywords to match buyers and sellers. So, the best keyword-rich listings get the most sales. It's as simple as that.
Regularly check your listings. What worked last year may not work this year. Keyword usage may change, and unless you keep abreast of the changes, you could lose sales without realizing it. Make sure to include seasonal keywords where these are likely to draw additional traffic.
While you're about it, make sure to optimize your listings for mobile. Most people use mobile to search for items. So, your product listing should look good on all potential platforms. It must seamlessly migrate from laptop to tablet and smartphone with no loss of clarity or meaning.
#3 – Improve Your Photos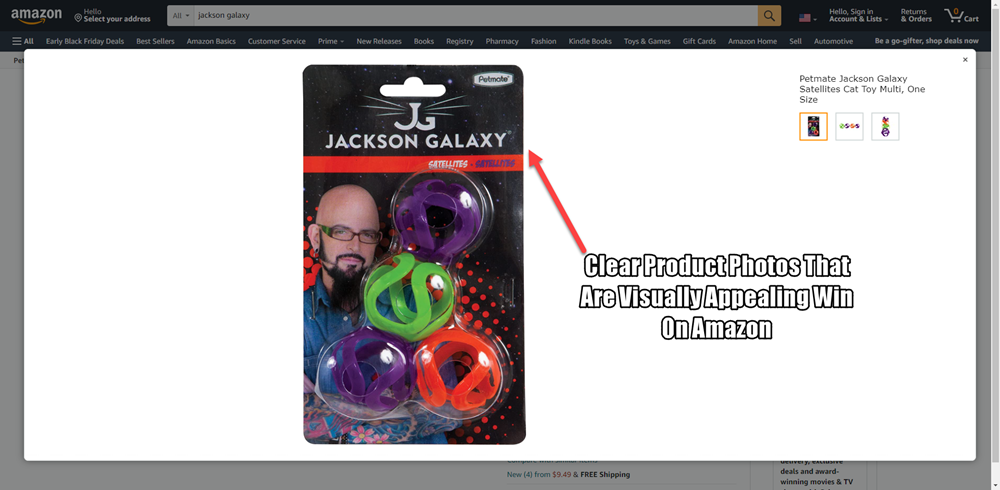 Online shoppers rely on product images when they decide to buy. Therefore, the description is essential, but as the saying goes, "a picture speaks a thousand words."
Make sure that the photos of your product are up to date and of top quality. Unless your product photos look professional, you are almost certainly losing out to competitors.
Load pictures of your product from all angles. Include a picture of the item in use to prompt the buyer to imagine their product use. Your images should highlight your product's essential value points. Last but not least, make sure that you comply with Amazon guidelines.
#4 – Harness The Power Of Product & Brand Videos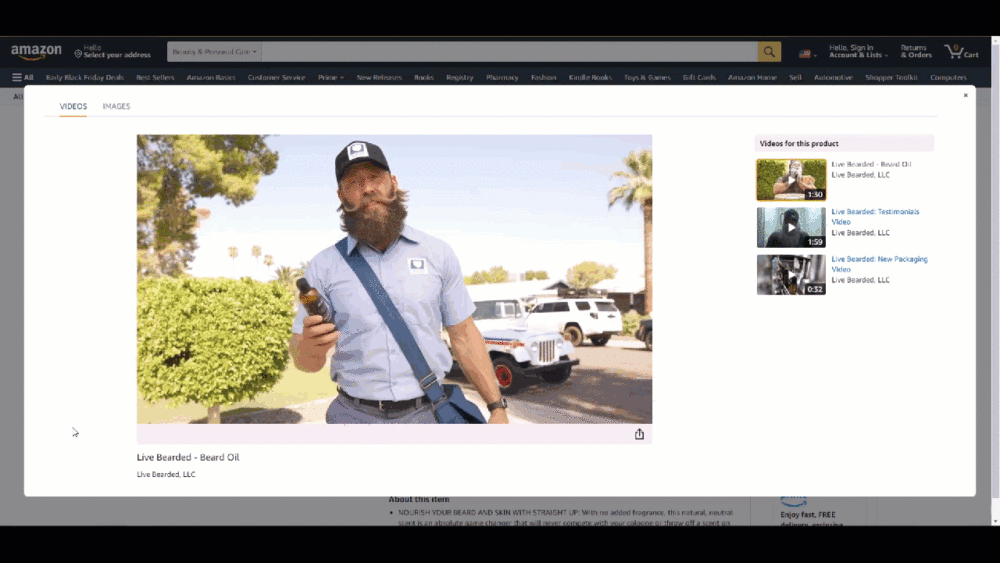 Video use has grown exponentially over the past decade. It is now the primary source of information for 66% of people, and 93% of businesses find new customers through branded video content.
So, if you're not using video, you're almost certainly losing business to the opposition. If you're a brand registered seller, you can, and should, add a video to the photo section of all your listings.
Video can help you to build a relationship with your customers. It is a great way to demonstrate your product in action. Complex products or products that move or make sounds can benefit from the video since it may be challenging to write an adequate description.
Online video is the closest you can get to a showroom. So, demonstrate the benefits of your product in action and boost your sales.
Video quickly communicates volumes of information, and you can convey emotional aspects of your product and brand that aren't possible with any other medium. Shoppers will spend more time evaluating your product if you include a video in your listing.
Videos also help to reduce returns and negative reviews because the buyer will know what to expect when they watch a video of your product in use.
#5 – Manage Your Inventory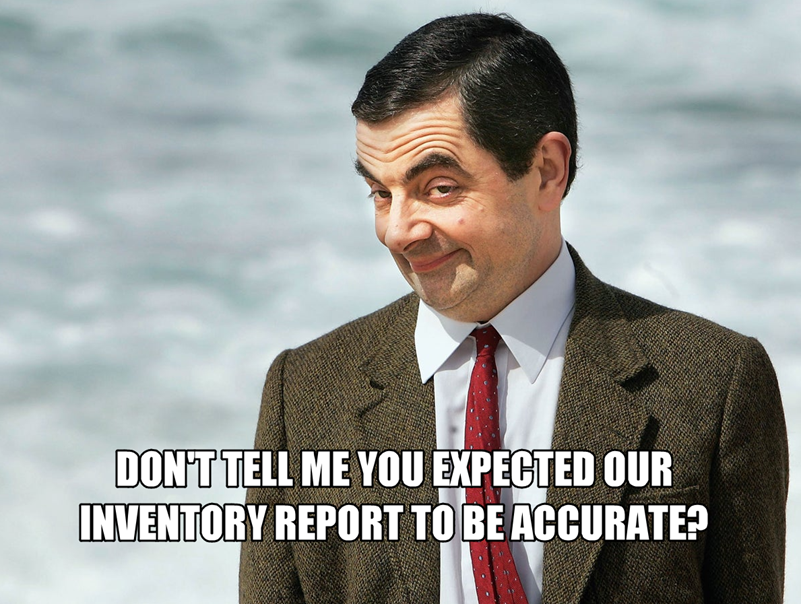 Inventory management is critical. Having too much inventory costs money and ties up capital, so you can't invest in the product that sells. Too little inventory in stock will lose sales and customers, who won't be happy when they discover that the item they planned to buy is out of stock.
Spend some time comparing your sales to your on-hand stock. If you're sitting with loads of slow-moving inventory, consider running specials or deals to move it. You may consider bundling slow-moving items with other products to sell them faster.
You can use the money you free up to invest in products that sell fast. This way, you'll increase your sales and keep your customers.
Use past sales to predict future sales to ensure that you have stock ready to sell. Stocked inventory will help your listing to rank on Amazon. Having the right amount of inventory on its own will increase sales, turnover, and profits.
If you have many items, inventory management software can help you decide what to stock and avoid stocking.
#6 – Encourage Favorable Customer Reviews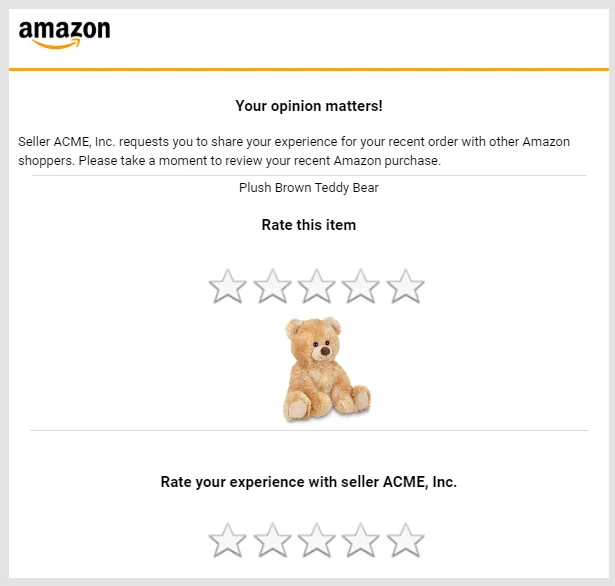 Online buyers depend on reviews to help in decision-making when it comes to choosing products. In a marketplace that includes millions of products, you need reviews to sell yours. To increase sales, you need excellent but truthful reviews of your product on your listing pages.
Amazon's Request a Review feature provides sellers with a safe way to ask customers for product reviews and seller feedback.
It is entirely compliant with Amazon's policies, so you'll never be penalized for using it. This feature is distinct from Amazon's Buyer-Seller Messaging, so even sellers banned from sending proactive messages can use it.
With the Amazon Request a Review feature, sellers can send a generic email to each customer through Amazon. Your product's name and the image will appear alongside the Amazon logo, and customers can submit feedback about your product or your performance as a seller.
Don't underestimate the power of reviews. Research has shown that 88% of online buyers will use reviews to help them to make buying decisions.
#7 – Drive External Traffic To Your Amazon Listings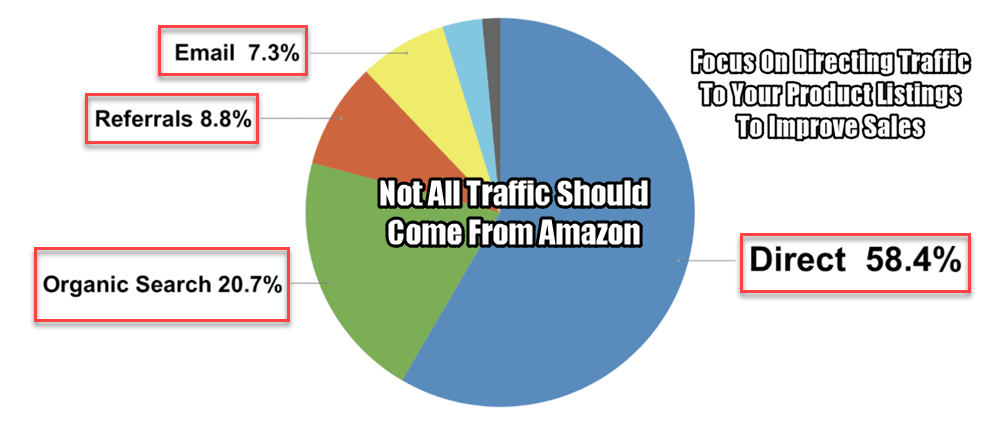 Many sellers overlook one of the best ways to boost sales – their web and social media presence. Use yours to drive traffic to your listing. If you're already publishing content, running email campaigns, or you're advertising on Facebook or Google, you have everything you need to start.
If you're not yet present on social media, it's time to start building a presence. A social media presence will help you to build brand recognition and trust. As you grow your brand, sales will follow.
It all starts with a webpage. Use it to publish content that addresses the concerns of your target market. Write exciting blogs that attract an audience. You may also consider paid advertising on Google or Facebook.
In Conclusion – How To Improve Amazon Sales
Selling on Amazon has never been easy, but the rewards are enormous for those sellers who get it right. The actions of buyers constantly change, especially in a market that is growing at speed.
Keep attending to your listings and make sure that they stay up to date and ahead of the competition, and you'll improve your Amazon sales. There's no better time than now.
Do you want your listings to remain relevant? Keep updating them!
With Amazon's ever-changing algorithm, yesterday's best practices on images and keywords may not work today. Never have a "Set It and Forget It" strategy.
>>> At Margin Business, Amazon experts will monitor, tweak, and improve your listings, so you can focus on creating quality products and scaling your business. Get a Free Listing Analysis NOW. No commitment!
Request A Free Proposal
Are you tired of losing sales to your competition on Amazon? It's frustrating for otherwise successful brands to underperform on the leading eCommerce platform.
Sunken Stone will help you find a solution to increase your profits on Amazon. Click "Request My Proposal" below to receive a customized roadmap to beat your competition and uncover new areas of opportunity for increasing sales.
---
Frequently Asked Questions
How can I increase my Amazon sales?
There are several strategies Amazon sellers should use to increase sales. Start by optimizing your product listings, including your title, bullet points, and product descriptions. Afterward, conduct keyword research to ensure that customers find your products, improve your images, and work on your pricing strategy.
What can Amazon do to improve?
Amazon is constantly improving processes to increase revenue and improve sales for sellers and vendors. As time passes, they'll likely update their search algorithms, use AI, and optimize fulfillment processes to benefit buyers and sellers.
How can you increase organic sales on Amazon?
Sales velocity, or how quickly you generate sales in a specific period, is vital for increasing sales rank. You should provide an attractive product, use a competitive pricing strategy, and build a high-converting product page to increase sales. Consistency is also crucial since new products might generate enough sales to land on the best sellers list, but sales rank changes quickly!
How can you increase organic sales on Amazon?
Besides optimizing your product listings, there are several ways you can increase organic sales on Amazon. Consider joining the Fulfillment by Amazon (FBA) program and offering Prime shipping. Sellers that join the FBA or Prime shipping programs receive higher organic listing placement and have an easier time generating sales on Amazon.