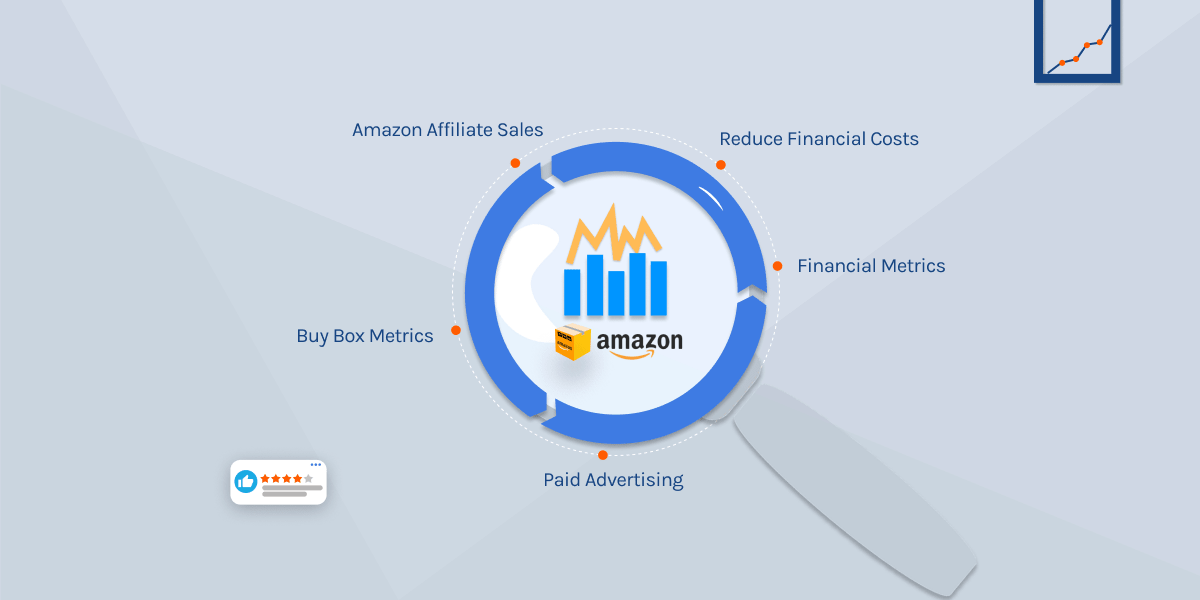 5 Financial Strategies To Grow Your Amazon Business [How To]
How Can A Business Grow On Amazon?
Growing a business on Amazon depends on many variables and, some of them, such as having a good source of financing, are crucial for the company's sustainable development.
At Boopos, we have had the opportunity to analyze many Amazon brands while identifying their potential growth based on their revenue and their customers' recurrence. Our team comprises experts in financing companies for growth purposes, and we know that some strategies can positively contribute to business growth.
Do you want to know how to grow your Amazon business based on the successful companies we've analyzed? Please pay attention to the five financing strategies that I will share with you so that your company continues to grow sales on the leading eCommerce platform.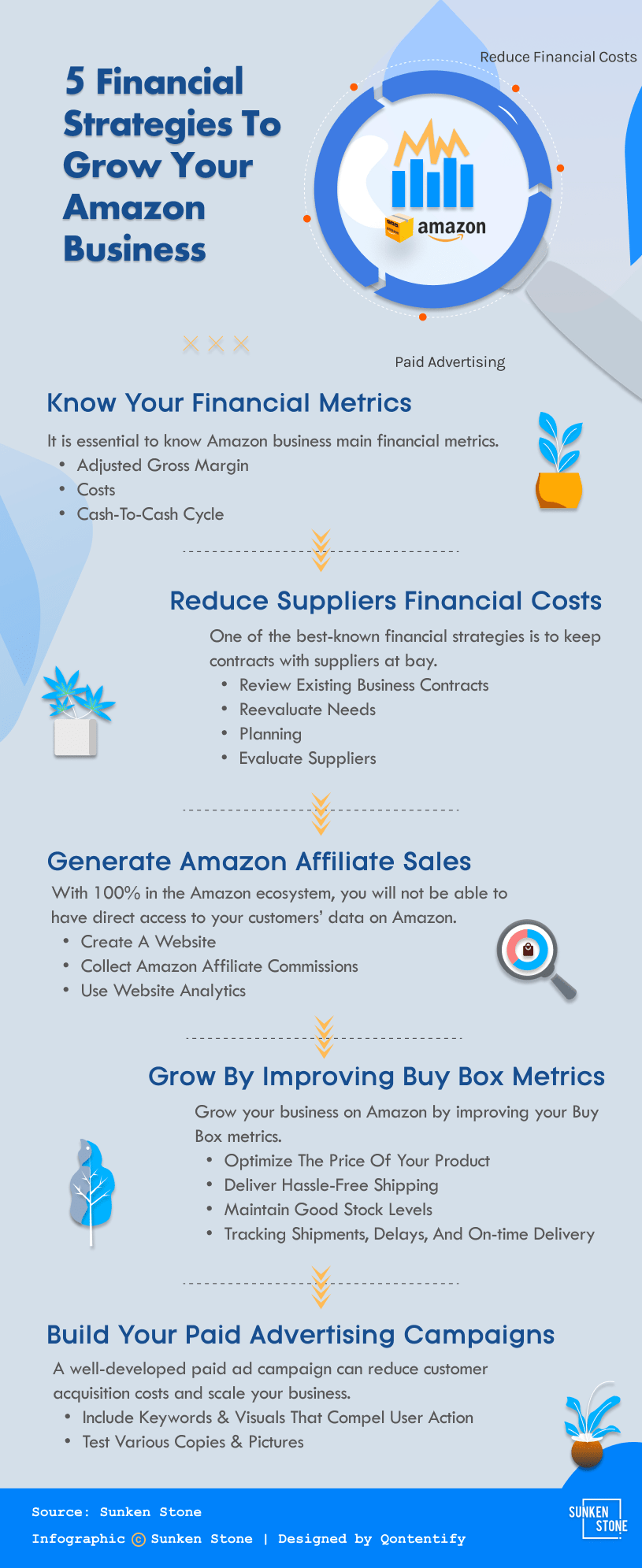 One: Know Your Amazon Business Financial Metrics
If you have a business on Amazon, it is essential to know its main financial metrics. If we start from the basics, you really must know if the products your brand sells on Amazon are profitable, that is, if its margin after applying fees and expenses is positive. Keep in mind that the typical adjusted gross margin for an Amazon business is 15-25%.
In addition to this metric, all those that directly impact your business will need analysis. We recommend collecting and studying as much financial information about your business as possible. Record it and track data about your company because only then will you know the actual evolution of your business based on your numbers.
>> REQUEST A FREE PROPOSAL: Take 30 seconds to request a proposal and receive a customized roadmap to skyrocket your sales, beat your competition & make your brand thrive on Amazon.
To do this, collect and analyze business metrics using any business reporting software available on the market since it will allow you to monitor the status of your business in real-time and carry out a follow-up in an agile and comfortable way.
The most successful companies track their financial metrics, allowing business owners to make the necessary adjustments to their processes.
However, with data comes several challenges. For example, what financial metrics deserve your attention, and which should business owners ignore? It's easy to become overwhelmed by too much information on your business and not know where to begin.
Here are some metrics we should pay attention to as business owners and why they're essential for your business success.
Adjusted Gross Margin: As I said before, Amazon companies have average margins of 15% to 25% per product. To calculate your adjusted gross margin, you must perform the following operation:
The costs you must consider for each product include:
Unit Cost At Which You Purchase From Your Supplier.
Costs Of Shipping From The Supplier.
FBA Warehousing Costs.
Other FBA Costs Such As Fulfillment And Additional Fees.
Costs: To ensure that your business is truly profitable, you must analyze the following costs:
Returns Or Defective Orders.

Marketing Costs.

Any Staffing Costs If You Employ People Outside Of Using FBA.

Business Registration & Insurance Costs.

Office Supplies, Tech, & Software.
Cash-To-Cash Cycle: That is, the number of days for which your company will be able to support all its expenditures. Calculate this cost by knowing the period between the moment a company pays its suppliers in cash for inventory and the date it receives payment from its customers:
Two: Work With Your Suppliers To Reduce Financial Costs
One of the best-known financial strategies is to keep contracts with suppliers at bay. By staying up-to-date on your business contracts, you can implement many short-term strategies to reduce costs, achieve the objectives set and, thereby, grow your business.
Review Existing Business Contracts: This should be a common practice among companies. The pace at which the market moves, consumer demand, technology, and the economy make everything change constantly, affecting the products or services prices you had already contracted. To stay up to date, you need to keep in close contact with your suppliers, discuss the terms of your contracts, and look at the market.
Reevaluate Needs: It is necessary to evaluate if your product, its design, its shipping policy, packaging, etc. has a positive impact on the business's profitability. If not, it is always a good time to reevaluate and find ways to reduce these costs.
Planning: Good planning will avoid last-minute purchases that consistently tend to incur higher prices.
Evaluate Suppliers: Even if you have been working with the same suppliers for a long time and everything has worked well, you should check that the prices of their products or services align with market values.
Three: Develop Your Online Presence To Generate Amazon Affiliate Sales
As you know, if your business is 100% in the Amazon ecosystem, you will not be able to have direct access to your customers' data on Amazon and, therefore, to the added value that this brings for growing your Amazon business.
For this reason, many tools on the market will allow you to receive information about your customers. But beyond this, there are other alternative methods to access your clients' data:
Create A Website: A brand website effectively helps business owners scale their Amazon business. Your website will receive direct searches and capture part of Amazon's traffic. The information you receive from your website will give you a better insight into your brand's customers on the eCommerce platform.
Collect Amazon Affiliate Commissions: Amazon obtains nearly 30% of the price of products your brand sells on the platform. If you use your website to link to your products on Amazon, you can earn an affiliate commission of 1 to 10%, depending on the category. Driving traffic to your products on Amazon as an affiliate effectively increases your brand's profit margin.
Use Website Analytics: Your website is a source of information. With a well-configured website, you can access valuable information about your client. For example, you can collect visitor email addresses, learn the acquisition channel, and see which pages visitors view.
This information will be helpful to optimize your business sales funnel and will have a very positive impact on the growth of your brand.
Four: Grow Your Amazon Business By Improving Buy Box Metrics
Did you know that customers on desktop devices make 83% of all Amazon sales through the Buy Box and even more on mobile devices? It's true. If you are not in the Buy Box, making a sale is going to be complicated.
The Buy Box on Amazon allows customers to make a quick purchase regardless of who they are buying from (whether Amazon directly or a third-party seller).
However, not all sellers are eligible to win the Buy Box. Are you?
Amazon evaluates sellers based on several carefully selected factors to provide customers with the best shopping experience. Some of the criteria used for this evaluation are Order Defect Rate rate (ODR), customer shopping experience, delivery times, shipping options, price and customer service (24/7), time and experience selling on Amazon, etc.
A Buy Box seller's eligibility to win the Buy Box may change over time based on the seller's performance concerning the eligibility criteria listed above.
How To Improve Your Amazon Buy Box Metrics
With that in mind, how can you grow your business on Amazon by improving your Buy Box metrics?
Optimize the price of your product to ensure that you have a competitive advantage.
Deliver hassle-free shipping for customers. Focusing on shipping costs will help you achieve the Perfect Order Percentage (POP) and decrease your Order Defect Rate (ODR).
Work towards your highest seller rating, and you can rank at the top of the best-seller lists on Amazon.
Maintain good stock levels of your best-selling products. Otherwise, the Buy Box perk will rotate to another seller.
Control your rates for tracking shipments, delays, and on-time delivery.
Respond quickly to messages from your customers. Doing so within 12 hours will help you win the Buy Box.

Five: Build Your Paid Advertising Campaigns To Improve Sales
Undoubtedly, one of the most common strategies to increase customer purchases is to use paid campaigns. A well-developed paid ad campaign can reduce customer acquisition costs and scale your business.
If you want to create high-impact and successful ads, you have to try and try until you find the perfect formula.
Successful Amazon ads target keywords that buyers use to search for products they want to purchase. The best ads include keywords and images that compel user action.
Hence, testing various copies and pictures is vital to advertising success. If you create ads with unique messages and photos, you will see which of them gets a higher CTR (Click Through Rate) for the lowest CPC (Cost-Per-Click).
In Conclusion – The Importance Of Growing Amazon Business With More Orders & Sales
After reviewing some of the financing strategies that can grow your business, it seems that they all aim to grow your business by increasing orders and sales of your products.
Let's summarize what we discussed in this post explaining 5 financial strategies to grow your Amazon Business.
To improve sales, you must know the main financial metrics of your business and how you can reduce the costs associated with your suppliers. The analysis and exhaustive monitoring of all these parameters are critical factors to grow your business.
If we go a little further, it is essential to have a brand platform that links to your Amazon products. Developing a website will not only increase the traffic acquisition channels and, therefore, increase the sales opportunities, but in the medium-long term, it will mean an increase in your margin on each sale.
In addition, brands must build websites that provide access to valuable customer information. Do you want to connect with and market to your customers? If so, it is best to do this outside of Amazon.com. This strategy will allow your business to design personalized actions for customers and optimize your sales funnel.
Another relevant aspect of growing your Amazon business is knowing how to win the Buy Box. The Buy Box algorithm helps sellers win more customer orders than the competition. However, it requires brands to optimize their Amazon account, as sellers cannot climb the rankings without optimizing!
Finally, activating paid marketing campaigns will help your brand reach your audience and increase sales, taking your business to the next level.
I know that some of these strategies require an economic effort that not all Amazon sellers can do. Finding sources of financing for these types of actions is not always easy, but there are solutions in the market that can promote the growth of your business in record time. Have you heard of Long Term Revenue-based financing for scaling businesses on Amazon?
>> Don't wait to take your business to the next level! Create long-term business viability for your eCommerce brand through financing from Boopos.com. Learn more about Boopos today.
Request A Free Proposal
Are you tired of losing sales to your competition on Amazon? It's frustrating for otherwise successful brands to underperform on the leading eCommerce platform.
Sunken Stone will help you find a solution to increase your profits on Amazon. Click "Request My Proposal" below to receive a customized roadmap to beat your competition and uncover new areas of opportunity for increasing sales.
---
---
Frequently Asked Questions:
How Can I Increase Sales On Amazon?
To increase your sales, start by differentiating your brand from competitors on Amazon by boosting product awareness and attracting your potential customers. 
Secondly, it is essential to keep your Amazon account as optimized as possible, using keywords and copy that make your profile friendly for customers. Finally, try to improve your Buy Box metrics to offer the best customer shopping experience.
What Is The Most Profitable Amazon Business?
According to our expertise in analyzing Amazon brands, the most profitable Amazon businesses understand their niche, use competitive strategies, and utilize marketing tools. Amazon businesses can be successful in selling products in any category if they follow solid business practices.
Is Amazon A Good Business To Start?
Amazon is an excellent business to start if you have a clear business strategy. Business owners often have challenges scaling new eCommerce channels, but a team can help you secure financing and scale operations. Depending on what type of products you choose, the costs involved in selling on Amazon can vary from low to high, so cost control measures are vital to seller success.
How Can We Grow Your Amazon Business?
Boopos offers revenue-based financing for funding mid to long-term investments. Our revenue financing facilities are one of the best solutions to acquire a company or fund sizable growth investments. Get financing with unrestricted use of proceeds and be ready to grow your business.
About Boopos: Founded in 2020 by technology and finance professionals, Boopos provides flexible financing for M&A and growth. We help to buy and grow businesses by providing long-term revenue-based funding without personal guarantees. Our process is streamlined to offer loans in 7 days and revolves around our proprietary B0012 scoring model, intended to assess revenue recurrence and visibility.