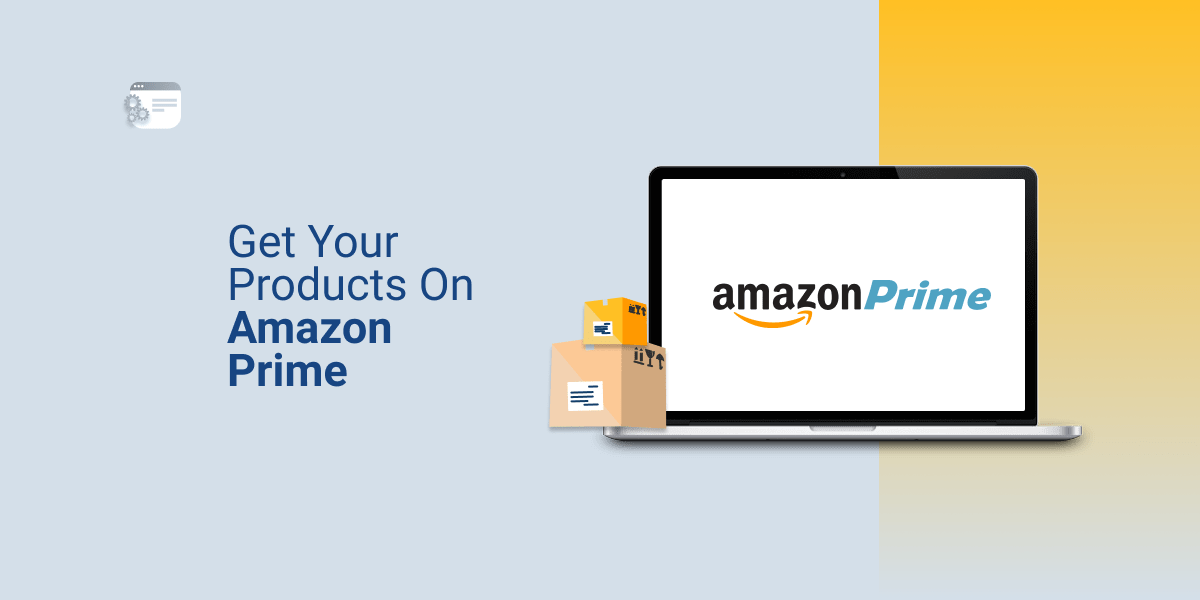 How To Get Your Products On Amazon Prime & 4 Great Benefits
Amazon has served as a trailblazer in our ever-growing e-commerce world, connecting eager shoppers with the products they want faster than ever before. One of the main perks Amazon offers its shoppers and sellers is access to Amazon Prime, an Amazon service that gives shoppers free shipping in a short, guaranteed timeframe. But it's not always easy to know how to get your products on Amazon Prime. This article explains how.
If you're ready to get your products on Amazon Prime, here's what you will need to know.
What is Amazon Prime?
Amazon Prime allows products to be shipped and delivered to a customer in a limited amount of time. Depending on the listing, the shipping and handling time with Amazon Prime can range from 2-day, 5-day, or same-day shipping.
>> REQUEST A FREE PROPOSAL: Take 30 seconds to request a proposal and receive a customized roadmap to skyrocket your sales, beat your competition & make your brand thrive on Amazon.
Amazon can keep its Prime delivery promise to consumers in multiple ways. If you are selling directly to Amazon through their Vendor Central Program, Amazon handles all the shipping processes themselves.
If you are selling on Amazon through Seller Central, sellers or brands ship the product from their factory or warehouse directly to Amazon's warehouses first. Then, once one of your products sells, Amazon will pick, ship, and pack your items for a fee. If a customer returns your items, Amazon buys your stock, and it becomes a warehouse deal in some instances.
How to Get Your Products on Amazon Prime
For a product to be Prime eligible, it must already be in Amazon's warehouse through their FBA (Fulfilled by Amazon) program. Your seller metrics must follow fulfillment requirements and be near stellar.
Sellers with large and scalable facilities or warehouses can choose to enroll in Merchant Fulfilled Prime from their account, where you as the seller guarantee 2-day shipping, whether in a specific area or nationwide.
Sellers will also get access to Amazon's discounted shipping rate if they are fulfilling orders with Merchant Fulfilled Prime. Merchant Fulfilled Prime is only recommended for sellers who can meet Amazon's delivery window requirements 99.7% of the time.
4 Benefits of Amazon Prime for Sellers
Selling on Amazon Prime can offer sellers an incredible amount of value as well. Shipping serves as one of the highest costs a brand on Amazon will face.
Sellers who have their products on Prime through the FBA program can get their products shipped out quickly for a fraction of retail shipping prices, with all the hard work done by Amazon. Amazon completes packing, FNSKU labeling, and several other fulfillment services.
If you are not currently enrolled in Amazon's FBA program and instead sell FBM (fulfillment by merchant), your shipping costs could be monumental, especially for next-day or two-day shipping.
Amazon's FBA Program also helps sellers avoid the burdens that come with storing inventory. Traditionally, sellers would need access to a warehouse, staff, and supplies to ship out a product the same day buyers purchased it. Amazon's FBA program handles the storage for you, although there are FBA fees.
Lastly, Amazon provides 24/7 support for you and your brand. An Amazon representative will handle returns on your behalf. If you decide to enroll in Merchant Fulfilled Prime, you will be required to manage all your returns internally.
Managing returns can also take immense effort, as sellers must follow the same customer service guidelines as Amazon.
Final Note
Selling on Amazon Prime makes both buyers and sellers happy. If you are looking to take your products to the next level with Amazon Prime but don't know where to start, the team at Sunken Stone can help.
Our team of Amazon Experts will handle all the essential steps of running your brand on Amazon, from A to Z. Learn more about our performance-based brand management program and discover how Sunken Stone, a top-tier, results-driven Amazon marketing agency for growing eCommerce brands, can scale your brand's success on Amazon by taking our success quiz.
Request A Free Proposal
Are you tired of losing sales to your competition on Amazon? It's frustrating for otherwise successful brands to underperform on the leading eCommerce platform.
Sunken Stone will help you find a solution to increase your profits on Amazon. Click "Request My Proposal" below to receive a customized roadmap to beat your competition and uncover new areas of opportunity for increasing sales.
---