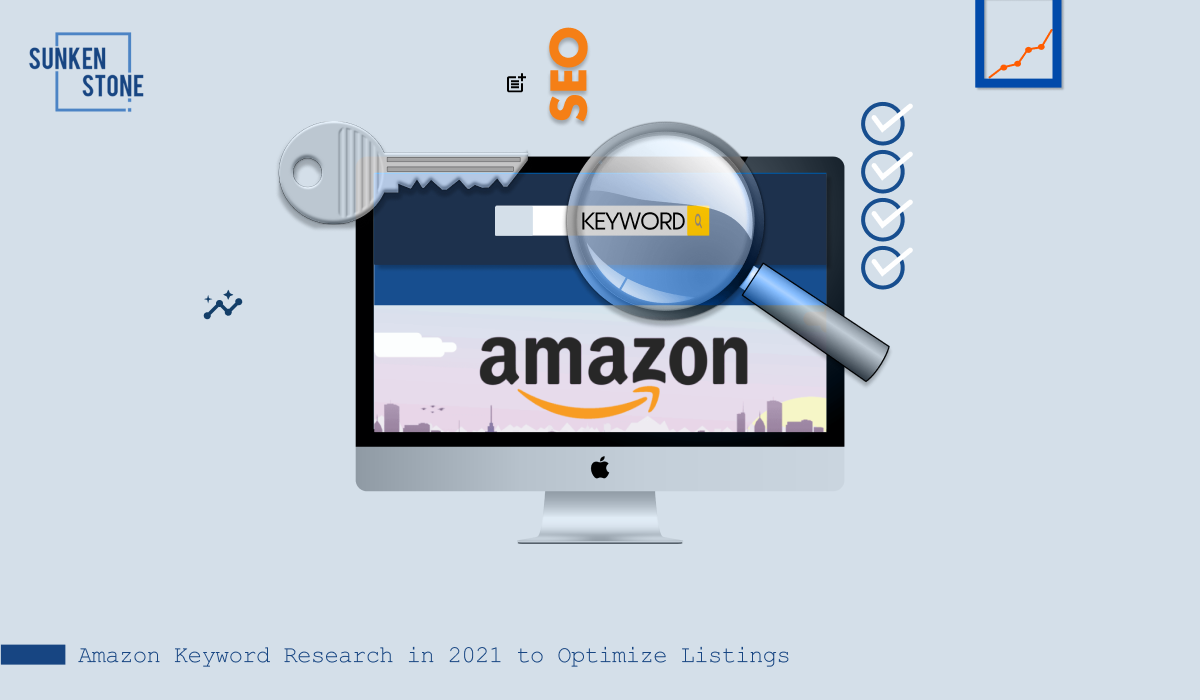 How To Do Keyword Research On Amazon Correctly In 2022
Keyword research is the most valuable activity you can do on Amazon ever since its inception as a seller platform. In 2022, this still holds true yet the game has changed a bit.
That's why keyword research is often the first step to selling products on Amazon. By researching and selecting the most relevant terms and phrases that can drive traffic to your Amazon product detail page, you create the opportunity to rank well in search engines for the search terms you're targeting.
A higher ranking on Amazon is a sure way to make more sales and increase your bottom line.
Many people search for products on Amazon using keywords or keyword phrases to get the most relevant results. In return, Amazon's A9 search algorithm sifts through the millions of products on the marketplace to find the products that match the keyword used in the search.
That is why keywords are one of the major factors that will determine the success of your Amazon business. If you use the wrong set of keywords on your Amazon product detail page, you'll only attract users who will not convert into paying customers.
With that in mind, let's explain how to do keyword research on Amazon correctly in 2022!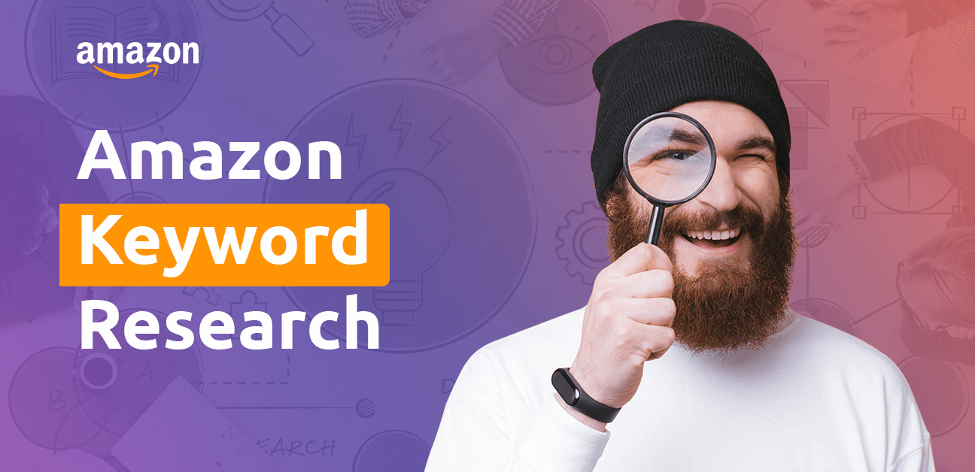 How To Do Keyword Research On Amazon
One of your primary goals as an Amazon seller is to get your products in front of the right audience. Amazon keyword research will ensure your products are seen when customers search for the terms you are targeting.
Be sure to use all the right keywords in the right places to ensure your listing shows up at the top of Amazon's search results. Another important thing to consider when using keywords in your Amazon listing is striking a balance between traffic and competition. Ensure you find keywords with a high search volume and low competition.
If you're looking for comprehensive information on how to do keyword research on Amazon, you are at the right place. In this section, we will look at Amazon keyword research in detail, tools you can use to conduct keyword research on Amazon, as well as the Amazon keyword research tactics to use in 2021.
>> REQUEST A FREE PROPOSAL: Take 30 seconds to request a proposal and receive a customized roadmap to skyrocket your sales, beat your competition & make your brand thrive on Amazon.
Amazon 101: What Is Keyword Research?
As with any search engine (Amazon has the 3rd largest in the world), keyword research is a key component of optimizing content for it to rank high.
By definition, keyword research is the practice of researching the popular words and phrases that Amazon shoppers type into the Amazon search engine, and including them strategically in your product listing to have your products appear higher on Amazon's search results.
When you search for a specific product on Amazon, you'll be shown the most relevant products based on your search terms. For example, if you search the terms "dog collar for large dogs" Amazon will show you the most converting products for your search terms.
When a shopper searches for specific search terms on Amazon and purchases your product, Amazon's A9 algorithm sees your products as highly relevant and it will start to show them to shoppers searching for your targeted keywords. Besides, your ranking on Amazon search results will improve to bring your more paying customers.
A great deal of Amazon keyword research involves knowing what your target audience is looking for and finding ways to answer those questions in your product listing.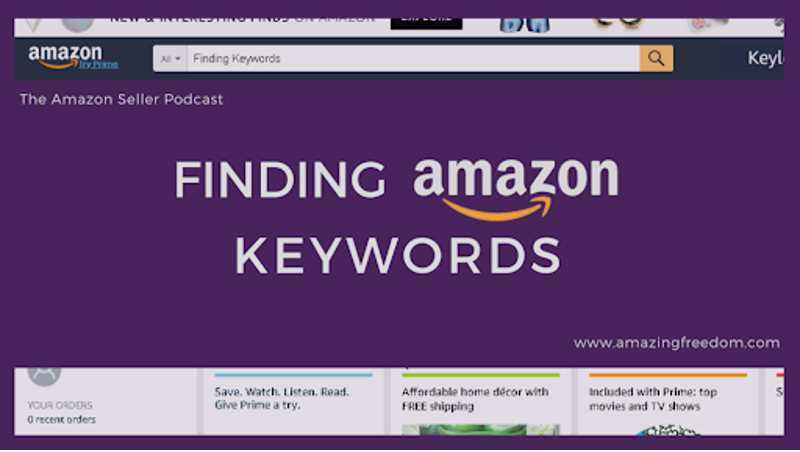 The Importance Of Keyword Research For Amazon In 2021
At its core, keyword research for Amazon is a powerful strategy that helps sellers to gain a competitive edge and make more sales. There are many ways Amazon sellers can leverage keyword research not only for creating compelling product listings but also for gaining a competitive advantage.
So why is Amazon keyword research so important?
Find Keywords With High Search Volume
Keywords with high search volume are simply those keywords that are searched the most by people searching for products on Amazon. It's important for Amazon sellers to target keywords with a high search volume to increase their exposure in the marketplace.
The more people that search for a term that you are targeting, the more the chances that your product will appear in their search results. If you don't strategically include high search volume keywords in your product listing, no one will find your products.
However, keep in mind that almost every seller on Amazon tends to target high search volume keywords. So the competition is certainly high for these keywords. It's a good idea to use both low competition keywords and those with high search volume.
You can use various keyword research tools such as AdWords' Keyword Planner to find high search volume keywords and strategically include them in your product listing to increase traffic to your product page.
Find Medium & Low Competition Keywords
As we have already mentioned, it's important for Amazon sellers to use both high search volume keywords and medium/low competition keywords.
While keywords with higher volumes can give you more exposure, the competition for these keywords especially from the major players in the marketplace will make it harder for you to thrive.
When researching keywords, it is a good idea to assess how much competition exists. Make use of reliable Amazon keyword research tools to find low and medium competition keywords.
Apart from giving you an idea of the number of advertisers bidding on keywords, these tools can provide you with an indication of how much general competition exists. Once you start winning with low/medium competition keywords, you can slowly move up to higher competition keywords.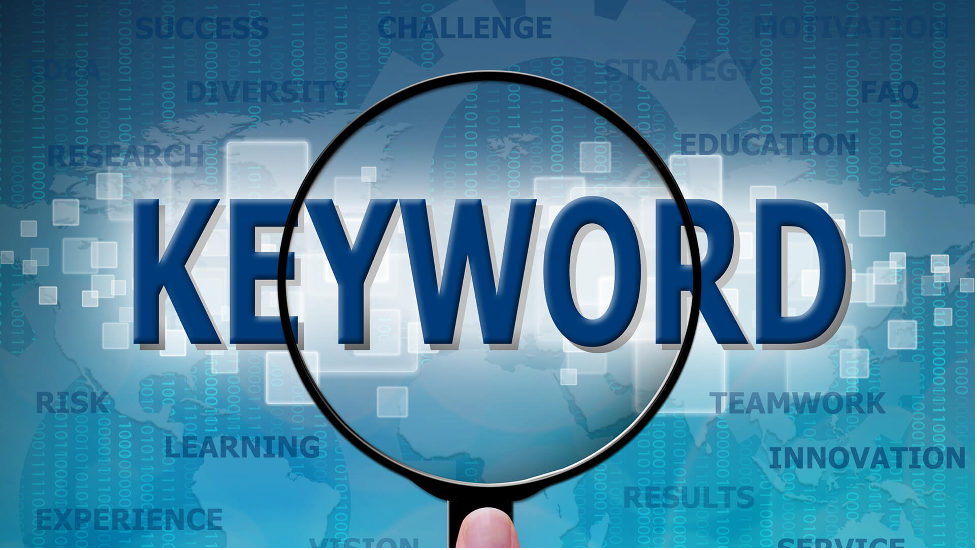 Improve Conversion Rates
The kind of keywords you use on your product listing is one of the factors that will determine your conversion rates. Keywords that are too broad or those that are too competitive tend to have a lower conversion rate.
With proper keyword research, you'll be able to determine low competition and better-targeted keywords. Ideally, long-tail keywords (contain 3 or more words) tend to have a higher conversion rate as compared to head keywords (contain 1-2 words).
If your long-tail keywords are very specific, they can attract highly relevant traffic. Therefore, if you're struggling to make sales on Amazon, it's time to conduct an audit of the keywords you are targeting. This can inspire ideas for great content.
Understand Trends
Keyword research for Amazon will help you understand when shoppers are searching for certain keywords. There are peak times when consumers are searching for specific products, and including relevant keywords in your product listing is a good way to make more sales.
For instance, if you are selling decorative items, it would be a good idea to include keywords like" decorative art for Christmas" during the Christmas season.
Obviously, many people are likely to buy décor items for Christmas and they'll be using keywords related to Christmas to find the most relevant products. You can leverage this aspect to get more buyers searching for décor during Christmas. So be sure to understand trends and establish a plan for making changes to your product listing as appropriate.
Scope The Competition
Keyword research will help you to determine the kind of keywords your competitors are using to rank their products. Knowing your competitor's keywords can help you understand their approach and use it to your advantage.
With the stiff competition on Amazon in almost every niche, it's easy to get outsmarted by competitors. If you're not aware of the keywords your competitors are targeting, you're likely to miss out on the opportunity to outrank them.
So it's advisable to conduct thorough competitor research and use this knowledge to build your own content strategy.
However, that should mean copying their keyword strategy entirely. Use the information you find to inspire your own keyword strategy in a better way. There is a range of Amazon keyword research tools that show the keyword your competitors are targeting.
Assess Keyword Difficulty
As the name implies, keyword difficulty refers to how difficult it is to achieve a higher ranking for a particular keyword in Amazon search results. This is an important metric that helps Amazon sellers to evaluate how difficult it would be to rank for specific search terms.
Keyword difficulty is measured on a scale of 0 to 100, with a difficulty rating of 0-9 is easy to rank for and keywords with a difficulty level of 50 and above are classed as hard or impossible. There's no point in targeting keywords if the likelihood of your product page ranking highly for those keywords is unattainable.
It's advisable to target keywords that are easy to rank for as opposed to ones that are difficult to rank for. If you find keywords that are already being targeted by major players on Amazon, it's a good idea to opt for less competitive keywords.
Generally, there are so many reasons why keyword research should be an integral part of your strategic plan for Amazon success. Keep in mind that the keywords should be incorporated into your product listing in a natural way.
Trying to force a particular keyword into your content only makes your content difficult to read, and Amazon's A9 algorithm knows when a keyword is stuffed or forced into a listing. Once you've written your product listing, read it to find out if the keywords sound natural.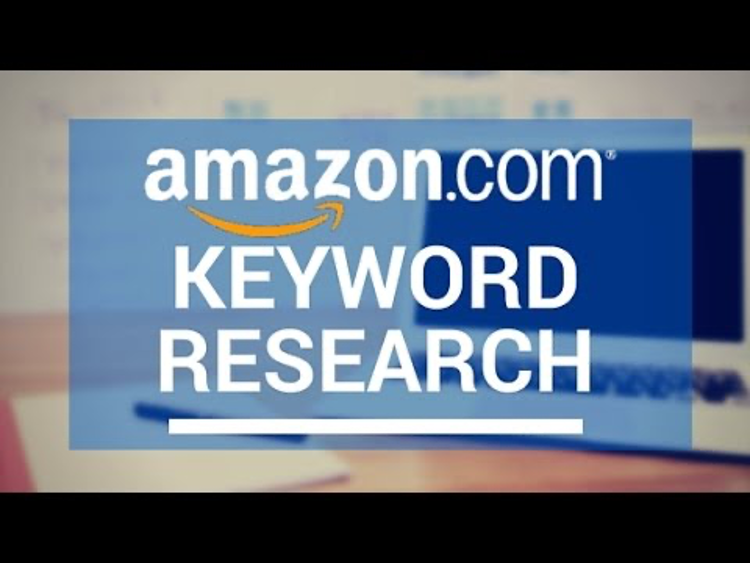 Doing Keyword Research on Amazon in 2021
While the practice of keyword research on Amazon is tried-and-true, 2021 will bring an onslaught of changes to the platform and, with that, how keywords are used. For that reason, it will be necessary to take advantage of reliable tools for Amazon keyword research.
Tools You Can Use To Research Keywords on Amazon
Keyword research is a manual process; you just can't escape it. Unless you're using a tool that is. There are 3 that we find to be particularly useful. Using the right keyword research tool for Amazon makes your work easier when finding the best keywords to rank for.
There are the 3 keyword research tools for Amazon you need to use:
This is a suite of powerful tools designed specifically for Amazon sellers. This tool helps users to find actionable keywords that can help them rank better on Amazon. Helium 10 offers both a free plan and a paid plan.
The free plan offers limited access to the Helium 10, single users access, and a 30-day FREE trial to Scribbles, Frankenstein, and profits. Helium 10 paid plans include platinum ($97/mo), diamond ($196/mo), and enterprise, which is a custom solution for agencies and large businesses.
Magnet is a tool under Helium 10 that allows users to pull in new related keywords using a seed keyword. It has the largest database of search terms and long-tail keywords that you can use to rank higher on Amazon.
You can also use reverse ASIN lookup on Helium 10 to find out the keywords your competitors are ranking for.
Why Use Helium 10:
Discover high volume search terms and relevant keywords for Amazon
The free plan gives you 2 keyword searches per day
You can fine-tune your keyword research with advanced filters
Here's a referral link to receive 10% off every month or 50% off your first month to Helium 10.
This is another reliable tool that can be used by Amazon sellers for keyword research. This tool can help you boost your seller rank and gain an advantage over your competitors.
With AMZ tracker, you can find the words and phrases that shoppers are searching for and use them to create a keyword strategy that will give you an edge against other sellers in your category.
You can also know where your products are ranking for the keywords you're targeting at a glance. This tool comes with a 7-day free trial and 4 paid plans—basic, professional, God Mode, and Legend.
The basic plan costs $50/mo, the professional plan costs $100/mo, God Mode costs $200/mo and Legend costs $400/mo.
Why Use AMZ Tracker:
It allows you to track where your Amazon business and products rank amongst others
It has 4 different plans allowing you to choose an ideal subscription package that suits your business
This tool is compatible with all Amazon sites
It can help you increase your conversion rates
It is the best option for saving time when it comes to product research
This is one of the most reliable Amazon keyword research tools available. MerchantWords is an extensive database of real shopper data from Amazon. With this tool, you'll be able to spy on your competition, learn about keyword search volumes, and the emerging trends regarding Amazon keyword research.
MerchantWords provides users with a reverse-ASIN lookup tool that gives performance insights and high-performing keywords on millions of ASINs. You can find keywords that perform better in different seasons as well as the top-of-the-funnel search terms.
Unlike most keyword research tools for Amazon, MerchantWords allows users to create, store, and download their keyword research for analysis, product research, ad campaigns, and listing optimization. MerchantWords offer three plans- platinum, gold, and silver.
The platinum plan costs $149 per month and allows you to conduct up to 10, 000 searches. The gold plan costs $79/mo and allows users to conduct up to 100 searches and comes with many other perks. The silver plan costs $29 per month, offers 25 searches and fewer keyword collections compared to the other plans.
Advantages Of MerchantWords:
100% risk-free
Easy to use
Offers keywords directly from Amazon
24/7 customer support
---
Due to its manual nature, doing keyword research on Amazon can be tedious. However, there are some tips you can use to speed up the process. With the right Amazon keyword research tactics, you'll find it easier to rank higher for your targeted keywords, save time and money, and maximize your relevance on Amazon.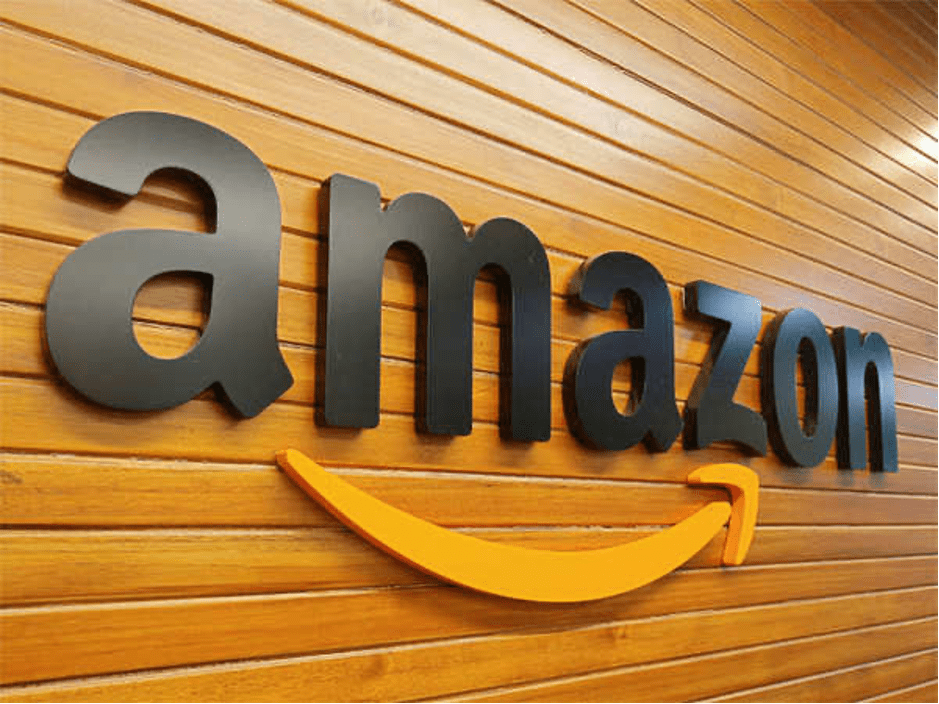 7 Amazon Keyword Research Tactics To Use in 2021
When you're so focused on using tools to extract valuable information from Amazon, it's easy to forget that you're trying to serve the end-customer better. That's why you should focus on providing better value for the customer while ensuring you are making a good profit.
Keyword Research Tip 1: Focus On Your Target Audience
Who are you targeting? How does your target audience search for products on Amazon? Having answers to these questions will help you determine the best keywords to use for Amazon.
Many sellers on Amazon try to create an "all-in-one" keyword research plan, not knowing that Amazon has a different search engine. Unlike people searching for products on Google, Amazon shoppers search for specific products.
So, it's important to consider your audience and how they would search for products so that you can tailor your keywords to bring you the best results.
Keyword Research Tip 2: Use The Right Keyword Research Tool For Amazon
There are many tools you can use to generate a list of keywords that will rank your product higher on Amazon's search results. Some of the best keyword research tools for Amazon include:
AMZ Tracker
Helium 10
MerchantWords
Sonar
Keyword Tool
AMZ One
Keyword Tool Dominator
KeyworX
SellerApp
Keyword Research Tip 3: Evaluate Competitors' Listings
One of the simple ways to get keyword ideas is to look at your competitors' listings. Their product titles, bullet points, and descriptions can reveal relevant keywords for the category.
Through reverse ASIN lookup, you can also find out the keywords your competitors are ranking for. You simply need to search your product's name in the Amazon search bar and Amazon will bring related products. You can then go through different listings by your competitors and find out which kind of keywords they're using.
Keyword Research Tip 4: Only Use Relevant Keywords
Your goal on Amazon is to earn as many conversions as possible. It's important to use the most relevant keywords to get high-quality traffic.
As we've already mentioned above, be sure to mix both high search volume keywords and low/medium competition keywords. Some sellers on Amazon, tend to use irrelevant (but popular) keywords. This practice can hurt your ranking and you can get penalized by Amazon.
To get the best results, ensure you use keywords that relate to your product.
Keyword Research Tip 5: Leverage Amazon's "Autocomplete" Function
The autocomplete function gives you suggestions for search terms when you type certain words into the Amazon search bar. Note the photo below.
The word "erasable" yields nine other phrases related to the keyword. You can use this strategy to find the most relevant keywords for your products.
However, this function may yield terms that are too broad, so you'll need to go the extra mile to narrow them down.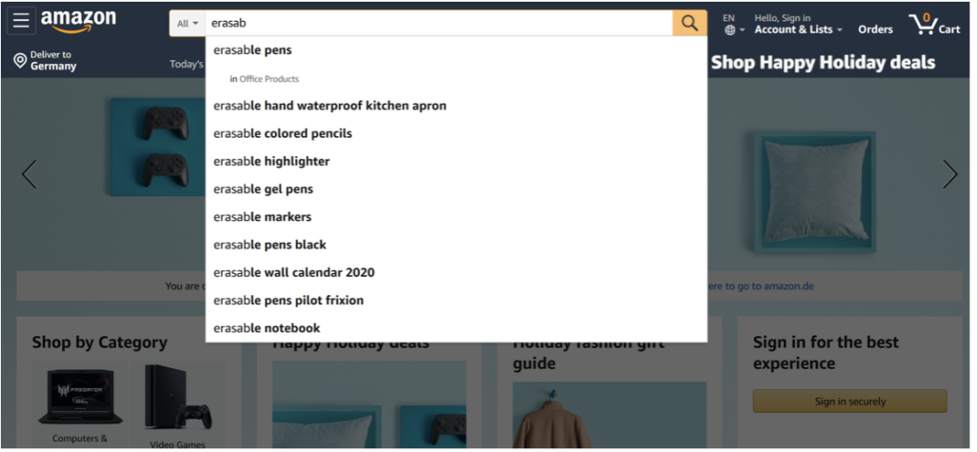 Keyword Research Tip 6: Monitor Keyword Performance
It's important to monitor your keyword performance to determine whether you're getting the desired results.
If the keywords you've included in your Amazon listing aren't bringing paying customers, you'll need to change the keywords to reach valuable leads. You can easily swap backend keywords for more relevant keywords without hurting your ranking.
Keyword Research Tip 7: Use The Same Keyword Strategy Throughout The Sales Funnel
If you're also advertising your Amazon products on other platforms, it's advisable to use the same keywords throughout all the platforms. Adding consistency to your listings and ads brings in high-quality traffic.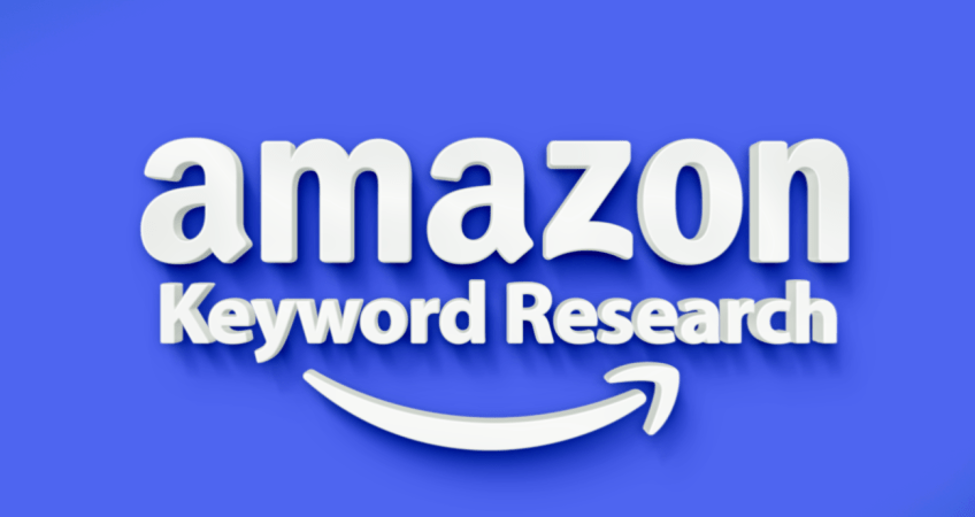 ---
With keyword research being such an invaluable (and, unfortunately, well-known) way to optimize your listings on Amazon, any seller can reach good levels of success.
Let's be honest. Without a solid keyword strategy, everything you do to optimize your product listing is built on unstable ground.
That's why keyword research is a valuable aspect of success in Amazon. Including the right keywords in your product listing can be the difference between users seeing your products and being outranked by competitors.
So it's important to do comprehensive keyword research if you want your products to rank highly on Amazon search results.
Proper keyword research will help you understand what customers are looking for on Amazon, find out the terms they're targeting so that you can reach the relevant audience for your brand.
If you need a helping hand when it comes to Amazon keyword research, Sunken Stone is here to help.
Sunken Stone is an Amazon brand management service provider working with established brands selling directly to consumers. If you're unsure where to start with keyword research for Amazon, get in touch with us at Sunken Stone and we will give you a helping hand.
Amazon Isn't Just About Choosing The Right Keywords
While keyword research is necessary on Amazon, sellers tend to obsess over this one activity where, in reality, they should focus on building powerful brands.
If you want to achieve real success as an Amazon seller, focus more on offering better value for customers. Your products should be of high quality and customer service should be top-notch.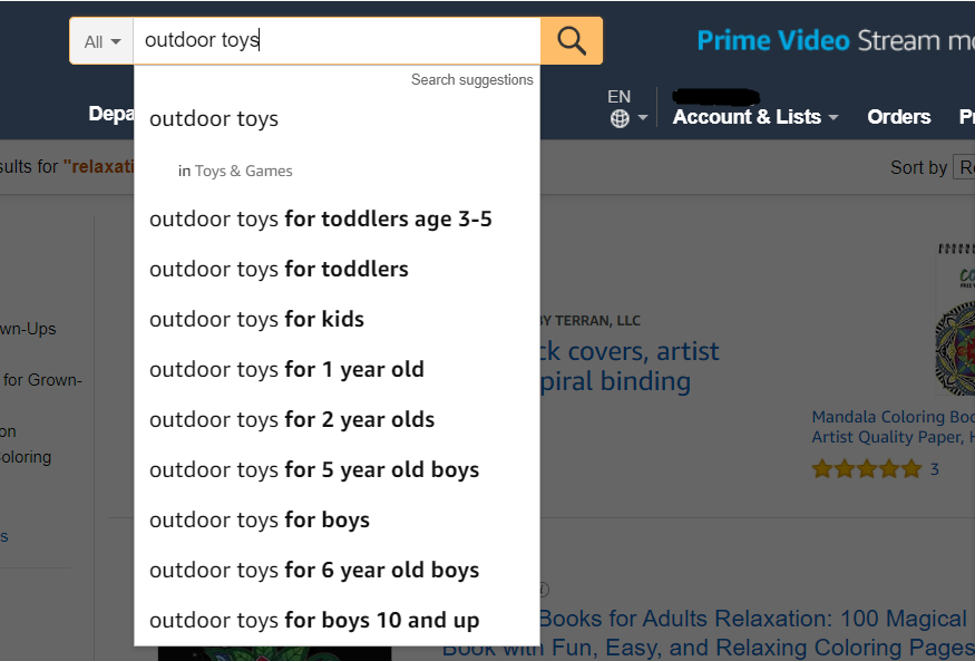 If you're looking for ways to implement a well-working Amazon SEO strategy, please contact Sunken Stone, a top-tier, results-driven Amazon marketing agency for growing eCommerce brands. Tap into our managed services to take your eCommerce or Amazon business to the next level today!
Request A Free Proposal
Are you tired of losing sales to your competition on Amazon? It's frustrating for otherwise successful brands to underperform on the leading eCommerce platform.
Sunken Stone will help you find a solution to increase your profits on Amazon. Click "Request My Proposal" below to receive a customized roadmap to beat your competition and uncover new areas of opportunity for increasing sales.
---
Frequently Asked Questions
How Do You Do Keyword Research On Amazon?
You can use keyword research tools or use Amazon's auto-complete function.
How Do I Use Keywords On Amazon?
Go to the inventory tab on your seller central account, click on the 'edit' button and navigate to the 'offer' tab, then click on 'keywords' to open the keyword section.
How Do I Find My Keyword Ranking On Amazon?
Enter the keywords you are targeting in the Amazon keyword tracker and click on 'Analyze'.
Why Is Keyword Relevance Important On Amazon?
A product listing that includes the most relevant keywords ranks higher in Amazon search results and get more traffic.