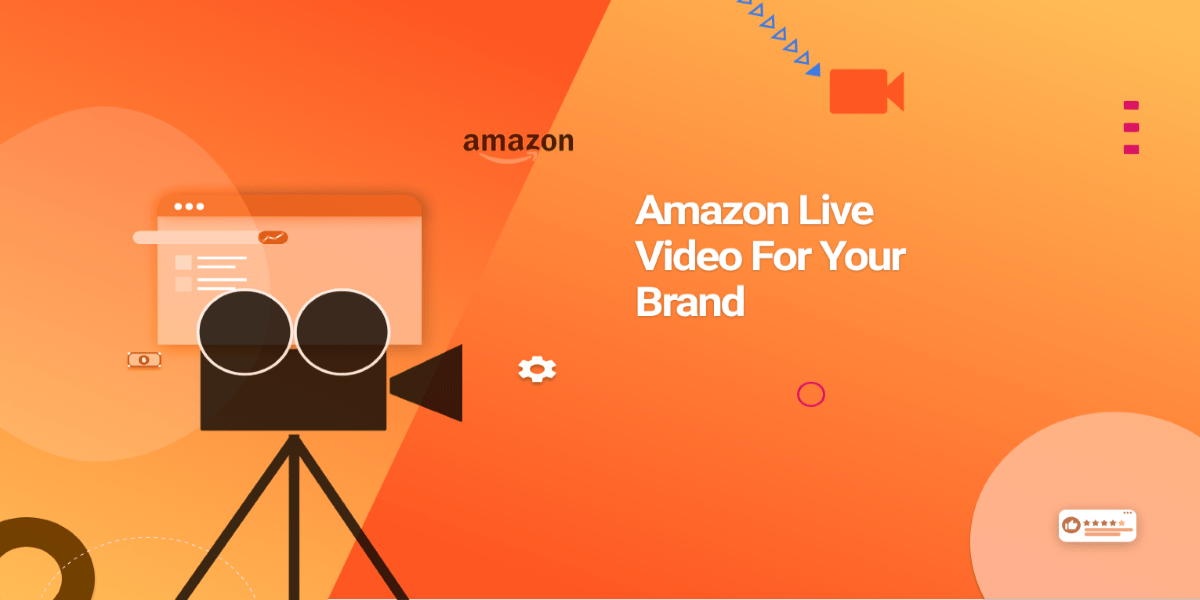 How to do a Great Amazon Live Video for Brands
Amazon offers its sellers multiple tools and outlets to reach out to potential customers about your brand's exciting and new products. One popular method for attracting shoppers is conducting an Amazon Live video stream, a free way to advertise your product.
Amazon Live stream videos give your company an open channel to communicate with buyers about the products your brand offers. Additionally, sellers can have the time to explain their product's features that may not be easily distinguishable from traditional product photos or descriptions.
Here, we break down some steps and techniques on how brands can host a great Amazon Live video.
Getting Started with Amazon Live
The Amazon Live Creator Mobile App
In order to start reaping the benefits of Amazon Live video, you'll need to download the Amazon Live Creator mobile app (free in the Apple Store). Unfortunately, the application is not currently available in the Google Play store, as Amazon has optimized the app for iPhones and iPads.
The app is packed with unique features to help brands showcase their products while interacting with customers in real time (1). The Amazon Live Creator application is the only tool necessary/required to get started with streaming Amazon Live videos.
If you already have a camera you would prefer to use over your iPhone, Amazon's in-app encoding software allows you to capture video content from external cameras. Sellers can still add graphic overlays and stream pre-recorded content when using an external camera. Sellers can also switch between cameras, place customized graphics, and toggle their livestream to images or pre-made slides.
Practicing with the Amazon Live Creator App
The Amazon Live Creator application also gives sellers the chance to practice their live streaming before going live in front of millions of potential shoppers in "Practice mode". Practicing helps sellers become more comfortable behind the camera and act more natural. The more comfortable you are filming an Amazon Live video, the more successful your video will be.
Many new sellers have the tendency to become nervous on their Amazon Live Stream broadcast, which can lead to you speaking far faster than most can understand. Additionally, you may forget to bring up your products key features when you're streaming live.
Practice mode also allows you to test the connectivity and the performance of your live stream before you actually go live. Thankfully, Amazon has optimized the Live Creator app to function properly off just 5mBPS internet speeds.
Taking the time to practice your lines, hand movements, and body language can go a long way! Some sellers place large posters behind their cameras with bullet points reminding them to discuss certain product features or benefits.
>> REQUEST A FREE PROPOSAL: Take 30 seconds to request a proposal and receive a customized roadmap to skyrocket your sales, beat your competition & make your brand thrive on Amazon.
Setting Up Your Amazon Live Stream
First impressions are the best impressions. Taking the time to set up your Amazon Live stream can help give your brand a professional look without any major cost. This includes using a proper filming location that can showcase your products potential to the maximum.
For instance, if you are selling a wireless phone charger, you may want to consider filming in an office or inside a home that features the standard array of electronic devices in the background. Filming your Amazon Live stream in a relatable setting can help customers get a deeper understanding of your products.
Whether you're a brand with a multimillion dollar marketing budget or just starting out, it's important to select a set that offers plenty of natural lighting and minimal background noise.
More often than not, sellers only find out that their live video had poor lighting or too much background noise once the video has been broadcasted. Be sure to scout out any potential shooting locations and film test shots to see what location and time of day makes your video more vibrant. You can do this using Practice mode in the Amazon Live Creator application.
Your attire during a live stream also plays an important role. If you're selling a portable solar charger for campers or travelers, consider dressing the part to make your products more relatable. Dressing in proper attire can also help catch shopper's attention as they scroll through various videos on Amazon.com/Live.
Optional Equipment for Amazon Live Streaming
Although the only thing needed to get started with Amazon Live streaming is the Amazon Live Creator app, you can give your live stream an edge by making a small investment in proper recording and videography equipment.
Thanks to websites like Amazon, it's easier than ever to find professional-grade lighting and sound equipment at an affordable price.
For instance, sellers can search for "product photography kits" and find many examples of kits from $50-$120 that include items such as multiple lighting umbrellas, green screen backdrops, and much more. Purchasing a tripod for as little as $20 can also help prevent any motion blur when capturing video.
Professional grade sound equipment is also available at an affordable price. Sellers can find microphones that connect to external cameras or computers for as little is $25.
Shooting Your Amazon Live video
In order to go live on Amazon, you'll need to add the products you want to feature to your stream beforehand. By adding products to your stream, Amazon shoppers can find them in the product carousel that displays right next to the live video stream.
It is important to note that the first product shown in the carousel is likely to get the most visibility during the stream. Ideally, this means sellers should choose the order of their products cautiously. Once you have started the live stream, you cannot add or remove any products from the product carousel.
Next, sellers will need to provide a title for their live stream. Choose a descriptive and compelling title to make your stream stand out to shoppers.
Now that you've selected your product to feature and have all the tools you need, you're essentially ready to begin streaming live on Amazon. One of the biggest perks of going live on Amazon is the ability for brands to engage and interact with shoppers in real time.
Amazon Live allows shoppers on the fence a chance to ask questions about your product offerings directly through the live video feed. This can pose as a great opportunity for your host to highlight specific value propositions your brand offers.
In order to be able to answer questions about your products while you are live, it's highly recommended to have at least two people from your brand help with the live event. One to be the main presenter, or host, and the other to answer comments and to add any graphics, designs, or promotions to your live stream.
If you have conducted a successful Facebook Live or Instagram Live video in the past, there is no need to reinvent the wheel. Sellers can use OBS Studio, an open-source software program, to upload pre-recorded video and have it broadcast as if it were live on Amazon right through the Amazon Life Creator app.
If you want to stream at a particular time, sellers are also able to schedule Amazon Live streams. Your scheduled start time may appear on Amazon.com/Live as an upcoming stream. Sellers do have the option of going live after the streaming start time, however, curious shoppers may already be waiting.
Once you've scheduled your live stream, you will be given a link. This link can then be shared on other channels off of Amazon such as Instagram, Facebook, email campaigns, and more.
What Happens After My Amazon Live Stream Ends?
After you finish your live stream, it will be available on your channel page. Additionally, your video may appear on Amazon.com/Live. Shoppers will be able to view your video in various placements for up to 48 hours at no cost to you. Sellers can also download their livestream after it has been completed.
You may also remove the recorded live stream from Amazon after it has been completed. Simply click on the "Streams" section of the Amazon Live Creator app and switch the publish toggle to "off".
Understanding Amazon Live Stream Reporting
Amazon aims to help sellers get a better understanding of how their live video performed by offering comprehensive reporting. Although sellers can get access to common metrics such as impressions and views, some other important metrics to take into account include:
Average View Duration – The average time shoppers who unmuted your live stream watched it for
Total Sales – The total sales of products sold to Amazon shoppers that viewed your live stream. These purchases are counted if they occur within 14 days of the customer viewing your live stream
Click-Through-Rate – The total number of clicks divided by the number of video views expressed as a percentage
Direct Sales – The attributed sales of products that you added to your live stream carousel
Amazon shoppers may continue to see and engage with your live stream even after you finish filming. Because of this, your Amazon Live metrics may continue to change as more users view your content.
Paid Boosting Your Amazon Live Stream
Livestream boosting gives sellers the chance to expand the reach of their live video, exposing thousands of shoppers to your content. Sellers can simply choose a budget for their live stream and then place a CPM (cost per thousand impressions) bid. Boosting your Amazon Live stream displays your video across multiple advertising placements, including on product detail pages.
However, paid boosting is only available for eligible sellers and brand owners. According to Amazon.com, in order to be eligible for paid boosting, you must:
Be a professional seller in good standing
Registered to advertise on Amazon
Be a registered brand owner
A live stream boost lasts up to 48 hours, or until the budget for the live stream has expired. Currently, the only way to view the results of your boosted live stream is through the Amazon Live Creator application. Sellers cannot track their live stream boosted results through Seller Central.
Amazon Live Video Best Practices
When it comes to Amazon Live, there are a few key practices every seller should follow. First and foremost, you want to ensure that your live stream does not break any policies set forth by Amazon. Taking the time to review their Community Policy will help to ensure that your stream does not become moderated. Even the slightest mistake or violation against these policies can have a significant impact.
Buyers are more likely to engage and convert on products from a live video that stands anywhere between 5 and thirty minutes in length. If you have a shorter video, try looping the video a few times to obtain maximum viewership and view times.
One important note to keep in mind regarding Amazon Live videos is that brands cannot direct customers to go to other websites, including your brand's own website. However. live broadcasters and hosts can direct users to product pages or the product carousel on Amazon without issue.
If you are recording your live stream from a phone, be sure to set your phone to "Do Not Disturb" in order to avoid having incoming calls or messages interrupting your live stream.
Many sellers also make the mistake of not fully charging their phones prior to live streaming. Live streaming takes ample amounts of power, and keeping your phone or recording device plugged in at all times can help avoid any interruptions.
Sellers should also never exit the Live Creator App, as it will automatically end your live stream. Toggling between multiple apps can also have the same effect.
Lastly, regardless of if your video is live or pre-recorded, buyers will ask questions throughout the live video stream. If you decide to automate your live video with OBS Studio, its best to stick around to ensure no question goes unanswered. Your live video will also be available to view on Amazon's live video page for a limited time as well.
There is no time limit sellers must follow to stream live on Amazon. Additionally, it does not matter how many times you have live streamed in the past. The longer your live stream video is, the more likely shoppers are able to discover your brand. Amazon recommends sellers live stream multiple times per week to engage with shoppers.
Final Note
Taking advantage of Amazon Live is a great way for your brand to increase awareness and engagement. If you've found the process of hosting an Amazon Live video for your brand to be difficult, Sunken Stone can help. Our team of Amazon experts can help accelerate your brand's Amazon presence on autopilot. To learn more about our performance-based Amazon brand management services, schedule a free demo with one of our experts today.
Sources:
---
Do You Feel Like Your Amazon Business Is In A Rut?
You're not alone. Many businesses find it difficult to scale on Amazon. That's where we come in. We are a top-tier, turnkey, performance-based Amazon marketing agency that can help you take your business to the next level.
We have a proven 4-pillar process that helps businesses achieve higher sales, AOVs, ROIs, and other 3-letter acronyms. Let us show you how we can help you achieve the same success. Click here to schedule a call with a strategist.
Request A Free Proposal
Are you tired of losing sales to your competition on Amazon? It's frustrating for otherwise successful brands to underperform on the leading eCommerce platform.
Sunken Stone will help you find a solution to increase your profits on Amazon. Click "Request My Proposal" below to receive a customized roadmap to beat your competition and uncover new areas of opportunity for increasing sales.
---