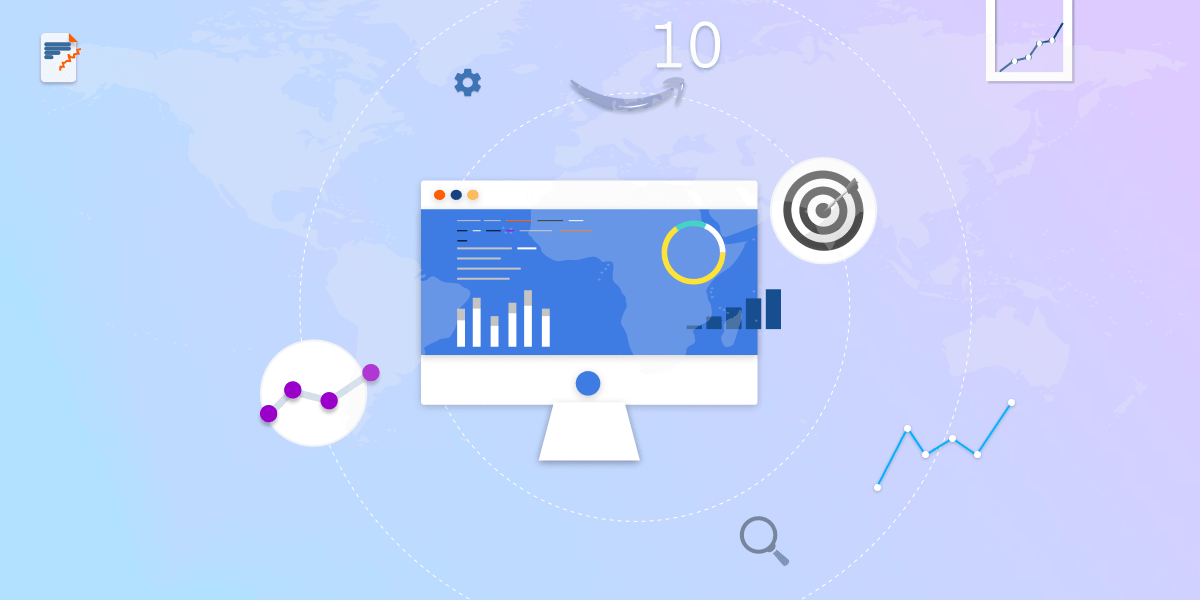 10 Tips To Boost Sales On Amazon [How To]
How can business owners boost sales on Amazon? Amazon is an excellent platform for online vendors to get their products in front of new customers because of its vast traffic. But, on the other hand, the market is quite competitive.
Therefore, sellers need to know as many tips to boost sales on Amazon as possible. We're going to explain 10 tips that help you beat your competition in the leading eCommerce marketplace.
On Amazon, third-party retailers are responsible for 53 percent of all sales. As a result, it is essential to use various tactics to boost Amazon sales and stay one step ahead of the competition. In this article, we'll go through the basics of increasing sales on Amazon so that you build a more profitable business!
10 Strategies To Boost Sales On Amazon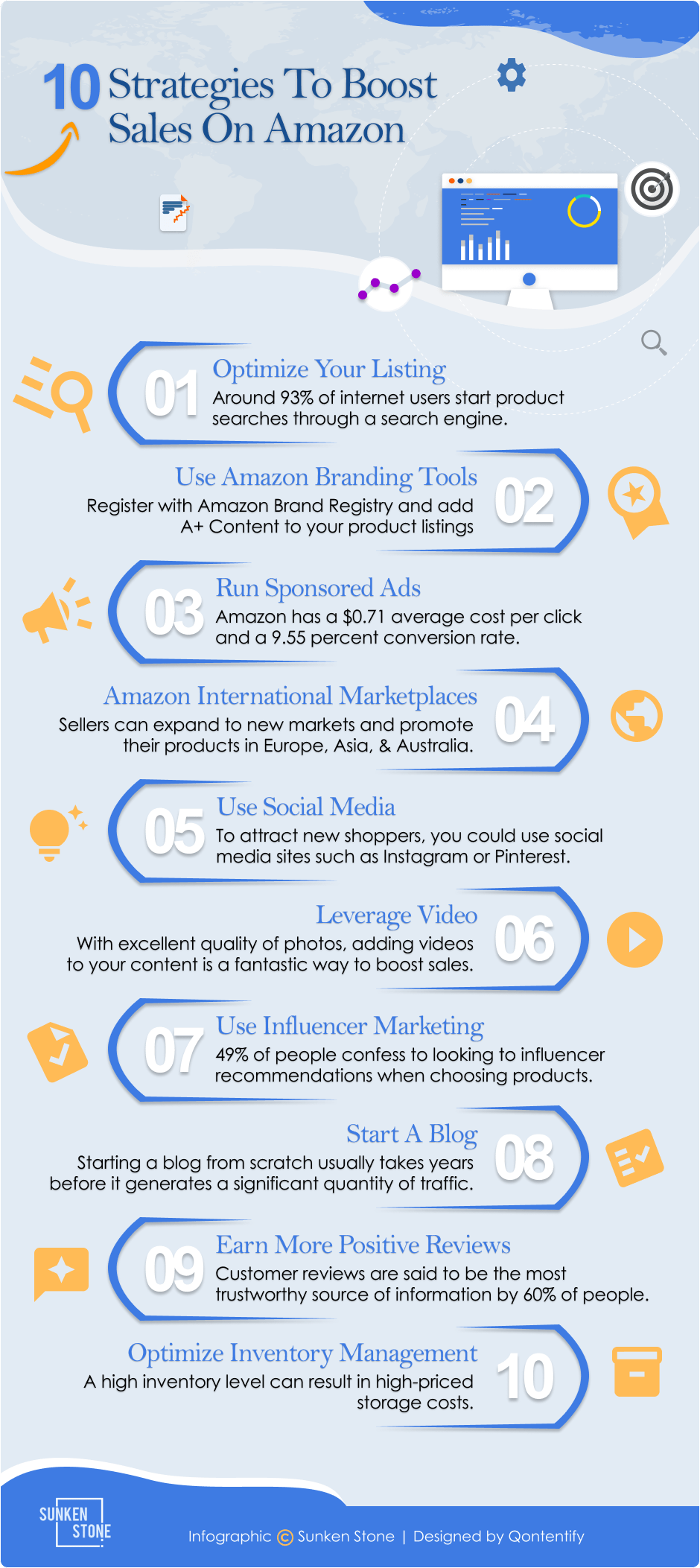 1. Optimize Your Listing
It's not easy to persuade customers to visit your listing. The average click-through rate on Amazon is 0.4 percent, according to Ad Badger. Therefore, having a product page with weak copywriting or inconsistencies in product descriptions is the last thing an Amazon seller wants.
Do not forget that 75% of people never scroll past the first page of search results. Because of this fact, SEO is an essential step for creating successful listings.
Around 93% of internet users start product searches through a search engine. 90% of search engine searches begin on Google. So, optimizing your listing for SEO should not be neglected.
Although there are many methods to improve your Amazon listing for Amazon SEO, you should also focus on increasing conversions.
Customers should be able to read your listing and quickly learn about the advantages of your product and why they should buy it.
It's also critical to think about how your listing will appear on mobile devices.
According to Statista, by the end of 2021, global mobile eCommerce sales will hit $3.56 trillion. Therefore, consider how it will look on mobile and make sure it communicates your product's value, features, and advantages straightforwardly.
2. Use Amazon Branding Tools
Amazon offers a few beneficial tools that can help you boost sales. To use these features, you must first register with Amazon Brand Registry.
You can add A+ Content to your product listings after you have signed in to the Amazon Brand Registry. But why is A+ Content significant?
A+ Content is an excellent way to help you stand out from the crowd. For example, you can add pictures to your product descriptions or incorporate a video in your Amazon listing when you have access to its feature.
One other tool is the Brand Dashboard. It is a tool available exclusively for brands to optimize their business on Amazon.
Brand Dashboard helps sellers identify opportunities to enhance the customer experience, traffic, and conversion. When a seller registers the system, it will be available to use the Brand Dashboard as well.
You'll also get access to Amazon Storefronts, Amazon Attribution, Headline Search Ads, Amazon Renewed, and other Amazon features. These tools can assist you in increasing your brand's exposure and awareness.
3. Run Sponsored Ads
Sponsored advertising is one of the most effective methods to boost Amazon sales. It will assist you in driving targeted visitors to your listing, and it will also help improve brand visibility and awareness.
The following are the critical actions you must take:
To begin, decide the products you want to advertise.
After choosing your goods, you'll need to choose your budget and the prices you want to target.
You should be aware of the following advertising statistics: Amazon has a $0.71 average cost per click and a 9.55 percent conversion rate. To make a data-driven choice, you must determine your industry-specific metrics.
You can start advertisements that show in high-visibility places.
Some locations include the first page of search results or at the bottom of product description pages. Advertisers set location placements after setting their budget and keyword targeting options.
With PPC, there are a lot of options. Primarily, you can set up:
Sponsored Ads
Headline Search Ads
Product Display Ads
You can set up Headline Search Ads if only your brand is in the Amazon Brand Registry program. Product Display Ads are available for all Amazon sellers, even those not in the Brand Registry program.
4. Sell Your Products On Amazon International Marketplaces
As a seller, selling goods within your local area isn't your only option. Sellers can expand to new markets and promote their products in Europe, Asia, and Australia.
Becoming an international seller helps eCommerce brands increase total income by selling on Amazon International Marketplaces and builds brand recognition.
In this way, it's so easy as ABC to access hundreds of millions of customers worldwide with Amazon Global Selling.
5. Use Social Media
To attract new shoppers, you could use social media sites such as Instagram or Pinterest. Instagram advertising is an excellent way to promote your goods. One Instagram strategy is to generate a promo code and send customers to your brand's Amazon landing page.
You can even post products on Instagram and establish your own Instagram sales channel if you sell through Amazon FBA and have a Shopify account. That means you can send all traffic to your Shopify shop, where consumers can make a quick and straightforward purchase, but Amazon will handle all fulfillment.
6. Leverage Video
It's critical to contact consumers via a variety of channels and media. Besides the excellent quality of photos, adding videos to your content is a fantastic strategy to boost sales on Amazon.
When you utilize video successfully, you can make your business stand out, develop a more personal connection with customers, and increase sales. According to one study of eCommerce vendors, utilizing product videos grew sales by 144 percent.
The following kinds of videos are especially beneficial to eCommerce businesses in terms of optimizing their listings:
Product Promotion Videos: Highlight the benefits of a particular product.
Manufacturing Videos: Prove how your team produces goods.
Customer Story Videos: Create a video testimonial or case study for a customer.
Interviews: Interview the business founder or staff for brand storytelling videos.
Educational Videos: Describe how to utilize a product or how to solve a common issue.
7. Use Influencer Marketing
Customers that want to purchase a product will always look at reviews from reputable sources, including social media influencers. In fact, 49% of people confess to looking to influencer recommendations when choosing what product to buy.
To get started with influencer marketing, follow these steps:
First, make use of Amazon Associates or Amazon Influencer.
Influencers that connect with your brand should be hand-picked and contacted.
Use social media to connect with influencers.
8. Start A Blog
It's critical to set yourself out from the competition if you want to boost sales on Amazon. In addition, customers spend a significant amount of time researching products before purchasing, so establishing a blog can be beneficial.
While this is a fantastic approach, keep in mind that it takes time. Starting a blog from scratch usually takes years before it generates a significant quantity of traffic. You, on the other hand, will reap the benefits of a blog's traffic for many years to come. Here are some things to think about before starting a blog:
Give your readers something worth it. Make sure the information you're producing educates your consumers.
Make a website to host your blog entries. Blog articles should focus on providing value to your consumers by addressing their questions.
Make your stuff more visible. To encourage the visitors, use Facebook advertisements and promote your material on social media platforms.
Create a mailing list. You'll be able to create leads, launch marketing campaigns, and move your information through the sales funnel in this manner.
Make sure each blog has a call to action that directs visitors to your product listings.
9. Earn More Positive Reviews
Product reviews are an essential aspect of selling online, particularly on Amazon, since they help customers decide whether or not your goods are worth buying. Customer reviews are said to be the most trustworthy source of information by 60% of people.
A product with 300 or more reviews and a 4.5 average star rating will make a far better first impression than one with fewer than 50 reviews and a low star rating.
Even if obtaining authentic product evaluations is difficult, we advise against shortcuts since you risk having your account suspended or banned. Still, there are a few things you can do to encourage people to leave reviews. Here are a few of them:
Request feedback through the 'Request a Review' button.
Provide inserts with your product to encourage customers to leave reviews online, but you must follow Amazon's TOS!
Improve your products based on the reviews so that you can boost sales on Amazon.
Create an Amazon email list to solicit reviews and comments. You may also use an email list to develop long-term connections with your consumers (and help with future product launches).
10. Optimize Inventory Management
Inventory management has a far more significant effect on your company than you think. A high inventory level can result in high-priced storage costs.
In contrast, a low inventory level can result in missed sales opportunities. You also face the risk of Amazon suspending your seller account if your inventory performance is critical.
To avoid this problem, you should put the money in an inventory management solution to guarantee that you have the correct quantity of goods on hand. In addition, these solutions can assist you with restocking, budgeting, repricing, and boosting sales on Amazon as well.
Are You Ready To Boost Your Sales On Amazon?
Everyone seeks to boost their sales. That is what business is all about. The good news is that there are lots of chances to boost sales.
When customers want to get anything online, they turn to Amazon, implying more customers will buy your product. This list should provide you with the necessary guidelines. Take a look at them and give them a try now!
About Eva.Guru
Eva serves Amazon sellers to maximize profits, grow faster, and win more.
We know you put passion into your products and brand, so we make it easy to confidently sell on Amazon. Save time and keep your customers satisfied. It does not matter if you are selling clothes or books on Amazon, save your time and increase your sales by using Eva's AI-powered pricing management to price competitively on Amazon. As an Amazon seller, If you need help with pricing management, reimbursement service, replenishment, advertising management, and more, we are here.
Do You Feel Like Your Amazon Business Is In A Rut?
You're not alone. Many businesses find it difficult to scale on Amazon. That's where we come in. We are a top-tier, turnkey, performance-based Amazon marketing agency that can help you take your business to the next level.
We have a proven 4-pillar process that helps businesses achieve higher sales, AOVs, ROIs, and other 3-letter acronyms. Let us show you how we can help you achieve the same success. Click here to schedule a call with a strategist.
Request A Free Proposal
Are you tired of losing sales to your competition on Amazon? It's frustrating for otherwise successful brands to underperform on the leading eCommerce platform.
Sunken Stone will help you find a solution to increase your profits on Amazon. Click "Request My Proposal" below to receive a customized roadmap to beat your competition and uncover new areas of opportunity for increasing sales.
---
Frequently Asked Questions About Boosting Sales On Amazon
Why Don't I Have Any Orders Yet?
Amazon's customers can more easily buy your products when your goods are well based in the site browse structure and enabled with relevant search keywords. For practical guidance on handling that problem, read this guideline and check if you follow the advice correctly.
How Can I Sell Internationally On Amazon?
When you sign up for the FBA Export program, all of your qualifying products become exportable. When customers from other countries buy your product, Amazon picks, packs, and ships the product directly to them.
Whether you're a new seller or a pro, Amazon Global Selling can help you sell globally. Amazon has online marketplaces in the US, Canada, Mexico, the United Kingdom, Germany, France, Italy, Spain, China, Japan, Australia, Turkey, the United Arab Emirates, and India, as well as the services and tools to help you succeed in the global marketplace.
Which Ad Type Is Right For Me?
Amazon Advertising provides several self-service advertising options. Understanding your company goals can assist you in selecting the best advertising type and analyzing the effectiveness of your ad campaigns. So firstly, identify your purpose and needs.
Depending on your goals, Amazon sellers can consider various advertising types. Here is a table that you can get help on choosing the ad type.

Do I Have To Have An FBA Account To Use Multi-Channel Fulfillment?
Yes. You must have an FBA account to use Multi-Channel Fulfillment.
What Are The Other Benefits Of FBA (Fulfillment by Amazon)?
The benefits of using FBA include:
– With FBA, your products are eligible for Amazon Prime free Two-Day Shipping. All Amazon customers can get free shipping on qualified orders.
– Amazon provides customer service on your behalf and manages returns for FBA orders.
– Programs such as FBA Subscribe & Save, FBA Small and Light, and FBA Export can help to boost sales and strengthen customer loyalty.
– Choose from optional services, including product preparation, labeling, repackaging, and Amazon partnered carrier options.