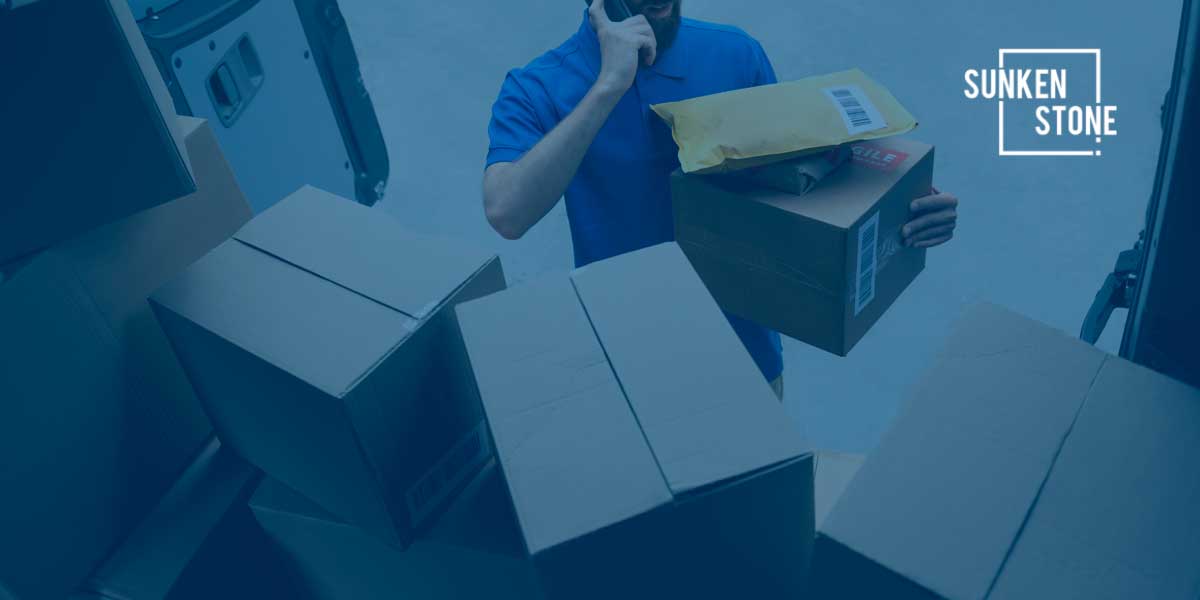 6 Quick Ways To Reduce eCommerce Shipping Rates
Here's Why eCommerce Shipping Rates Matter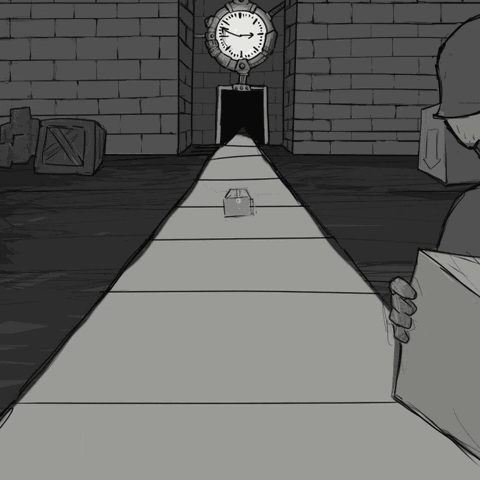 With the costs of transporting goods increasing every year, it makes sense that eCommerce brands want to reduce eCommerce shipping rates. High shipping costs reduce brand profits and drive away customers. In contrast, low shipping costs can attract more customers and improve your profit margins.
Customers always consider shipping rates when making purchasing decisions. That means offering low shipping costs and meeting customers' expectations. To stay competitive, sellers must keep shipping costs low—regardless of the size of your business or niche.
» REDUCE SHIPPING COSTS NOW: Discover How To Lower Your Small Parcel Shipping Rates By 20% Or More
If you're looking for quick ways to reduce eCommerce shipping rates, you are in the right place. In this blog post, we will look at ways to minimize eCommerce shipping rates in detail.
So, are you ready to learn more? Let's define eCommerce shipping to be on the same page before jumping into helpful strategies for reducing business shipping rates.
What Is eCommerce Shipping?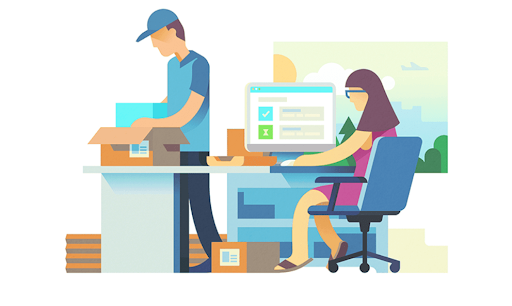 eCommerce shipping includes the complete process of fulfilling your customer's order. It begins the moment customers submit their payment details on the checkout screen. The process ends once your customers have the package delivered to their doorstep.
The eCommerce shipping process encompasses three primary stages:
Packaging (& Labeling Too.)
Providing The Package To The Fulfillment Partner.
Delivering The Order.
Each of these processes has a time and financial cost. Therefore brand owners must consider how they want to manage the process. Unfortunately, not every business has an effective shipping strategy, which makes expansion to new marketplaces difficult, if not impossible.
As an eCommerce brand, the right shipping company can make the order delivery process hassle-free and cost-effective. Likewise, the wrong shipping strategy can make or break your eCommerce business. Therefore, your business needs to select a shipping service that will deliver on time, complete the return process quickly, and track the locations of your customer's orders.
We promise—your CPG brand's customers will thank you for improving the shipping process, which is why it's so essential to reduce eCommerce shipping costs. Brands that offer fast and affordable shipping attract more customers, retain existing ones, and enhance the customer experience. And of course, these factors lead to more profitability.
6 Easy Ways To Reduce eCommerce Shipping Costs
Now that we know the importance of paying less money on shipping, here are six practical tips that will reduce eCommerce shipping costs: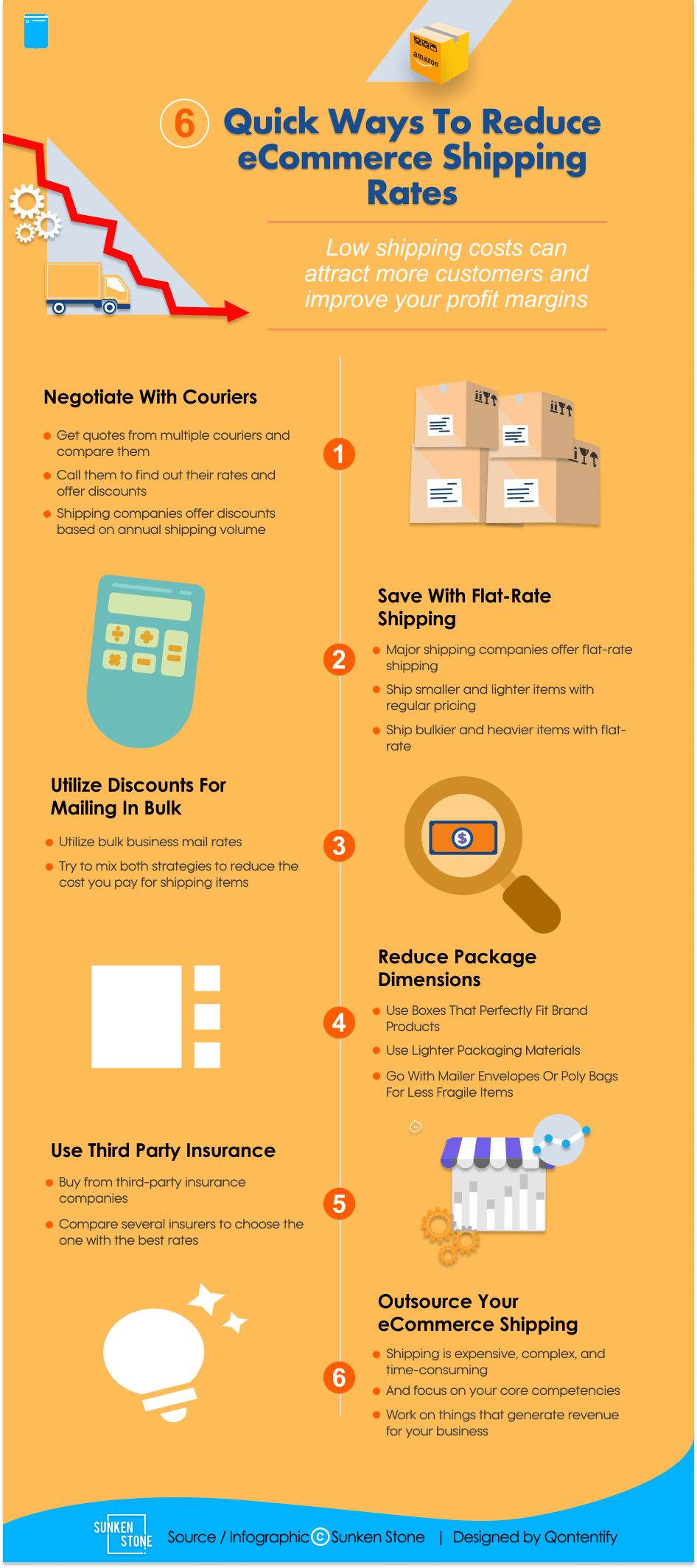 Solution #1: Negotiate With Couriers & Carriers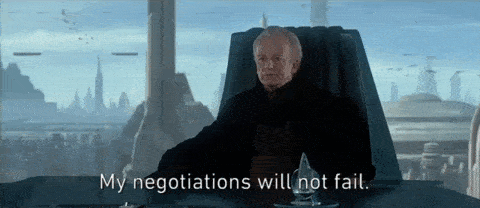 Shipping companies offer discounts based on annual shipping volume, time of the year, destination, and shipping time frame. Even small to mid-sized brands doing up to $50 million in revenue have a chance to negotiate for better shipping rates.
Many shipping companies compete for business, so you can leverage this aspect to negotiate for lower rates. If you have a higher shipping volume, you're more likely to get better discounts.
One of the mistakes eCommerce businesses makes is settling for the first shipping company they come across. It's best to get quotes from multiple couriers and compare them before making a choice. One courier may offer better rates for lighter packages, while another may have better service.
If one shipping company makes an offer, use it to negotiate for better rates with their competitors. If company A knows company B is competing with them for business, you'll have some negotiating power.
The internet has made it much easier for eCommerce businesses to compare different couriers. You need to perform an internet search and check each shipping company's reviews to see what previous clients say about their services.
It's also a good idea to visit their office or call them to find out their rates and offer discounts. Besides, shipping companies offer many shipping solutions to cater to different shipping needs. It's best to make thorough comparisons to determine which option best fits your shipping needs.
Solution #2: Save With Flat-Rate Shipping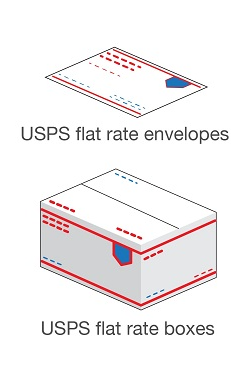 Major shipping companies offer flat-rate shipping, whereby the company charges a flat rate for shipped items. That means you'll pay a flat rate regardless of your shipments' size, shape, or weight.
If your courier offers flat-rate shipping, be sure to make the most of it to save money. You can ship bulkier and heavier items with flat-rate shipping rates and ship smaller and lighter items with regular pricing. That way, your eCommerce brand is always selecting appropriate packaging for each product line.
Start by researching flat-rate options available to your business and do your calculations to determine which one is more affordable while shipping specific products.
Solution #3: Utilize Discounts For Mailing In Bulk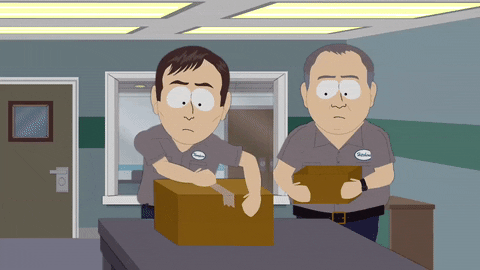 Businesses that send hundreds of items at once can utilize bulk business mail rates. Although many factors determine the cost of shipping, always ask whether there's a volume discount.
Even if bulk mail doesn't work for your business because of your brand's items' shape, size, or weight, there are always bulk shipping supply discounts to utilize. Try to mix both strategies to reduce the cost you pay for shipping items.
Solution #4: Reduce Package Dimensions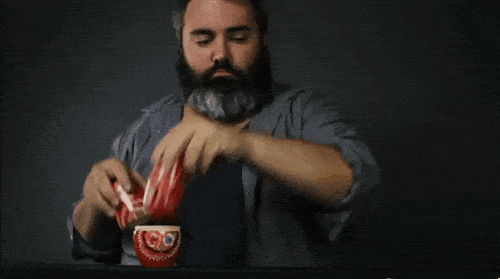 Package dimensions and weight impact the cost of shipping. Typically, heavier packages and those with a larger surface area cost more to ship than lighter packages with a smaller surface area.
With this strategy, your brand can reduce domestic and international eCommerce shipping rates by changing the dimensions of your packages. Most companies incur additional shipping costs simply because employees pack items incorrectly, which increases their package dimensions.
Here's what your company can do to reduce package dimensions:
Use Boxes That Perfectly Fit Brand Products.
By shipping in boxes that are too large for your products, your business will pay more than it should. Packing your items in containers that fit your inventory will minimize your package dimensions, thereby saving money.
Use Lighter Packaging Materials.
Some materials that can help keep your shipments tight and lighter include bubble wrap, air pillows, and foam inserts.
These boxes are lighter and stronger than regular cardboard boxes. Just make sure the boxes can protect the items in transit from damage. After all, cutting costs won't make sense if items will get damaged while in transit.
Go With Mailer Envelopes Or Poly Bags For Less Fragile Items
Ship clothing and other less-fragile products using mailer envelopes and poly mailer bags.
While making any of these changes may seem insignificant, it's all about scale. As a brand that generates millions from online orders, shipping costs quickly add up. Thus, every dollar you save ends up by the year's end.
Solution #5: Use Third Party Insurance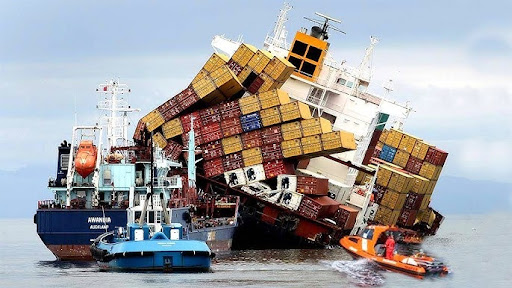 Shipping insurance is another significant expense associated with shipping. Suppose you insure your shipments with a company that charges higher rates. In that case, it will undoubtedly impact your shipping rates and affect your bottom line.
Shipping companies are known to overcharge when it comes to insurance. If you need to buy insurance for your shipments in transit, it's advisable to buy from third-party insurance companies. Typically, shipping companies charge about $80-$95 for every $100 of insurance, while third-party insurers charge about $45-$55.
Do not just settle for the first insurance company you come across. It's a good idea to compare several insurers to choose the one with the best rates.
However, it's essential to consider the average value of your shipments to determine whether it makes financial sense to buy insurance.
Solution #6: Outsource Your eCommerce Shipping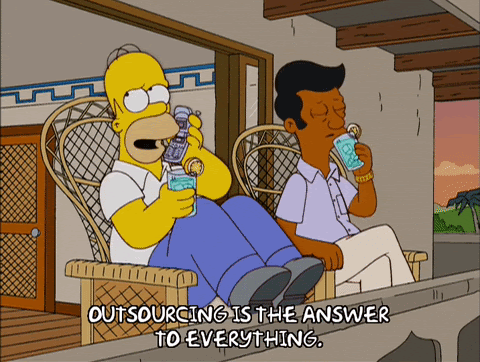 Outsourcing eCommerce shipping is always an idea to consider. It allows your business to focus on its core competencies. Instead of having employees spend time on shipping and handling, they'll instead work on things that generate revenue for your business.
While managing shipping processes in-house has some benefits, it's also expensive, complex, and time-consuming. When you outsource your eCommerce shipping, you won't have to train people, invest in infrastructure, or streamline shipping operations. The shipping company will handle everything on your behalf, allowing you to cut costs.
Additional Ways To Reduce Ecommerce Shipping Rates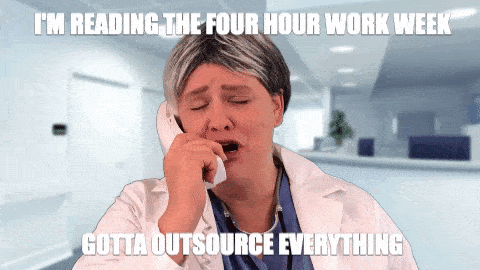 Shipping costs are one of the most significant expenses eCommerce businesses incur. Therefore, it makes sense to find ways to cut these costs and improve your bottom line. Reducing your shipping rates can make all the difference between maintaining a decent profit margin and struggling with spiraling business expenses.
Luckily, you can keep your shipping costs low with a bit of strategy. In the next section, we'll look at what your brand can do to save money on shipping.
Cost-Saving eCommerce Shipping Methods
Here are four eCommerce shipping methods to consider if you're looking to save on shipping costs. Compare all these rates to determine which works best for your goals.
Method #1: Flat Rate Shipping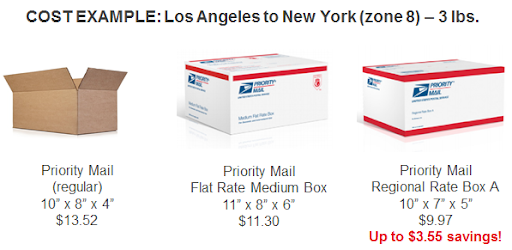 Just remember to compare the cost you pay for shipping with flat rate boxes. Sometimes the cost of flat rate boxes is higher, and sometimes it's lower. That's why it's so important to comparison shop, even for CPG brands.
As long as you don't exceed weight limits, your business is in the clear! Provided you don't exceed the maximum weight for the box, of course. Suppose you ship heavy packages and your courier is willing to offer you a flat rate. In that case, you can leverage this option to save money. However, this option is not ideal for businesses that send out lightweight packages.
In addition to flat rate shipping prices, determine whether regional rate boxes will work for your business. The regional rate refers to a low-cost pricing model that leverages a shipment's distance to its destination. This model is perfect for eCommerce brands shipping small and dense packages throughout the nation.
Method #2: Real-Time Courier Rates
eCommerce businesses should connect their online stores with their preferred courier that provides real-time shipping rates. The advantage of this shipping method is that customers know upfront the amount to pay in shipping charges.
Real-time courier rates help to avoid unpleasant surprises down the road and help businesses compare costs.
Method #3: Hybrid Service Rates
Hybrid services work with couriers to help eCommerce businesses cut shipping costs.
Here's how hybrid services work—they pick orders from eCommerce businesses and then work with shipping companies to transport the packages to a sorting facility.
The containers then travel to another location for last-mile delivery. Although this option is somehow slower, it can help eCommerce businesses cut up to 50 percent shipping costs.
Method #4: Tiered Rates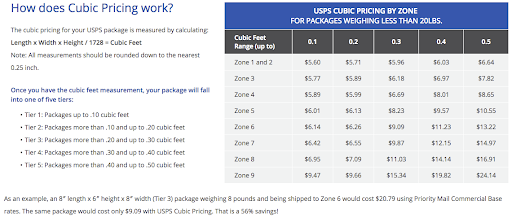 A tiered rate pricing model determines the cost of shipping on several factors, including weight limits, sizes, or total order costs.
How Do I Get Better eCommerce Shipping Rates?
Shipping companies offer different pricing models. However, some are more affordable than others. You can get better eCommerce shipping rates by doing intensive research on different shipping companies and comparing their speeds.
You can also contact each one of the shipping companies on your list and request quotes and other information that will help you make informed comparisons.
Once you've identified a reliable shipping company with affordable rates, you can go ahead to negotiate with them for better rates. Many couriers are willing to offer lower rates to win long-term customers. So you have a chance to negotiate for better eCommerce shipping rates regardless of the size of your business.
Do Fulfillment Costs Impact My eCommerce Shipping Rates?
Earlier, we mentioned that the eCommerce shipping rates include three factors, packaging, fulfillment, and delivery. So far, most of the tips have been about delivery, but fulfillment methods also provide an opportunity to cut shipping costs.
As businesses expand to new marketplaces, brand owners must decide how to handle growing fulfillment needs. They have the option of completing fulfillment in-house, using a third party to fulfill orders, or selecting a program like Fulfillment by Amazon.
Let's discuss these three options and what you should do as a brand owner to reduce shipping rates.
Do Fulfillment Costs Impact My eCommerce Shipping Rates?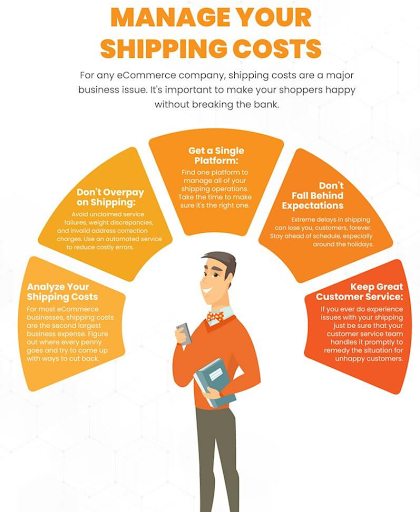 Earlier, we mentioned that the eCommerce shipping rates include three factors, packaging, fulfillment, and delivery. So far, most of the tips have been about delivery, but fulfillment methods also provide an opportunity to cut shipping costs.
As businesses expand to new marketplaces, brand owners must decide how to handle growing fulfillment needs. They have the option of completing fulfillment in-house, using a third party to fulfill orders, or selecting a program like Fulfillment by Amazon.
Let's discuss these three options and what you should do as a brand owner to reduce shipping rates.
Is In-House Fulfillment Right For Your Brand?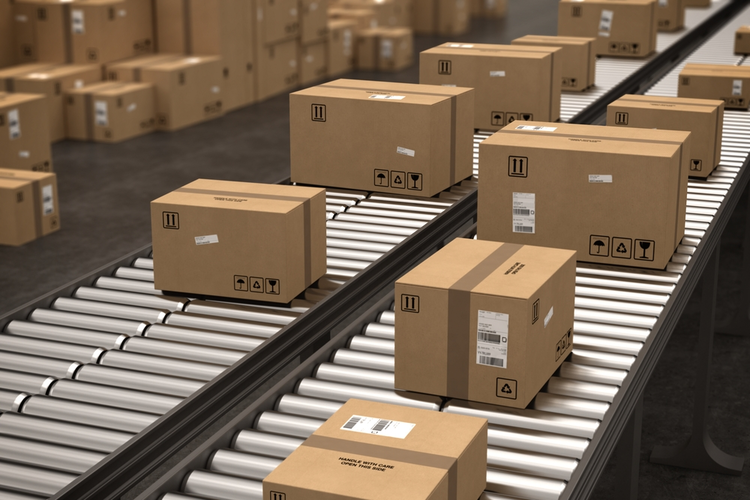 In-house fulfillment is a great way to reduce eCommerce shipping rates because it eliminates the need for a third-party carrier and absorbs much of the risk associated with order fulfillment.
It's also a good fit for brands with a dedicated customer service team or can't afford pricey warehouse returns. However, in-house fulfillment is only feasible if you have the resources available to handle increased shipments. The truth is, in-house satisfaction is expensive to organize and maintain.
Because distributors know about this tactic, they may charge more per shipment and demand higher minimums for those who ship via in-house inventory management. That said, it eliminates much of the risk associated with third-party carriers because there are no middlemen involved at all.
How Does It Compare To Third-Party Fulfillment?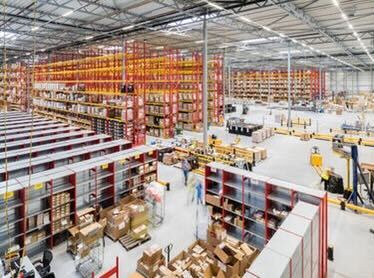 Amazon has a third-party fulfillment services program that gives access to Amazon's resources at low costs. Herein, we explore exactly what this service is and why it's such an attractive option for brands wanting the benefits of Amazon without the immediate expense.
In many cases, brands should outsource product fulfillment to a 3rd-party provider. In this way, you can save money on shipping and enjoy peace of mind that your inventory management and order fulfillment needs are in safe hands. Just make sure to do your research and choose the best carrier for your particular situation.
Brands decide to have a third-party manage fulfillment to save money. However, going with a third-party fulfillment company is also about other things. Third-party fulfillment companies are experts at what they do, which means they can take care of orders with the skills and efficiency needed to offer competitive prices on warehousing, picking, packing, and shipping.
Their warehouses come fully stocked with all the supplies needed for order fulfillment, including packaging material that ensures your products arrive intact. Finally, many brands prefer third parties to leverage returns in negotiations with Amazon over product prices. The right company might even pay its return costs or reimburse lost product fees if there is a problem during transit—saving your brand time and money!
What About Fulfillment By Amazon?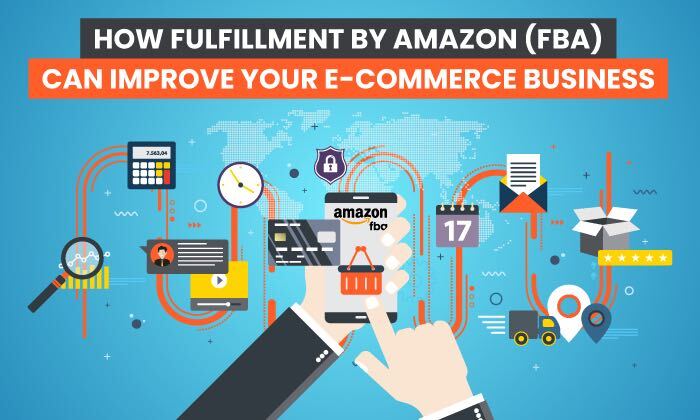 Fulfillment by Amazon is an eCommerce service developed by Amazon to simplify small and large manufacturers' logistics and shipping processes.
Amazon handles the picking, packing, shipping, customer service, and returns. So why don't more businesses make use of this? The main reason is high start-up costs.
The Amazon FBA start-up costs depend on where your business is located and your brand's sourcing methods. For example, if you rely on wholesale markets or the internet, there is no start-up cost to FBA. And in some European countries, such as Germany and Luxembourg, FBA is available for free.
However, in most nations like the UK and US (including Alaska and Hawaii), Amazon charges a fee to store one's inventory at its warehouses. Depending on your business's order size in this warehousing service, Amazon may charge $1-$35 per unit stored, depending on warehouse location.
Therefore, whether in-house, third-party, or FBA fulfillment options work best for your brand depending on your resources and business needs.
What If You Don't Want To Worry About Transportation Costs?
Shipping costs aren't cheap. Shipping companies increase their rates every year, so eCommerce brands need to find practical ways to lower shipping rates while maintaining the best customer experience. The tips mentioned above and strategies will help you save money when it comes to shipping.
What If You Don't Want To Worry About Transportation Costs?
Shipping costs aren't cheap. Shipping companies increase their rates every year, so eCommerce brands need to find practical ways to lower shipping rates while maintaining the best customer experience. The tips mentioned above and strategies will help you save money when it comes to shipping.
Reduce Shipping Rates By Selecting The Best Courier For eCommerce Brands
There are several shipping companies your business can use to send packages to Amazon customers. Let's compare some of the most popular options that most companies use.
USPS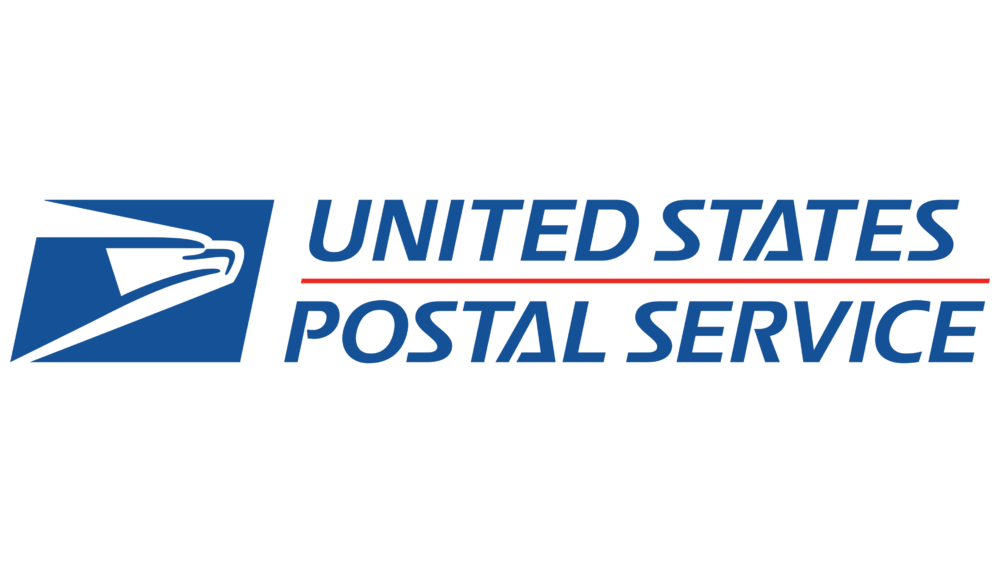 The United States Postal Service (USPS) is one of the most popular shipping companies within the US. Sellers can send both domestic and international orders through USPS. Add in discounts and credits for businesses, and you have a top-rated shipping service.
On average, it will take your brand's customers about two to eight days to receive their package via USPS, depending on their proximity to your shipping location. Once your business spends $20,000 on USPS Priority Mail or Priority Mail Express, your brand can enroll in Commercial Base Pricing, which provides additional discounts.
How much does USPS charge for delivering packages to your customers? Like with all shipping companies, the answer depends on where you're sending parcels, the size of your shipments, and the package weight. Your business can also pay more for USPS to deliver your items faster.
UPS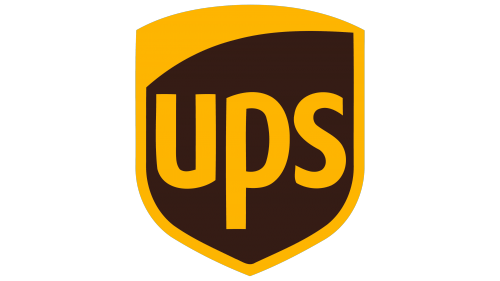 If your business sells more oversized products on Amazon, the United Parcel Service (UPS) often has better prices than USPS. What you'll pay nearly $22 for will cost $18.40 using a flat rate shipping box (depending on how quickly you want the item delivered.)
What if your business needs to deliver an order in less than two days? UPS provides same-day shipping services in specific areas, and domestic delivery takes between one to five days on average. Most of the shipping options for small businesses deliver packages in one to three days, perfect if your customers want expedited shipping options.
FedEx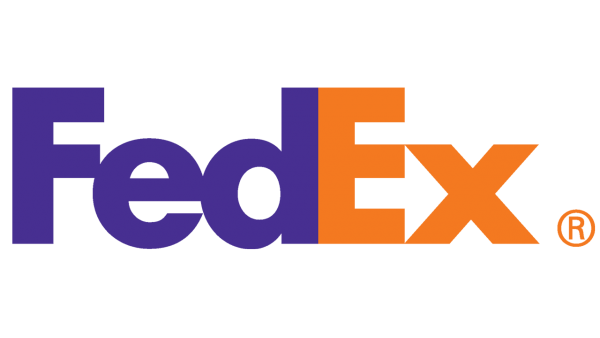 Another shipping company that provides fast delivery is FedEx. USPS and UPS typically charge higher rates for Saturday and Sunday delivery. FedEx, however, delivers every day of the week, which means your customers can receive packages two days earlier.
Domestic home deliveries using FedEx, on average, take one to five days. Although FedEx prices are typically a few dollars higher than you'll pay with USPS, they also deliver faster in most cases. Therefore, if you want better deliverability for your customer's packages, FedEx is a good shipping option.
Do I Have Any Alternatives To These Postal Couriers?
With many shipping companies to choose from, finding the best one can be overwhelming. The most popular ones are USPS, UPS, and FedEx. But of course, those aren't your only options as an eCommerce brand.
We're a little biased here, but we think that Stone Shipping is one of the best ways for eCommerce brands to save money on small parcel shipping. Here are a few reasons why your business should consider partnering with us to decrease eCommerce shipping rates:
Our Efficient Software Integrations Streamline eCommerce Shipping Operations
We Provide A Money-Back Guarantee If We Can't Reduce Your Business Shipping Rates
Stone Shipping Saves eCommerce Brands 7 To 20 Percent On Shipping Costs
Stop struggling to streamline shipping operations for your eCommerce business and partner with Sunken Stone instead. We can evaluate your entire shipping model and advise you on optimizing every aspect of your shipping process to save money and improve efficiency.
Sunken Stone is an Amazon marketing Agency that offers a wide range of brand management servSunken Stone is a top-tier, results-driven Amazon marketing agency for growing eCommerce brands. Tap into our managed services to take your eCommerce or Amazon business to the next level today!
Want to discover how your business can reduce shipping costs up to 20%? 👉 Teach me about Stone Shipping!
---
Do You Want To Reduce Your Shipping Costs?
Stone Shipping offers small parcel shipping solutions for eCommerce brands because we want to help your business become more profitable.
Reducing your shipping rates can have a massive impact on the profitability of your business. Save on eCommerce shipping with major couriers and ship products cheaper than ever.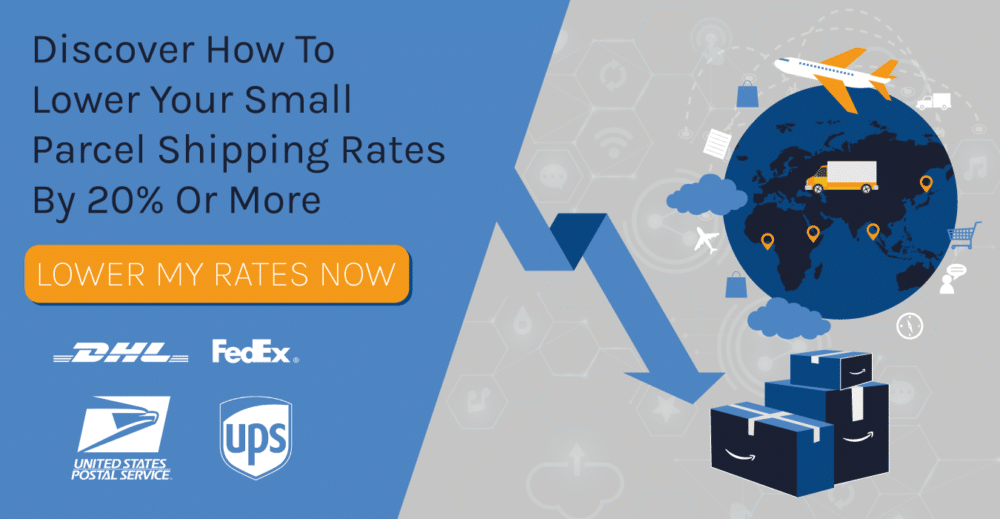 ---
Frequently Asked Questions
How Do I Get Better Shipping Rates With Ecommerce?
There are many ways you can get better shipping rates with eCommerce. The best way is to use cost-effective shipping companies like Shipping Stone. You can also negotiate with shipping companies for better rates. Other strategies that can help you get better shipping rates include:
Buying Supplies In Bulk To Get Discounts
Using Lighter Packing Materials
Reducing Dimensions
Buy Insurance From Third-Party Companies
Outsource Your Ecommerce Shipping
Maximize Flat-Rate Shipping
How Does Ecommerce Charge Shipping?
Ecommerce shipping rates are determined based on a customer's location, delivery preferences, and package weight & dimensions.
What Are Typical Shipping Rates?
Typical shipping rates range from $8 to $71, depending on the shipping service and shipping speed.
What Is The Best Shipping Company For Ecommerce?
The best shipping company you can use is Stone Shipping. This company not only offers the best shipping rates but it's also dependable in every other aspect.