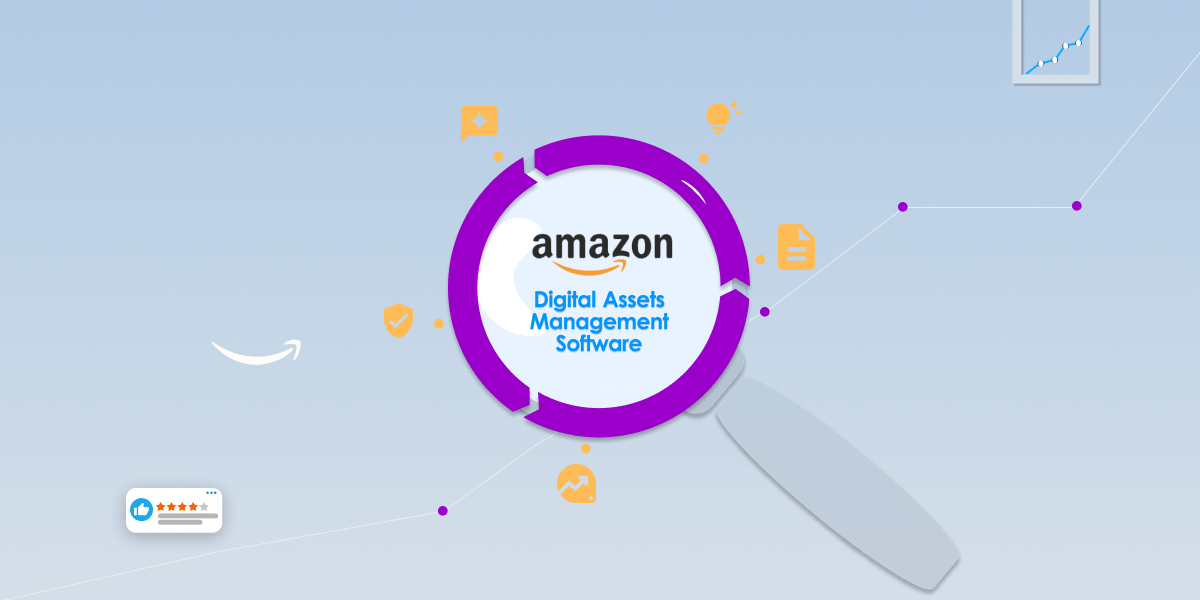 What Is Digital Asset Management (DAM) Software? [Full Guide]
Does your brand need digital asset management software? If your Amazon brand creates digital assets like images, videos, and presentations, this article will answer all your questions.
You'll learn what digital asset management (DAM) software is and discover why it's essential for top Amazon brands. Additionally, we'll discuss how to choose digital asset management software that works for you.
With that in mind, let's explore the world of DAM software. Here's why Amazon brand owners should give a DAM about digital assets.
What Is Digital Asset Management Software?
Simply put, digital asset management (DAM) software is a tool that helps you organize and manage your digital assets. You can store, organize, and manage everything from images and videos to text files and presentations.
Any business that wants to succeed on Amazon needs to create digital assets. These digital assets can include:
Images
Videos
Product descriptions
Brand stories
Social media posts
Digital assets are important because they help you build your brand and sell products on Amazon. They also make it easy for customers to find and buy your products.
That's why digital asset management is so crucial for Amazon brands. DAM software helps you manage your digital assets to focus on creating great content and selling products.
How to Choose Digital Asset Management Software
Not all digital asset management software is created equal. That's why it's important to choose software that meets your specific digital asset needs.
So, how do you choose digital asset management software? And what features should it have? Here are a few essential things to look for:
Integration with your current digital marketing tools
Easy navigation and file storage
Collaboration tools that make working together easy
However, because DAM software includes various features, there's a lot you can look for from your "ideal" DAM setup. That's why it's easiest to discuss the standard functionality and features you can expect from a top DAM system.
Of course, the features your organization needs depend on how you prefer to store and create digital assets.
Therefore, what you look for in digital asset management software open source depends on how you do business. Selecting a DAM system depends on how you'd like to use your digital asset management software.
With that in mind, let's discuss some of the functionality that comes with a leading DAM system. This will help you select a great digital asset management software free or open-source.
Digital Asset Management Software Functionality and Features
A modern DAM does more than just store your old prom photos.
If you operate a brand with dozens of Amazon products, you'll need a DAM to organize your digital assets. Dam systems help you manage the storage, maintenance, and collaboration processes of creating and storing digital assets.
Here are the top features of modern DAM software:
A Centralized Asset Library
An ideal DAM software stores all your brand's digital assets in a central location. Storing digital assets in one place makes it easy for team members to locate and use them.
Employees, managers, and other collaborators can easily search your asset library and sort items. With a DAM you can locate and sort files by file type, creation date, and other factors.
Asset Expiry & Review Dates
Asset expiry and review dates are essential digital asset management features. Tracking review and expiry dates encourage employees to review and improve digital assets regularly.
It's important because digital assets can quickly lose their value if you don't keep them up-to-date. It's vital to update digital assets with your latest branding and messaging initiatives.
For example, an outdated image of your product could mislead potential customers. If they believe that your product has a different design or color than what's currently available, this could upset them. And no one needs negative reviews because of an outdated product photo!
Therefore, digital asset management functionality saves time by reminding employees to reuse and update specific brand images. Instead of creating new digital assets from scratch, repurposing the old ones can save effort and resources!
Asset Relationships
In digital asset management, relationships between assets make finding related items in your library easy.
For example,
You can create relationships between different digital assets. For example, marketers might want to establish a relationship between a product image and other variations of the product.
In this case, the product variation image is a "child" asset, while the original version is the "parent" asset.
Asset Reporting
Digital asset reporting is a DAM feature that saves time by automatically generating reports on your digital assets.
These reports can help you quickly find digital assets for internal use or share with potential customers.
Some DAM programs even determine the reach and effectiveness of different brand assets.
For example, suppose you have an Amazon storefront where people can buy products from your brand's catalog.
In that case, digital asset reporting makes it easy to see the status of every product asset in one place.
Thus, digital asset management software allows employees to quickly identify files that aren't performing to standard, which is a sign that it's time to update them.
Bulk Downloads
As digital asset files grow in number, it becomes increasingly important to have a DAM system that offers bulk downloads.
This feature allows you to download an entire folder of digital assets simultaneously, saving time from one-off manual downloads in other systems.
Integrated Editing Tools
Some digital asset management software includes integrated editing tools that make it easy for employees to modify digital assets without leaving the program.
For example, Adobe Photoshop and Illustrator are commonly used programs for designing digital assets.
However, they're not always the best choice for more minor modifications (like cropping or resizing).
In these cases, using an editing tool within your DAM system can be more efficient and less confusing than using a separate program.
Creative Templates
Creative digital asset templates can save time by streamlining your digital asset creation process.
In other words, they allow you to quickly generate new digital assets from a pre-existing template that matches your brand's guidelines.
For example, Creative Cloud includes an Adobe Stock integration feature that allows users to search for and purchase royalty-free images directly within Photoshop or Illustrator.
Users then select the image(s) they want to use in their creative projects (like social media posts).
Once downloaded, these digital assets go to your DAM system, where employees can access them whenever it's necessary.
Custom Dashboards & Welcome Pages
When you want outside collaborators to work with your brand on asset creation, a custom DAM dashboard gives your brand a voice of its own.
This digital asset management feature is handy for brands with multiple freelancers. It allows you to create a separate welcome page and dashboard for each individual or agency.
Custom URL Assets
If you want to share digital assets with someone outside your organization, then some digital asset management software creates a custom, shareable URL for your brand.
Incorporate your brand name in your URLs to give your Amazon digital assets an edge over the competition. These also impress your digital partners, as they're a sign that you've invested in digital asset management software.
The Main Admin Panel For Owners & Managers
The main admin panel is part of digital asset management software that allows owners and managers to access all the features and functions of the program.
The main admin panel helps business owners manage everything from creating new digital assets to editing existing ones and generating reports.
In other words, it's the central hub where all activity related to digital assets takes place.
By having the main admin panel for owners and managers, businesses can ensure that only authorized employees access sensitive brand files.
Metadata Management
In digital asset management software, metadata is the information that describes digital assets.
For example,
Flat File Pro lets users add metadata such as title and description for each digital asset in your library so you can easily update the information when necessary.
Other features include adding keywords and categories (to help you find digital assets later on), setting expiration dates (so employees know which updates are most current), and assigning user permissions (for security purposes).
>> SECURE & PROTECT AMAZON SELLER DATA: Protect Product Listings Against Data Loss, Fraudsters, And Human Error With Flat File Pro
Proofing & Markups
Proofing and markups are digital asset management features that allow users to make changes (like corrections or suggestions) to digital assets without permanently modifying the original file.
In other words, this allows for a collaborative editing process where employees can work on files together in real-time.
Once employees make the asset changes, they can export them as a new version of the original file.
Proofing is a handy feature for businesses that want to ensure final approval from multiple team members before going live with a digital asset.
Version Control
Another essential aspect of digital asset management software is version control.
This feature keeps track of every change you make to a digital asset file and lets you roll back to earlier versions if necessary.
This digital asset management feature is handy for brands working with freelancers since it allows each team member to save their version of the digital file in a designated folder on your DAM server.
Digital Asset Management Software Search Features
Search functions allow users to find digital assets by keyword, category, metadata (like title and description), or other common properties.
Since finding digital assets in an extensive library can be challenging when you have hundreds of items at your disposal, this feature saves time and makes it easier for brands to locate digital assets according to their specific needs.
Some DAM systems allow employees to do side-by-side comparison searches to know what's different between two versions of the same file.
Digital asset sharing is a digital asset management feature that lets brands share digital assets with other users.
For example, you can send out emails and digital files to customers or team members, so they have access to your brand assets at all times.
Sharing assets minimizes miscommunication and guarantees that everyone has the most up-to-date versions of each digital file in real-time.
Publishing & Scheduling
The publishing process allows owners/managers to distribute new versions (or updates) of digital assets as soon as they're ready for release into the world.
In addition, scheduling features help businesses plan where and when their digital assets will go live before publishing them online.
Publishing and scheduling features reduce stress levels by giving businesses a sense of control over their digital asset releases.
Transform Assets
Transform digital assets are digital asset management features that allow users to quickly change digital assets' size, format, and quality.
For example, this digital asset transformation feature allows Amazon brands to remove unwanted objects in images (like logos or watermarks). They can also resize digital files for optimal viewing on various devices.
Using a transform asset feature through your digital asset management software is a great way to save time while publishing multiple versions of an image file across different web pages and social media platforms.
Workflow Approvals
Digital asset management software can help Amazon brands create a streamlined workflow approvals process.
Through workflow approvals, team members can submit digital assets for approval and have them automatically routed to the correct person for final sign-off.
Workflow approvals also prevent unauthorized changes to digital files and keep everyone on track with specific deadlines.
What Are The Benefits Of Digital Asset Management Software?
Woo! There's a complete list of the essential digital asset management software you'll find in paid, open-source, and free programs.
There are many reasons why you should choose a digital asset management software program.
Let's recap why Amazon Sellers can benefit from a DAM system.
Saves Time
By using digital asset management software, brands can save time by locating and transforming digital assets quickly and easily.
Reduces Stress
With a streamlined publishing process and version control system in place, digital asset management helps to reduce stress levels when releasing new content.
Keeps Assets Organized
A well-organized DAM system prevents digital asset chaos and makes it easy for team members to find what they need when they need it.
Enhances Communication
Digital asset sharing allows businesses to communicate with customers and other users efficiently and effectively.
Creates a Sense of Control
Businesses can control their digital asset releases by using digital asset management software, ensuring that all files are correctly formatted and published on time.
Saves Money

In some cases, DAM software can be free to use! Although digital asset management software, free or open-source, usually has fewer features, they often come with paid plans that provide complete accessibility.
Different Types Of DAM Software
So, now that we know all about what digital asset management software offers and the benefits it provides, let's talk about the different types of DAM software options out there.
Paid Digital Asset Management Software Options
These digital asset management programs are typically cloud-based and accessible from anywhere with an internet connection, making it easy for businesses to collaborate on projects or make changes at any time.
There is also a wide range of paid digital asset management software open-source options that offer premium features like workflow approvals, automation processes, and file versioning.
You can also expect access permissions, sharing abilities, built-in marketing tools (like social media publishing), support for multiple users & teams, custom branding capabilities, and more!
The benefit of using digital assets management software is that it gives you complete control over who can access, store, and change your digital files.
Free DAM Software Options
Digital asset management software, free or open-source, is usually a downloadable application that you install on your computer at no cost.
They're perfect for smaller businesses or sole proprietors because there is no need for an internet connection to use them (although some do offer cloud storage capabilities).
Most of these digital asset management software is user-friendly and easy to learn with a minimal learning curve.
However, they often lack certain features found in paid or open-source digital asset management software like workflow approvals, file versioning, and access permissions.
Popular Types Of DAM Software For Amazon Sellers
Flat File Pro, Adobe Experience Manager Assets & Cumulus are only a few popular digital asset management software types. Here's a little about the best option you have for storing, editing, and managing your brand assets.
Flat File Pro
We wouldn't be a leading Amazon brand marketing agency if we didn't speak about our DAM software specifically for Amazon Merchants. It helps Amazon eCommerce Sellers backup, edit, and revert their previous listing information.
Flat File Pro is helpful for business owners that want to utilize DAM software without thinking about using DAM software.
It automatically takes nightly backups of your product listings using Amazon's secure API and stores the files so your team can edit, update, or remove listings in one click.
Therefore it protects listing data, improves collaboration, and makes it possible to make bulk listing changes in minutes. It gives your brand a competitive edge on Amazon by ensuring that your digital assets are always up-to-date, accurate, and compliant.
Adobe Experience Manager Assets
If you're looking for DAM software with more features (and aren't afraid to pay a little), Adobe Experience Manager Assets is an excellent option.
Top brands often use it because it offers ultimate control over digital asset creation, management, and delivery across channels.
Some of its notable features include automatic image scaling & cropping, advanced search capabilities, versioning & approval workflows, rights management, and the ability to publish files directly to websites or social media platforms.
Cumulus
Another popular digital asset management program is Cumulus. It's easy to use digital asset management software for Amazon Sellers because it has a drag-and-drop interface that makes tasks simple and fast.
It also includes a host of features like versioning, permissions & access control, file locking, real-time search capabilities…plus more!
For more information on leading digital asset management software, see this post on our top 5 best free asset management software systems.
DAM Pricing Models
Since DAM tools benefit your Amazon brand so much, you'd likely expect to pay thousands of dollars to use one.
Although some enterprise solutions cost thousands a month, not all of them are this expensive. However, it depends on how many digital assets your brand manages and how you intend to use the software.
Here are some standard pricing models for digital asset management software (that isn't free or open-source).
Perpetual Licensing
The most common DAM software pricing model is perpetual licensing. With perpetual licensing DAM software, you pay a one-time fee for the exclusive license of digital assets and can use it as long as you'd like without paying additional fees.
This type of digital asset management software has robust features but higher upfront costs than other options.
Subscription Pricing Model
Instead of making an up-front payment to own the rights to your digital files forever, this pricing model offers access on a monthly or yearly basis with no extra investment required at first.
However, suppose you opt not to continue using the service after a certain amount of time (e.g., 12 months). In that case, many subscription services will stop providing updates to your account or even delete your files altogether.
Usage-Based Pricing Model
This pricing model charges you for each file uploaded and managed by the DAM software.
While this might seem like a more affordable option at first, it can quickly become expensive if you have a lot of digital assets (especially with high-resolution images).
That's because most digital asset management software has a limit on how many files you can store in their system for no additional charge.
Enterprise Licensing Model
The most expensive digital asset management licensing model is the enterprise model. This type of license is available for large businesses with many digital assets to manage.
Typically, the enterprise model offers a wide range of features and services and round-the-clock customer support.
But with all these bells and whistles (and price tag), this option is usually out of reach for small businesses and startups.
In Conclusion
There are many different options to choose from when it comes to digital asset management software, which makes it an important decision.
It can be overwhelming trying to decide which program is the best fit for your brand's needs.
To make things simpler, we've created this handy guide on what DAM software is, why you need it, and some popular pricing models.
If you're an Amazon Seller, why not try Flat File Pro? Register as one of the first 100 users and receive a complimentary 60-day free trial with no credit card necessary.
>> SECURE & PROTECT AMAZON SELLER DATA: Protect Product Listings Against Data Loss, Fraudsters, And Human Error With Flat File Pro
What Happens If You Lose All Of Your Amazon Product Data?
Flat File Pro protects your Amazon business against data loss from human error, fraudsters, and other digital threats.
You can use this Amazon listing software to backup & restore your listing data and never worry about losing it again. Click the image below and sign up for your free trial of Flat File Pro!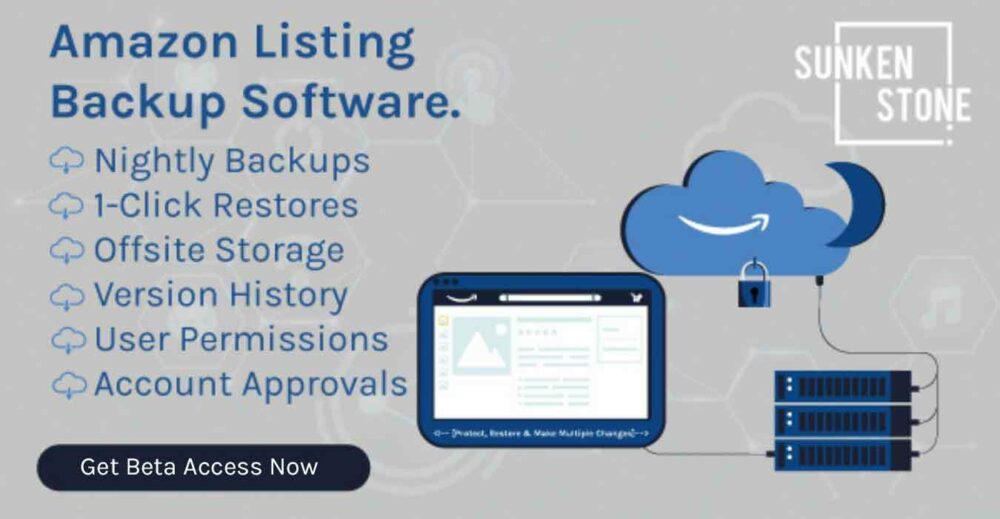 Frequently Asked Questions
What does digital asset management software do?
Simply put, digital asset management software helps you organize and manage your digital files. DAM software helps business owners store and manage everything from images and videos to presentations and product descriptions.
DAM software makes it easy for you to find the files you need when you need them without spending hours digging through folders on your computer.
How much does digital asset management software cost?
The price of digital asset management software varies depending on the features offered and the size of your business.
However, most options fall into one of three pricing categories: perpetual licensing, subscription pricing, or usage-based pricing.
Enterprise licenses are typically for large businesses with expansive digital assets.
How do you create a digital asset management system?
Typically, digital asset management systems are created through DAM software that you download and install on your computer.
This type of digital asset management system is easy to set up and use right away (even if you don't have much experience with technology).
However, it's important to note that business owners will store any digital files downloaded from this program locally on your hard drive—not in the cloud.
What is the DAM platform?
A digital asset management platform (DAM) is a web-based digital asset management system.
This type of DAM software is perfect for businesses that need to access their files from anywhere in the world.
A digital asset management software platform refers to software that makes it easy to store, organize, find, and use any type of digital file—including photos, videos, product descriptions, and more.