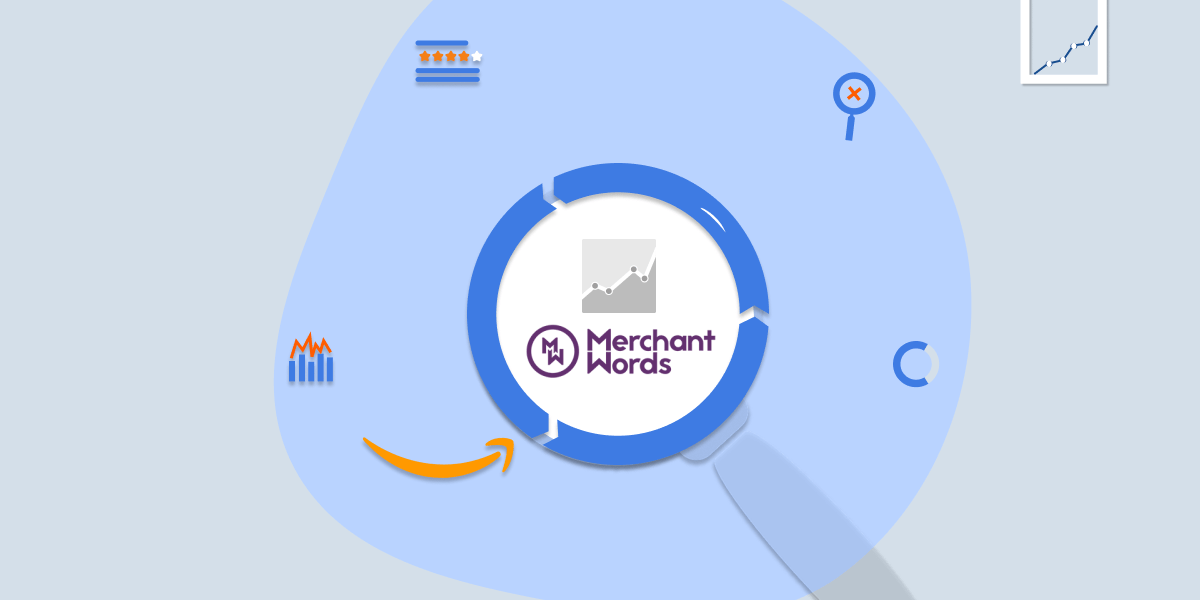 Complete Review of MerchantWords Keyword Research Tool
---
Amazon sellers are always looking for the next tool that can give them a leg-up over the competition. One of the most important tools any seller can have access to is a keyword research tool. Keyword research tools allow you to find keyword opportunities that you may have never realized before.
Here, we break down and review one of the most popular Amazon keyword and SEO tools, MerchantWords.
Features
Although MerchantWords offers multiple services to help optimize Amazon listings, their main tool is their Classic Keyword Research Tool. MerchantWords is powered by customer searches only on Amazon, not Google, Bing, or eBay (1). Their Classic Keyword Tool offers sellers access to both short and long tail keywords, search volume, seasonality, and even rankings.
The best part about MerchantWords keyword research tool is that they provide you with real-time shopper data directly from organic Amazon searches, not pay-per-click advertising data or Google Trends data.
Sellers can view top-rankings keywords and performance metrics for the best-selling Amazon products with just a simple ASIN search on MerchantWords. All MerchantWords data is updated at least once per month (2).
>> REQUEST A FREE PROPOSAL: Take 30 seconds to request a proposal and receive a customized roadmap to skyrocket your sales, beat your competition & make your brand thrive on Amazon.
Ease of Use
The MerchantWords application can only be access through its website. When you search for a certain keyword, MerchantWords will show you a list of your searched keyword along with any other relevant or related keywords. This can give you the perfect opportunity to find that valuable long-tail keyword your brand needs.
The list of keywords that populates includes their search volume, depth, seasonality, and the category most listings with that keyword belong in.
Pricing
For MerchantWords basic keyword research tool, the cost comes in at just $30 a month (3). This package gives you access to unlimited Amazon keyword searches and an ASIN search for U.S. data. If you own an international brand, their global package costs $60 a month. This gives you access to not only unlimited Amazon keyword searches, but also keyword data for Canada, Mexico, the UK, and many more countries.
Compared to the many free tools that are on the market, MerchantWords can provide you with much more accurate results, giving you the chance to find the keyword(s) that can give you a one-up on any competitors.
One of the best aspects of MerchantWords is that their software is 100% risk-free. If you wish to cancel your MerchantWords account, rest assured you won't be charged any hidden fees or be bound to any contracts. To save some extra money, you can opt-in to an annual plan.
Navigation
With a clean layout, the MerchantWords Classic Keyword Research Tool is extremely user-friendly. When conducting research on a certain keyword, the results from MerchantWords are extremely easy to read and can allow you to make decisions quickly. Want to export a list of keywords for later? No problem! MerchantWords allows sellers to download or export CSV documents for further analysis.
Final Note
Find the ideal short and long-tail keywords to give your products an edge is not difficult with MerchantWords. If you are looking for those golden keywords to help your products stand out from the rest, the team at Sunken Stone can help. Our performance-based Amazon brand management team can help accelerate your Amazon store on autopilot. To learn more, schedule a demo with one of our expert Amazon consultants here.
Sources:
Request A Free Proposal
Are you tired of losing sales to your competition on Amazon? It's frustrating for otherwise successful brands to underperform on the leading eCommerce platform.
Sunken Stone will help you find a solution to increase your profits on Amazon. Click "Request My Proposal" below to receive a customized roadmap to beat your competition and uncover new areas of opportunity for increasing sales.
---