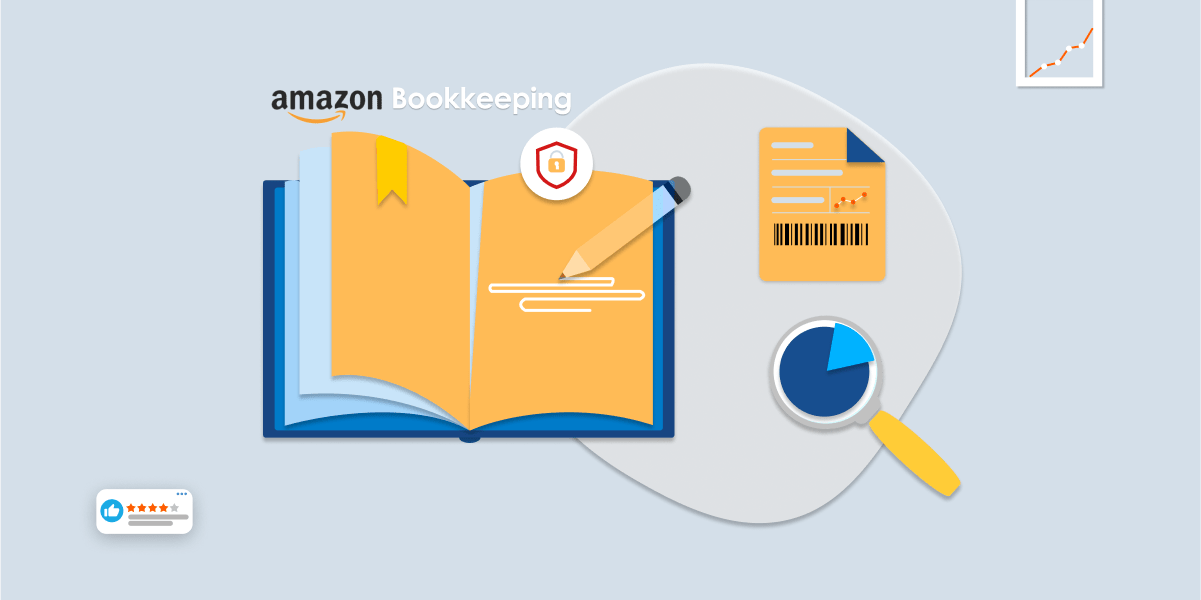 The Seller Guide To Proper Amazon Bookkeeping [+ Examples]
Bookkeeping is the foundation of a successful Amazon seller business. Yet still, many CPG brands selling on Amazon do not pay attention to this integral process. Here is a guide to proper bookkeeping for Amazon sellers that explores the pros of managing your books.
CPG brands need to streamline bookkeeping tasks such as payroll management, invoicing, cash flow management, tax planning, and many more.
Bookkeeping helps CPG brands to maintain accurate financial records, budget accurately, and create a solid financial roadmap for their businesses.
Without proper bookkeeping systems in place, brands selling on Amazon would run into many problems such as payroll problems, cash flow shortages, hassles during tax time, and even penalties for not meeting government regulations.
In fact, inefficient bookkeeping for Amazon sellers is one of the top reasons CBG brands on Amazon fail.
Having solid bookkeeping processes in place allows brands to understand their financial position at all times for purposes of better decision-making.
However, bookkeeping is not a walk in the park especially for brands that get a lot of orders. Things can quickly get out of hand if you don't take a proactive approach in handling bookkeeping tasks.
In this guide, we'll walk you through the basics of bookkeeping for Amazon sellers.
Here's what we'll cover in this guide:
What Is Amazon Bookkeeping?
Benefits of Managing Bookkeeping Yourself Vs Hiring an Accountant Vs Using a Tool
Best Bookkeeping Tools for Amazon Seller Businesses
Why CPG Brands On Amazon Should Hire Sunken Stone For Bookkeeping Services
>> REQUEST A FREE PROPOSAL: Take 30 seconds to request a proposal and receive a customized roadmap to skyrocket your sales, beat your competition & make your brand thrive on Amazon.
What Is Amazon Bookkeeping?
Amazon Bookkeeping is the process of documenting a brand's financial transactions and producing easy-to-read reports to enable informed decision-making.
Bookkeeping is one of the most important accounting processes for CPG brands selling products on Amazon. Without proper bookkeeping, brands won't be able to access reliable information for making investments or business decisions.
Amazon bookkeeping is handled by professional accountants. These experts compile all financial data based on supporting documentation and generate reports for analysis.
Benefits Of Managing Bookkeeping Yourself Vs Hiring An Accountant Vs Using A Tool
CPG brands selling products on Amazon have a lot of leeways when it comes to managing bookkeeping tasks.
Some brands can choose to do DIY bookkeeping with the help of bookkeeping tools while others may prefer hiring an accountant.
Each one of these options has its own pros and cons. In this section, we'll walk you through the advantages and disadvantages of all of these options.
Benefits Of Managing Bookkeeping Yourself
Gives You Control Over Your Business
Managing bookkeeping yourself ensures you're aware of the true financial position of your brand and how your business is performing. You'll know what's working and what's not working early enough and make the right decisions geared toward success.
By handling cash flow, invoices, inventory, payroll, and all other bookkeeping tasks yourself, you'll be able to understand how everything is progressing in real-time.
Save Money
Handling bookkeeping yourself means you'll not have to pay an accountant to take care of your bookkeeping and accounting. If you're a smaller brand with manageable accounts, you can cut your operating expenses by managing bookkeeping yourself. Experienced bookkeepers charge premium fees for their services, so it doesn't make economic sense to hire an accountant, especially if your accounts are manageable.
However, bookkeeping mistakes can end costing your Amazon business a lot of money. You could even be sued for breaching government regulations regarding filing returns and so on. So, you should only consider DIY bookkeeping if you know what you're doing.
Pro Tip: Calculate the amount of time you spend on bookkeeping tasks every month, considering your hourly rate, and find out if it's cheaper than hiring an accountant.
Flexibility
When you manage bookkeeping yourself, you have the leeway to choose the systems and processes that you're comfortable with and the ones you think are ideal for your brand. Choosing the bookkeeping systems that work best for you allows you to achieve better outcomes.
Another advantage of handling bookkeeping tasks yourself is that you'll continue learning the ins and outs of bookkeeping and keep up with bookkeeping trends. You can use the knowledge you've gained to run any kind of business in the future.
Cons
You Risk Making Mistakes
Some bookkeeping tasks can be quite technical for someone without extensive expertise and experience in bookkeeping. If you're not conversant with the technical aspects of bookkeeping, you risk making costly mistakes, especially when handling complex tasks.
Time-consuming
Bookkeeping tasks for CPG brands on Amazon require a lot of time to get all the details right and avoid errors. For someone with a busy schedule, DIY bookkeeping may not be a viable option.
If you have other matters of your business to look into and you rarely get time to focus fully on bookkeeping tasks, it can be a good idea to hire an accountant to help you so that you can focus on growing your brand.
It Will Possibly Distract You From Your Core Business
Bookkeeping tasks can be complex, especially for bigger CPG brands that get many orders. If you go the DIY route, you may find yourself spending many hours every day doing bookkeeping tasks. This obviously takes you away from what you should focus on—growing your business!
Although managing bookkeeping yourself can save you money, keep in mind that poor bookkeeping can cost you a lot in the long run. If you're not experienced in bookkeeping, it's best to work with a qualified accountant.
---
Benefits Of Hiring An Accountant To Help With Bookkeeping
Save Time
While brands can opt to go the DIY route when it comes to accounting and bookkeeping, the involved tasks can be time-consuming. Some bookkeeping tasks are so complex that you could find yourself in the trenches every day trying to keep things running. Hiring an accountant means you'll free up your time and focus on growing your brand.
Reduce Tax Liability
Among the responsibilities of an accountant is to help clients reduce their tax bills. A professional accountant is an expert in taxation, so they know the best strategies that can help slash your tax bill. Besides, they can help you have peace of mind during tax time.
Many CPG brands get overwhelmed during tax time simply because they overlook the importance of hiring someone conversant with taxes. Hiring a competent accountant will not only help you navigate tax time without any hassle but will also help you identify tax loopholes.
Check out this video and learn tax tips that will save you money.
They're Conversant With Bookkeeping Software
In today's technologically advanced era, everything has gone digital, including accounting and bookkeeping. CPG brands need to leverage reliable bookkeeping software to save time, achieve better efficiency, and avoid bookkeeping mistakes.
Experienced accountants know the best bookkeeping software to use and always stay updated on the most recent developments in the field. As a non-professional, you may not understand how bookkeeping tools work.
Minimize Business Expenses
Poor bookkeeping is one of the reasons many CPG brands selling products on Amazon experience financial leakages. In fact, there are many new brands that fail before they find a solid footing on Amazon due to high business expenses.
An experienced accountant will put in place mechanisms that will encourage positive cash flow and seal financial leakages. They'll also put solid financial controls in place to ensure better use of finances.
Professional Accounting & Bookkeeping Advice
A professional accountant will do more than just balancing your books, managing payroll, filing taxes, and cash flow management.
Your accountant can provide you with expert advice regarding business expansion, managing budget, and navigating business challenges. A well-trained accountant will use their knowledge and experience to help your brand reach its goals.
Peace Of Mind
Having a professional accountant handle your bookkeeping matters gives you peace of mind, knowing that your accounting and bookkeeping responsibilities are in safe hands. Accounting and bookkeeping tasks may seem straightforward, but they're much more complicated than most people think.
With an accountant, you'll know your finances are in good hands. It's never advisable to take charge of bookkeeping matters if you're not confident in your abilities to execute them accurately.
As you can see, there are many benefits that come with hiring an accountant to help you with bookkeeping. A knowledgeable and experienced accountant who knows what they're doing can help you grow your CPG brand on Amazon.
Finding The Right Accountant
Hiring a professional accountant to help with bookkeeping can make a huge difference for your Amazon business.
A qualified and experienced accountant can streamline all financial aspects of your brand while you focus on growing your brand to greater heights. A good accountant should be efficient, organized, and process-driven. Besides, they should be conversant with the different software used in bookkeeping.
Before you hire an accountant, find out if they are experienced in bookkeeping for Amazon sellers and accounting for Amazon sellers. Besides, find out the kind of bookkeeping software they're conversant with and the solutions they offer.
---
Benefits Of Using Bookkeeping Tools
Accuracy In Calculations And Generating Reports
With bookkeeping tools, you can expect a higher level of accuracy because you don't have to manually update cells and sheets.
Save Time
Bookkeeping tools handle all kinds of accounting and bookkeeping processes automatically, thanks to fast data entry capabilities. You don't have to sit the whole day doing manual bookkeeping.
This translates to improved productivity because users don't have to take a lot of time doing things manually.
Improved Bookkeeping Security
Most bookkeeping tools offer cloud-based bookkeeping capabilities to ensure data is safely stored in the cloud. Besides, these tools offer scalable solutions such as databases and customizations to accommodate the bookkeeping needs of expanding brands.
Seamless Collaboration Between Departments
Bookkeeping tools for Amazon sellers provide access to real-time financial data through a centralized database. This allows employees to log into the system without any hassles and accomplish whatever needs to be done.
---
Best Bookkeeping Tools For Amazon Seller Businesses
The following are some of the best bookkeeping tools you can use to manage your bookkeeping tasks.
QuickBooks
Xero
A2X
AccountEdge Pro
Fetcher
GoDaddy Online Bookkeeping
Entriwise
Acctivate
Link My Books
Taxomate
FreshBooks
How To Use QuickBooks
You'll start by installing QuickBooks on your computer and set up vendor accounts. To create a vendor account, go to "Vendor Center" and choose "New Vendor."
Next, create customer accounts to track your income and debts owed. Click on "Customer Center" to create a new customer account. If you want to add a new transaction to reflect payments, invoices, and estimates, go to " New Transaction."
To generate reports that reflect your business's financial position, go to the " Report Center."
How To Use Xero
The first step is to fill in the details of your Amazon business. To do this, go to Settings> Organization Settings. Next, set up the financial details of your business under Financial Settings. After that, set up invoices by navigating to Settings then choose Invoice Settings.
Once you've set up your invoices, go ahead and set up banking feeds to secure your payments.
The next step is to set up payroll by going to Payroll> Payroll Overview. Thereafter, add payment services and add multiple users by going to Settings > Users.
You can connect with Xero's apps if you want better efficiency.
---
Why CPG Brands On Amazon Should Hire Sunken Stone For Bookkeeping Services
While bookkeeping is an integral part of a solid Amazon business, it can stress you out, especially if you get a lot of orders. You might need professional help at some point to improve efficiency and free up your time to focus on other important matters.
If you need help with Amazon bookkeeping, you can count on Sunken Stone, a top-tier, results-driven Amazon marketing Agency for growing eCommerce brands, to provide you with dependable service. We have a team of certified accountants and brand management experts who can help you grow your brand.
Contact us today and get in touch with a certified accountant.
You can also access the ultimate Amazon playbook today and learn more on how to grow your brand on Amazon.
Request A Free Proposal
Are you tired of losing sales to your competition on Amazon? It's frustrating for otherwise successful brands to underperform on the leading eCommerce platform.
Sunken Stone will help you find a solution to increase your profits on Amazon. Click "Request My Proposal" below to receive a customized roadmap to beat your competition and uncover new areas of opportunity for increasing sales.
---
Frequently Asked Questions
How Do You Do Bookkeeping On Amazon? 
You can manage bookkeeping yourself if you have knowledge and skills in the field, hire an accountant to do the job for you, or use bookkeeping tools to accomplish your bookkeeping tasks
Is QuickBooks good for Amazon?
QuickBooks is a great tool for Amazon bookkeeping as it comes with many capabilities. Besides, it's cloud-based; hence users can manage various tasks on the go.  
How Do I Record Amazon Sales In QuickBooks? 
Follow these five steps to record Amazon sales in QuickBooks:
·         Create a customer account for daily sales
·         Set up daily sales accounts
·         Create a category for daily sales
·         Set up a daily sales template
·         Record your daily sales in the template
What's The Best Bookkeeping Tool For Amazon Sellers? 
There are many great bookkeeping tools for Amazon sellers. Some of the top-rated Amazon bookkeeping tools include QuickBooks, Xero, and A2X. You should choose a tool that meets your specific bookkeeping needs.