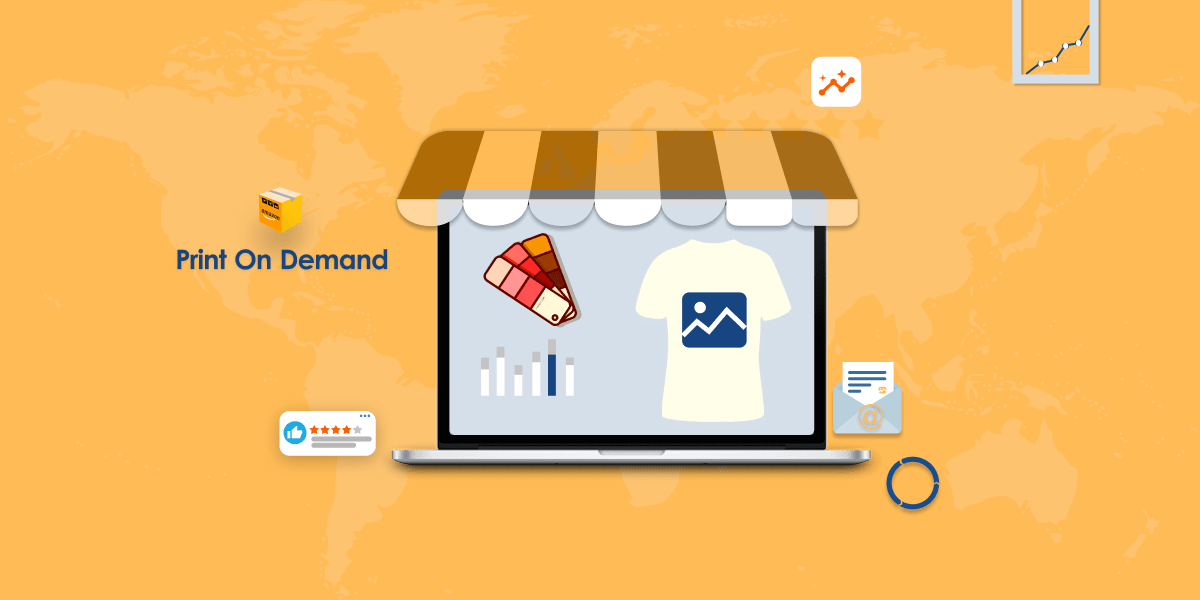 The Top 9 Best Print on Demand Sites: Everything You Need To Know
If you're looking for a way to make money that requires little involvement from you, you need to create the best print on demand sites.
By providing customized products, it's easy to create items targeted to a particular segment of people or make money from your followers.
The idea behind print on demand sites is that you can create the products you want without purchasing or owning your inventory. When a customer orders from your online store, print on demand sites manufacture, print, and deliver your products straight to your customer's front door, without you even having to lift a finger.
However, choosing the best print on demand services can be challenging because you're trusting someone else to be able to bring your artistic vision to life. Plus, each platform will set its own prices, products, features, and shipping prices that you'll need to factor into your ultimate decision. We've put together our top list of the best print on demand sites so you can feel confident finding the right one to fit your needs. Here are the top 9 print on demand sites you need to know about in 2021.
>> REQUEST A FREE PROPOSAL: Take 30 seconds to request a proposal and receive a customized roadmap to skyrocket your sales, beat your competition & make your brand thrive on Amazon.
Print on Demand Site #1: SPOD
SPOD is a print on demand drop shipping website that offers a premium experience for the customer with its fast fulfillment times. SPOD is able to ship out 95% of its orders in less than 48 hours.
What makes SPOD unique is its product customization tool which allows artists to put their own images and designs onto products. With SPOD, you can print via thermal sublimation, digital direct, digital transfer, or special flex. Plus, you can even place sample orders to ensure the quality and look meets your expectations.
The model for the shipping price is simple and based on the total cost of the products you end up ordering. While shipping costs can be a hassle for many print-on-demand companies, SPOD takes away that hurdle by calculating based on the order value. This allows your company to sell more to your customers and maximize revenue without worrying about hefty shipping costs.
The downside of SPODS print on demand services is that they don't have the most extensive product category available, meaning you're limited in what you'll be able to sell. However, they make up for it through their easy-to-use product designer and competitive prices.
With SPOD, you'll be able to sell products such as baseball caps, aprons, organic t-shirts, tank tops, crew socks, and more.
Who Should Use SPOD?
SPOD is perfect for those who need speedy fulfillment, simple shipping options, and less expensive prices. If you're new to print on demand services, this is a great beginner's option because it allows you to create your own design, or let customers personalize your products themselves.
Print on Demand Site #2: Redbubble
Redbubble is one of the best print on demand services for independent artists who want to be able to monetize their art. Their online marketplace features artist's work from around the world including a variety of print on demand journals, t-shirts, cups, and more.
Redbubble is one of the most well-known online communities, making it an excellent venue for designers of all genres. The more original and creative your work is, the better it will be received by the community, which celebrates the uniqueness of the artist's work.
Redbubble is available in various languages and the currencies associated with it, making it easy to sell worldwide. With a few simple clicks, you're able to change the settings on your profile to update the shipping country, currency, and language settings. Plus, you'll be able to ship worldwide, making your products accessible to a larger audience of people.
Creating an artist shop and selling your designs are completely free. Once a customer orders your products, most orders are shipped and printed within 48 hours.
Who Should Use Redbubble?
If you're an artist who has been struggling to reach a diverse marketplace, you'll want to use Redbubble. With more than 60 different items to sell, you have a wide range of items to choose from to display your artwork. Redbubble is also great for fast shipping with its multiple fulfillment centers worldwide, offering a wider reach than other print on demand websites.
Print on Demand Site #3: Teelaunch
Teelaunch is one of the best print on demand t shirt companies. This company helps create gorgeous mockups of your products when you design them, resulting in professional-looking images you can use to sell your products.
The variety of items that Teelaunch offers, besides t-shirts, makes it a wise drop shipping company to choose from. They have high-quality items available like Bluetooth speakers, monogrammed handbags, jewelry, iPhone cases, journals, and more. Plus, their personalization tool allows customers to add their own photo or name to a product and even show a preview of the product before the customer has to order.
Teelaunch's fulfillment time is not the fastest due to the high-quality products it offers. However, most orders are filled within 72-96 hours from the order date. Plus, if there are any issues during the ordering or selling process, the Teelaunch team is always available to help.
Who Should Use Teelaunch?
Teelaunch is one of the best print on demand companies if you want competitive prices for high-quality items. Their unique product line and personalization options make it easy for your customer to create the products they'll love. If you're looking for a unique line of products to sell, Teelaunch is the right application for you.
Print on Demand Site #4: Printful
Printful is a white label print on demand site that is extremely popular due to its easy-to-use dashboard and wide range of customizable products. Whether you need apparel, home décor, journals, or accessories, you'll find these items on the Printful website. Some of the things you can find on the Printful catalog includes t-shirts, sweatpants, mugs, prints, bean bag chairs, and more.
Printful has a mockup generator built-in to their platform, which helps you close your sales faster. Plus, users have the option to create customized designs or add their names to their products before purchasing. Once ordered, products will ship out between three to five business days.
If you want to step up your branding presence, you'll be able to add your own branding to your packaging or products through inserts and labels. And if you need other marketing services to ensure your products are finding the traction they need, Printful offers this service directly to users.
If you buy multiple services in bulk, you can even save a ton of money on your purchase.
Who Should Use Printful?
Printful is one of the best print on demand services, perfect for sellers who need a well-balanced solution. Printful can be used for massive sellers or newbies and has the potential to grow with you as your business grows. With the personal branding addition, you're even able to increase brand recognition and truly make your shop one of a kind.
Print on Demand Site #5: Lulu Xpress
Print on demand companies, like Lulu Xpress, offer flexibility and high-quality solutions for self-publishers. Whether you're looking for print on demand journals, magazines, comic books, calendars, art books, novels, or textbooks, you can find them located in the Lulu Xpress catalog.
Lulu Xpress is an excellent way for creatives and writers to sell the work they've created to their audience. If you haven't officially created content to publish, the platform can even help you take your digital content and turn it into a book, journal, or magazine. With Lulu Xpress, you even get to customize the binding type, print color and quality, paper trim, and the kind of finish you prefer with your book.
Lulu Xpress is an excellent alternative to other publishers that charge hefty fees, allowing you to test new products and retain your profit by selling under your own brand. Plus, you can still sell your products on other marketplaces such as Barnes and Noble or Amazon.
Who Should Use Lulu Xpress?
Lulu Xpress is the perfect solution for creatives, writers, or educators who want to self-publish their content and monetize their writing talents without having to deal with the red tape from big manufacturers.
Print on Demand Site #6: Society6
Society6 is one of the best print on demand sites because it allows artists to upload and sell their products worldwide. Plus, it has a giant community that backs the artists and supports their unique designs. One of the best-selling items on the platform is art prints because of the uniqueness and creativity of each piece.
Society6 mainly ships to the United States and Australia, with an average shipping time of two weeks. While they can ship to other parts of the world, the shipping cost dramatically increases, which may make it unreasonable for customers to order from you through this platform.
Art prints aren't the only products that Society6 offers. They also sell a variety of home goods accessories, stationery, and apparel. To get started, all users need to do is upload their artwork, and they're ready to sell.
Who Should Use Society6?
Society6 is perfect for artists who want to increase their revenue and build their audience. Art prints tend to be one of the most popular items on the platform, so it's a great place for creatives to showcase their talent.
Print on Demand Site #7: T-Pop
T-Pop is one of the best print on demand services that focuses on accessories and apparel in Europe. One of the main benefits of this print on demand drop shipping service is that each product and packaging will have your brand name or logo. You can even add your name to your brand labels once you start to grow your clientele.
Each product is manufactured and shipped out of France, with ship-time taking an average of four days. Shipping rates for their products are based on the total weight of items, regardless of the item category. You can choose from tons of products, including sweatshirts, tank tops, hoodie dresses, t-shirts, cushions, and more.
T-pop is one of the few companies that is made ethically and committed to the environment. They use 100% recycled paper packing slips, zero plastic packaging and are part of the Fair Wear Foundation, which ensures all labor laws and working conditions are safe and fair.
Who Should Use T-Pop?
If you're a seller in Europe and need a high-quality print on demand site, T-Pop is the best option. Not only do they ship within Europe extremely fast, but they offer a wide variety of products at an affordable rate. If you're interested in using an eco-friendly, ethical company that ensures employees are treated the right way, T-Pop is the right option for you.
Print on Demand Site #8: Zazzle
If you're looking for a unique white label print on demand company, Zazzle is your perfect option. While most marketplaces require you to sell on their own online directory, Zazzle actually lets you create your own website to stand out from competing products.
Zazzle offers free templates to create your website, along with themes and contact information. This helps to increase the speed of transactions and allows you to communicate directly with your potential customers. Some of the products you can sell on the Zazzle platform include accessories, clothing, invitations, home décor, and design cards.
Once you have a customer order through the platform, Zazzle will manufacture, print, and ship your products within 3-4 business days. Plus, if there are any issues along the way, their customer service is available to both sellers and buyers at any time to ensure a smooth process.
Who Should Use Zazzle?
If you're an independent artist or creator that wants to find an easy way to sell their products, consider selling through Zazzle. With their stellar customer service, individualized website offering, and highly trafficked marketplace, you're sure to find the success you need with this print on demand site.
Print on Demand Site #9: CustomCat
Custom cat has more than 550 products in its product catalog, making it one of the largest print on demand companies you can choose. While there is no incredible design tool, just a simple upload, and print format, CustomCat still provides a unique service on a larger scale.
Some of the most popular products you can find in the catalog include drinkware, jewelry, laptop sleeves, t-shirts, jackets, and more. Besides the hundreds of products and brands to choose from, you can receive a catalog-wide discount if you sign up for their paid membership.
CustomCat is speedy with their orders, with most being shipped out within two business days. Each item can be sent anywhere worldwide, but the further away from the United States the location is, the more expensive shipping will cost.
Who Should Use CustomCat?
If you're looking for the widest variety of products for your print on demand site, CustomCat is the perfect solution. Not only do they offer the best pricing on the market, but their speed of shipping is convenient and keeps customers satisfied. CustomCat is ideal for those new to the business or who need a more comprehensive range of products to sell to their clients.
Request A Free Proposal
Are you tired of losing sales to your competition on Amazon? It's frustrating for otherwise successful brands to underperform on the leading eCommerce platform.
Sunken Stone will help you find a solution to increase your profits on Amazon. Click "Request My Proposal" below to receive a customized roadmap to beat your competition and uncover new areas of opportunity for increasing sales.
---
Frequently Asked Questions
What Is The Best Print On Demand Site?
We've listed the top best print on demand sites above. However, the best solution for your business and brand will be different from others, so it's essential to consider your goals before choosing a print on demand website.
If you're still struggling to find a way to push your brand forward, consider working with the professionals at Sunken Stone today.
Can You Sell The Same Design On Multiple Sites?
Yes, you can because there is no exclusivity clause required from the print on demand services we listed above. This means that you can use multiple sites to sell the same product. In fact, using multiple print on demand websites increases the number of people who see your designs and can impact the amount of revenue you make.
Can You Make Money Selling With Print On Demand Sites?
Yes! By offering a wide variety of unique products with customization options, you're likely to get the sales you're looking for, especially since it costs nothing for you to open a store on most platforms. Print on Demand sites offer a low barrier to entry and makes it easy to get started selling your products.