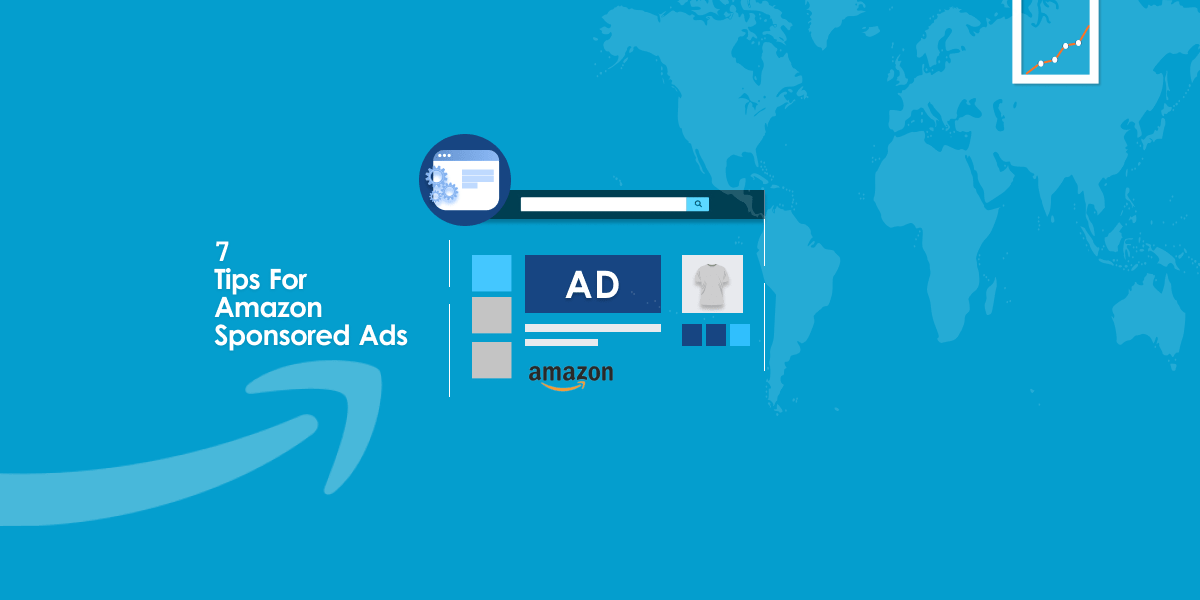 7 Expert Tips To Get The Most Of Your Amazon Sponsored Ads
Starting an Amazon business may be easy, but getting your products in front of the right audience is not a walk in the park.
Whether you're new to Amazon or a seasoned seller, it's crucial to leverage the best advertising options to drive discoverability for your products and make more sales.
Amazon Sponsored Ads is one of Amazon's most effective ad formats that you can use to gain the exposure you need to make more sales in the crowded marketplace.
Before you add Amazon Sponsored Ads to your marketing mix, you need to understand how this ad format works and how you can get the most of these ads.
Amazon Sponsored Ads require technical expertise and take time to learn the most effective optimization strategies. That's why it's a good idea to enlist the help of Amazon PPC experts to optimize your campaigns for higher visibility and better sales.
This blog post looks at Amazon Sponsored Ads tips that will help you get the most of your campaigns and save money.
Read on to find 7 Amazon Sponsored Ads tips and tricks.
>> REQUEST A FREE PROPOSAL: Take 30 seconds to request a proposal and receive a customized roadmap to skyrocket your sales, beat your competition & make your brand thrive on Amazon.
What Are Amazon Sponsored Ads?
These are pay-per-click ads designed to promote product listings on Amazon. Amazon Sponsored Ads appear within search results pages and throughout relevant product detail pages.
Below is an example of an Amazon Sponsored Ads.
---
7 Expert Tips To Consider For Your Amazon Sponsored Ads
Here are seven Amazon Sponsored Ads tips 2021 that will help you get started with your campaign.

Tip #1: Create Target Campaigns For Different Audiences
If you have a vast portfolio of products, it's a good idea to create Amazon Sponsored Ads targeting different audiences.
Let's say you're selling ladies' handbags, which include designer handbags, tote bags, messenger bags, shoulder bags, and so on.
Creating generic campaigns targeting people looking for women's handbags would be broad targeting, leading to wasted ad spend.
The best way is to create campaigns for designer handbags, tote bags, messenger bags, and all other types of handbags you're selling.
More targeted campaigns focusing on shoppers with higher purchasing intent help brands lower their ACoS while making good profits.
Tip #2: Choose The Right & Negative Keyword
Choosing the right keywords to bid on is a vital component of your Amazon Sponsored Products strategy. It's best to use keyword research tools to uncover the most relevant keywords that will trigger your ad to appear in search results.
Some of the reliable Amazon keyword research tools you can use to find the right keywords include Helium 10, MerchantWords, AMZScout, and Jungle Scout.
Another effective keyword strategy is to use Amazon negative keywords to avoid wasting ad spending. Negative keywords prevent your ad from showing up in irrelevant searches.
It's also essential to uncover the keywords your competitors are using to generate traffic to use those keywords that will give you a competitive edge.
Keyword targeting can be tricky for new sellers or even seasoned sellers who are not conversant with Amazon Sponsored Ads. If you need help with keyword research and targeting, let our PPC experts at Sunken Stone help.
Check out this guide to learn how to conduct keyword research like a PRO.
Tip #3: Use Search Intent To Boost Performance
To make more sales on Amazon, you need to target shoppers with the highest level of purchasing intent.
The best way to target these buyers is to use the exact, broad, phrase, and negative match types. Ads using a broad match type allow you to reach as many shoppers as possible while the phrase and exact match types are more targeted.
Negative match types prevent your ad from showing up if a search contains those keywords.
Tip #4: Be Flexible With Your ACoS
While keeping your ACoS low is good, you should be flexible with your ACoS depending on your goals. A higher ACoS is ideal in the circumstances such as when launching a new product. But if your products have gained traction and are generating good profits, you can lower your advertising costs.
Tip #5: Develop A Campaign Structure
It's essential to develop an organized campaign structure to prevent wasteful ad spending and lower your ACoS.
An effective way to build your campaign structure is to create different ad groups based on keywords. It's also advisable to organize your campaigns by product category, brand, top sellers, performance, and profit margin.
Developing a solid campaign structure is a process that requires technical knowledge and expertise, so it can be an overwhelming task for those who are new to Amazon. Luckily, Sunken Stone can help you develop an effective campaign strategy that will help you get the most of your Amazon Sponsored Ads.
Tip #6: Optimize Bids According To Your Business Goals
Once you've set your bids, give them at least one week and evaluate their performance. If the keywords are not getting the number of impressions you want to achieve, consider a higher bid to see what happens.
But if a keyword is not generating any sales or impressions, you should stop bidding on those keywords.
Be sure to monitor your conversion rates continuously and adjust your bids accordingly.
Tip #7: Test, Observe, Measure & Optimize Your Amazon Sponsored Ads
Many advertisers on Amazon fail to achieve the desired result because they set their ads and forget. They do not bother to find out if the ads are generating impressions and sales.
It's crucial to determine which part of your PPC campaign is working, what needs adjusting, and which keywords need discontinuing.
You can adjust your CPC bid price from time to time, change some variables after some time, and analyze the results.
---
How To Get The Most From Your Amazon Sponsored Ads
In a nutshell, these Amazon Sponsored Ads tips and tricks will help you gain exposure for your Amazon store and earn more sales.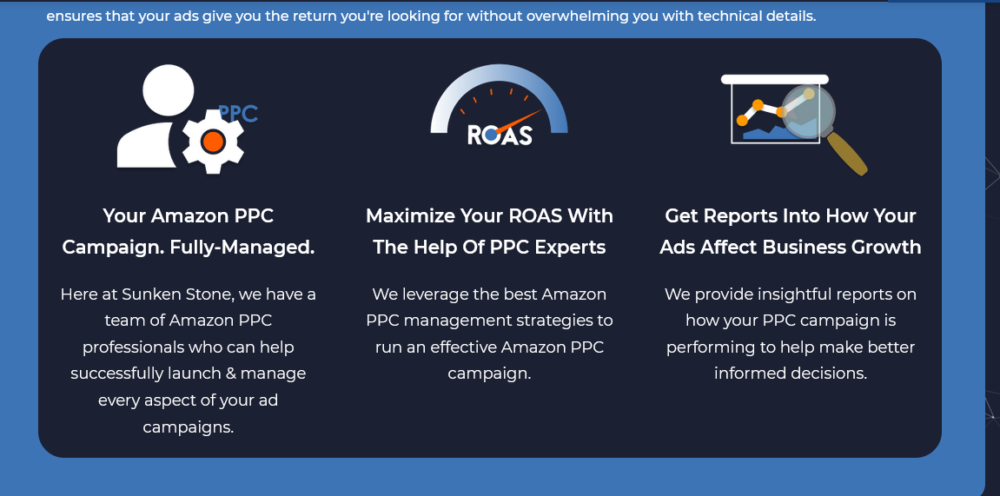 If you're ready to add Amazon Sponsored Ads to your marketing mix, these Amazon Sponsored Ads tips will help you take your advertising game up a notch higher.
Most importantly, work with an agency that understands what goes into Amazon PPC advertising.
Sunken Stone Will Help You Get The Most Of Your Amazon Sponsored Ads
At Sunken Stone, we have a team of Amazon PPC experts with extensive expertise and experience in helping brands on Amazon earn more conversions and sales. Whether you're looking to maximize your ROAS or positively showcase your brand, our PPC experts are ready to guide you.
Our Amazon advertising strategy guide has expert tips and recommendations to help you set up proper Amazon Sponsored Ads. This guide also covers the common Amazon PPC mistakes that you'll want to avoid to skyrocket conversions and sales.
Connect with us today or call us at (619) 404-3131 to schedule an appointment with one of our experts.
Do You Feel Like Your Amazon Business Is In A Rut?
You're not alone. Many businesses find it difficult to scale on Amazon. That's where we come in. We are a top-tier, turnkey, performance-based Amazon marketing agency that can help you take your business to the next level.
We have a proven 4-pillar process that helps businesses achieve higher sales, AOVs, ROIs, and other 3-letter acronyms. Let us show you how we can help you achieve the same success. Click here to schedule a call with a strategist.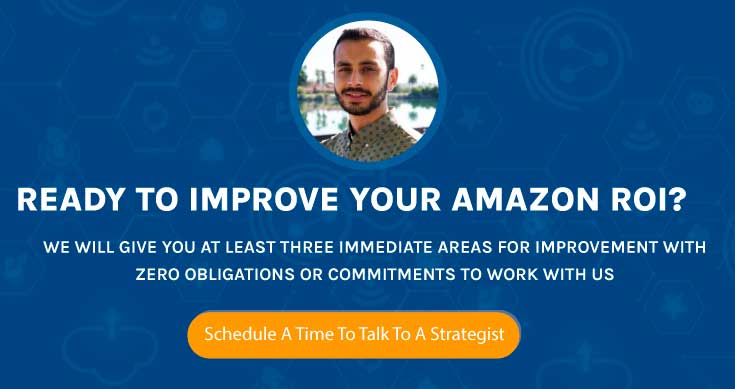 ---
Frequently Asked Questions
How Do You Optimize Sponsored Ads On Amazon?
There are many strategies you can implement to optimize Sponsored Ads on Amazon. These strategies include developing a robust campaign structure, keyword research, A/B testing, adjusting ACoS, and many more.
How Do Sponsored Ads Work On Amazon?
These ads appear within search results pages and throughout relevant product detail pages. When customers click on Sponsored Ads, they visit the corresponding product pages. 
Are Sponsored Products Good On Amazon?
Sponsored products can boost your product's visibility, increase organic ranking and bring in more customers. 
What Is Amazon's Advertising Strategy?
Amazon uses a pay-per-click advertising strategy, which means you only get charged when a customer clicks on your ad.