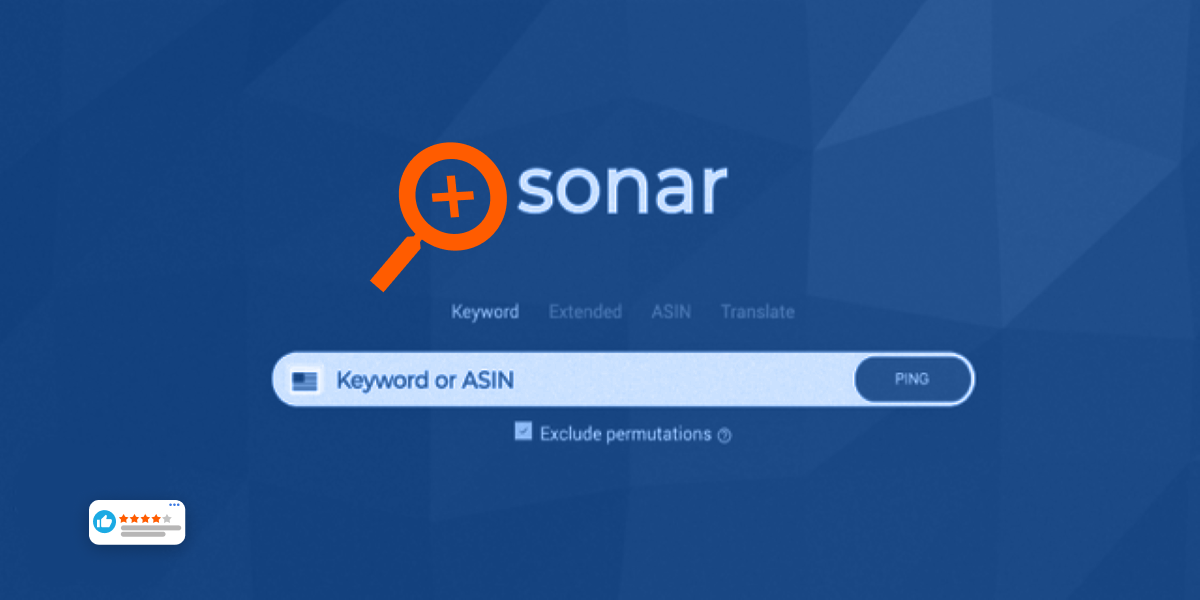 Amazon Sonar Review: 3 Fine Ways To Do Keyword Research
As Amazons sellers, we must always be open-minded to new tools that can help us increase conversions and overall profit. Amazon sellers should all have access to one essential tool is an Amazon keyword research tool. We thought we'd make an Amazon Sonar review, which is a keyword research tool for Amazon Sellers.
Keyword research tools allow sellers to find broad or niche keywords that can help your product(s) rank higher in shopper search queries. Here, we review one of the more popular keyword research tools currently available to Amazon sellers – Sonar by Sellics. Let's discuss our Amazon Sonar review and share our thoughts on this free-to-use software.
Sonar Review: Features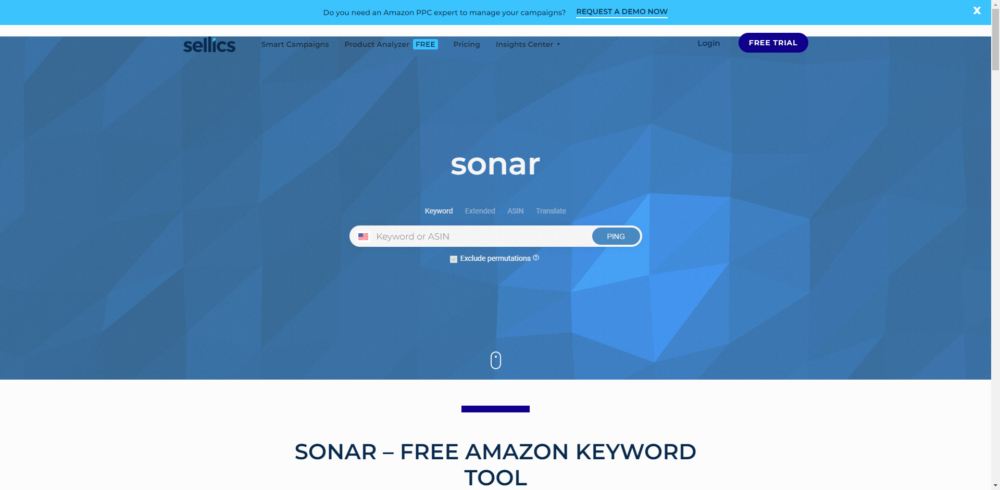 Sonar makes it easy to view customer keyword data in seconds. Once a particular keyword has been entered into Sonar's Keyword Research Tool, you'll be redirected to the page that displays your searched keyword and other relevant or related keywords.
Sonar only uses data from Amazon customer searches, not other sources such as Google or eBay, a significant plus for Amazon-only sellers (1).
However, the analytics and data behind the keywords are minimal. Unlike other tools which show you the numerical volume of searches for a particular keyword, Sonar's Keyword Tool only displays a vague progress bar-type graph that ranks a keyword's search volume from 1 to 5, from the lowest number of searches to the highest, respectively.
This makes it hard to get exact or even ballpark data points to help you optimize your listings.
Sonar's Keyword Research Tool also allows you to exclude permutations from keyword data, making it easy to understand a particular keyword's volume without the clutter (1).
With keyword research functions, sellers can search for a product's keywords by simply plugging its ASIN into Sonar.
>> REQUEST A FREE PROPOSAL: Take 30 seconds to request a proposal and receive a customized roadmap to skyrocket your sales, beat your competition & make your brand thrive on Amazon.
Sonar Review: Ease of Use
Sonar by Sellics is easy to use and requires no technical know-how. Users can begin researching keywords by visiting their site at www.sonar-tool.com. Although their keyword research tool lacks some detail, it is user-friendly and easy to read. Sellers can easily view a keyword's related short and long-tail keywords. Data can also be exported in CSV format for further analysis (1).
Sonar Review: Pricing
Sonar's Keyword Research Tool by Sellics is offered to Amazon Sellers at no cost (1). Every seller should use Sonar to cross-check any data points as a free program. Although Sellics does offer multiple paid tools to help sellers, their keyword research tool is free to use.
There aren't many free keyword research tools for Amazon, so, fortunately, this is a low-cost option for those who need it. Plus, it's very effective for Amazon sellers if you haven't noticed during our Sonar review.
Three Ways To Use Sonar As An Amazon Seller
There are several great ways to use Sonar. Here are some of the best ways we found during our Sonar review period.
Use Sonar To Track Keywords
As mentioned above, Amazon's A9 algorithm uses keywords in the listing to help determine which product(s) should be ranked higher. Use Sonar by Sellics to track changes in your product's rank.
If you see that your product is dropping in the rankings, look at the keywords you're using in your listing. Insert new keywords that may help increase your order, or test out permutations of old ones to see if they can be optimized further to work in your favor.
Use Sonar For Product Research
As Amazon sellers, we are always looking for new products to sell. Use Sonar's Keyword Research Tool to find products already selling well but may not have many other sellers.
For example, let's say you found the keyword "orange juice" on Sonar's Keyword Research Tool. You can use this information to find new products (new ASINs) that buyers may be searching for, but few sellers know.
Use Sonar To Research Your Competition
When looking for new products or researching keywords, use Sonar's Free Keyword Research Tool to figure out if there is a competitor (or competitors) already selling well within Amazon.
If you find only one or two sellers on the first page for a specific keyword phrase, you may want to reconsider wasting your time and money on that product.
However, if you find dozens of competitors within the top 20 results for a specific phrase/product, you know there is potential for profit with this item.
Why Use A Keyword Tool Anyway?
Any Amazon Seller should ask this: If Sellics provides these kinds of tools for free, why do I need one? We thought it'd be essential to discuss why people need keyword tools in our Sonar review, so let's get into it!
If you are looking to gain an edge in your product's organic rankings within Amazon, you need a keyword tool.
While not much data is shown when you run the exact search in Sonar, other tools such as Merchant Words and Helium 10 collect data from Google, Bing, Yahoo, eBay, and even Instagram to give you a much more accurate picture of the volume behind your keyword's search queries.
A Keyword Tool can also help you optimize your listings with targeted keywords. For example, if you are selling handmade lawn ornaments, you can gain more market share by using a keyword tool to find the relevant long-tail keywords that will help your products appear in customer searches.
Final Note
With competition growing every day, Amazon sellers are always looking for ways to gain a leg-up on their competition. Sonar by Sellics can serve as an excellent supplementary tool for sellers looking for more insights into how they can optimize their listings for specific short and long-tail keywords.
Hopefully, this Sonar review clarifies whether your brand should use it to locate better Amazon keywords. As you can tell from this simple Amazon Sonar review, it can help advertisers and sellers alike.
If you are ready to take your brand's presence on Amazon to the next level but aren't sure where to start, the performance-based team at Sunken Stone can help. Our team of Amazon gurus handles your brand's entire presence on Amazon, from keyword research and listing optimizations to customer service and taxation. To learn more, schedule a free demo with one of our Amazon experts here.
Sources:
Do You Feel Like Your Amazon Business Is In A Rut?
You're not alone. Many businesses find it difficult to scale on Amazon. That's where we come in. We are a top-tier, turnkey, performance-based Amazon marketing agency that can help you take your business to the next level.
We have a proven 4-pillar process that helps businesses achieve higher sales, AOVs, ROIs, and other 3-letter acronyms. Let us show you how we can help you achieve the same success. Click here to schedule a call with a strategist.
Request A Free Proposal
Are you tired of losing sales to your competition on Amazon? It's frustrating for otherwise successful brands to underperform on the leading eCommerce platform.
Sunken Stone will help you find a solution to increase your profits on Amazon. Click "Request My Proposal" below to receive a customized roadmap to beat your competition and uncover new areas of opportunity for increasing sales.