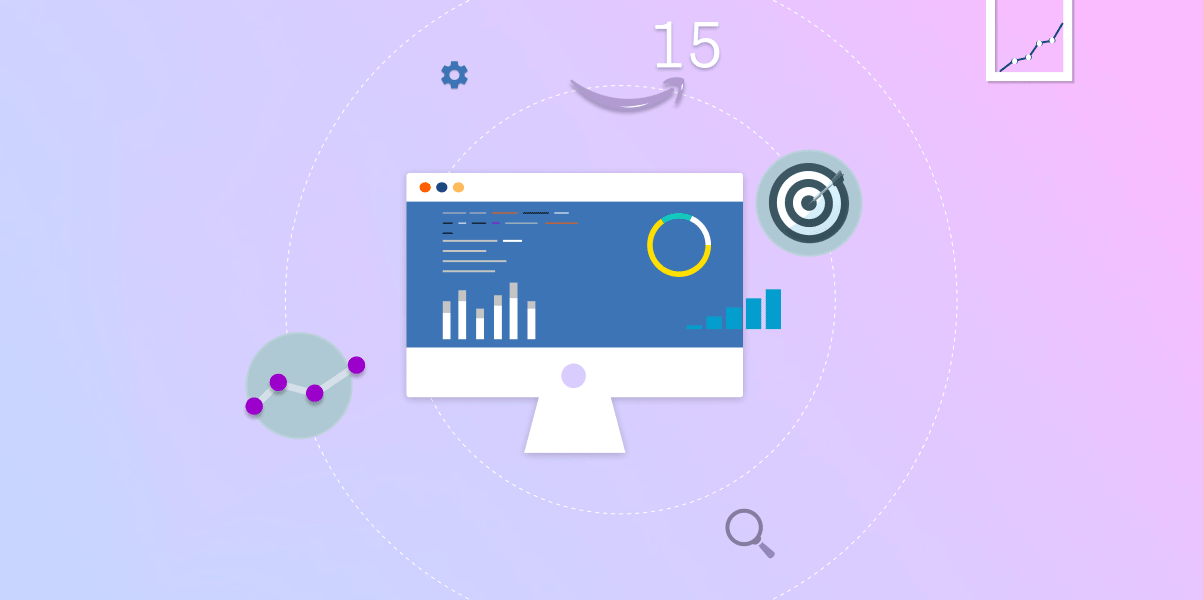 Here Are 15 Amazon Seller Tools You Should Know About
As an Amazon seller, you're constantly bombarded with data regarding competitors, new products, reviews, and—without the proper tools—it's hard to make sense of it. With the cut-throat competition on Amazon, choosing the right Amazon seller tools is crucial for success.
Keep in mind that Amazon seller tools are meant to enhance your existing productivity, not replace it.
There's an unfortunate assumption among some sellers that Amazon seller tools can manage every aspect of your Amazon business as you sit back and relax. The truth is these tools can't do your job, no matter how advanced our tech gets.
Read on to learn more about the Amazon seller tools, their features, capabilities, and how they can boost your growth on Amazon.
These 15 Amazon seller tools will however help you optimize your business.
>> TAKE THE SUCCESS QUIZ NOW: This 2-Minute Quiz Accurately Predicts Whether Your Brand Has What It Takes To Succeed On Amazon Today
The 15 Tools We Recommend To Amazon Sellers
Tools come in different shapes and forms, just like the ones you'll see in the list below.
Categorized by their primary purpose, we've highlighted the most valuable tools for Amazon sellers.
We've categorized the Amazon selling tools based on their applications. Basically, we are focusing on the big value drivers for success in different elements, including:
Optimization & SEO – This element involves improving search visibility, click-through rate, and conversion rate.
Brand Management – This is a function of marketing that involves increasing the perceived value of a brand over time.
Monitoring & Analysis – Seller tools in this category help with things like price monitoring, buy box monitoring, and analysis of crucial metrics.
Sales & Service – Amazon FBA tools in this domain allow sellers to implement various strategies to improve sales and offer better customer service.
Category #1 of Amazon Tools: Optimization & SEO
By far the most popular tools for Amazon sellers are keyword optimization and SEO tools like KeywordTool.io, Ahrefs, Sellics, and more. These are a staple in the industry.
Seller Tool #1: Helium 10
This Amazon seller software comes with multiple tools that help sellers with keyword research, product research, and listing optimization. The Cerebro tool under keyword research allows sellers to use any ASIN to discover high-ranking keywords, while the magnet tool allows sellers to find relevant keywords based on search volume.
The listing optimization tool suite has a keyword processor, listing optimizer, and keyword index checker. These tools help sellers to create a perfect listing that will drive traffic to your product page.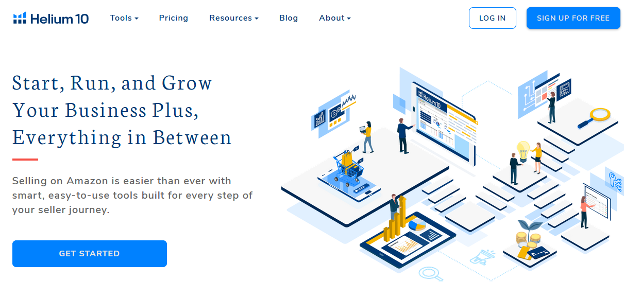 Seller Tool #2: Sellics
Sellics provides many features, including Amazon SEO, product research, Amazon PPC, and many more. With this tool, sellers can find high-ranking keywords and optimize their listings to improve conversion rates.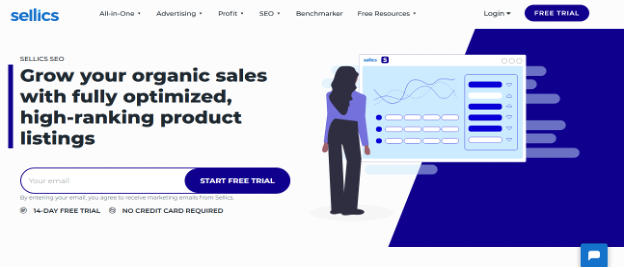 Seller Tool #3: Ahrefs
Ahrefs comes with an all-in-one SEO toolset for keyword research, link building, competitor analysis, rank tracking, and many other uses. Amazon sellers can use this tool to analyze their listing's SEO health and optimize their SEO efforts.
Learn more on Amazon listing optimization.
Seller Tool #4: KeywordTool.io
KeywordTool.io uses Google Autocomplete and other search engines to generate thousands of profitable keywords that Amazon sellers can use to optimize their listings.
This tool provides three key features; find keywords (used for generating keywords by entering a term in the search area); analyze competitors (used to find out the kind of keywords competitors are ranking for, and check search volume (shows search volume for a certain keyword on a daily or monthly basis).

Seller Tool #5: KeyworX
This tool allows sellers to monitor their organic keyword positions and pick up insights on what works and what doesn't work. Keyworx has a free trial as well as three paid plans (tester, standard, and basic).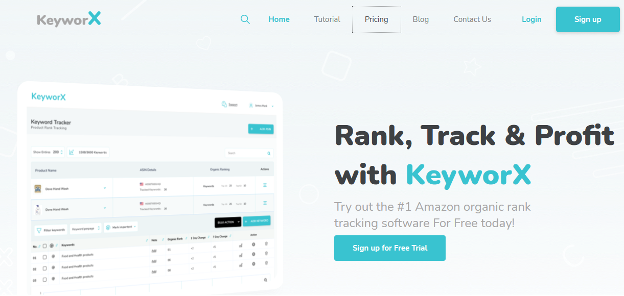 Category #2 of Amazon Tools: Brand Management
Here are some of the most popular brand management tools for Amazon sellers like AMZAlert, AMZShark, and Seller Labs. These are very helpful for sellers to help manage their brand.
Seller Tool #6: AMZAlert
This software is designed to help Amazon sellers to monitor and protect their listings from the bad actors on the platform. Sellers can use AMZAlert to protect their listing from hijackers, scammers, and bad reviews.
It comes with a range of features, including hijacker alerts, Amazon text alerts, Amazon review monitoring, product suppression alerts, sales & marketing alerts, and many more.
Here are more tips on how to get rid of unauthorized sellers on Amazon.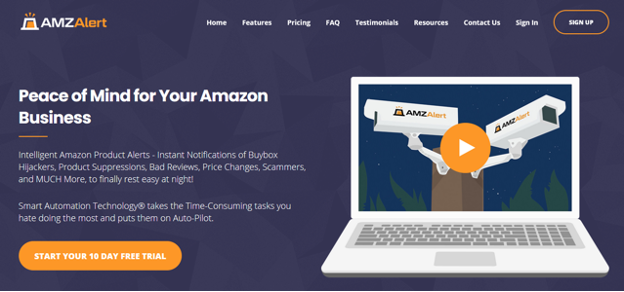 Seller Tool #7: AMZShark
AMZShark is one of the most comprehensive brand management toolkits for Amazon sellers. With this tool, sellers can track reviews and feedback, scout competition, track sales of almost any Amazon product, and protect listings from hijackers.
AMZShark comes with a whole suite of tools to enable sellers to manage their brands in almost every aspect.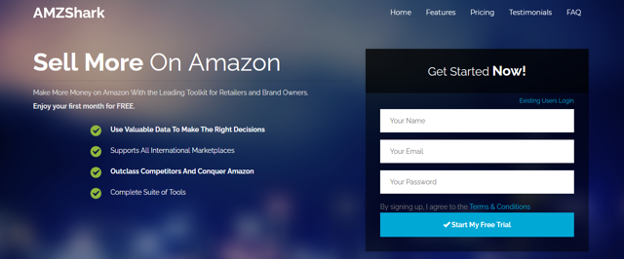 Seller Tool #8: Seller Labs
Seller Labs is a platform that allows Amazon seller to manage their business in a seamless manner. It comes with features such as Amazon PPC advertising, communication center/ product reviews, Amazon keywords, Amazon inventory and financials, and notification center.
Sellers can use this platform to manage product reviews, monitor buy box, maximize ad strategy, track profit margins, and much more.

Here are other tactics you can use to protect your brand on Amazon in 2021.
Category #3 of Amazon Tools: Monitoring & Analysis
Here are some of the most popular monitoring and analysis tools for Amazon sellers like DataHawk, Bindwise, AMZTracker, and Jungle Scout. These are very helpful for sellers to help monitor their accounts.
Seller Tool #9: DataHawk
This tool allows Amazon sellers to track daily changes regarding the Buy Box. With this tool, sellers can assess Buy Box competition, measure Buy Box pricing trends, and track Buy Box win rates per seller. It also comes with a sales rank tracker, review alert, hijacker alert, products analytics tool, and many more.
Learn more on how to become Buy Box eligible.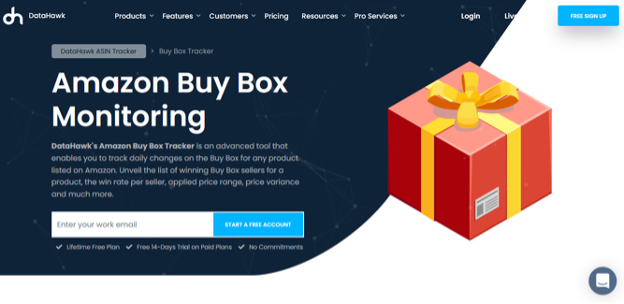 Seller Tool #10: Bindwise
Bindwise allows sellers to track seller account metrics, monitor daily changes on the Buy Box, and protect their listings from hijackers. This tool also offers ASIN change notifications to enable sellers to protect sellers from the bad actors on the platform.
You can also use Bindwise to track feedback and any potential problems that could lead to account suspension.
Seller Tool #11: AMZScout
This is a complete toolset for Amazon sellers that comes with several tools for various functions. With AMZScout, sellers can analyze product potential score, sales, inventory levels, competition, dropshipping and arbitrage, and much more.

Seller Tool #12: AMZTracker
AMZTracker provides tools that sellers can use to offensively and defensively improve sales and dominate the marketplace. The keyword tracking feature allows sellers to know where their products are ranking for relevant keywords, and track competitors to determine their strategy.
Defensive features like hijack alerts and negative review alerts allow sellers to protect their business from fraudulent actors.

Seller Tool #13: Jungle Scout
Amazon sellers can accomplish so much with the Jungle Scout tool. You can use this tool to track competitor products, research Amazon product niche, quality supplier search. Amazon sellers can also use Jungle Scout for feedback management, sales analytics, inventory management, and rank tracking.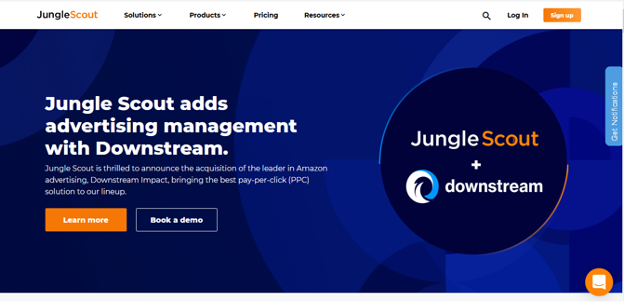 Category #4 of Amazon Tools: Sales & Service
Here are some of the most popular sales & service tools for Amazon sellers like IO Scout and Seller.Tools. These are very helpful for sellers to help monitor sales and PPC campaigns.
Seller Tool #14: IO Scout
This Amazon seller software provides more than 10 tools in one powerful solution, including a sales analytics tool. With this tool, sellers can find high margin and low competitive products, analyze market trends and competition, and much more.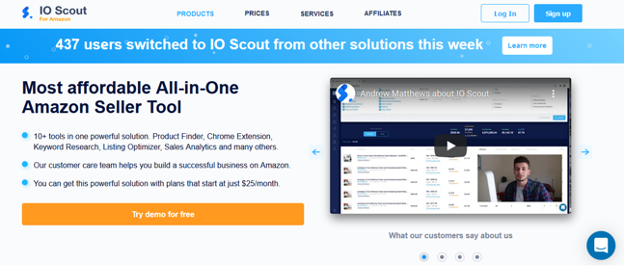 Seller Tool #15: Seller.Tools
Seller.Tools provides a range of features, including a PPC management solution for managing your Amazon advertising account, and a product research feature. With the PPC management tool, sellers can streamline their advertising spend and increase sales.
Check out this guide to leveraging Amazon PPC in full.

---
Leveraging Seller Tools Increases Your Amazon Brand Value
If you're able to integrate the right tools into your daily operations, your Amazon brand will see incredible returns both in terms of efficiency and overall value.
You can integrate Amazon seller tools using a reliable Amazon API integration tool such as E-seller Hub. Integrating Amazon selling tools will help you manage your tools from a single point and save you time.
If you want to consult with a professional of a top-tier, results-driven Amazon marketing Agency, on the best Amazon FBA tools you can use to optimize your business, call Sunken Stone at 619-404-3131.
Here are other reasons to partner with Sunken Stone.
Does Your Brand Have What It Takes For Amazon Success?
Take the Sunken Stone success quiz and see how you measure up to the competition. It's quick and easy, but it accurately predicts whether or not your brand has what it takes to succeed on Amazon today.
Don't waste another minute wondering if your brand has what it takes—click the image below to take the success quiz. If it turns out that your brand isn't going to succeed, we'll explain several steps to take so that you prepare for Amazon seller success!
Request A Free Proposal
You're not alone. Many businesses find it difficult to scale on Amazon. That's where we come in. We are a full-service, technology-driven Amazon Services agency focused on driving results for our clients..
We have a proven 4-pillar process that helps businesses achieve higher sales, AOVs, ROIs, and other 3-letter acronyms. Let us show you how we can help you achieve the same success. Click below to request a free proposal.
---
Frequently Asked Questions
What Is The Best Product Research Tool For Amazon FBA?
There are many great product research tools for Amazon FBA. The best choice will depend on your individual needs. Some of the best product research tools for Amazon FBA you can consider include Helium 10, AMZScout, Jungle Scout, IO Scout, and AMZTracker.
What Sells The Most On Amazon?
Amazon's top-selling categories include toys & games, electronics, cameras, video games, books, clothing, shoes, and jewelry.
How Do I Find Profitable Items To Sell On Amazon?
Simply browse a category's best sellers list and identify products that are in demand but with low competition, and contact the supplier. Once you have the permission of the supplier, you can start selling the product on Amazon.
What Sells Well On Amazon FBA?
The most profitable product categories for Amazon FBA sellers include books, baby products, jewelry items, exercise clothing, electronic items & accessories.