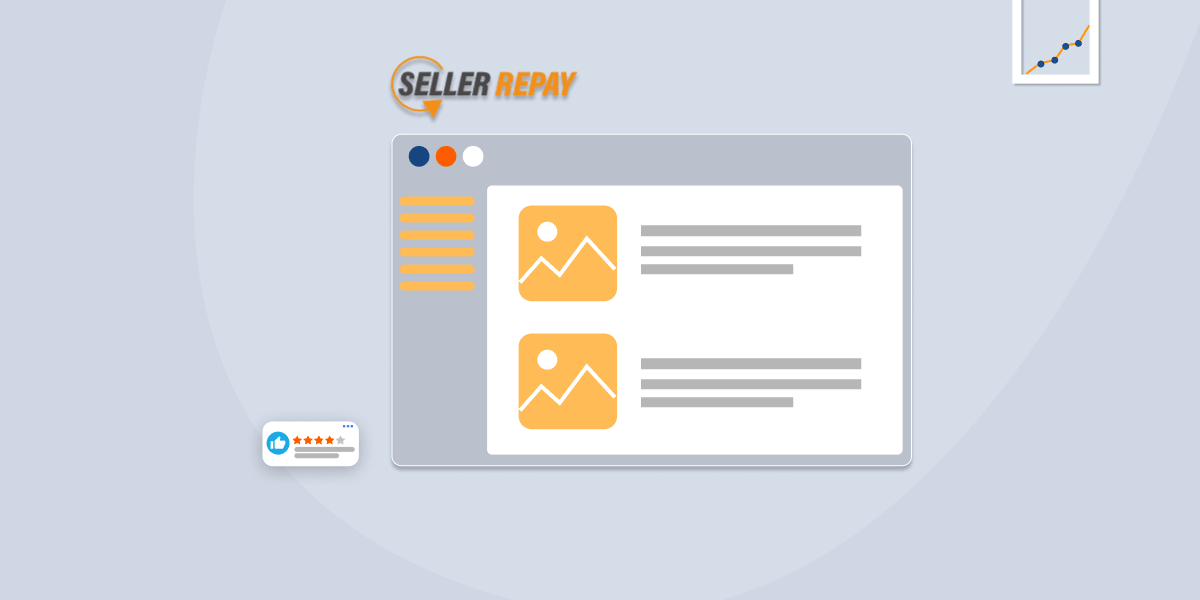 The Ultimate Guide to Amazon Seller Repay: Everything You Need To Know
Whether you're a new or experienced Amazon Seller, it's essential to understand the fees you'll pay on the eCommerce platform. Even if you have experience selling on another platform, selling on Amazon is an entirely different ballpark.
Amazon is an excellent marketplace for sellers to increase sales, build brand awareness, and grow their audience. However, these advantages don't happen without paying for them, which is how seller repayment fees begin.
Seller repayment fees are ongoing and dependant on your specific seller account and the products you sell. Because Amazon Sellers has several ongoing costs, most businesses use Amazon bookkeeping tools to stay ahead of eCommerce costs.

The idea behind the seller's repay fee is to cover any unpaid charges from the past. For example, if you withdraw from your account but didn't pay fees first, Amazon will bill you for the balance. This charge will show on your credit card statement as a "seller repayment" fee.
To understand how Amazon seller repays fees work, along with other expenses you'll incur as an Amazon seller, continue reading.
>> REQUEST A FREE PROPOSAL: Take 30 seconds to request a proposal and receive a customized roadmap to skyrocket your sales, beat your competition & make your brand thrive on Amazon.
What is Amazon Seller Repay?
Amazon Seller repay charges cover the monthly service fees or charges associated with your specific account, usually a $39.99 price. Even if you're not actively selling any products, you'll still need to pay fees for having an Amazon seller account.
Let's say you've already withdrawn funds from your Amazon account to your bank account and have a $0 account balance. In this event, Amazon must collect fee balances by charging your card on file if there is a zero account balance.
The situation above is one example of the type of situation that may occur with your Amazon seller account. Thus, it's essential to stay on top of your Amazon seller account to understand which fees add up. If you're not aware of your expenses, you might find yourself with an Amazon Seller repay charge on your account.
Amazon Seller Fees You May Incur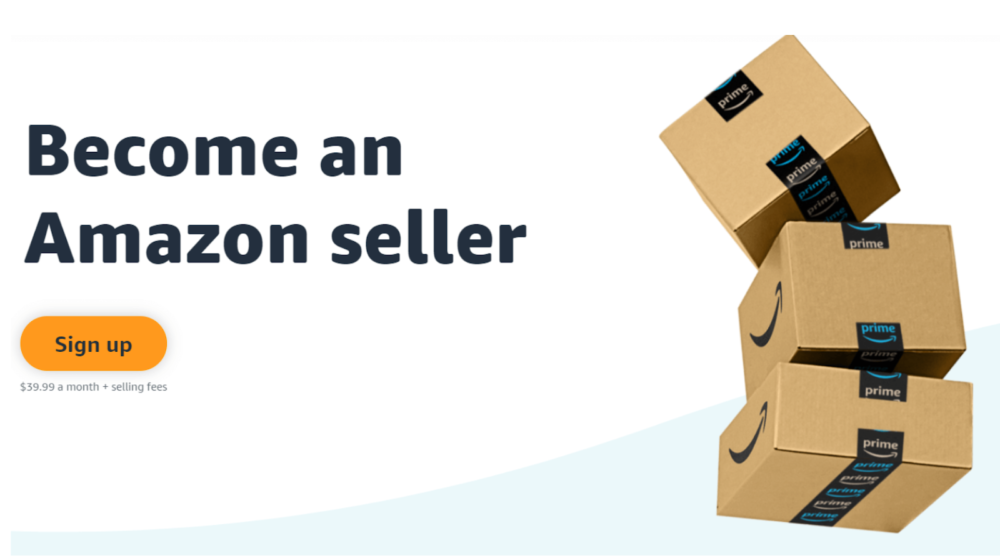 When you create your account, you will make decisions that will impact how much you're paying in fees each month. Amazon will always collect Seller fees, and if you're not careful, they can quickly add up. Some of Amazon Sellers' best accounting and bookkeeping programs help business owners budget for fees and other costs.
Here are the various types of charges you may incur when creating an Amazon seller account.
Monthly Subscription Fee
Amazon features two different seller accounts, including an individual seller account and a professional seller account. The price for these accounts differs, as well as the benefits you'll receive from them.
1. Individual Seller Account
You won't need to pay a monthly subscription fee for the individual seller account to keep your account. However, you will incur a .99 cent fee per item you sell along with any referral or variable closing fees.

Therefore, the Individual Seller Account is the ideal seller account for anyone who has minimal sales. Amazon recommends this account to anyone selling fewer than 40 items each month.
2. Professional Seller Account
For the professional seller account, you will end up incurring a $39.99 fee every month. However, you won't be subject to the .99 cent fee that individual accounts must pay. You will still need to pay referral and variable closing fees as well.
The Professional Seller Account is the ideal seller account if you make more than 40 sales a month because the $.99 cent fee from the individual account plan adds up. It's important to note that you can change from a professional to a personal account if you find the costs are too high or the volume you're selling changes.
Closing Fees
Professional and individual seller accounts pay a closing fee of $1.80 for any media item sold on every listing. This cost assessment is on top of any other fees that Amazon may apply.
The media items typically include video game consoles, video game accessories, computer/video games, software, videos, DVDs, music, and books.
Referral Fees
On every item, you sell Amazon charges referral fees. The specific price will depend on the particular category of product you're selling and the type of product sold.
Most products will incur about a 15% referral fee unless you're in categories such as 3D printed products, video game consoles, unlocked cell phones, personal computers, or other consumer electronics.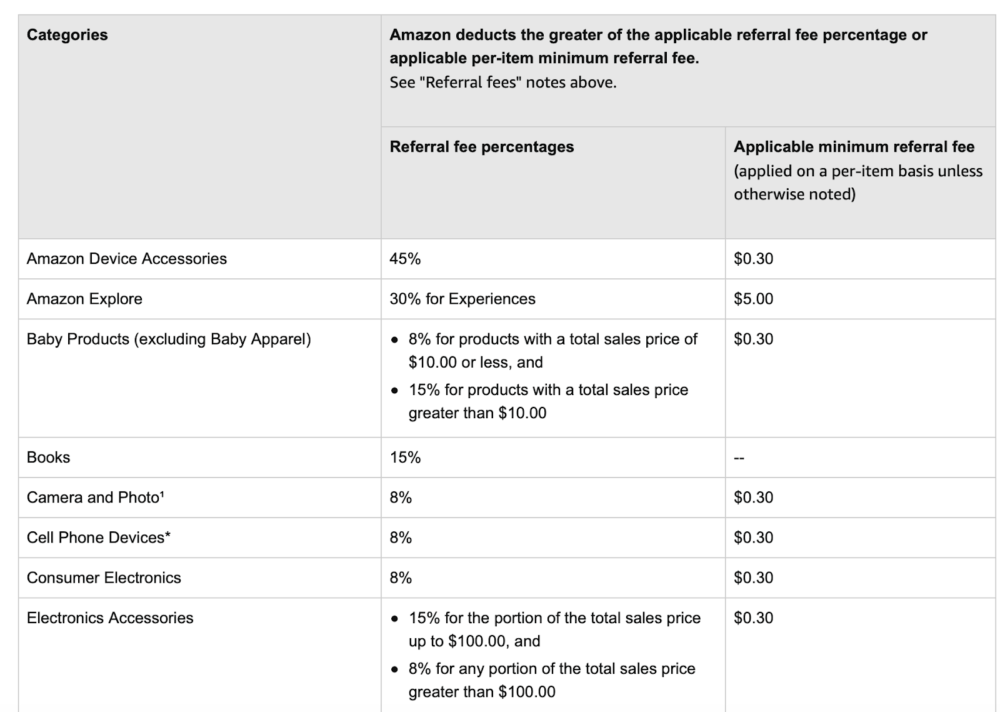 Some categories, such as Amazon Explore, Amazon Device Accessories gift cards, and jewelry, charge upwards of a 20% referral fee.
On top of that, there's a minimum referral fee you may have to pay on a per-item basis, and it ranges from .30 cents to $5.00. For a complete list of referral fees, review Amazon's fee schedule.
High-Volume Listing Fee
If you sell a high number of items, you'll be subject to a high-volume listing fee. You'll have to pay this fee if your item is a non-media item, was created at least 12 months ago, has not sold in the previous 12 months, and had an active offer on it at some point.
Amazon waives this fee for the first 100,000 listings that are eligible. However, after you pass 100,000 listings, you'll be subject to the $0.005 fee. And don't forget that every sale a business makes on Amazon is likely subject to eCommerce business sales tax.
Fulfillment By Amazon Fee
With the Fulfillment By Amazon program (FBA), you're able to send your items to Amazon, and they will take care of shipping, packing, and stocking your orders. This process helps sellers to eliminate costs for a warehouse or shipping orders. Instead, Amazon sellers are free to focus on creating more sales for their business.
However, there are fees for Amazon FBA Sellers. The exact cost varies on the size, amount, and price of the products you sell.
Amazon Seller Repay Charges
Last but not least are the Amazon seller repay charges. Seller repay charges are the amount you'll pay Amazon every month, regardless of how much you sell, if you own a Professional Seller Account. The seller repay charge is a fee of $39.99 that will show up as a "seller repayment" fee on your credit card statement.
>> REQUEST A FREE PROPOSAL: Take 30 seconds to request a proposal and receive a customized roadmap to skyrocket your sales, beat your competition & make your brand thrive on Amazon.
Manage Your Seller Account With Sunken Stone
Understanding the various fees, you will incur as a seller is essential when selling on Amazon because it can make or break your financial success. Along with the Amazon seller repay charge, you can expect to pay other fees per transaction.
If figuring out the right seller account strategy to ensure you're saving the most money when it relates to Amazon fees sounds overwhelming, you can turn to your trusted partners at Sunken Stone to guarantee you're always ready for business success. We'll help manage your brand presence, increase sales and optimize your account for the least amount of seller fees.
Request A Free Proposal
Are you tired of losing sales to your competition on Amazon? It's frustrating for otherwise successful brands to underperform on the leading eCommerce platform.
Sunken Stone will help you find a solution to increase your profits on Amazon. Click "Request My Proposal" below to receive a customized roadmap to beat your competition and uncover new areas of opportunity for increasing sales.
Frequently Asked Questions
How Much Does Amazon Charge To Sell My Products?
The total cost depends on the products you're selling, product categories, and quantities you sell. Professional sellers pay $39.99 per month. Individual sellers must pay .99 cents per item. The final fee percentage per order can range from 6% to 40%.
How To Cancel Seller Account On Amazon?
You can cancel your Amazon account by following these steps:
1. Log into your seller central account.
2. Click on Contact Us Page.
3. Choose the "Close Your Account" button.
4. Fill out the form and submit your request.
What Is An Amazon Cancel Order Fee?
While this is not a typical fee you'll incur, Amazon applies cancelation fees during the refund process. If you cannot send out the product and choose to refund your customer after payment processing, you'll pay Amazon to cancel the order. This fee will be 20% of the order cost, or $5.00, whichever is less. This fee is why it's crucial to ensure your counts are up to date and you're only selling the products you have in stock.
Can I Choose To Forgo Seller Fees?
Unfortunately, the seller fees on Amazon are mandatory. You need to expect these charges as part of your business expenses for selling on Amazon if you're selling. However, with these fees, you can sell on a busy marketplace and raise your brand awareness. If you're trying to avoid fees and don't want to sell your products on Amazon, you can always change to an Individual account and delete your listings.