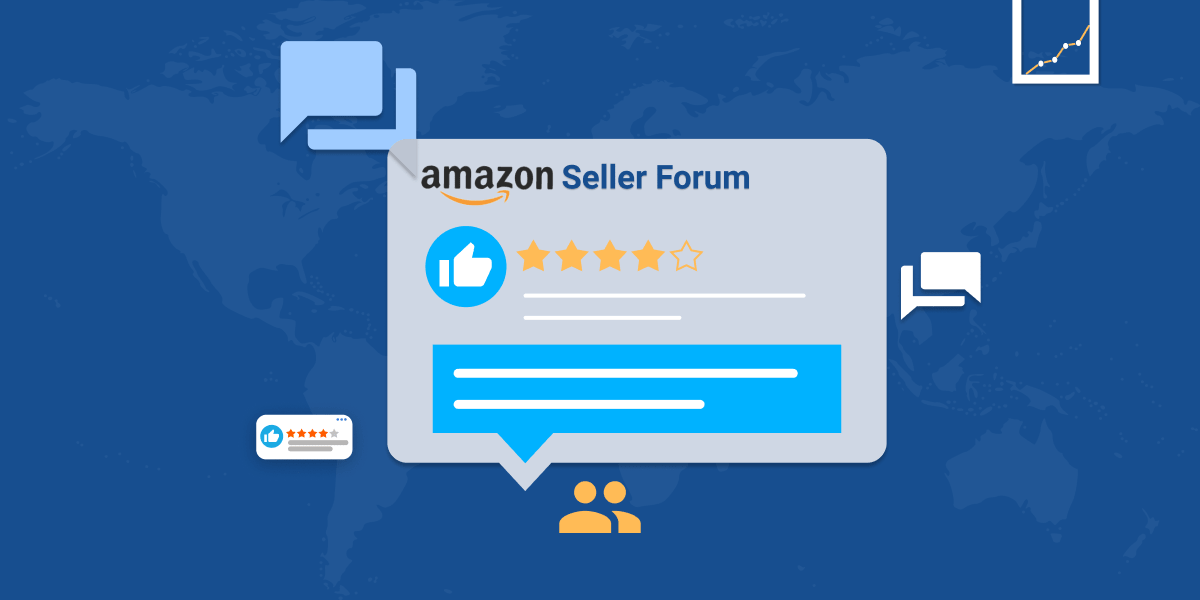 The Top 8 Amazon Seller Forums In 2022 [Comparison]
If you run an Amazon FBA business, or you're looking to start one, you might find yourself with a ton of questions. Whether you're looking for basic help to set up your account or want to learn new ways to run and grow your business, it might be time to turn to an Amazon seller forum.
These online communities are filled with other sellers on Amazon who have faced similar challenges or have answers to the issues you may be having.
Forums will help you learn what works, what doesn't, and how to get through complex problems with your Amazon FBA account. We've broken down what these communities are all about and the top ones you need to check out for your business.
>> REQUEST A FREE PROPOSAL: Take 30 seconds to request a proposal and receive a customized roadmap to skyrocket your sales, beat your competition & make your brand thrive on Amazon.
What Are Amazon Seller Forums?
Amazon seller forums are websites with the sole purpose of helping sellers on Amazon find the answers they need for any issue that may arise. It's beneficial for new sellers that want to get started selling with Amazon FBA business or experienced sellers looking for help on more complex Amazon issues.
Through this interactive platform format, you can ask other sellers questions about the selling process on the Amazon marketplace or how they solved business issues you might be facing. If you've already been selling on Amazon for a while, you can contribute your expertise while networking with other knowledgeable sellers.
Every Amazon seller forum may have a specific category they focus on, such as announcements, eCommerce, Amazon FBA forums, or seller central forums. On top of that, each forum will have its own rules and regulations about what you can or cannot post about in the group.
This information is either explained before signing up for an account or is located on the forum's front page. If a member doesn't follow this policy, they can be kicked out of the online discussion and be unable to participate.
The Top Amazon Seller Forums You Need To Know
If you're looking for a digital community to ask questions, discuss issues, give help to others, network with sellers, and share experiences, Amazon seller forums are perfect for you. Once you've decided you want to join, you'll need to find the best websites that provide the knowledge you need.
Thankfully, we've taken the guesswork out of it and provided you with the top Amazon seller forums you need to know.
Amazon Seller Forum #1: Amazon Seller Central
The Amazon Seller Forum is the perfect place for anyone to find answers or ask questions about their Amazon FBA account. The Amazon Seller Central is the ideal place to find multiple topics listed in one place. Each category features multiple links answering questions in a step-by-step format.
Some of the categories you can find on Amazon Seller Central include Selling on Amazon, US announcements, Account Health, Fulfillment by Amazon, Site Feedback, Global Selling, Amazon Pay, and more. If you don't see your question listed, you're able to ask your questions to other sellers on the interactive forum.
Amazon Seller Forum #2: Warrior Forum
Warrior Forum is one of the most prominent online forums for everything you need to know about the world of eCommerce and marketing. With more than 1 million active members on this website, it's easy to find networking opportunities and meet partners or affiliates for your business.
Some of the most popular forums on the Warrior Forum include search engine optimization, amazon services, and selling strategies.
Amazon Seller Forum #3: Digital Point
If you need help with your online strategy to get your Amazon business up and running, you need to check out Digital point. This online board features members from around the world, including countries like the United States, Germany, United Kingdom, France, and Spain. This worldwide audience is helpful if you're navigating the global marketplace or entering a new market and niche of products.
The Digital Point forum is also knowledgeable on Amazon FBA business and affiliate programs. With the wide variety of topics covered on one platform, the Digital Point Forum is worth checking out.
Amazon Seller Forum #4: Ecommerce Fuel Form
eCommerce Fuel Form was designed for companies or brands that are already bringing in a ton of revenue from Amazon each year. It's one of the best places to learn how to scale your business by learning from experienced sellers who have already reached the levels you want to grow.
Not just anyone can join this online forum. The membership at Ecommerce Fuel Form costs $49, and you have to apply to be a member. The moderators will check to make sure you meet the membership requirements before you are granted entry into the forum.
Amazon Seller Forum #5: Tamebay
Tamebay was created in 2006 by two British sellers and is now one of the leading providers of information on online marketplaces. The website features various information such as announcements, developments, trends, and more. If you find yourself struggling with issues such as how to convert and boost sales or need to learn eCommerce best practices, Tamebay is a great resource.
Amazon Seller Forum #6: Ecommerce Bytes
Suppose you're looking for a platform with tons of information to guide you on your Amazon seller journey, including blog posts, podcasts, informational guides, and more. In that case, eCommerce Bytes is the perfect forum to join.
Their active forum features a considerable member base covering everything from announcements and trends to best seller procedures on Amazon. Whether you're a newbie or an experienced seller, there's tons of valuable information on the eCommerce Bytes platform.
Amazon Seller Forum #7: UK Business Forums
If you need a crash course on how to run an online business, you'll be able to find tons of information and the resources you need on the UK Business Forums.
There are many forums on the UK Business Forums offering advice on topics such as marketing, sales, accounts, finance, and eCommerce from experienced sellers in all industries on one page.
Amazon Seller Forum #8: Amazon FBA Warriors Forum
Amazon FBA Warriors is an online Facebook group that helps business owners increase their sales and find advice on everything FBA related.
If you've recently signed up for Amazon FBA or are experienced with the platform, join the Amazon FBA Warriors online community to help network with other account holders or ask questions. Sellers frequently share their success stories, tips, and trends on this online forum.
Amazon Seller Forums Won't Solve Everything
While Amazon seller forums can teach you a ton and help solve some of your business queries, they won't solve every problem you're having. A forum can't fix your branding issues or help you find the growth your specific company needs.
Trying to figure out the answers to your problems by stitching together various bits of advice can get overwhelming. If you want expert guidance to see the growth you need for your business, it's time to work with the professionals at Sunken Stone,  a top-tier, results-driven Amazon marketing Agency for growing eCommerce brands today.
Request A Free Proposal
Are you tired of losing sales to your competition on Amazon? It's frustrating for otherwise successful brands to underperform on the leading eCommerce platform.
Sunken Stone will help you find a solution to increase your profits on Amazon. Click "Request My Proposal" below to receive a customized roadmap to beat your competition and uncover new areas of opportunity for increasing sales.
Frequently Asked Questions
What Is An Amazon Seller Forum?
An Amazon seller forum is an online community where Amazon sellers can meet to ask questions and find answers to their seller problems. Amazon seller forums are also used to network with other sellers who are successful in the industry.
Why Should I Join an Amazon Seller Forum?
Amazon sellers typically don't have an entire team to support them in their business, which means they don't have colleagues or employees to build their business or share ideas.
If you're facing issues on the Amazon platform, having some type of forum or community to ask for help can save you a ton of time and frustration. Plus, you'll be able to network with other sellers to create business relationships and scale your business.
What Are The Different Type Of Amazon Forums?
There are three different areas you'll typically find each Amazon forum featuring including:
New Announcements Forum: This area will highlight any new information released from Amazon that directly impacts your experience as a seller.
Seller Central Forum:
This is the area to ask questions regarding your seller account, including how to set up your account, access listing reports and management, shipping, order management and returns, or any other area of selling that may be confusing.
Amazon FBA Forum:
This section of the forum will answer any issues you have regarding Amazon FBA, whether that's a general question about orders and inventory or a more complicated issue about the process.
Why Would an Amazon Seller Use An Amazon Seller Forum?
While Amazon does provide areas to help with common seller questions, you won't be able to solve every business problem you're having with this information.
If you're looking for ways to market or sell your products, stay up to date with new information and trending products, or want a business network of professional sellers, joining an Amazon Seller Forum is necessary.