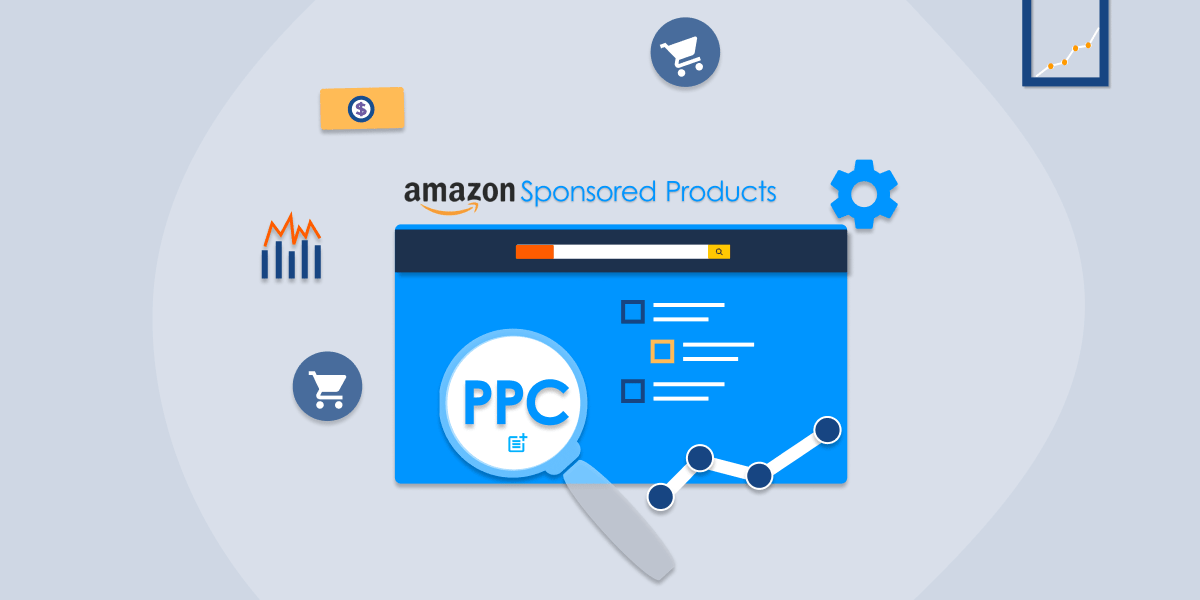 Amazon Sponsored Products: How To Turn Top Listings Into Ads
There are several ways to create advertisements that display on Amazon.com. Still, few are as efficient at generating sales as Amazon sponsored product ads. In this post, the Amazon product listing optimization process is explained to attract more buyers and boost sales.
Although creating ads isn't too tricky (since Amazon generates them from product listings), there's still a lot to know before starting. Failure to understand how sponsored products on Amazon work can lead to a loss of revenue, increase in ad spend, and lots of wasted time.
Fortunately, Sunken Stone is here to teach Amazon sellers what they should know before creating product ads. Yet, that's not the only way we can take your business to the next level. We also provide an in-depth 2021 Amazon Advertising Strategy Guide for those who want to move past theory and start using ads to increase product sales.
Be sure to download your copy by clicking the link above before returning here to learn about Amazon sponsored products.
>> REQUEST A FREE PROPOSAL: Take 30 seconds to request a proposal and receive a customized roadmap to skyrocket your sales, beat your competition & make your brand thrive on Amazon.
What Does Sponsored Mean On Amazon?
Amazon is incredibly great at selling products. They've made the process of searching for products and services fast. But what Amazon understands better than most eCommerce platforms is how to upsell and cross-sell products to their buyers.
Most people understand that Amazon makes a portion of the earnings from every item sold on the platform. However, that's not the only way that the leading eCommerce site generates income. As an Amazon seller, you can also promote your products in search results and product pages by creating sponsored ads.
As buyers search within Amazon and look for goods, they'll come across several paid advertisements instead of "organic" listings. A small icon reads "Sponsored" next to paid promotions from products, brands, or categories of items.
These sponsored items help buyers find new things they might not otherwise. Plus, Amazon helps sellers and vendors promote ads by suggesting paid promotion items as related products, increasing ticket sales. Overall, it's a win-win for Amazon while also assisting buyers in identifying new sellers and alternative products.
Would you like to learn more about promoting goods on Amazon? Take this success quiz to determine whether beginning the ad creation process is right for you. Once that's complete, let's discuss everything you should know about sponsored products.
What Are Sponsored Products On Amazon?
Earlier, we mentioned "organic" listings. These are products that appear on keyword search result pages highly relevant to your searches. Essentially, to have high relevance for buyer search terms, sellers optimize their product listings and perform Amazon SEO.
With that in mind, not all products on Amazon search results page have the reviews, title, or description to attract customers. It's challenging to create a product listing that hits the first page of search results or occupies the top spot on category pages. Fortunately, there's a way to even the playing field for sellers—Sponsored Products.
By creating sponsored product ads, sellers can reach buyers that are searching for specific products. Sellers can also build ads that appear whenever buyers use particular keyword search terms. And it doesn't require any technical skill to create these ads since Amazon makes them automatically from your existing product listings.
Where Do They Appear?
Now, you may wonder whether you'll find sponsored products throughout Amazon.com. While you may notice "sponsored" text and an icon on the retailer's homepage, these brand ads usually don't promote one specific product. Instead, these are other types of sponsored ads, known as sponsored brands or product display ads.
Don't worry if you're not aware of the exact details at this very moment. What matters is that sellers understand that there are several types of Amazon ads. Yet, the sponsored product ads are easy to identify because they only display in two places—on search results and product pages.
Now, suppose you were a new buyer on Amazon. In that case, you might look at these sponsored product ads without realizing that they're advertisements at all. Sponsored brand ads and sponsored display ads, on the other hand, stand out more. And although those forms of ads are exceptional for branding, it's the sponsored product ads that generate the most sales for Amazon Sellers.
Can Anyone Build Amazon Sponsored Product Ads?
Amazon is more restrictive with some types of ads than others. Fortunately, sponsored product ads are available to professional sellers that meet a simple set of criteria. Most sellers who have 90 days of history on the platform likely already qualify to create product ads.
So, what criteria should you meet as a seller that wants to build ads?
First, sellers must have an account in good standing, with a valid payment method, and can only create ads in countries that they ship to. Simple enough.
Next, you must have a professional seller account. If you began with a basic seller account, now's the time to upgrade. Alternatively, you can also be a vendor or Kindle Direct Publishing (KDP) author to build product ads.
Finally, Amazon considers the products sellers promote while determining whether they can build ads. Sellers must not promote used, refurbished, or adult products. In addition, the seller's products must be Buy Box eligible and within specific sales categories.
What's The Connection Between Sponsored Products Amazon And The Buy Box?
The Buy Box is a product page section where a customer can add an item to their cart or "buy now." Most customers on Amazon use these buttons to place their orders. But if multiple sellers provide the same things, which one makes a sale whenever a buyer uses the Buy Box?
The seller with the highest ranking for that Amazon product receives the Buy Box orders to answer this question. Sometimes, multiple sellers rotate, but most often, it's one seller that makes the most sales. Learn more about the Buy Box.
Now, what's the connection between sponsored products on Amazon and the Buy Box? Well, Amazon doesn't let sellers build ads if they do not control the Buy Box. If a seller could create ads for every product on Amazon, they would spend money promoting products that don't make the advertiser sales.
Should Amazon Sellers And Vendors Create Sponsored Product Ads?
The question isn't whether you can afford to create sponsored product ads, but rather whether your business can afford not to create ads on Amazon. Whereas advertising on other platforms doesn't always generate business profits that sellers expect, the same is not valid for Amazon. Sponsored Products are the most popular ad type because they generate revenue for sellers.
By creating a sponsored product ad, Amazon seller's products appear in the search results of Amazon.com. There are millions of people searching for products there every day. And it's this visibility that brings new business to product sellers.
Consider this, when people search on Amazon for something, chances are they're going to buy. It all comes down to a buyer's journey. Searching on Google or Facebook isn't as valuable for product sellers because most people on these sites are at an earlier stage in the buyer's journey.
However, most buyers start shopping on Amazon once they know what they want to buy. They research a brand and products before even visiting Amazon.com. Since buyers are at a much later stage in the buyer's journey while searching on Amazon, you have a higher chance of making a sale.
So, if you want to target people who are ready to make a purchase, you can't forgo Sponsored Product Ads. Plus, by comparing other ad platforms with Sponsored Products by Amazon, you realize they're a great deal. Amazon product ads are inexpensive, simple to make, and require no technical skill.
With that in mind, why not build ads on Amazon? And even if your team prefers to handle the business's day-to-day operations while leaving marketing to someone else, you can still access Amazon PPC management services that make advertising your products simple.
How Does Amazon Charge For This Form Of Advertising? Here's The Amazon Sponsored Products Cost
Amazon Sponsored Product ads follow a pay-per-click (PPC) model. With PPC ad campaigns, you only pay Amazon when a buyer clicks your advertisement. Sellers can expect to pay around $.03 to several dollars whenever someone clicks their ads.
It's helpful for advertisers on Amazon to understand how its PPC pricing works. At any time, several sellers are competing for top ad positions.
Amazon determines ad positions on how much a seller wants to pay per click of their advertisement. However, the top advertising bid will only exceed the second-highest bid by one cent, even if the seller is willing to pay more. For this reason, there's a range of prices you can spend per ad click, which all depends on the level of competition.
Amazon Sponsored Product Strategy For Improving Organic Rankings
It's hard to argue more sales shouldn't lead to higher product listing rankings on Amazon. After all, Amazon is in the business of selling products to consumers. Why not first show products to buyers that they're most likely to buy?
Therefore, sales of a product in a specific category or from a particular search term imply that the item is relevant to buyers. Thus, on Amazon, sales impact organic listing rankings. But the secret is that it doesn't matter whether sales come from advertisements or organic searches.
Thus, sellers who are launching new products should consider creating an Amazon sponsored product campaign. As buyers see ads for the product, they'll purchase more. Whenever a seller makes a sale, their product will see an improvement in its Amazon ranking.
So, if sellers want more customers to find their products, they should focus on Amazon SEO and PPC. Both will help buyers find more of your brand's products. Plus, your new products can quickly rank up without the need to join the Vine program.
What Should Sellers Do Before Creating Ads On Amazon?
Creating an ad on Amazon doesn't guarantee sales. Instead, sellers must focus on fundamental SEO practices that set them up for success. The more sellers concentrate on creating exceptional product pages, the easier it will be to make sales from sponsored products on Amazon.
But why is SEO on product pages important for ad campaigns? There are two reasons sellers must consider SEO while adding product listings to Amazon.
It Improves Keyword Reach
Do you ever wonder why you do not see misplaced ads on Amazon? Usually, the perfect ad appears on keyword searches and within product pages. For example, if a buyer searches for a beard shaving kit, Amazon will never show an ad for frisbees on the search result page.
The main reason why ads are so relevant to search terms and products on Amazon is listing optimization. Amazon does not allow sellers to create ads for keywords or products unrelated to the seller's listing. Therefore, sellers should optimize their product pages with relevant keywords and product information.
It Leads To Better Click-Through Rates
Every element of your product comes together to help prospective buyers make a purchase decision. SEO focuses on all the individual components, like your product images, descriptions, and reviews, to compel individuals to buy.
When you improve the SEO on your product pages before running ads, you'll notice higher click-through and conversion rates for both your products and your advertisements.
Ready To Build Your Amazon Sponsored Ads?
As an Amazon seller, vendor, or book publisher, Amazon sponsored ads provide a simple way to promote your products to the world. Of course, there's a lot to know and set up before building your first ads. However, once you know the process, it's simple to promote your brand on keyword search and product listing pages.
If you're ready to build successful Amazon ads, let's begin today! Here's Sunken Stone's 2021 Amazon Advertising Strategy Guide, which covers everything sellers should know about promoting products on Amazon.com. Download your copy today and begin creating high-converting ads like the pros.
Do You Feel Like Your Amazon Business Is In A Rut?
You're not alone. Many businesses find it difficult to scale on Amazon. That's where we come in. We are a top-tier, turnkey, performance-based Amazon marketing agency that can help you take your business to the next level.
We have a proven 4-pillar process that helps businesses achieve higher sales, AOVs, ROIs, and other 3-letter acronyms. Let us show you how we can help you achieve the same success. Click here to schedule a call with a strategist.
Request A Free Proposal
Are you tired of losing sales to your competition on Amazon? It's frustrating for otherwise successful brands to underperform on the leading eCommerce platform.
Sunken Stone will help you find a solution to increase your profits on Amazon. Click "Request My Proposal" below to receive a customized roadmap to beat your competition and uncover new areas of opportunity for increasing sales.
---
Frequently Asked Questions
Why Are Amazon Sponsored Products Important?
Sponsored products help sellers generate revenue by promoting their physical and digital goods on product listing and search result pages. They're an affordable yet effective way for sellers to generate interest in their products for a price.
Why Are Amazon Sponsored Products Important?
ASINs are the unique identification numbers that Amazon uses to track inventory. Whenever advertisers target ASIN codes, the ads appear on scrolling carousels that buyers find on product pages.
How Much Can I Expect To Pay On Ads?
Sponsored product ads on Amazon cost anywhere from a few cents to $5 or $6 per click. The more competition for a keyword or product, the more you'll pay when a buyer clicks your ad.
How Can Sellers Tell Whether Their Campaigns Are Successful?
Track metrics like Advertising Cost of Sale (ACoS), Return on Ad Spend (ROAS), Cost Per Click (CPC), and Conversion Rate (CVR). These metrics will help you decide whether product ads are suitable for your business.