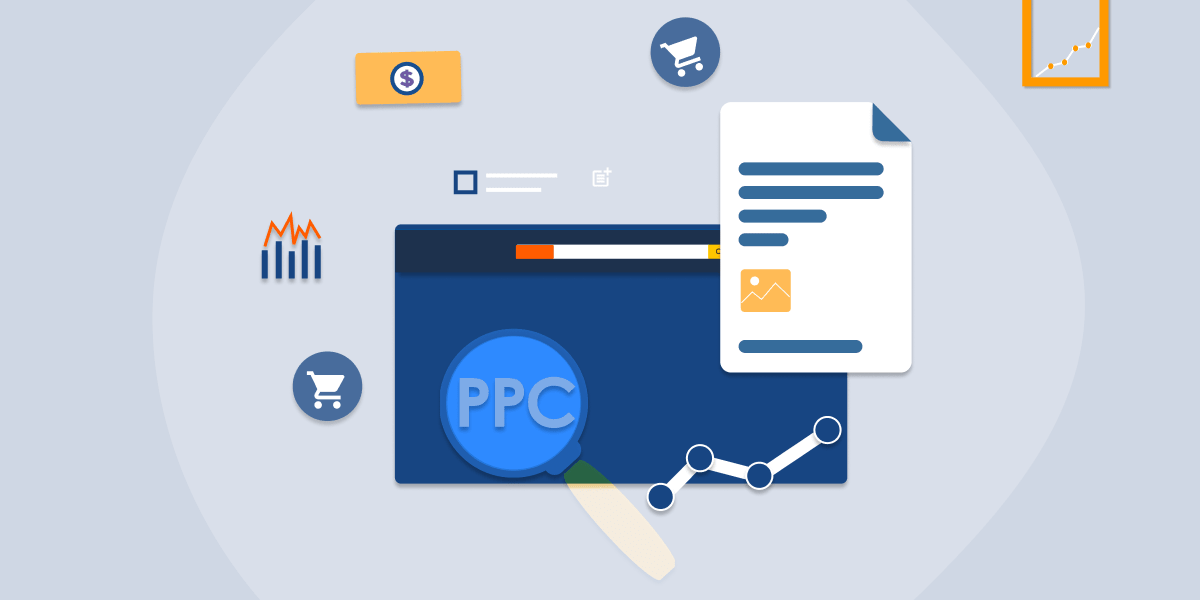 Leverage Amazon PPC In Full: The Complete Guide [2022]
Leveraging Amazon PPC advertising is crucial to increasing your product sales, but there's a ton to getting it done properly with the platform still on the rise (and more competitors than ever). It requires the seller or vendor to have a defined Amazon PPC strategy.
It might be relatively easy to create your first ad campaign, but one needs to master how to use Amazon PPC for sustainability, increased sales, and profits. A good Amazon PPC strategy will enable the vendor to succeed in advertising on Amazon.
What Is Amazon PPC?
Amazon PPC is also known as Amazon pay-per-click. It involves a unique advertising model where the advertiser will pay a fee to Amazon when a shopper clicks on their ad.
The advertisers have an advantage because they will only pay when the shopper clicks on the ad, not when the shopper sees the ad. Instead of charging per impression, Amazon PPC ads require a prospective buyer to take action.
Types of PPC
Amazon PPC ads can be categorized into three types:
Product display ads
Sponsored products
Sponsored brands
Now let's look at the categories individually.
Sponsored display ads enable advertisers to reach the right audience on and off Amazon. They are the products that send users to the product detail page on Amazon. Ideally, with sponsored display ads, any shopper who visited specific products on Amazon can receive relevant ads while on Amazon or external websites.
Amazon sponsored product ads promote your product listing's sales and visibility on the Amazon search results page. They are the most popular ads on Amazon and use keywords and ASIN (Amazon Standard Identification Number) to promote individual products.
Sponsored brands are ads that allow advertisers to promote a brand logo, a custom headline, and multiple products. The ad features up to three products and aims at sending shoppers to their Amazon stores page or Amazon custom landing page.

Lately, there are video ads that direct users to the product detail page.
Who Can Use Amazon PPC Ads?
Amazon PPC ads are available for use by both sellers and vendors. However, Amazon stipulates that sellers should first enroll in Amazon Brand Registry before using the Amazon PPC ads.
On Amazon, a seller can also be called a third-party seller. They sell products directly to customers on Amazon.
On the other hand, a vendor can also be referred to as a first-party seller. Vendors usually sell their products in bulk to Amazon, and then Amazon will sell to its customers.
>> REQUEST A FREE PROPOSAL: Take 30 seconds to request a proposal and receive a customized roadmap to skyrocket your sales, beat your competition & make your brand thrive on Amazon.
Why PPC Advertising Is A Valuable Growth Tactic For Amazon Sellers
Amazon is a competitive marketplace where sellers are always fighting to get to the top of search rankings and get their brand name out there, so Amazon PPC ads are a great way to "short" the process. Successfully running an Amazon PPC ad campaign can bring a lot of benefits.
Using a well-run Amazon PPC strategy, vendors and sellers can benefit from increased sales, improved organic rankings, and improved brand awareness. Advertising is a vital element of operation for any business on Amazon.
Compared to other advertising models, Amazon PPC is the most effective as it enables you to reach the right shoppers. They are shoppers on Amazon who eventually make purchases.
Advertisers using Amazon PPC have the advantage of promoting their products with highly visible placements on Amazon. The ads will appear on desktop and mobile browsers and the Amazon app.
The good thing is that Amazon PPC allows advertisers to choose from the various Amazon ad types based on their needs. It also allows them to set and scale their budget easily.
Amazon PPC also provides sellers and vendors with various detailed reports to inform them on how the advertisements perform. It gives a sound basis for the modification of the Amazon PPC strategy.
Various methods are available for advertisers to use. They can use keywords, categories, brands, ASINs, and can also remarket on external websites. All Amazon PPC methods ensure that the ads reach the right audience.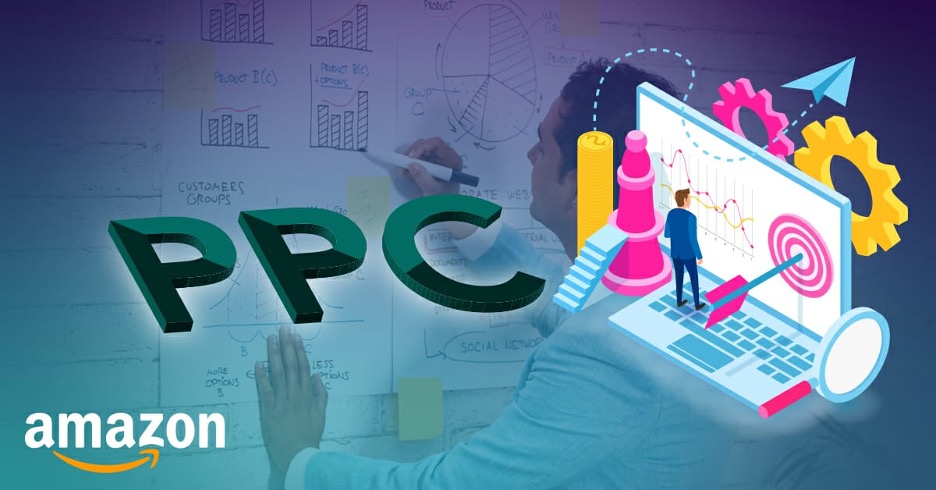 How Amazon PPC Pay-Per-Click Works
So, how exactly does Amazon PPC work? Ideally, the advertisers determine their expenditure on the ads because they control the amount they pay per click.
The whole process happens in a model referred to as a second-price auction. Every advertiser submits their bid; that is, the amount they are willing to pay per click on the ad.
The highest bidder emerges the winner of the highest ad position, that is, ad rank #1. As a result, the highest bidder pays the highest cost per click (CPC). However, they do not pay the amount they bid.
The highest bidder pays only $0.001 more than the second-highest bidder.
So when does Amazon charge?
For instance, if Advertiser 1 bids $2.50, Advertiser 2 bids 3.90, and Advertiser 3 bids 2.00, Advertiser 2 will win the auction with a bid of $3.90. If anyone clicks on Advertiser 2's ad, Amazon will charge Advertiser 2 $2.51.
The same applies to the subsequent ranks. For instance, if a shopper clicks on Advertiser 1's ad, Advertiser 1 pays $2.01.
Getting Started With Amazon PPC: The 6 Steps All Sellers Should Take
If you've chosen to invest in Amazon PPC ads, there are six steps that you should always take prior to launching your first ad. Here's how to set up your account the right way.
Step 1: Starting The Campaign
After you set up the Seller Central account, log in. On the home page, you will hover over "Advertising," which has a menu with two options; Campaign Manager and Promotions.
Select the "Campaign Manager" option.

Step 2: Campaign Budget & Duration
There is a prompt for you to set up the campaign budget and duration on the campaign manager page. It is a relatively straightforward process.
Some of the things to consider at this stage include:
Naming Your Ad Campaign
Always remember that multiple ad groups can be part of a single campaign. It is therefore advisable to settle for a broad campaign name.
The idea is to have the ad groups linked to the campaign. For instance, when selling ladies' sneakers, you can name your campaign "Ladies Sneakers," then name the ad groups "Ladies Fashion Sneakers" and "Ladies Running Sneakers."
Remember that the names are for your reference alone. No one externally will see your Amazon PPC campaign names.
Setting the Budget
The most important thing to remember is that your Amazon PPC daily budget adds up pretty fast. Therefore, you have to be as careful as possible to ensure that the ad campaign is not expensive.
An Amazon PPC daily budget of $30 will amount to $420 in two weeks. The advertiser needs to set up a monthly budget before they can determine the daily budget.
Campaign Period
The best practice is to choose an end date rather than leaving an Amazon PPC campaign open. The end date helps you in case you will get busy with another project so that you do not have to spend dollars without realizing it.
Ad Targeting
Amazon PPC advertisers have two options to choose from for ad targeting.
First, 'Automatic targeting," which allows Amazon to auto-generate keywords for your campaign based on the product being advertised. It is beneficial for advertisers interested in data only from customer searches.
"Manual targeting" will allow the advertisers to pick the keywords to use in the ad campaign.
After you complete entering ted tails, click on "Continue to next step."
Step 3: Naming The Group Of Ads
Remember that you will be able to add multiple Amazon PPC ad groups to the ad campaign. You will therefore need to pick a name that distinguishes it from other ad groups.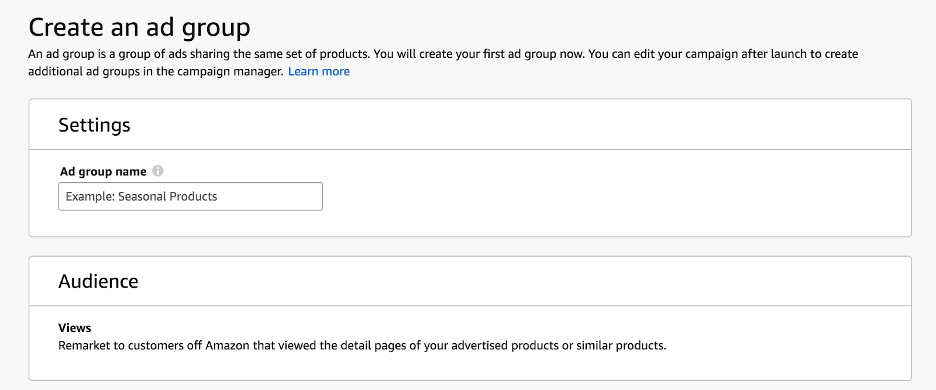 Step 4: Choose The Product You Want To Advertise
Amazon allows you to choose only one product for every campaign.
Step 5: Budget
The advertiser then chooses how much they are willing to spend on every keyword. Typically, setting the daily budget and keyword bid plays a role in determining the number of clicks the ad gets in a day.
For instance, if you set the daily budget at $15 and the keyword bid at $1, you will only receive fifteen clicks on the ad per day (if indeed your bid will cost $1).
The best thing to do is to set amounts that will result in maximum effectiveness.

Step 6: Choose The Keywords
Choosing Amazon PPC keywords is one of the most crucial yet tricky parts of the ad campaign. Based on the products, Amazon offers suggestions on the keywords to use.
Advertisers who do not have their keywords ready can choose from Amazon's list of suggestions. As you pick, the keywords appear in the box below.
If the advertiser has ready a list of keywords, they can click on "provide your own keywords." The next step is to enter one keyword in each line.
You may also need to choose whether to match the keywords on a "Broad" basis, "Phrase" match, or an "Exact" match.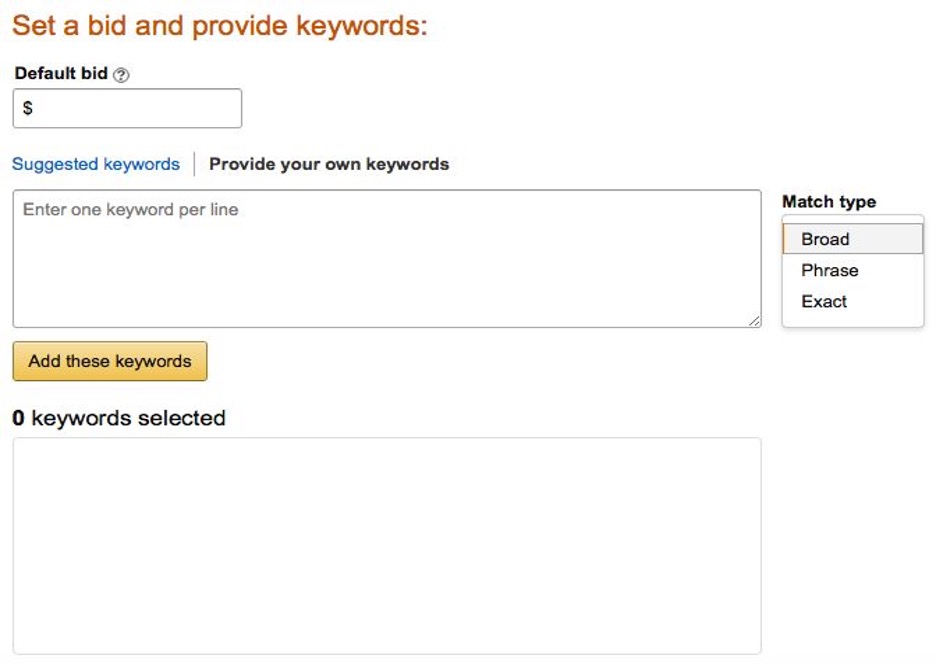 After entering the keywords, click on the save and finish button at the bottom of the screen.
The next page is the Campaign Manager page which shows a "Success" message. A new campaign may take approximately an hour before it starts appearing in searches.
---
The process of running ads on Amazon always starts with these setup steps in mind. As a best practice, try to stay as close as possible to these configurations for your account as well.
How To Get The Most Out Of Your Ad Spend On Amazon
Advertising on Amazon is all about your ROAS or Return on Ad Spend. This can be measured by looking at the revenue attributed to the ads minus how much you're spending on them.
The advertiser, therefore, needs to conduct frequent audits to determine how the Amazon PPC ads are performing. The general Amazon pay per click Audit steps include:
Checking the performance metrics
Assessing the campaign structure
Auditing ad groups
Evaluating ad targeting
Analyzing the keyword targeting
Reviewing the product listings
Optimizing bids
Check The Performance Metrics
Performance metrics include cost per click (CPC), impression, clicks, advertising cost of sale (ACoS), Return on advertising spend (ROAS), click-through rate (CTR), and sales.
Every campaign has performance metrics that you need to check. The best thing to do is to establish a decent timeframe from which you will examine each performance metric.
For instance, instead of looking at ACoS from the past week, consider one month or quarter. The best practice is to use the same timeframe in analyzing all the performance metrics.
Generally, Amazon recommends that advertisers using automatic targeting can look at campaigns with at least two weeks of data. It would be best for those using manual targeting to consider the search terms' monthly search volume when deciding on a timeframe.
If your search terms have a monthly search volume of 1000, they can generate enough data within two weeks. You will use the data to carry out an early assessment of your Amazon PPC performance.
If you sell products that can be affected by seasons or holidays, you also need to consider them. For instance, someone selling winter clothing will do well in winter than in the summer. It would be best to set separate benchmarks or performance targets for such seasons.

Assess The Campaign Structure
Typically, a campaign that is not well-planned can lead to expensive and underperforming ads. Therefore, advertisers must evaluate their campaign structure.
Advertisers auditing their Amazon PPC campaign's structure should highlight the following:
Objectives of the campaign – identify the products advertised by the campaign and the desired audience
Whether the campaign follows a naming structure that everyone can follow
The type of targeting used by the campaign – whether automatic or manual
If a business creates a campaign called the "Baby – Shoes – Automatic Targeting" campaign, someone logging into the account will easily understand that the campaign uses automatic targeting for advertising baby shoes.
If the same campaign features an ad group called "Babies' Trousers," it is a red flag. The "Babies' Trousers" group can belong to another campaign, like "Clothing – Babies – Automatic Targeting."
Audit The Ad Groups
After you complete checking the pay-per-click campaigns, the next thing is to look at the ad groups. Ad groups serve like subfolders in ad campaigns.
Generally, ad groups in a given campaign need to be related. The most important thing to note is that every campaign remains in its area of focus and does not leave to join other areas. For instance, Clothing – Babies – Automatic Targeting does not enter other territories like baby shoes.
Some of the areas to check when assessing ad groups include:
The naming structure – does it follow a pattern that everyone can follow?
Campaign's objective – do the ad groups match it?
If any of the areas are not in line, advertisers have to revise their ad groups. They may have to move some ad groups or rename some so that they match the naming structure.
It may be easy to rename ad groups, but the best thing for advertisers to do is wait until they get through with the Amazon PPC audit before they start renaming or relocating. The idea is to make all changes at once.
Evaluate Your Ad Targeting
There are two types of ad targeting:
Automatic targeting – Amazon oversees and manages keyword targeting based on the product's listing optimization.
Manual targeting – advertisers manage and oversee their keyword targeting based on the keywords they upload.
Amazon recommends that brand new campaigns use automatic targeting. However, a well-conducted Amazon PPC audit will evaluate the potential benefits of changing the approach from automatic to manual targeting.
Manual targeting offers advertisers a rare chance of having more control over the keywords. Advertisers can even upload negative keywords.
Negative keywords prevent your product from appearing among results on searches that will not benefit your business.
Analyze The Keyword Targeting
Amazon PPC audit evaluates the keyword targeting regardless of whether advertisers are using automatic or manual targeting. The keyword targeting data is available in Seller Central. Advertisers can access it by opening the search term report.
The report showcases results based on various metrics, including cost per click (CPC), impression, clicks, advertising cost of sale (ACoS), click-through rate (CTR), and sales.
On opening the report, advertisers should check out any strange patterns between the metrics. For instance, is there a search term with zero clicks but a notable amount of impressions? Is there a search term that generated no sales but had way too many clicks?
They may have to add such keywords to the negative keywords list. Uncommon happenings between the metrics may suggest that the listing needs some work.
The search terms' performance can be improved by optimizing the product listing's title (to increase the click-through rate). The advertiser can also expand the keyword targeting to increase impressions and clicks.
Another vital component that advertisers should check out is duplicate search terms. Usually, duplicate search terms occur when there is an identical keyword with different match types.
Review The Product Listings
Evaluating the product listings works hand in hand with keyword targeting assessment. Some keywords may drive clicks and traffic to the product listings but result in zero sales.
If the keywords are in line with the product and what it provides to the shoppers, there might be an issue with the product description, features, and images. The advertisers may have to revise them.
You may also have to work on editing the title. All the editing works to improve conversation rates.
The reason for zero sales might be that the product description does not show the product's real value to customers. The product listing may also not be featuring high-quality images.
The advertisers may also have to compare your product page with competitor pages so that they can identify where their listing falls short.
Optimize The Bids
Typically, Amazon PPC campaigns with automatic targeting feature a single bid for each ad group. Campaigns with manual targeting feature one bid for each keyword.
When evaluating the Amazon pay-per-click campaigns, advertisers may consider changing from automatic targeting to manual targeting. Looking at the bids may involve studying the following:
Keywords that result in the most cos-effective sales
Keywords that result in the most cost-prohibitive sales
Advertisers would usually focus on keywords that generate more profitability. Cost prohibitive sales mean that the company is overpaying for sales, which in turn hurts the ACoS (Amazon Average Cost per Sale).
The best thing to do is optimize the cost-per-click bids, putting more effort into keywords that generate the most profits. The keywords have a higher return on investment and can optimize ad campaigns even more.
First, the advertisers need to understand that testing the bids is critical for CPC optimization. The only time one needs to optimize the bids is after collecting enough data to determine whether to lower or increase keyword bids.
The advertisers need to set their target ACoS so that they can compare it with the actual ACoS. It makes it easy to determine how well the ads are performing compared to the intended profit margins.
To optimize the CPC, the advertisers can check out the following:
If actual ACoS > target ACoS
It will mean that the advertiser is spending too much, and may need to lower the bid. Lowering the bid will test if it is possible to lower the ad spend without causing a significant impact on the sales.
If actual ACoS < target ACoS
It means that the advertiser has a lot left on the budget. They may need to raise bids to test whether the ad will reach more shoppers. When the ad reaches more shoppers, it may result in increased sales.
If the keywords do not receive impressions
The advertiser may have to check the product category to ensure that it is correct. The keyword also needs to be included in the listing or backend keywords.
If the product category is correct, with the keyword well included, the best action to take may be to increase the bids and check whether a higher bid will make the keyword more active.
If there keywords that do not lead to sales for an extended period
Advertisers should check out for keywords that remain unprofitable even after trying to increase or lower bids accordingly. Such keywords need to be removed from the manual campaign and be added to the negative keyword list.
Increase Your Brand's Marketplace Visibility With Amazon PPC
So much of what's happening on Amazon today is kept within Amazon. The brand has so much power over the lives of millions of consumers that you can't avoid being on there as a brand.
Generally, Amazon ad campaigns lead to a direct response from shoppers, generating more sales and profits. Since the products will appear among the results on relevant searches, they will earn more clicks.
If the product listings page is well-optimized, there is a likelihood for more conversions. More people will purchase the product.
Additionally, Amazon pay-per-click campaigns offer companies a chance to build brands using display and search ads. The good thing is that advertisers can reach customers both on Amazon and on external websites.
Amazon has the largest database of online shoppers in many retail categories. As such, it is easy to target customers for remarketing using the available information on Amazon.
As such, companies using Amazon pay-per-click campaigns can benefit from increased discoverability, reach the most desired shoppers, find it easy to re-engage shoppers and build customer loyalty.
Bottom Line
Amazon PPC is one of the most effective ways to advertise on Amazon. Every advertiser needs to be knowledgeable about how Amazon PPC ad campaigns work. This Amazon PPC guide provides you with all the information you need.
However, you may also outsource to Amazon marketing agencies like Sunken Stone, a top-tier, results-driven Amazon marketing agency for growing eCommerce brands, that can reduce the learning curve and scale your profits to the next level.
Do You Feel Like Your Amazon Business Is In A Rut?
You're not alone. Many businesses find it difficult to scale on Amazon. That's where we come in. We are a top-tier, turnkey, performance-based Amazon marketing agency that can help you take your business to the next level.
We have a proven 4-pillar process that helps businesses achieve higher sales, AOVs, ROIs, and other 3-letter acronyms. Let us show you how we can help you achieve the same success. Click here to schedule a call with a strategist.
Request A Free Proposal
Are you tired of losing sales to your competition on Amazon? It's frustrating for otherwise successful brands to underperform on the leading eCommerce platform.
Sunken Stone will help you find a solution to increase your profits on Amazon. Click "Request My Proposal" below to receive a customized roadmap to beat your competition and uncover new areas of opportunity for increasing sales.
Frequently Asked Questions
Some of the products in my campaigns currently have longer delivery times. Do I need to make any changes to my campaigns?
If your products have a longer delivery time, here are few tips to help you optimize the campaign performance:

1) For sponsored products: select 'dynamic bids – down only' or 'dynamic bids – up and down'. The bidding strategies will consider the changes that may occur in conversion rate, adjuting your bid as required. If there are fixed bids, you have to change them manually because they do not auto-adjust.

2) For sponsored brands: you have to assess the keywords or product targeting strategies that work for your business. You may need to increase bids for strategies leading to more conversions and lower the bids for underperforming strategies.

3) For catalogs with digital products like ebooks and music, your campaigns should contain ASINs for the digital formats so that shoppers can identify the readily available products.

4) For sponsored display, remember that bidding is dynamic, so bids will adjust automatically when there is a likelihood of conversion. You may reallocate the budget towards products that are generating the most sales.
How can I identify the right time to reactivate my sponsored ads campaigns?
You can take a few steps to restart your campaigns once your products are in stock.

Pick out the campaigns that you paused manually that had the best performance as per your set goals. Reactivate the ad campaigns and closely monitor them for a week. It will be easy to optimize based on recent trends.

The other option is to create new campaigns with replenished products and add more products to the campaigns as more products come back to stock. You will have to ensure that the detail pages have all the required information since they can directly affect the outcome.

Ensure that all the sponsored products are in stock and the campaign is displaying th featured offer. If any of the products do not meet the criteria, pause them individually and re-enable them when they do.

For sponsored brands, your priority should be on restarting campaigns that link to your store. You can also update the store so that it highlights the best performing products. Such information can be visible on the homepage.

For sponsored display, make sure to restart only campaigns with products that are in stock. You can prioritize products with the highest detail page views, especially if you are targeting the views. Generally, a product with more page views has a larger potential remarketing audience.
How can I manage my budget for sponsored ad campaigns?
You may have to observe a few things:

Set a daily budget for your campaigns. It is the amount you are willing to spend on the campaigns daily, and you can adjust at any time.

For sponsored products ad campaigns, choose 'dynamic bids – down only' or 'dynamic bids – up and down'. Selecting any of the strategies makes Amazon automatically lower the bid in real time if the ad is less likely to lead to a conversion.

For sponsored brands, there is a suggested bid and bid range feature. It provides you with approximate figures of bids that other advertisers have used for products like yours. You will be able to set bills that align with your objectives and needs.

Use the 'portfolios' feature. It will enable you to arrange campaigns by brand, business line, product category, or seasonal events. The good thing is that you will be able to set a budget cap across all the campaigns in the portfolio. It will help you control the total spend on the campaigns, and you can choose a recurring monthly budget cap. You can also set it based on the date range.
What if my metrics are showing enormous variations?
You can follow the following tips to manage your campaigns.

Closely monitor the performance of your ad campaigns for seven days. It will enable you to carry out optimization based on recent trends.

For sponsored products and sponsored brands, you may have to assess the keywords and strategies so that you can identify the ones that are leading to more sales.
You will have to increase bids for the strategies leading to more conversions and lowering for underperforming strategies.

With Sponsored Display, your bids adjust automatically based on the likelihood of conversion. Consider reallocating budget towards products generating most sales.

Some bidding strategies to use for sponsored products are 'dynamic bids – down only' or 'dynamic bids – up and down.' The bidding strategies can lower your bid in real time when Amazon realizes that the ad is less likely to lead to a conversion.