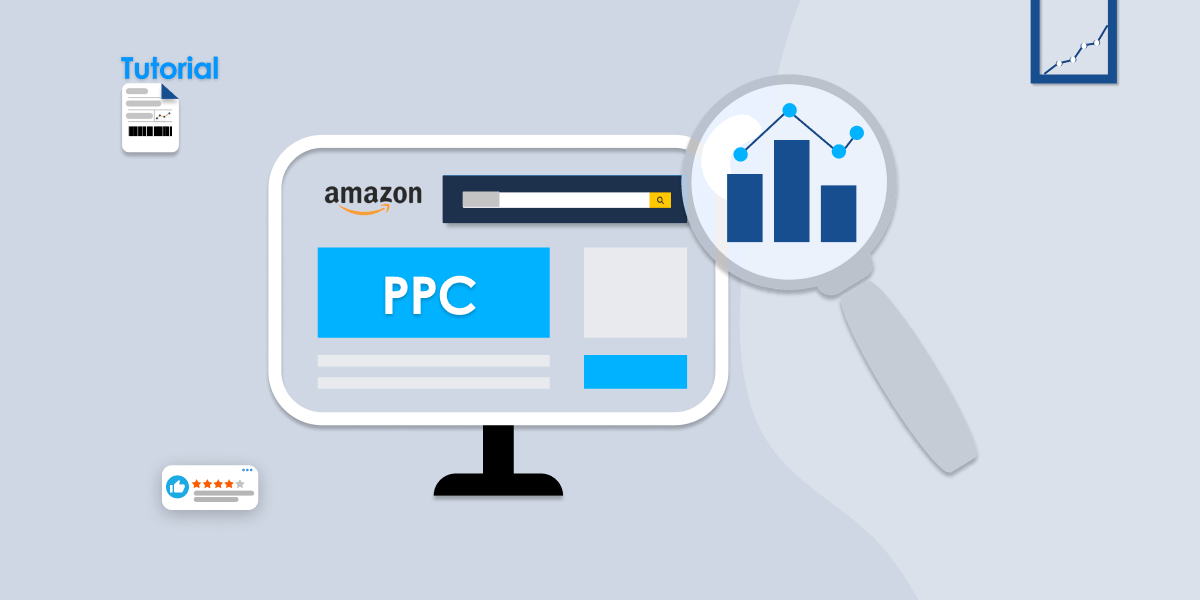 This 7-Step Amazon PPC Tutorial Will 10x Your Brand's Sales
Do you want to start advertising on Amazon, but do you need an Amazon PPC tutorial to know where to even begin? Have you been running amazon pay-per-click ads but know you need to optimize?
This step-by-step amazon pay-per-click tutorial will answer all of your questions and help you get your first campaign off the ground in less than 48 hours.
Whether you're looking to get into Amazon PPC for the first time or already have a campaign in place, the seven steps in this amazon PPC tutorial for 2021 will lead you to success with all of your campaigns. We will explain Amazon's pay-per-click advertising and essential steps like setting ad size, goals and targeting the right keywords.
After following this Amazon PPC tutorial, you will understand the marketing strategy and benefits of Amazon PPC.
>> DOWNLOAD NOW: Learn Everything There Is To Know About Advertising On Amazon With Our Ultimate Amazon Advertising Guide [PDF]
Understanding Pay-Per-Click Advertising
When you think of Amazon, often the last thing that comes to mind is advertising. However, the retail giant has become one of the largest advertising platforms in the world, primarily online. Did you know that the Amazon advertising revenue was $5.4 billion in 2020?
While Amazon still isn't a giant in advertising like Facebook and Google, the retail behemoth promotes its ad network and makes it almost essential for sellers to be involved.
So, what makes sellers attracted to Amazon pay per click? ROI (return on investment).
It is pretty simple; an amazon user enters a search term because they want to buy an item. They are ready to make a purchase. When running ads, products are more likely to show up for the user and convert into sales. The Amazon audience is here to buy, not just to research or discover.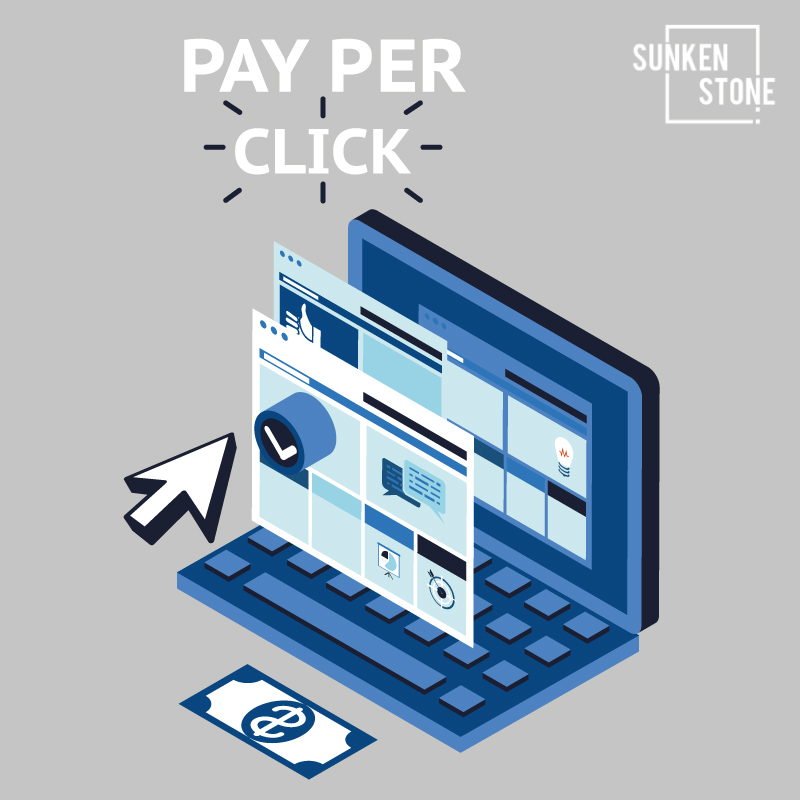 On top of this, the Amazon user base is multiplying. The growth is particularly visible in 2020 and 2021, during a retail boom related to COVID-19. As retail locations shut down, customers now go online to find their wares. As a result, in one year, 2019-2020, Amazon revenue grew from $69.98 billion to $96.15 billion.
Therefore, with a growing audience of shoppers, it makes sense to tap into PPC advertising from Amazon to ensure conversions and top placements.
Why Amazon PPC Is Different from Other Ad Networks
The concept of paid traffic originated around 2000, and PPC has grown into an effective method to grow businesses. One of the first and most recognizable is Google AdWords, now Google Ads. If you have searched for something on Google in the past 20 years, you have undoubtedly seen a Google Ad.
Twelve years after the PPC phenomenon began, in 2012, Amazon started to serve PPC alongside organic searches. Therefore, if you are searching for a product on Amazon, you will be shown an ad. Thus, Amazon and Google are similar in service but different in their goals.
The biggest difference? Google serves ads intending to get searchers to click on enticing options. Amazon aims to get customers to buy. Because of this, Google ranks most ads on CTR while Amazon bases ad rank on profit.
Our PPC Campaigns on Amazon a "Safe" Investment?
Yes, as long as you do it well, especially if your goal is to increase traffic to your Amazon products. Like most e-commerce, when you have effective PPC campaigns, it will help you improve your sales, and increase brand awareness.
If you are selling on the platform and aren't purchasing Amazon PPC ads, you could be missing out on a big opportunity.
A 7 Step Amazon PPC Tutorial To Make The Most of Your Ad Campaign:
This section of the Amazon PPC Tutorial for 2021 will review the seven essential steps to creating an outstanding campaign that drives attention to your brands and boosts sales of your products.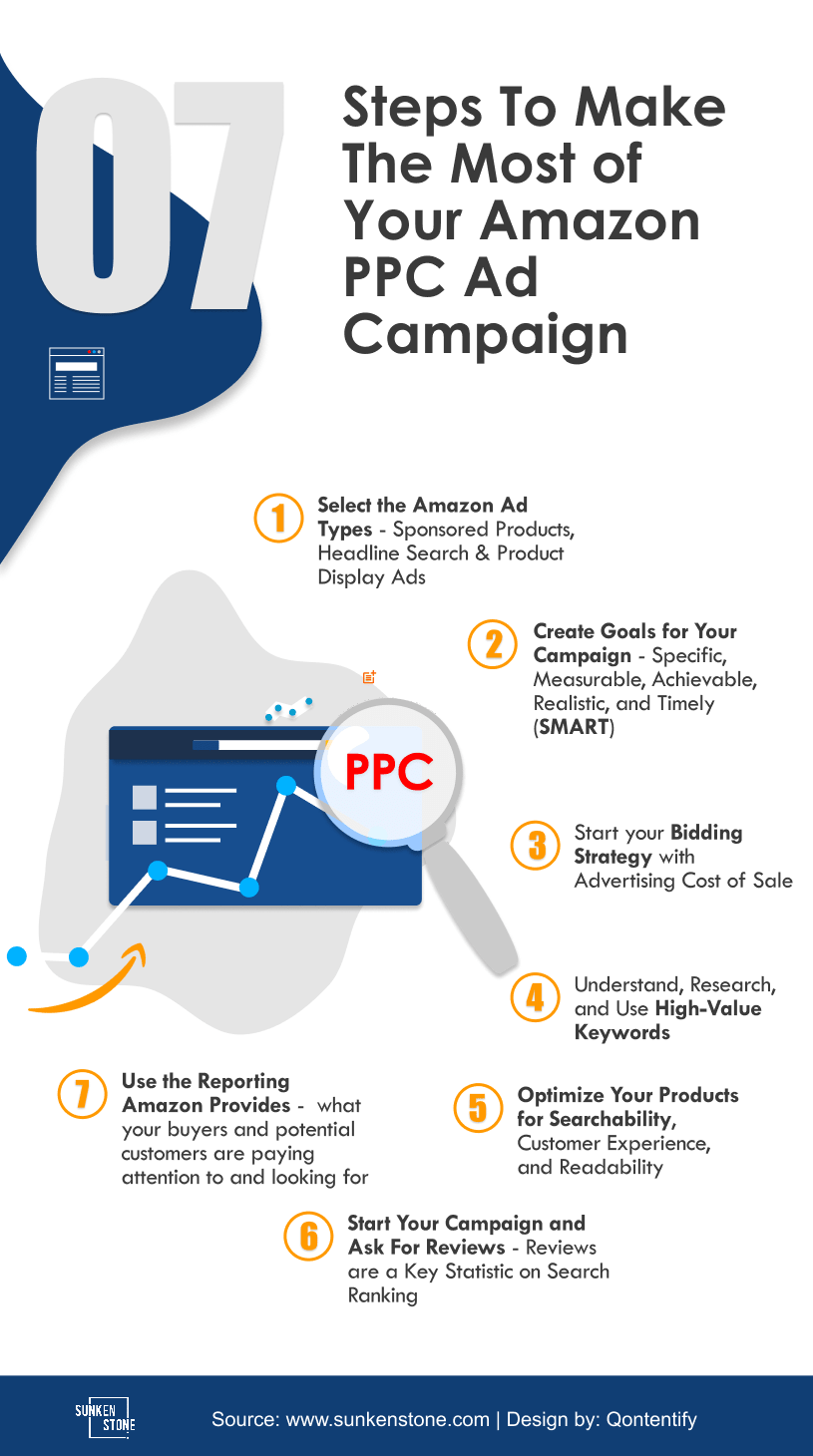 Step 1: Select the Amazon Ad Types
There are three types of ad types with the Amazon PPC program:
Sponsored Products: This ad type appears in the search results and after the first fold on the product pages. They are keyword-targeted and can promote only one single product. These ads are accompanied by product and keyword reporting to understand keyword relevance better.
Headline Search Ads: This ad type appears as banner ads above the search results. They are keyword-targeted and promote up to three products. These ads are accompanied by keyword reporting. The challenge here is that you only set the keyword related to the group of three products and can't tie it back to individual product sales.
Product Display Ads: This ad type appears after the first fold on product pages, listing, review, and related product detail pages. These are accompanied by campaign reporting to understand the overall success of your campaign concerning various KPIs.
As you can tell, there are various types of targeting for these ad types. But, first, you must understand keyword, interest, and product targeting with Amazon PPC ads:
Keyword-targeted ad: These ads are designed to target and display specific parameters related to search. What does that mean? When you search for something specific, the ad may show up. For instance, if the keyword you are targeting is "organic yoga mats," ideally, someone will see your ad when they type in that term.
Product-targeted ad: These ads are designed to target users when they visit a product page. These are particularly useful with competitive products when you want to target a competitor's listing. Likewise, these ads can be used to target items that complement your product well. For instance, you might want to target yoga clothing if you sell yoga mats, so your products appear alongside popular yoga items.
Interest-targeted ad: These ads are similar to product ads. They are displayed on product pages that relate to your product. So, as an example, you would target people interested in exercise, yoga, and more.
Step 2: Create Goals for Your Campaign
When it comes to goals, you should always ensure that your decisions are specific, measurable, achievable, realistic, and timely (SMART).
Here are a few examples related to an Amazon PPC campaign:
I want to sell out 100% of the inventory of a specific product before I start on another product in xx weeks.
I want to earn xx reviews in xx months.
I want to increase the sales of my products by xx% in xx months.
Your goals and ad types will shape your strategy. First, however, make sure that you have an outstanding buy box. Next, you may want to create goals to improve your buy box continually.
What is the buy box? The area on the right-hand side of the product page with information like:
It is simple. Combine competitive pricing with positive reviews, outstanding customer experience, a winning Amazon PPC campaign, fast ship time, and an enticing buy box to sell products on Amazon.
>> DOWNLOAD NOW: Learn Everything There Is To Know About Advertising On Amazon With Our Ultimate Amazon Advertising Guide [PDF]
Step 3: Start your Bidding Strategy with Advertising Cost of Sale
Before you start anything with your Amazon PPC campaign, create your ideal Advertising Cost of Sales (ACoS). This metric will help you to create a realistic, performance-based budget.
Start with the following factors:
Fulfillment by Amazon cost
After gathering these numbers, subtract the costs (bottom three items above) by the sales price to get your net profit. From here, calculate a break-even point to show how much of your profit you can spend on advertising.
Once you know this number, your budget, under "Advertising" in the AMS dashboard, can find keywords based on ACoS. This helps you to streamline your targeting and find profitable keywords.
Step 4: Understand, Research, and Use High-Value Keywords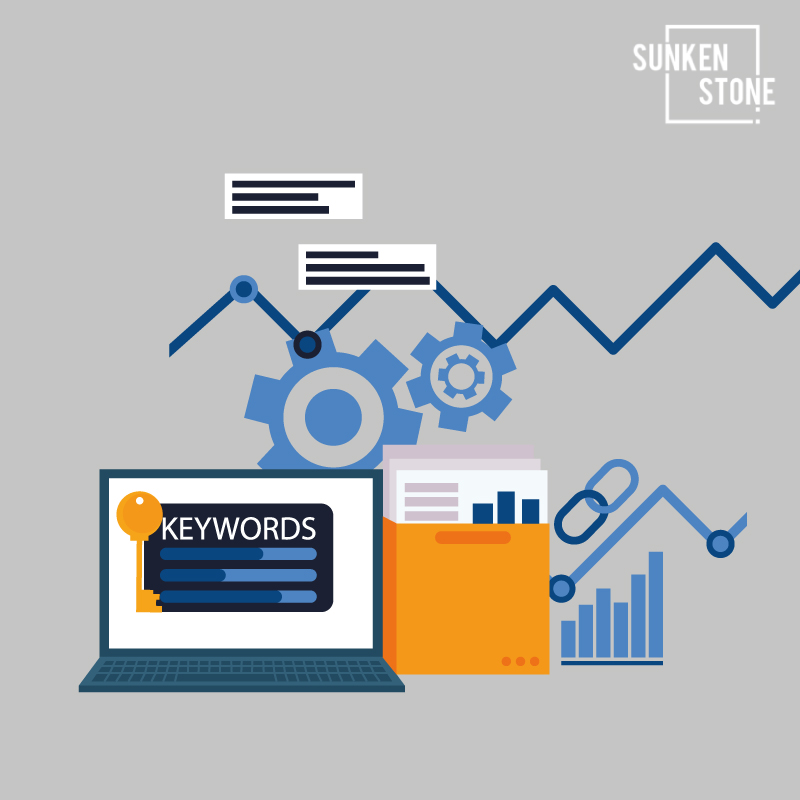 Regardless of the size of your business, when you first begin a campaign, the recommended Amazon setting for Sponsored Product and Headline Search Ads is always the "automatic targeting." Conversely, the recommended Amazon setting is "product-based targeting if you are using Product Display Ads."
After a few weeks of running the keyword-based ads, you will get valuable keyword data to optimize your ad targeting. Then, you can go into manual targeting once you know the keywords with the best ROI. Likewise, with Product Display Ads, you will gain a better sense of the products and can start to experiment with "interest-based targeting."
This is the best keyword research because it comes straight from Amazon. However, you can also do keyword research on your own. An excellent tool for independent study is something like keyword.io. You can also look at competitor listings and find keywords in product titles and descriptions.
Step 5: Optimize Your Products for Searchability
Before running Amazon PPC campaigns, ensure that your products are optimized for searchability, customer experience, and readability.
Analyze and optimize the following elements of your product:
Product titles need to be accurate and descriptive
Use at least five bullet points in the product description
Include only relevant and valuable information in the product description
Make sure that you are adding keywords from the Step 4 research. Then, after your campaign has started and you learn more keywords or relevant information, update your descriptions and titles.
These critical areas of optimization will improve your PPC campaigns and your organic search on the Amazon platform.
Step 6: Start Your Campaign and Ask For Reviews
For a quick tutorial on where, how, and what to do to set up and start your campaign, review this guide. You can handle the entire process on your AMS dashboard, and also if interested, you can gain certification from Amazon here.
Reviews are one of the most powerful statistics on Amazon, with 60 percent of buyers saying they read reviews before purchase. As well, the Amazon search algorithm uses reviews as a key statistic on search ranking. One great way to increase reviews is to send a shipping confirmation automated email that requests reviews and links people back to Amazon.
Step 7: Use the Reporting Amazon Provides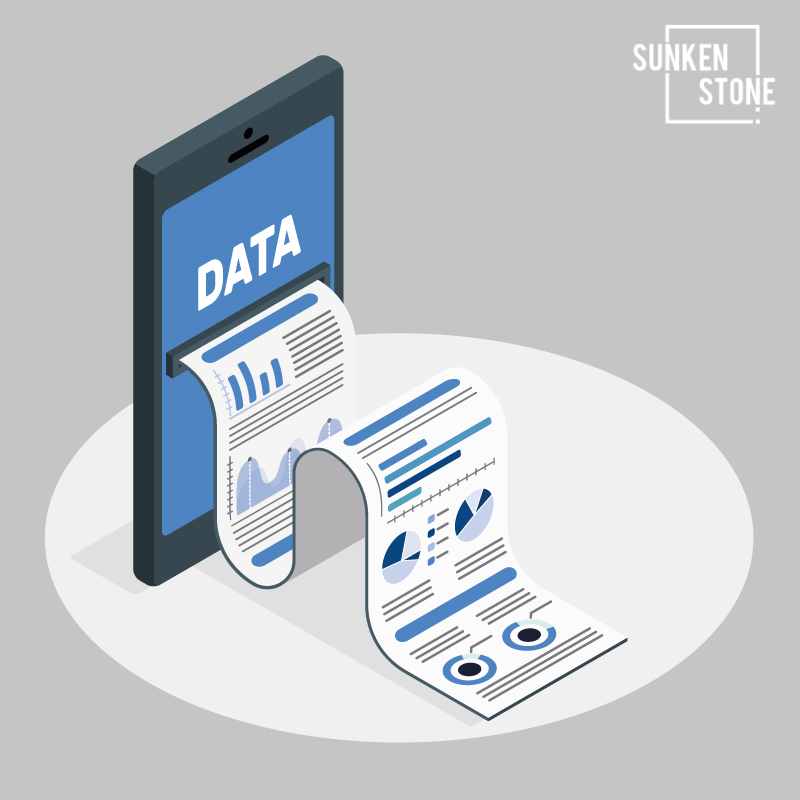 It can take just 15-30 minutes per week to review reporting. This small time commitment can completely change the trajectory of your Amazon PPC campaign. Understanding the search terms, keywords, products, and interests will allow you to improve your campaigns, product pages, and even titles. At a minimum, you should be pulling the search term report and understanding what your buyers and potential customers are paying attention to and looking for.
Frustrated with Your Amazon PPC Setup?
Doing PPC on Amazon can be frustrating and complicated.
Which ad type is best for your needs?
What is the best bid?
How do I create a budget?
Even worse, is this working?
Sometimes the results and opportunities are hard to see and understand. It would help if you got all the value possible from your campaigns to improve your products, especially when managing hundreds of products or millions of dollars annually.
A partner like Sunken Stone can take all of the frustrations out of the process, educate you on the best practices, and execute plans to ensure a great ROI. Leave the details to us and the profits for your account.
Do You Feel Like Your Amazon Business Is In A Rut?
You're not alone. Many businesses find it difficult to scale on Amazon. That's where we come in. We are a top-tier, turnkey, performance-based Amazon marketing agency that can help you take your business to the next level.
We have a proven 4-pillar process that helps businesses achieve higher sales, AOVs, ROIs, and other 3-letter acronyms. Let us show you how we can help you achieve the same success. Click here to schedule a call with a strategist.
Request A Free Proposal
Are you tired of losing sales to your competition on Amazon? It's frustrating for otherwise successful brands to underperform on the leading eCommerce platform.
Sunken Stone will help you find a solution to increase your profits on Amazon. Click "Request My Proposal" below to receive a customized roadmap to beat your competition and uncover new areas of opportunity for increasing sales.
---
Frequently Asked Questions
What is PPC Amazon?
PPC is an auction-based system built into Amazon Ads where an advertiser can bid on keywords, interest, and products to place various ad types.
How do you use PPC on Amazon?
As an advertiser, you need to sign up with Amazon Ads, start a profile, and set up ads (see Step 6 above). Then, as customers search for products, the advertiser or seller with the highest bid wins the auction, and their ads get listed based on the chosen placement.
How do Amazon PPC bids work?
This is best explained with an example. Let's say you bid on a specific keyword for three dollars, and your competitor bid one dollar. You would outbid your competitor, and Amazon would display your ad based on the ad type. 
Then, if someone clicked on your ad, Amazon would charge your account $1.01. Remember, Amazon only makes you pay when the ad is clicked, not displayed.
How do I optimize PPC on Amazon?
Pay attention, track, and understand your metrics and reporting. These are your tools to optimize your sales. Next, set goals, optimize your products, and tweak the campaigns. Ensure you follow the steps in this article for the top results