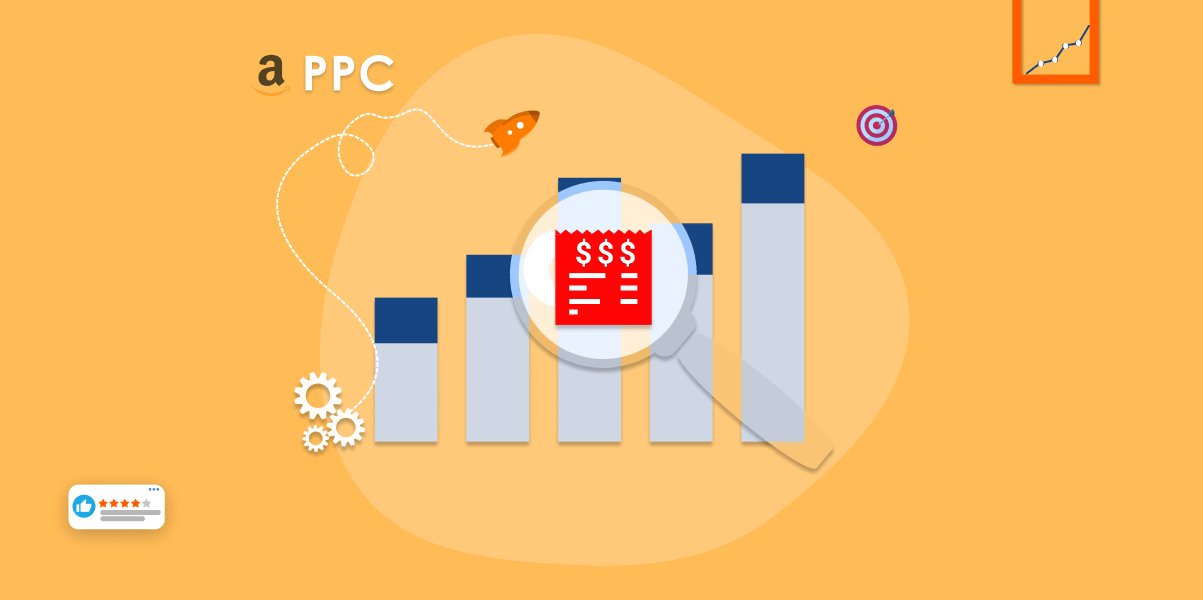 Here Are 12 Amazon PPC Experts To Skyrocket Your ROAS
PPC advertising is one of the most effective digital marketing practices that CPG brands selling on Amazon can leverage to attract high-quality traffic, and maximize sales. An effective PPC campaign can deliver targeted traffic, boost SEO efforts, and increase brand recognition.
However, Amazon PPC advertising requires technical know-how. Therefore, you need to keep up with the latest advertising trends and implement the best practices.
It's easy to waste your ad dollars on campaigns if you don't have niche expertise and years of experience. It takes an expert to set up an effective PPC campaign and skyrocket your return on ad spend (ROAS).
An Amazon PPC expert with years of experience knows what goes into an effective PPC campaign for Amazon CPG brands. Many moving parts go into Amazon PPC advertising, from keyword research to competitor research, plus landing page optimization and campaign tracking.
That's why it's crucial to enlist the services of a knowledgeable and experienced Amazon PPC expert.
Read on as we look at some of the options you can consider for PPC management.
But first, let's look at the Amazon PPC specialist job description.
>> REQUEST A FREE PROPOSAL: Take 30 seconds to request a proposal and receive a customized roadmap to skyrocket your sales, beat your competition & make your brand thrive on Amazon.
What Is An Amazon PPC Expert?
An Amazon PPC expert is a marketing specialist who manages pay-per-click advertising campaigns for Amazon brands. Amazon PPC specialists use data, analytical skills, and tools to set up PPC campaigns, analyze ad performance, and optimize outcomes from all PPC activities.
In other words, an Amazon PPC expert assists brand owners on Amazon to configure, launch and optimize pay-per-click ads across a range of platforms. These specialists are either in-house or work for agencies that offer PPC management services to eCommerce brands.
---
What Does A PPC Specialist Do?
A PPC specialist is responsible for a wide range of roles. Below are the significant tasks Amazon PPC specialists handle.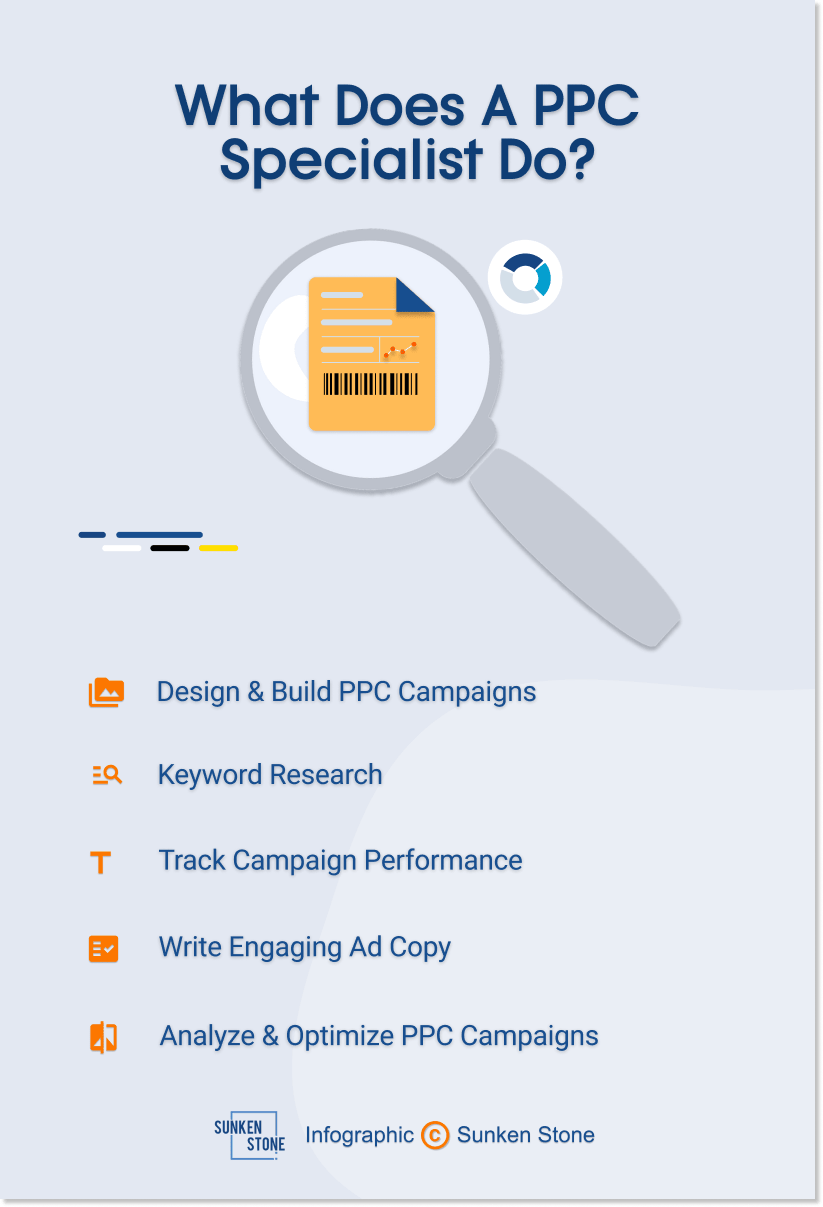 Designing And Building PPC Campaigns
Creating effective campaigns across various digital platforms is a crucial part of what Amazon PPC experts do. First, they'll research what you intend to achieve with your PPC campaign and then build a strategy focused on maximizing your return on ad spend.
Keyword Research
An Amazon PPC expert utilizes reliable keyword research tools to find converting keywords that you would never be able to. To successfully run an effective Amazon PPC campaign, you must perform keyword research to find converting keywords. If you use the wrong keywords in your PPC campaign, you'll end up wasting a lot of money on a fruitless campaign.
Tracking Campaign Performance
Once an Amazon PPC expert has launched a PPC campaign, the next step is to oversee the campaign to determine its performance. The primary objective of running a PPC campaign is to gain an edge over competitors and maximize sales.
There's no point in continuing to spend on a campaign that's not delivering the desired results. Therefore, a PPC expert will leverage third-party tools and analytical skills to track the performance of a campaign and make the necessary adjustments.
They will also generate periodic reports explaining how a campaign is performing to enable clients to make informed marketing decisions.
Writing Engaging Ad Copy
An Amazon PPC specialist leverages their technical know-how to create a compelling ad that can improve your campaign's click-through rate and increase conversions. Before creating ad copy, they will perform competitive analysis and study the audience to create an ad that will convey a focused message.
Analyzing And Optimizing PPC Campaigns
Amazon PPC specialists analyze the results of PPC campaigns and make adjustments to improve conversions. Some of the adjustments that PPC experts make to optimize PPC campaigns include changing keywords, adding negative keywords, and changing value proposition.
Unless you have the technical expertise and extensive experience in PPC, you should never attempt to handle the campaigns yourself. Instead, it's best to hire an Amazon PPC expert to assist you.
The Skills To Look For In A PPC Expert
Before you hire a PPC expert for your campaign, here are some of the skills you need to vet.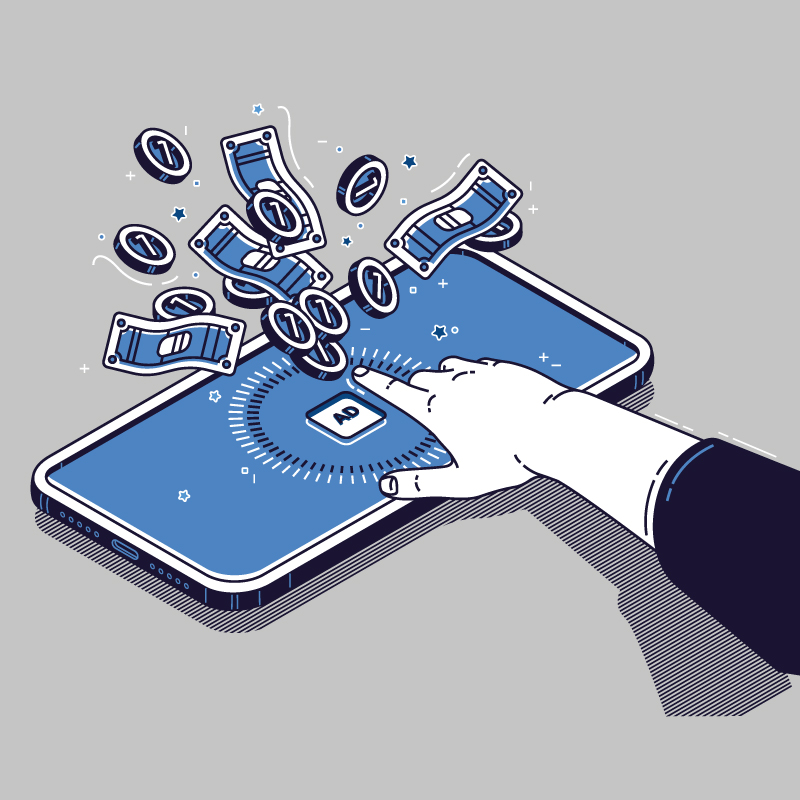 · Ad copywriting – PPC expert should utilize their writing skills to create compelling ad copy to improve click-through rates and sales.
· Communication skills – They should have impeccable verbal communication and writing skills to avoid misunderstandings.
· Strong analytical skills – They should analyze data and understand the bigger picture to optimize PPC campaigns.
· Creativity – PPC specialists should be able to rely on their skills to create attention-grabbing graphics, compelling calls-to-action, and creative brand messages.
· Attention to detail – Amazon PPC includes keyword targeting, geolocation targeting, match types, timing, and much more. A PPC specialist should pay attention to these more minor details to run an effective PPC campaign.
· Teamwork – A reliable Amazon PPC expert should collaborate with other marketing professionals to achieve the desired result.
---
12 Amazon PPC Experts For Your Next Ad Campaign
Amazon PPC Expert #1: Sunken Stone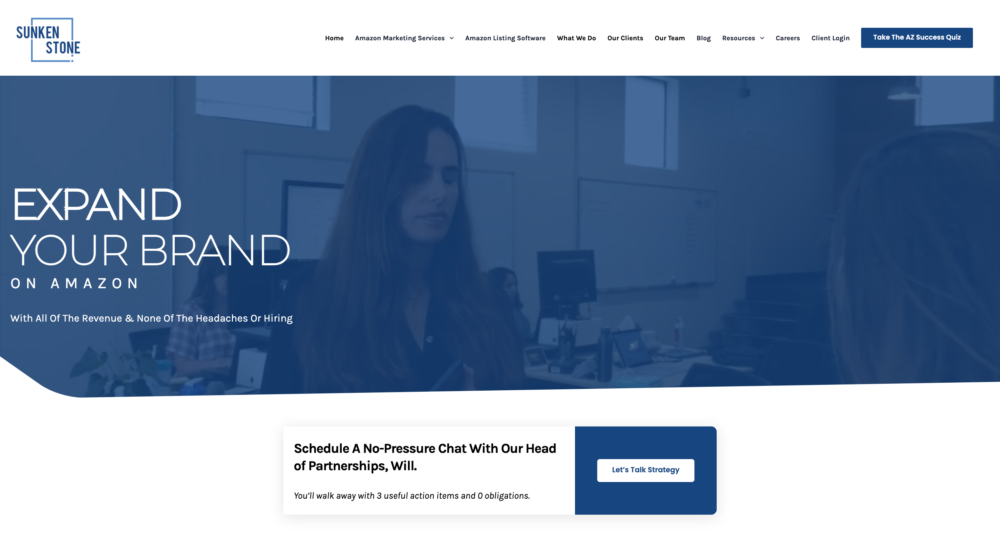 Sunken Stone offers reliable Amazon PPC management services to brands on Amazon and eCommerce brands. They have a team of experts who understand the ins and outs of advertising. The PPC experts at Sunken Stone have the expertise and experience to skyrocket your ROAS.
One of the strengths of Sunken Stone is to understand your advertising needs before building a strategy that will perfectly align with your brand and improve conversion rate.
Sunken Stone provides periodic reports showing how your PPC campaign is performing to help you make informed decisions.
Amazon PPC Expert #2: Kenji ROI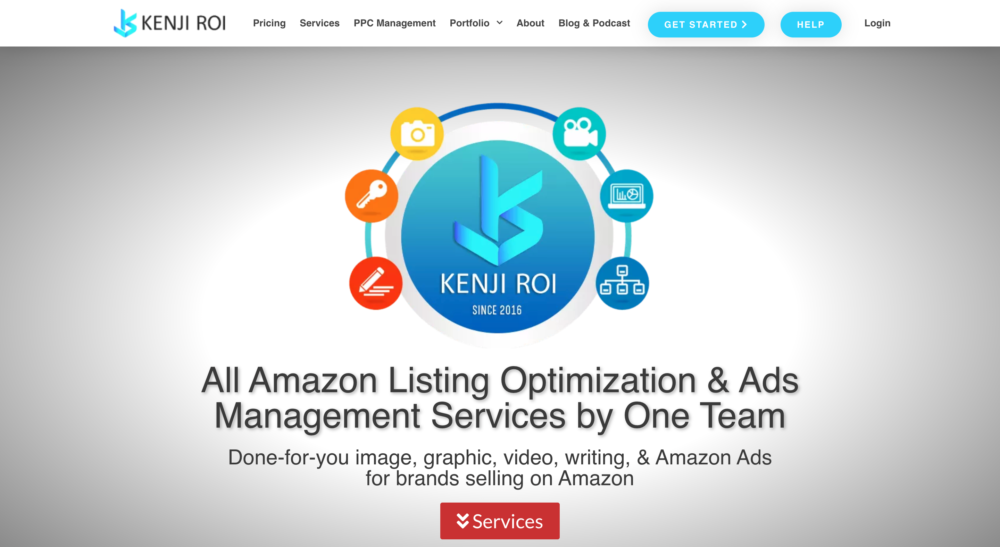 Kenji ROI provides PPC management services for brands whose revenue is $50,000 per month or more. This agency has an in-house team of PPC management specialists from the U.S.A and Canada.
Amazon PPC specialists at Kenji ROI combine Amazon PPC with a range of services, including A+ content, product photography, high-quality videos, and keyword research to optimize PPC performance.
Kenji ROI employs dynamic bid management, brand protection strategies, match type optimization, and waterfall campaign to skyrocket return on ad spend.
Kenji ROI serves Amazon brands whose revenue is at least $50,000 per month, while Sunken Stone provides services to all Amazon brands regardless of the size of their revenue.
Amazon PPC Expert #3: Perpetua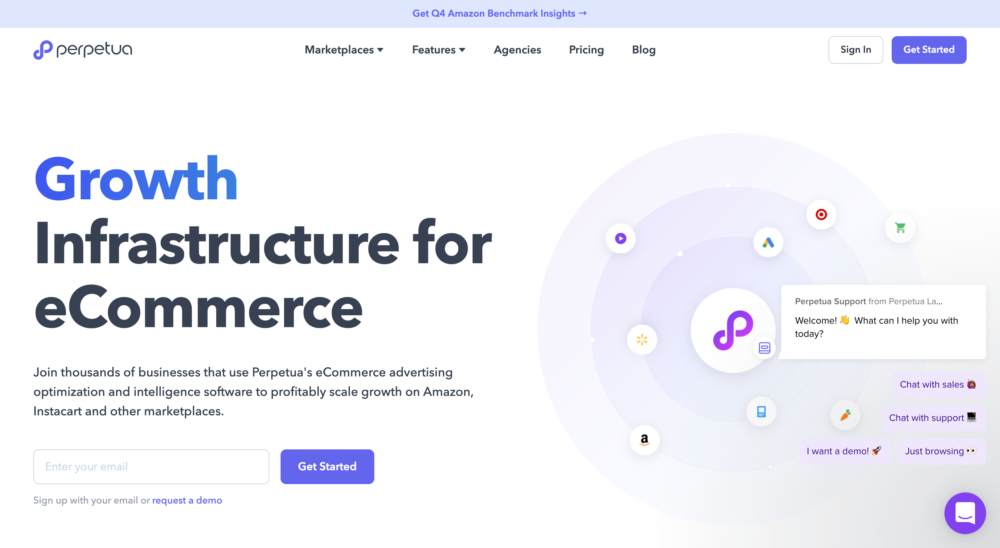 Perpetua is a PPC advertising software that CPG brands on Amazon can leverage to optimize their PPC campaigns. Unlike other agencies we've highlighted above, Perpetua executes PPC campaigns optimization automatically. You only need to input your objectives into the software and let it do the rest. This software utilizes AI-powered and customizable algorithms to optimize PPC campaigns.
The difference between Sunken Stone and Perpetua is that the latter is software powered by artificial intelligence and optimizes bids automatically. As a result, it's time-saving and more accurate than manual PPC management handled by dedicated account managers.
In terms of pricing, Perpetua's cheapest plan starts at $250.
Amazon PPC Expert #4: eStore Factory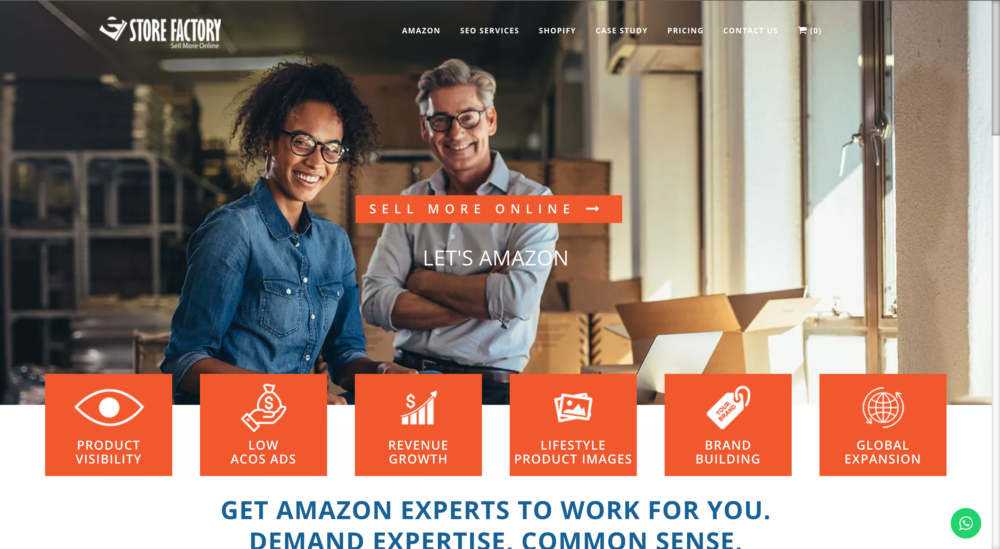 eStore Factory offers a full spectrum of PPC services for brands selling on Amazon. Their PPC campaigns can drive high-quality traffic and boost conversions.
PPC specialists at eStore Factory use data-driven strategies. Besides, they leverage a wide range of management tools.
Amazon PPC Expert #5: AMZ One Step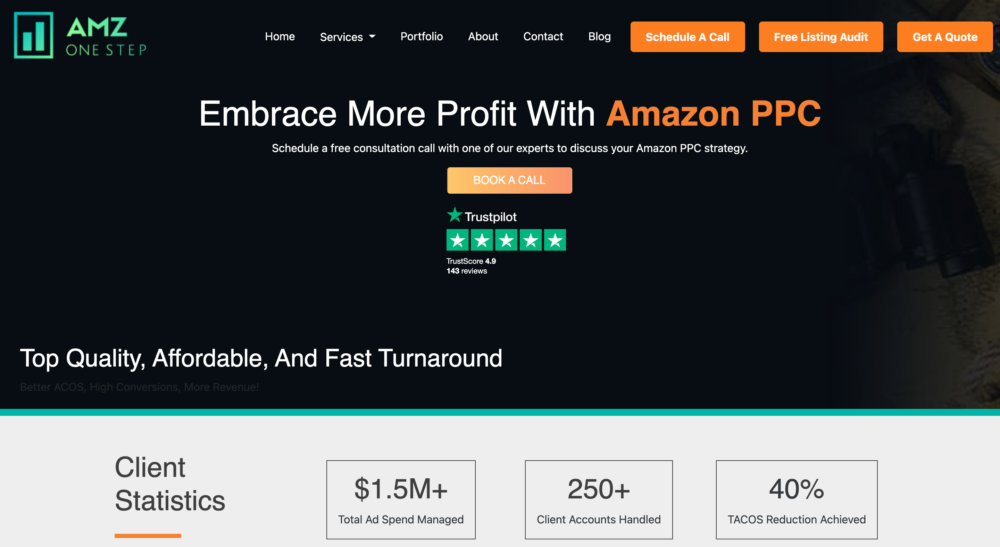 AMZ One Step is an Amazon PPC agency that provides top-notch PPC management services for Amazon CPG brands. Their PPC management solutions include product-sponsored ads, brand-sponsored ads, product display ads, coupons & promos.
AMZ One Step begins PPC management with an expert review of your storefront to generate a preliminary report. After that, the experts create multiple tailored campaigns and employ proven techniques to optimize the campaigns. They review the performance of the ads and make adjustments if necessary.
The PPC specialists at AMZ One Step perform a comprehensive audit of your storefront before they build a PPC strategy.
AMZ One Step has managed more than 250 client accounts and a total ad spend of $1.5 million. One of the advantages of AMZ One Step is that they offer free listing audit.
Amazon PPC Expert #6: InterCultural Elements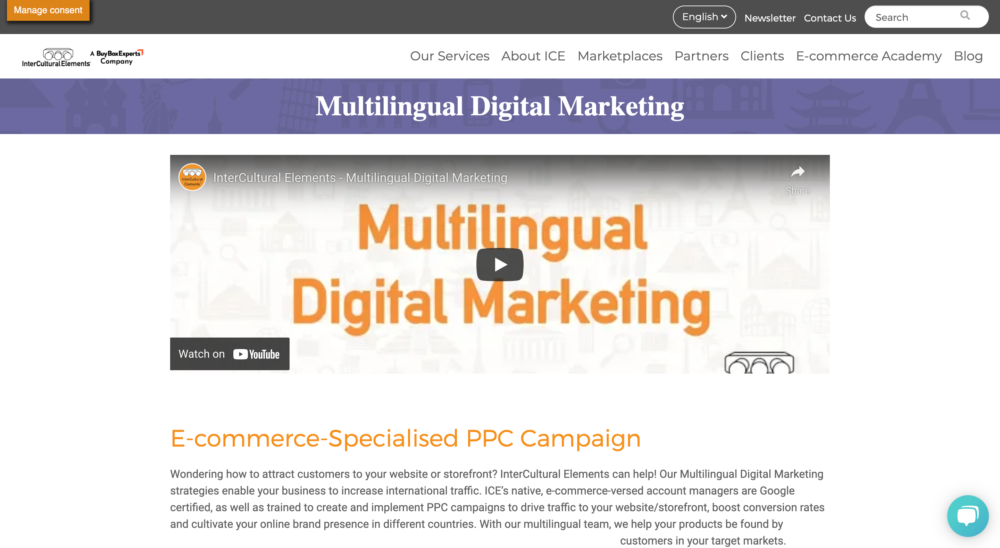 This multilingual digital marketing platform offers a wide range of services, including specialized PPC management. InterCultural Elements has an in-house team of over 35 specialists who understand the ins and outs of PPC management.
InterCultural Elements has more than ten years of hands-on experience in PPC management. So far, they have completed more than 10,000 PPC management projects.
To build an effective PPC strategy for your brand, the PPC specialists at InterCultural Elements perform competitor spend analysis and keyword research. They also provide insightful reports to show clients how their ads are performing.
The unique thing about InterCultural Elements is that they offer services in five languages, including English, German, French, Italian, and Spanish.
Amazon PPC Expert #7: Amzologist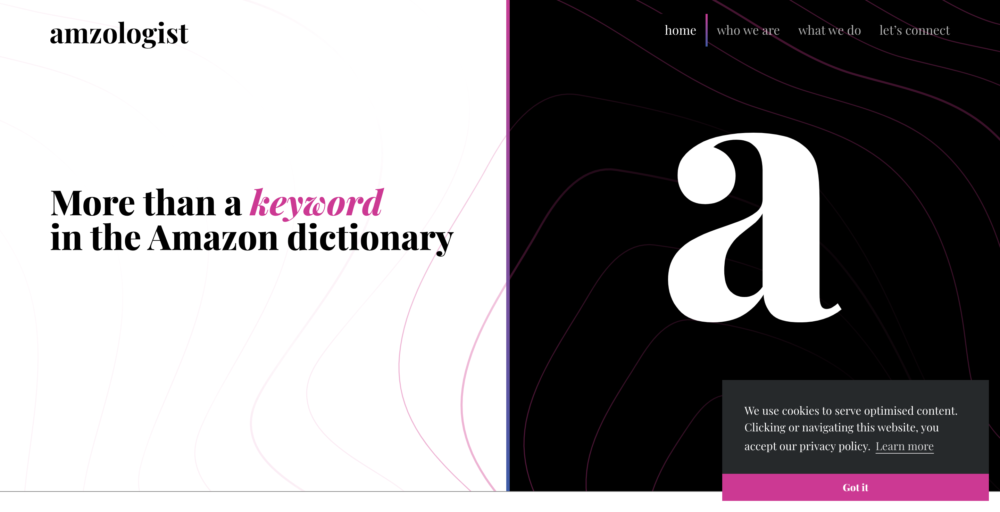 Amzologist provides long-term advertising solutions to many clients, including Amazon CPG brands and other eCommerce brands. They have a team of PPC experts to analyze data and employ performance-based strategies to win top search ad placements in various digital channels.
The PPC experts at Amzologist leverage data to measure the performance of their PPC campaigns and perform continuous testing to determine how PPC campaigns are performing.
Amzologist focuses on creating compelling ad copy and creative visuals that can grab the attention of potential customers. They also perform comprehensive keyword research and even optimize campaigns for all devices.
This agency has managed more than 1000 listings on Amazon.
Amazon PPC Expert #8: FordeBaker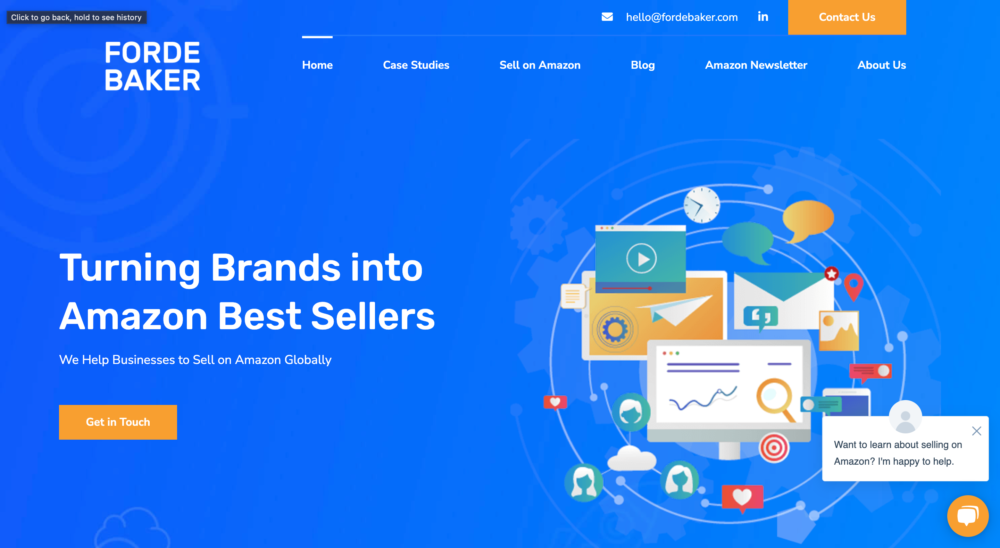 FordeBaker is a full-service marketplace agency. Their in-house team of skilled PPC experts boasts many years of experience in helping CPG brands on Amazon improve their return on ad spend.
FordeBaker offers a bespoke reporting solution that shows brands how their PPC campaigns are performing.
Amazon PPC Expert #9: SellerLabs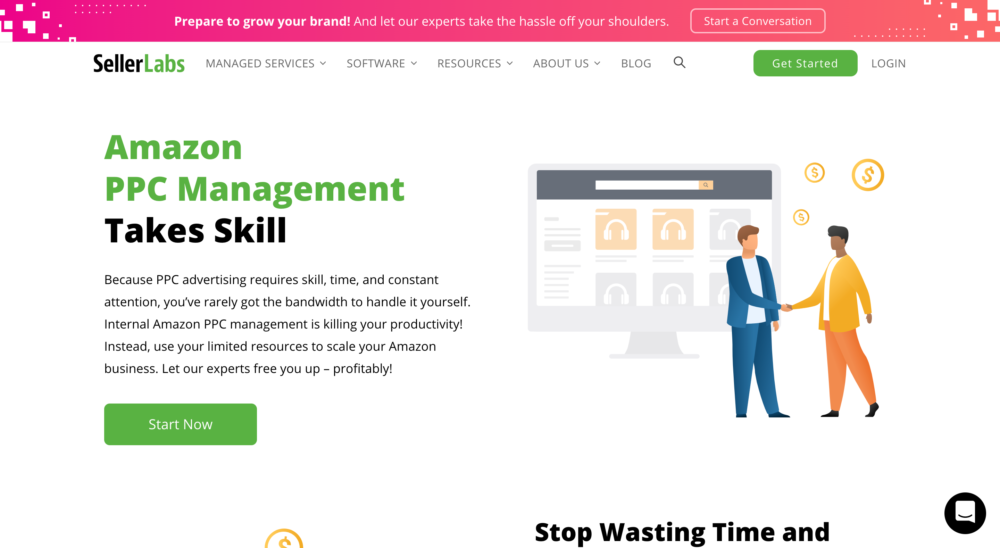 SellerLabs managed services work with Amazon brands to alleviate their PPC advertising pain points.
SellerLabs helps Amazon CPG brands to drive quality traffic, optimize ad spend, lower advertising cost of sale, and increase sales.
This agency provides clients with an account manager who keeps track of Amazon PPC campaigns and generates reports.
In terms of pricing, their monthly plan costs $49/mo, and the annual plan costs $39/mo. So it is one of the most cost-effective PPC management services you can use.
Amazon PPC Expert #10: AdWords PPC Expert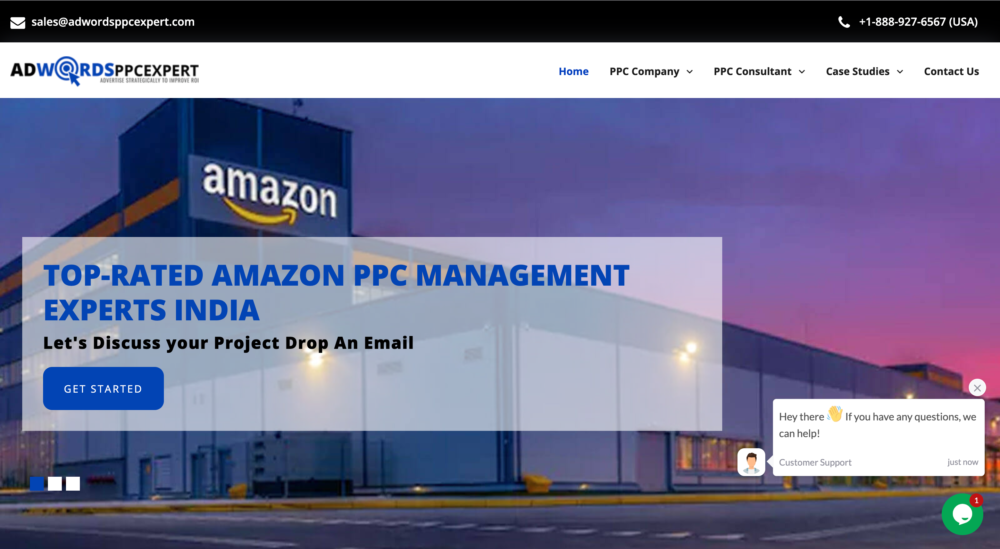 AdWords PPC Expert is an Amazon PPC management service in India. This agency offers tailored PPC management services to CPG brands on and off Amazon.
The PPC management experts at AdWords PPC Expert use data analysis and proven practices to drive more traffic to your storefront and skyrocket your return on ad spend.
AdWords PPC Expert can help you with campaign audit, crafting compelling ad copy, keyword research, landing page optimization, and bid management.
This agency has over 12 years of experience in PPC management and has a team of skilled Amazon PPC management specialists. In addition, they'll provide you with a dedicated account manager to handle the entire project.
Amazon PPC Expert #11: Helium 10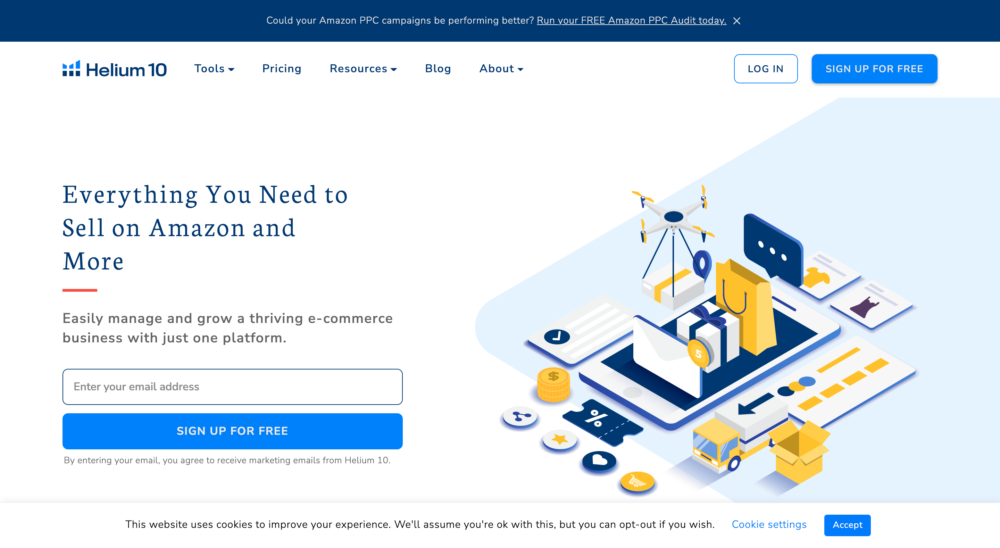 Helium 10 is a powerful software suite of over 20 cloud-based tools that empower Amazon sellers of all levels with the data and insights they need to succeed. Starting in 2015, Helium 10 is well known for its content and training material from YouTube videos to the Freedom Ticket FBA training course.
With the acquisition of Prestozon and continued investment building out their Amazon Advertising solution, Adtomic, Helium 10 has expanded what it means to be an All-in-One Amazon platform.
Helium 10 continues to innovate all aspects of managing and growing an Amazon business and providing as much value as we can by partnering and listening to sellers, vendors, and agencies that incorporate their over 100K users and 85K social media members.
The future of PPC belongs to those who can play the long-game. While ACoS and ROAS are important, the long-term growth strategy is going to be key. This means focusing more on Impressions and New To Brand metrics more closely and utilizing upper funnel tactics with Sponsored Brand Video or retargeting through Sponsored Display Audiences. Continually filling your pipeline with fresh shoppers to your listings and taking advantage of branding opportunities will take sellers to the next level.

Ben Aldern,

Helium 10
Amazon PPC Expert #12: SellerApp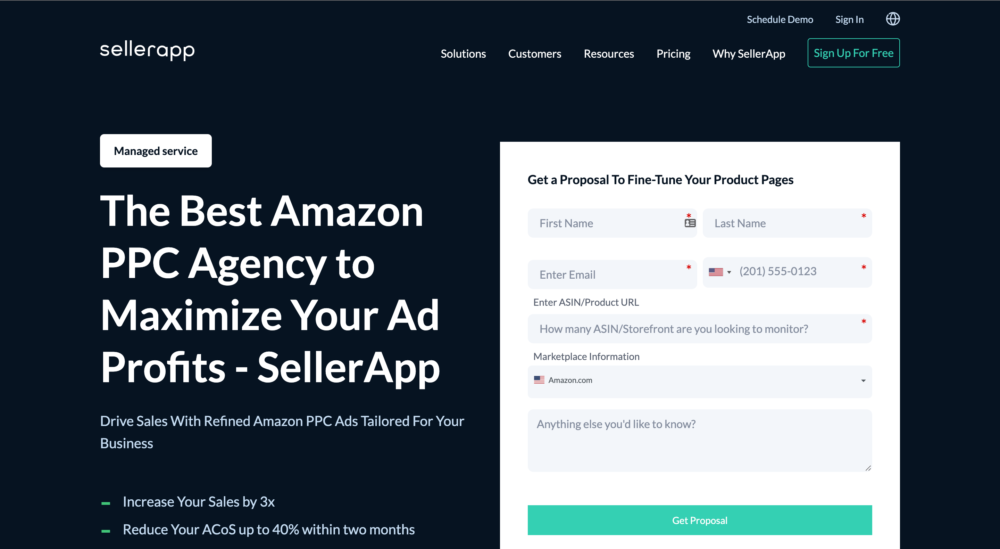 SellerApp is an Amazon PPC agency that provides a wide range of services to CPG brands on Amazon and other businesses. This agency has a passionate team of PPC experts and cutting-edge tools to provide clients with the best Amazon PPC services.
SellerApp can help you reduce ad spend, increase keyword coverage and optimize PPC performance to improve.
The Amazon PPC experts at SellerApp begin their strategy by evaluating your storefront and auditing the existing listings before devising a plan of action.
Take Your Amazon PPC To The Next Level
With the stiff competition on Amazon, your ad can get lost in a sea of others. With PPC management services, you can improve your visibility on the marketplace and improve your return on ad spend.
Access our free Amazon advertising strategy guide and learn tips and recommendations that can help you improve your conversion rate and make more sales through Amazon PPC.
Do You Feel Like Your Amazon Business Is In A Rut?
You're not alone. Many businesses find it difficult to scale on Amazon. That's where we come in. We are a top-tier, turnkey, performance-based Amazon marketing agency that can help you take your business to the next level.
We have a proven 4-pillar process that helps businesses achieve higher sales, AOVs, ROIs, and other 3-letter acronyms. Let us show you how we can help you achieve the same success. Click here to schedule a call with a strategist.
Request A Free Proposal
Are you tired of losing sales to your competition on Amazon? It's frustrating for otherwise successful brands to underperform on the leading eCommerce platform.
Sunken Stone will help you find a solution to increase your profits on Amazon. Click "Request My Proposal" below to receive a customized roadmap to beat your competition and uncover new areas of opportunity for increasing sales.
---
Frequently Asked Questions
What Is Amazon PPC Specialist?
An Amazon PPC specialist is a marketing professional responsible for building and optimizing pay-per-click campaigns. 
How Do I Become A PPC Expert?
To become a PPC expert, you'll often need a degree, possess excellent analytical skills. You should also be proficient with PPC analytics and software and understand how the Amazon platform works.
What Does A PPC Specialist Do?
A PPC specialist uses technical expertise, tools, and strategies to set up, analyze, and optimize campaigns. They may also consult on new platforms you can use and help to expand your brand's reach.
Is PPC Worth It Amazon?
PPC has lots of potential for CPG brands selling on Amazon. An effective PPC strategy can bring in traffic, improve SEO, and skyrocket return on ad spend.