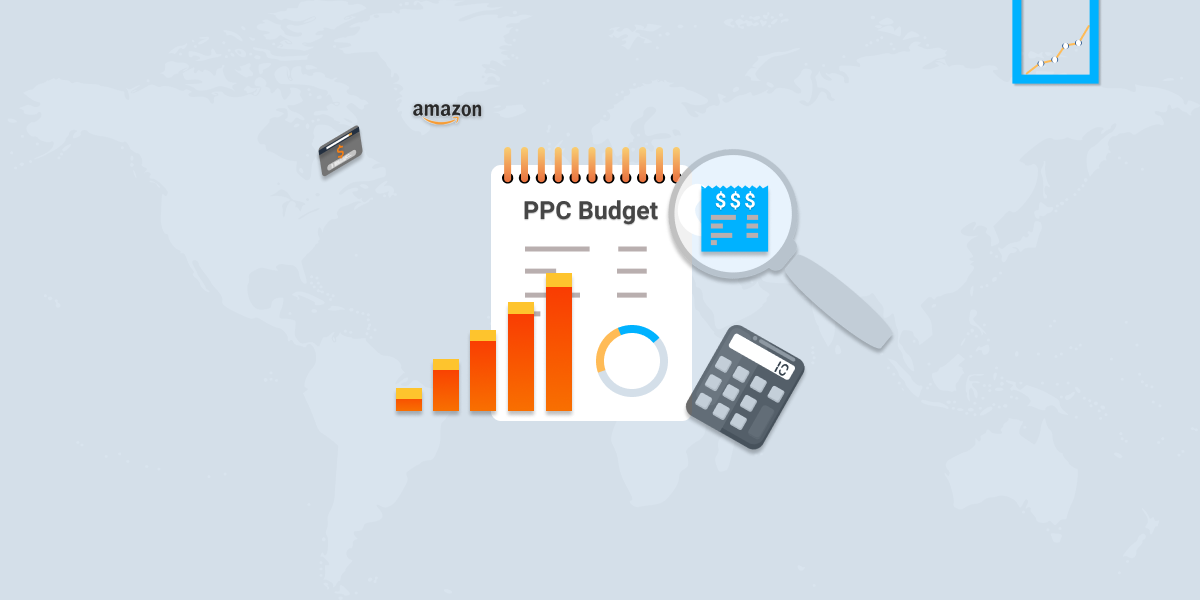 What's A Good Amazon PPC Daily Budget For Your Ads? [2022]
The Amazon marketplace is becoming more competitive every day. Therefore, CPG brands need to leverage the best marketing strategies to stay ahead of their competition and drive sales. Advertising is a great way to stay competitive, but what's the proper Amazon PPC daily budget for your campaigns?
This blog post delves into Amazon PPC and discusses establishing your brand's Amazon sponsored products daily budget.
Amazon PPC helps CPG brands on Amazon drive highly targeted traffic to their listings, maximize clicks, and make more sales.
Advertising on Amazon is becoming increasingly competitive as more brands and advertisers compete for customers. That means brands need an effective PPC strategy to be successful.
One of the crucial aspects of setting up a successful marketing strategy on Amazon is determining the proper daily budget for your Amazon PPC campaign.
Before delving into our advice, let's look at what it means to select a daily budget for Amazon PPC.
And remember—if you need help with PPC for your brand, Sunken Stone, a top-tier, results-driven Amazon marketing Agency for growing eCommerce brands. Tap into our managed services to take your eCommerce or Amazon business to the next level today! can help. Start by downloading our Ultimate Amazon Advertising Guide that explains how to build PPC campaigns that skyrocket conversions and sales!
>> REQUEST A FREE PROPOSAL: Take 30 seconds to request a proposal and receive a customized roadmap to skyrocket your sales, beat your competition & make your brand thrive on Amazon.
What Is A Daily Budget In Amazon PPC?
A daily budget in Amazon PPC is the amount an advertiser allocates for ad campaigns per day. An Amazon PPC daily budget allows brands to set a limit on how much they'll spend on PPC campaigns.
When setting up an Amazon PPC campaign, you'll be required to set a daily budget. The process of establishing a budget for your campaigns is simple:
Log Into Your Seller Central Account.
Hover Over Advertising & Click 'Campaign Manager.'
Next, choose Settings and indicate the maximum amount you want to spend on ad campaigns each day.
Setting your Amazon sponsored products daily budget varies from campaign to campaign. The correct budget is different for each business and depends on what your brand seeks to achieve.
Also, other factors may influence the daily budget for your Amazon PPC campaign, including the level of competition, the categories of your products, ad targeting, and ad positioning.
These factors influence cost-per-click and can change the budget your brand should set to get good results.
Why Is It Important To Set An Amazon PPC Daily Budget?
Prevent Wasteful Spend – When you set a cap on your sponsored product advertising budget per day, there's no way you'll overspend on your PPC campaigns. Once your ad spend reaches the limit, your brand's ad campaigns will stop running until the next day. Capping an advertising budget is a great way to avoid losing money if you make errors when bidding on keywords.
Maximize Return On Investment – Setting an Amazon PPC daily budget ensures balanced spending across all campaigns. It enables brands to track their outgoing ad budget. Brands can also allocate daily budgets based on the profitability of individual campaigns and optimize their campaigns to

maximize return on ad spend

.
Budget Allocation – A fixed daily budget gives your business more control over budget allocation. Greater control helps you forecast and adjust your advertising budget according to the profitability of each campaign.
Generally, setting a budget for your advertising will help you manage, forecast, and optimize your Amazon PPC campaigns.
How To Set Your Amazon PPC Budget
Now that you understand what an Amazon PPC daily budget is and why it's essential for Amazon brands let's switch focuses. Next, we'll discuss the steps to follow while setting an Amazon PPC budget that is right for your business.
How Do You Allocate A PPC Budget?
Here are four steps that will help you allocate a PPC budget effectively.
Step 1: Identify Your ACoS
The first step of setting up a brand PPC campaign is to review your average cost of sale (ACoS). After reviewing your ACoS, business owners should determine how much they can spend on product advertising.
As a general rule, low ACoS is a sign of a profitable ad campaign.
Let's assume you're selling a product for $100 and all other costs and fees amount to $60. That means your profit margin (in percentage) is 40%.
Your ACoS should be less than 40% for your business to be profitable.
Thus, it's crucial to determine your ACoS to determine how much you can spend on advertising and stay profitable.
If your Amazon PPC campaign ACoS is too high, here is a tutorial that shows how to reduce ad costs and increase profits.
Step 2: Understand Your CPC (Cost-Per-Click)
Cost-per-click is the amount advertisers pay each time a user clicks on an ad. When setting up your daily budget in Amazon PPC, it's essential to calculate cost-per-click to determine the correct bid amount.
It's advisable to start with a low CPC to leverage Amazon PPC, maximize your leads, and stay profitable. However, you may need to increase your CPC if you aren't getting enough clicks.
Step 3: Determine The Duration Of Your Campaign
Deciding the duration of your campaign is crucial because it will affect your advertising budget. If you want to run the campaign for one month, ensure you have enough funds to run your campaigns for that time.
Step 4: Find Converting Keywords
Brand owners should choose relevant keywords that attract quality leads without causing ad overspend. In addition, it's advisable to use long-tail keywords to increase the chances of conversion.
For example, if you're selling phone covers, it's often best to target a long-tail keyword like "black leather phone covers." Your other option would be to target a general keyword like "phone covers," but this is often a mistake.
Why is it important to target long-tail keywords rather than general ones? Shoppers who search using long-tail keywords have more buying intent and are more likely to make a purchase.
You can leverage keyword research tools such as Helium 10 and MerchantWords to find converting keywords.
These are the simple steps to follow while selecting a PPC budget.
It's easy for brands on Amazon to overspend on ads in an attempt to generate additional leads and sales. But it's advisable to find a good balance where you'll get enough conversions without overspending.
Setting an Amazon PPC daily budget and following the best practices will help you optimize your PPC campaigns.
What Performance To Expect Based On Budget
On average, small and medium-sized Amazon businesses should expect to spend between $5,000 and $9,000 on ads per month.
An advertiser who pays $0.81 for every click will spend nearly $300 per day and generate around $1,000 in sales. Of course, this varies based on which products an advertiser sells and their product categories.
Therefore, it's best to test ads after optimizing your PPC campaigns to set goals and benchmarks for your business.
Example Of A Successful PPC Campaign
Let's say you sell a product on Amazon for $100, and the conversion rate is 20%. Every time five prospective customers click on your ads, one buyer converts. If the ACoS for your product is 30%, your default bid will be:
30% x $100 x 20% =$0.6
You'll pay $0.6 per click for your selected keyword and get a healthy profit margin based on this example of a successful PPC campaign.
Let An Expert Set Up And Run Your PPC Budget
Not knowing the proper daily budget for your Amazon PPC campaign can jeopardize your advertising efforts.
At Sunken Stone, we have a team of seasoned Amazon PPC experts who understand what it takes to get the most out of PPC campaigns. Our team uses advanced analytics, specialized tools, and data to fine-tune your budgeting.
>> DOWNLOAD NOW: Learn Everything There Is To Know About Advertising On Amazon With Our Ultimate Amazon Advertising Guide [PDF]
Are you having trouble achieving positive results from your brand's Amazon PPC campaigns? If so, now is the perfect time to download our Amazon Advertising Strategy Guide.
Our guide provides expert insight on how effective Amazon Advertising can grow your brand's eCommerce sales on Amazon. Learn from multi-million dollar Amazon sellers by downloading your copy of the guide using the link below.
Do You Feel Like Your Amazon Business Is In A Rut?
You're not alone. Many businesses find it difficult to scale on Amazon. That's where we come in. We are a top-tier, turnkey, performance-based Amazon marketing agency that can help you take your business to the next level.
We have a proven 4-pillar process that helps businesses achieve higher sales, AOVs, ROIs, and other 3-letter acronyms. Let us show you how we can help you achieve the same success. Click here to schedule a call with a strategist.
Request A Free Proposal
Are you tired of losing sales to your competition on Amazon? It's frustrating for otherwise successful brands to underperform on the leading eCommerce platform.
Sunken Stone will help you find a solution to increase your profits on Amazon. Click "Request My Proposal" below to receive a customized roadmap to beat your competition and uncover new areas of opportunity for increasing sales.
Frequently Asked Questions
How Much Should You Spend On Amazon PPC? 
Brands on Amazon should anticipate paying $0.81-$2 per click, depending on competition, keyword selection, and budget. However, some advertisers may spend a lot more per click, depending on each product's category.
How Do I Budget For Amazon PPC?
To budget for your Amazon PPC, you'll need to understand your ACoS, cost-per-click, and the duration of your campaign. These parameters will help you determine the ideal budget for your Amazon PPC campaign.
How Much Should I Budget For PPC?
There's no precise answer as to the amount you should budget for PPC. It depends on your goals, brand's size, duration of campaigns, ACoS, cost-per-click, and many other factors.
How Do You Calculate A PPC Budget? 
Use the following formulas to calculate your PPC budget:
PPC Budget = {Number of Customers / CR2} / CR1 X CPC
Number of customers = {Revenue / Sales Period} / Average Sale Amount