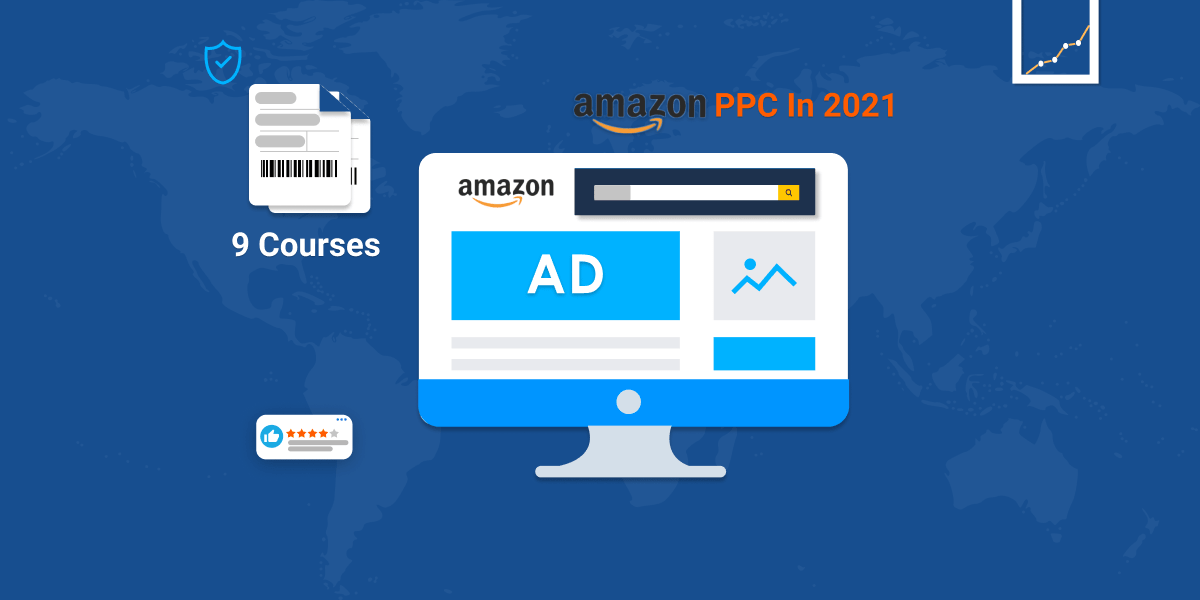 9 Courses To Get Your Amazon PPC Game Up A Notch In 2022
The success of your Amazon pay-per-click (PPC) campaign is dependent on the keywords and bids you choose. The more money you spend, the better chance you have at ranking higher for your chosen keyword.
How do you know what to bid? What keywords should you target?
And,
How much does it cost per click (CPC)?
These are all fundamental questions that need to be answered before any marketing can take place. In this article, we'll cover where you can learn about Amazon PPC and the steps you can take to ensure you're standing out from your competition.
>> REQUEST A FREE PROPOSAL: Take 30 seconds to request a proposal and receive a customized roadmap to skyrocket your sales, beat your competition & make your brand thrive on Amazon.
Where To Learn About Amazon PPC
There's a ton of information about Amazon pay-per-click online – and it can be overwhelming. So, where do you even begin?
There are a few different places where you can gather vital pieces of information to help put together your strategy:
Using Amazon's Available Resources
Did you know that Amazon offers various resources to help you get the most out of your PPC campaigns? There are hundreds of informative success guides, webinars, videos, and success stories you can browse through to help you get started with your PPC campaign.
Purchasing A Third-Party Course
An even better way to learn about Amazon PPC is to invest in an online course. This is a fast-track way to learn more about PPC and improve your chances of success from those already reaping the benefits of a proper PPC strategy. For example, we love our Amazon Advertising Strategy Guide that you can instantly download for free!
9 Amazon PPC Courses We Love
Our team has studied the most popular Amazon PPC courses available to bring you this list of 9 that you should check out if you want to step up your PPC game.

Course #1: Helium 10 PPC Course
This free, online beginner PPC course offered by Helium is an excellent way for beginners to learn the basics of the program. It's specifically designed for beginners with high-quality content taken from their paid FBA training course.
Course #2: Amazon PPC Mastery by Udemy
Greg Mercer is the founder of Jungle Scout, an Amazon PPC expert who has built a reputation for himself as one of today's most trusted instructors. His mastery course on using this advertising platform to make money makes him even more qualified than most!
Course #3: Amazon SEO Consultant
The Amazon SEO consultant training course is a short course designed to help you increase profits and scale your business. With a total of four videos, you can learn everything you need to know in under one hour!
Course #4: Seller Labs Amazon Advertising
The Amazon Seller Labs course features five videos designed to help you master Amazon's advertising platform. This online platform is home to a ton of excellent knowledge.
Course #5: Sponsored Products Academy
The Sponsored Products Academy is a paid course you can purchase to improve your Amazon PPC advertising strategy.
The online video training comes with over 4 hours of content and two downloadable workbooks to help get the most out of this course.
Course #6: Advanced Amazon Marketing – The Complete Amazon Ads Course
The Advanced Amazon Marketing course is a paid course that includes over 15 articles and 2.5 hours of content to help you take your Amazon PPC strategy to the next level and learn unique techniques to jumpstart your marketing.
Course #7: PPC Clinic by Dan Moody
The PPC Clinic is an Amazon course for those looking to get the most out of their advertising budget and who want to enjoy humor along the way.
Dan Moody, the instructor of the course, has put together a very informative and thorough curriculum that will not only help you reach your success goals but also save money in doing so!
Course #8: Amazon FBA Product Launch & PPC Training
This course will help you launch your products successfully on Amazon and find the best keywords for your product. The Amazon FBA PPC Training course also includes PPC training tips so you can keep an eye on all of your search term data, understand why some keywords perform better than others, and how you should be spending your advertising dollars.
Course #9: Amazon PPC Mastery
This one-hour masterclass will help break down the basics of Amazon PPC and get you started on the right foot. This course is the perfect solution if you're looking for a fast way to improve your PPC journey.
Supercharge Your PPC Journey With A Consultation
It's not always easy to know when it is time to bring in a partner for help.
But,
With our team's years of experience, we understand how important it is to select an exceptional Amazon brand management partner that will work with you every step of the way until your goals are achieved.
Growth can be difficult if you don't have the right tools or expertise.
Set up a consultation today with Sunken Stone and see what solutions may exist for your business needs.
Request A Free Proposal
Are you tired of losing sales to your competition on Amazon? It's frustrating for otherwise successful brands to underperform on the leading eCommerce platform.
Sunken Stone will help you find a solution to increase your profits on Amazon. Click "Request My Proposal" below to receive a customized roadmap to beat your competition and uncover new areas of opportunity for increasing sales.