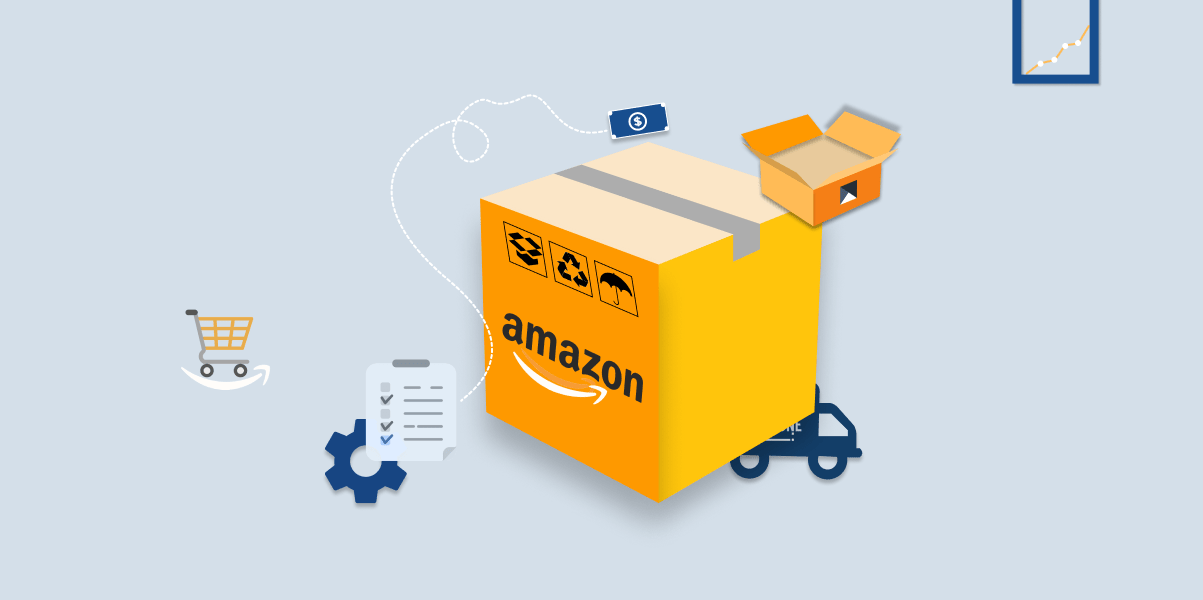 The Ultimate Guide To Amazon Order Management
Amazon is one of the largest online marketplaces in the world, offering an incredible opportunity for sellers to build brand authority. It increases revenue and presents its products to a broad audience. If you have products to sell, you'll want to make sure your brand is on Amazon's marketplace. And Amazon order management (AOM) is the most important task for a successful seller.
However, many challenges come with selling your own product. While you might have a great product, know how to market it, and people are buying it. You're still stuck with the hassle of fulfilling these orders yourself.
This is where Amazon order management tools come into play. As a business owner, you can save your business time and money by automating many aspects of the fulfillment process. With so many reports and information offered through the platform, it can be challenging to utilize it.
In this article, We'll cover everything you need to know, from Amazon order management software to the order fulfillment process.
>> REQUEST A FREE PROPOSAL: Take 30 seconds to request a proposal and receive a customized roadmap to skyrocket your sales, beat your competition & make your brand thrive on Amazon.
What Is Amazon Order Management?
It is the process of managing and fulfilling orders that come through on Amazon's marketplace. It begins with a customer purchase and ends with the shipping product. There are many challenges when it comes to selling your own product. But, with good Amazon order management software, you can make things much easier for yourself!
The software helps customers automate the work they would have to do manually. It's especially helpful if you use multiple platforms to sell your inventory. Instead of opening multiple tabs, you'll have all of your information displayed on a single dashboard.
With the Amazon order management software, your inventory levels automatically; this means you don't have to worry about manually adjusting stock quantities as your business grows or shrinks. It also allows you to integrate shipping carriers and send automated shipment notifications. It ensures, your customers have a seamless experience every time.
How Does The Amazon Order Fulfillment Process Work?
The Amazon order fulfillment process starts with you. You enter your products into Amazon through Amazon seller central, which is then listed on their website for sale.
When someone orders one of your items from the site, it's shipped to them using a local carrier and delivered. When that person receives their item, they can quickly leave feedback. Shoppers share how easy it was to receive and review their purchase in detail if they wish!
By properly utilizing the Amazon order management dashboard, business owners can ensure that their customers are consistently happy. Plus take control of the ordering process.
The Top 3 Tools You Can Use Through Amazon Order Management
If you're new to Amazon order management, it's essential to understand what tools are available through this dashboard. We've listed the top three tools you'll want to know about in your dashboard.
Amazon Order Management Tool #1: Amazon Order Report
Through the Amazon order report, you'll be able to automatically download all of the information about the fulfillment of your orders in one organized document. You can either run one report at a time, or you can schedule the program to run automatically to give you continuous updates.
The Amazon order report tool is not only available for FBA sellers. It's also accessible by seller-fulfilled orders and will provide the same information about their orders.
Amazon Order Management Tool #2: Amazon Manage Orders
By clicking into the Manage Orders tab, you'll be able to see all of the details of any orders you currently have. You can check details about the products ordered, shipping information, buyer contact information, and more. You can even search to find any specific order you're looking for, such as previously shipped orders within a specific date or through a particular channel.
Sometimes a customer might decide to cancel their order. If they do, you will be notified in the Manage Orders tab and can then refund the purchase as well.
Managing your orders and shipments is vital for any online seller, especially if your business does any kind of Fulfillment by Amazon (FBA) or Seller-fulfilled Prime orders through Amazon's Selling on Amazon program. With this tool, you'll be able to keep track of all shipment statuses with updates about where each package currently is– whether it's "In Transit," "Out For Delivery," or even "Delivered."
Amazon Order Management Tool #3: Amazon Inventory Software
With Amazon Inventory Software, you'll be able to add products, change the pricing, along with any other inventory management tasks. It's a great way to keep track of your inventory and sales with an easy-to-use interface. You'll also be able to save time by batching the product uploading process, which can take hours if you are doing it manually!
What Are The Advantages Of Using Amazon Order Management?
Using Amazon Order Management will help to increase your sales and management of your online business. By providing all of the information you need in one area, you're able to keep track of multiple orders at one time without having to take the time to track everything manually. Here are a few advantages of using Amazon Inventory Software.
Track Multiple Orders In One Place
With Amazon Order Management, you'll be able to see all of your order statuses in one place. This makes it easy to ensure that you're fulfilling all of your orders, regardless of the sales channel they come from. Plus, if you need to check on a charge, track delivery, or update a buyer, you can find all of the information you need about a particular shipment with a few simple clicks.
Increased Sales And Profits
The benefits don't stop with just being able to track orders, though! With the use of Amazon Inventory Software and a great customer support team on hand, you will also have increased sales and profits as well as increased product reviews. Being an active seller on Amazon allows for greater exposure which means more income opportunities.
Keep Your Inventory Consistent
You can't make sales if you're unable to track and replenish your inventory levels. With Amazon's order inventory system, you'll never have to worry about that again. With the help of Amazon's order management software, you can optimize your inventory tracking and get it up to date, so you never miss out on another sale opportunity.
You'll also be able to see how much profit has been made from each individual product which will make replenishment a whole lot easier.
Integrate With Other Platforms
Amazon can integrate with other eCommerce platforms to help you take your order management to a new level. By combining your Amazon order management software with other platforms, you'll be able to see how much inventory is in stock, manage your workflow across multiple channels and ensure every customer has an excellent experience.
Keep Track Of Your Returns And Refunds
It's a given that some of your orders will come back as returns or refunds. With the help of amazon order management software, keeping track of what comes back and when has never been more straightforward. You'll be able to specifically monitor who ordered from which site to get complete protection against fraudulently purchased products coming back through no fault of yours.
Staying On Track With Amazon Order Management Software
It's possible to get so caught up in the daily grind of order management that you miss a few crucial details. With amazon order management software, you'll be able to keep track of everything from shipping dates to delivery status, making it easier than ever for your business to stay on top of what needs attention now and later.
If it feels complicated to find the growth you need for your business, you're not alone. Many Amazon sellers find it challenging to utilize the tools they need while still growing their brand. If you want expert guidance to achieve the success your brand needs, it's time to work with the professionals at Sunken Stone, a top-tier, results-driven Amazon marketing Agency for growing eCommerce brands today.
Request A Free Proposal
Are you tired of losing sales to your competition on Amazon? It's frustrating for otherwise successful brands to underperform on the leading eCommerce platform.
Sunken Stone will help you find a solution to increase your profits on Amazon. Click "Request My Proposal" below to receive a customized roadmap to beat your competition and uncover new areas of opportunity for increasing sales.
---
FAQ About Amazon Order Management
What Is Amazon Order Management?
Amazon Order Management is software that enables you to manage all of your inventory across multiple platforms on one dashboard. This allows you to keep track of your inventory, manage orders, and provide an excellent customer experience every time you receive an order.
How Can Amazon Order Management Help My Business?
Amazon Order Management will help your business successfully manage your online orders. This takes away the hours needed to input and track the details of every customer order manually. Not only will you be able to manage your stock and track orders, but you'll also be able to access data on your reports to help monitor the efficiency of your products.
You can also set up notifications so that they are automatically sent when an event occurs, like receiving new stock or changes made via email, text message, or push notification. This is all done with just one piece of software!
How Do I Get Started With Amazon Order Management?
To get started, you'll need to have an Amazon seller account. If you don't have one, you'll need to sign up through the seller portal. Once you have your seller account set up, you'll be able to use Amazon's order management software through the seller central dashboard.