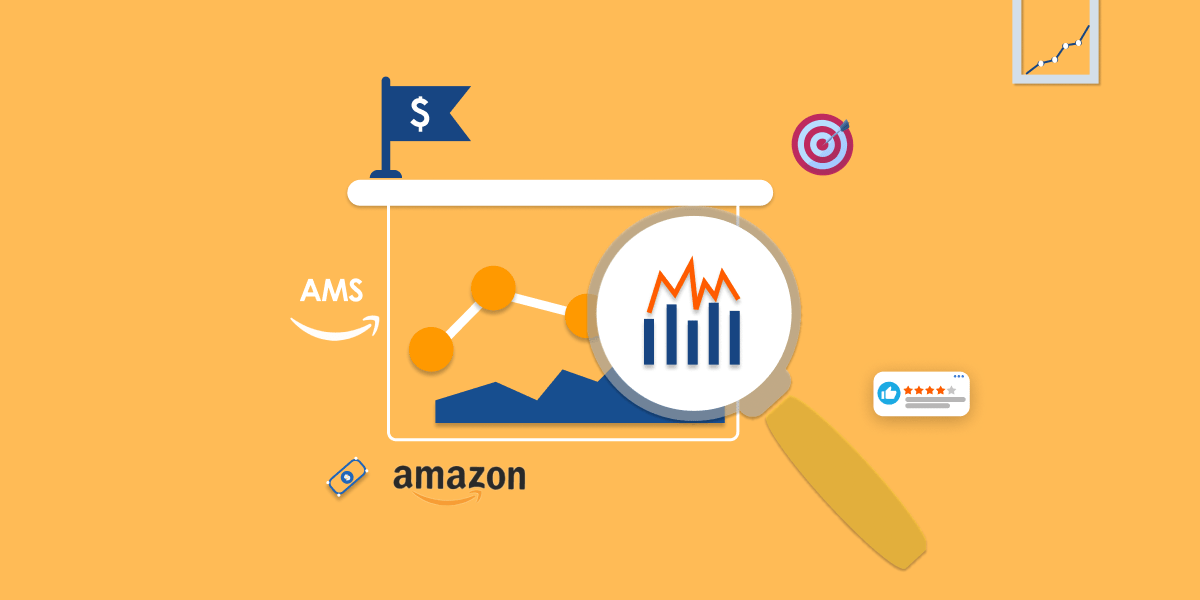 Everything You Need To Know About Amazon Marketing Services (AMS) [2022]
While selling on Amazon gives you access to hundreds of millions of potential customers, the marketplace is extremely competitive. In a sea of already established competitors, funneling sales into your pipeline is harder than ever.
As a seller, you need to find ways to stand out in the marketplace and stay ahead of your competitors. Otherwise, your products will face massive competition on Amazon.
>> DOWNLOAD NOW: Learn Everything There Is To Know About Advertising On Amazon With Our Ultimate Amazon Advertising Guide [PDF]
So how do you stand out against your competitors and drive traffic to your product detail pages?
The simple answer is to leverage Amazon Marketing Services.
With Amazon marketing services, you can increase your visibility on the marketplace and make more sales.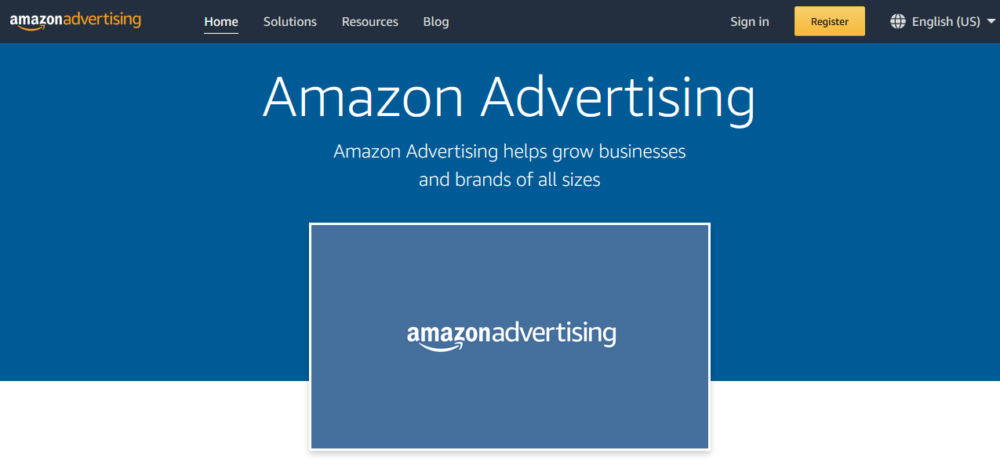 In this Amazon Marketing Services review, we will look at AMS Amazon Marketing Services in detail. It includes the AMS advertising options available to you, how to start with AMS, and much more.
What Is Amazon Marketing Services (AMS)?
Amazon marketing services is a collection of click-base advertising tools offer by Amazon to help sellers increase their discoverability.
AMS Amazon marketing services allow sellers to leverage targeted ads that appear strategically throughout the Amazon marketplace.
AMS uses cues like related products, relevant search keywords, shopper intent, and interests to get your products in front of shoppers.
The Amazon AMS gives sellers complete control over the targeting of ads as well as how much they can spend.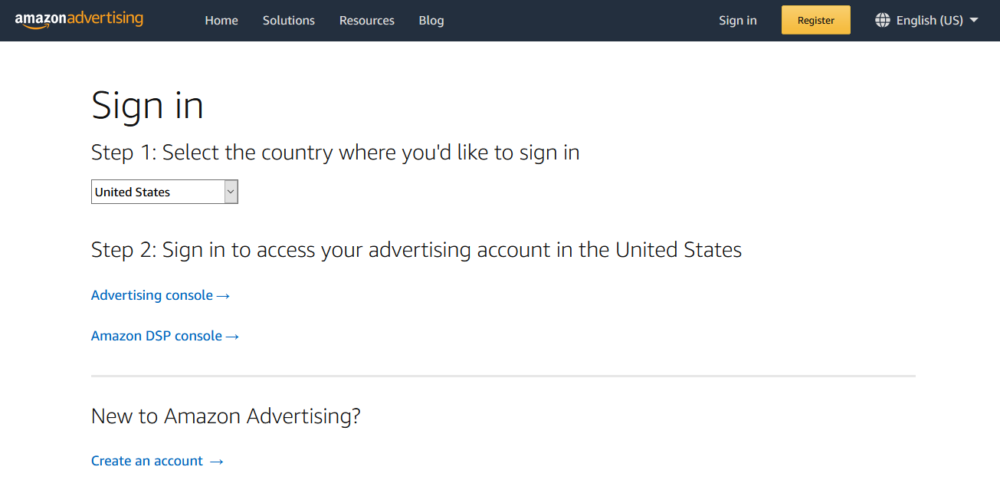 Amazon AMS has undergone some rebranding since its launch in 2012. In September 2018, Amazon retired the name Amazon Marketing Services to reflect the unification of its brand.
Amazon Marketing Services was renamed "Advertising Console". They're categorized under the umbrella "Amazon Advertising." However, many people still refer to the platform as AMS.
If you make good use of the different types of AMS ads, you can easily generate the brand recognition you want.
How Does AMS Amazon Marketing Services Work?
Amazon marketing services comprise three ad campaign types which are located under the Amazon Ad Console.
These ad types show your product to as many relevant consumers as possible. Besides, these ad campaign types let you target individual product detail pages to improve your conversion rate.
Your ads will display strategically across the Amazon marketplace, giving you more chances of converting.
Types of Amazon AMS Ads
The following are the advertising solutions offered in AMS Amazon marketing services:
Amazon Sponsored Products Ads
These are pay-per-click (PPC) ads that appear within Amazon's search results on the right, at the top or the bottom of the page. They can also appear on product detail pages.

Amazon sponsored product ads are keyword-driven or content-driven, making them valuable for reaching high-intent customers. These are the most popular type of AMS ads.
When a potential customer clicks on this ad, they are directly taken to the product's detail page.
The minimum daily budget for sponsored product ads is $1. This makes them an effective advertising option for sellers operating on shoestring budgets.
Why You Should Consider?
Why you should consider including Amazon sponsored product ads into your marketing efforts:
Sponsored product ads usually have higher conversion rates as they make your product visible on the Amazon home page.
Since they're pay-per-click ads, you'll only pay once a potential customer clicks on your ad. This puts you in control over your ad spending.
These ads appear in various parts of the marketplace, so they are valuable for sellers.
These ads have a reporting feature that allows sellers to measure their success and optimize their AMS campaigns.
Sponsored product ads are shown across multiple devices, including desktop and mobile devices. This helps you to reach a wider audience.
You're not required to pay any subscription fees—you can start your PPC campaign any time.
You can leverage these ads to promote seasonal items, get rid of clearance items, and get new items in front of more potential customers.
If you're not making enough sales on Amazon, it's a good idea to include this type of AMS ads into your marketing efforts. These ads will not just improve your ranking on Amazon but they are also cost-effective.
PRO TIP: Utilize the reporting feature to measure the success of your sponsored product ads and see if they working for you.
You can check out this step-by-step tutorial on how to improve your Amazon PPC strategy for product targeting.
Amazon Headline Search Ads
Headline search ads appear at the top of a results page and operate on a cost-per-click basis. These ads can include a custom ad copy that gives out a message about a product.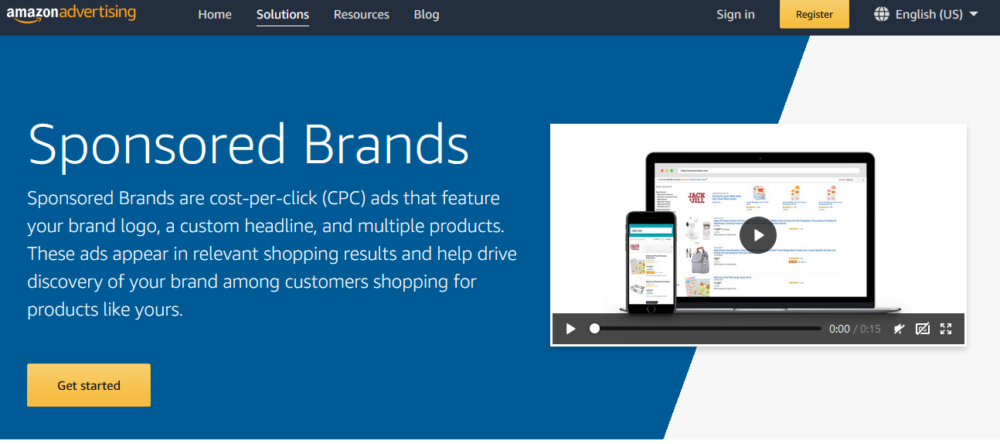 If you sell on Amazon or visit their homepage regularly, you've probably seen banner ads at the top of results pages with a customized headline, logo, and up to 3 products shown side by side. These are headline search ads.
Amazon headline search ads are keyword-targeted and require a minimum daily budget of $100. When compared to sponsored product ads, these ads are larger and feature more prominent placement. The price increase can be attributed to these two factors.
When someone clicks on these ads, they are taken to a custom landing page or specifically chosen products.
Getting started with headline search ads is simple. Choose the products or custom landing page you wish to promote, choose your relevant keywords, set a budget that works for you, make your bids, select high-quality images, and craft a compelling ad headline.
What Are The Advantages Of Headline Search Ads?
They appear at the top of the search results page, making them stand out from the rest of the search results listed. With these ads, you can easily drive high-quality traffic to your product list page or Amazon store.
You can advertise up to three distinct products in each banner.
Headlines can be customized to improve awareness and engagement. You can also link a custom landing page where you may feature your best selling products
However, you have to register your brand first to be eligible to set up Amazon headline search ads.
While the ACoS (Advertising Cost of Sales) for these ads is a little higher than other AMS ad types, they pay off with increased conversion rates.
Amazon Sponsored Display Ads
These are cost-per-click ads that allow you to display ads to customers who have previously viewed your products or similar products. These ads also let you target consumers who have used search terms relevant to your product, or those who have purchased from you.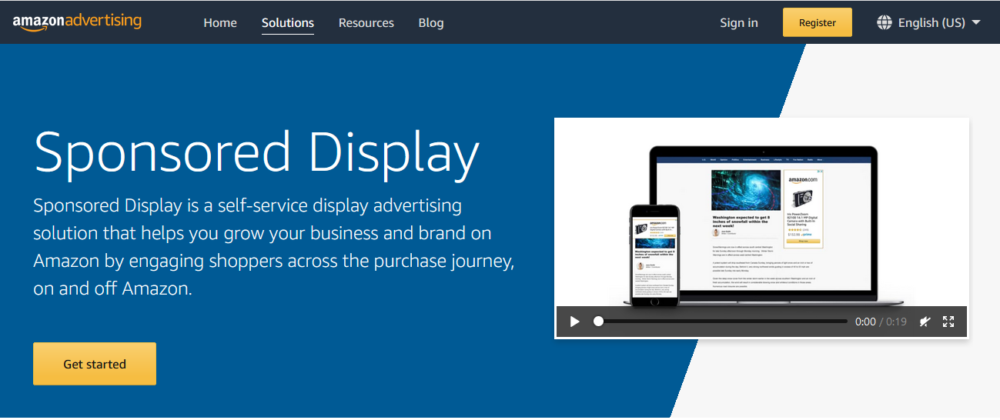 With these ads, you can re-engage potential customers who have viewed your products or your competitor's products and drive them to your detail page.
Amazon sponsored display ads appear on the side or bottom of search results pages, and on related product pages. Besides, they use customer demographics as well as shopping behavior to target audiences rather than keywords.
One unique thing about these ads is that they can appear outside of Amazon. For instance, they can appear in the form of banner ads on websites owned by Amazon or Amazon's partners.
They are an effective advertising option if you intend to target your competitors.
These ads also feature prominent placement on product pages, hence they are valuable for gaining exposure and driving quality traffic to your product details page.
The minimum daily budget of Amazon Sponsored display ads is $100.
What Are The Advantages Of Amazon Sponsored Display Ads?
These ads appear on search results pages, product detail pages, and the Amazon home page, so they have great potential for driving traffic to your product pages.
Sellers can evaluate the performance of sponsored display ads from the Amazon ad dashboard to see if they are getting value for their money. From the dashboard, one can view metrics such as clicks, ad spend, total sales, impressions, and advertising cost of sale ( ACoS).
These ads let you place your products under your competitor's listing, so they are an excellent way to target your competitors.
They are beneficial for sellers who want to increase brand awareness
Generally, Amazon Sponsored Display Ads are a must-have if your goal is to make more sales on Amazon and build your brand.
Here are some practical Amazon PPC optimization tips and tricks that will help you create profitable campaigns.
Why You Need Use Incorporate Amazon Marketing Services
AMS advertising is an excellent way to increase your sales and get more customer reviews, all of which will translate to more profits for you.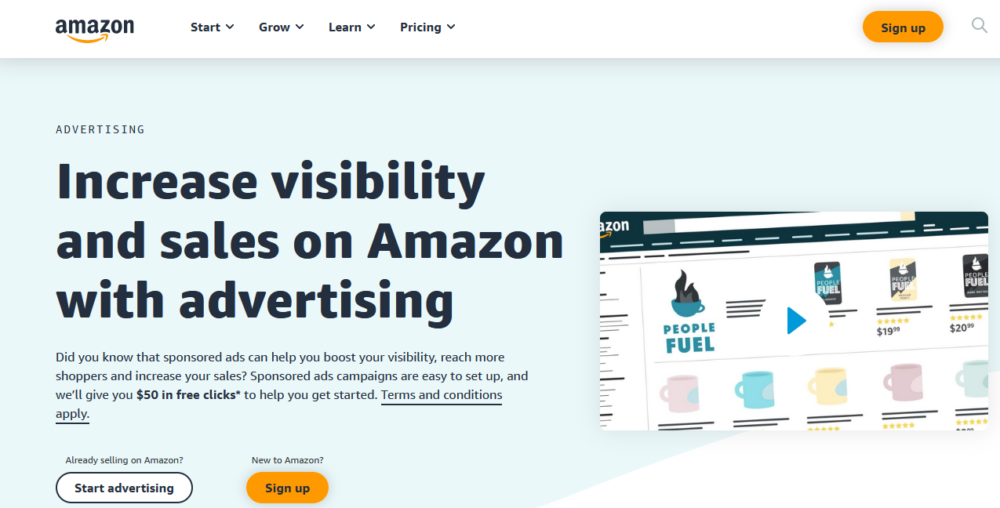 The placement of AMS Ads in strategic points across the marketplace raises the discoverability of your products, thereby helping you to improve your sales.
AMS ads also help you to stay ahead of your competition. With millions of brands competing for customers on Amazon, AMS Amazon Marketing Services will definitely help you stand out among millions of sellers.
The Takeaway
AMS Amazon marketing services are instrumental in driving quality traffic and sales for your Amazon business. These services have been streamlined since they were launched in 2012, so they are more effective in driving sales and raising brand awareness.
With different options to choose from and analytics tools to evaluate their performance, you should be able to leverage AMS ad types to grow your Amazon business.
However, getting started with Amazon marketing can be challenging for new sellers and even some seasoned Amazon sellers. If you need help in getting started, you might consider reaching out to a professional Amazon brand management agency.
At Sunken Stone, we can help you streamline your Amazon Marketing Services campaigns. We have a team of knowledgeable and experienced Amazon marketing experts who can guide you in creating an effective AMS campaign. You can contact us through our contact form page or call us at (619) 404- 3131.
Request A Free Proposal
Are you tired of losing sales to your competition on Amazon? It's frustrating for otherwise successful brands to underperform on the leading eCommerce platform.
Sunken Stone will help you find a solution to increase your profits on Amazon. Click "Request My Proposal" below to receive a customized roadmap to beat your competition and uncover new areas of opportunity for increasing sales.
---
Frequently Asked Questions
What Does AMS Stand For In Amazon?
AMS stands for Amazon Marketing Services. This is an advertising program offered by Amazon to help sellers achieve higher product visibility and discoverability.
What Is Amazon DSP?
This is an advertising platform that lets Amazon sellers advertise on Amazon sites and across the web.
How Much Does Amazon Marketing Services Cost?
The cost of Amazon Marketing Services is based on cost-per-click. It all depends on the amount you're willing to spend and how competitive your bid is. If your business is small, you can expect to spend up to $15000.