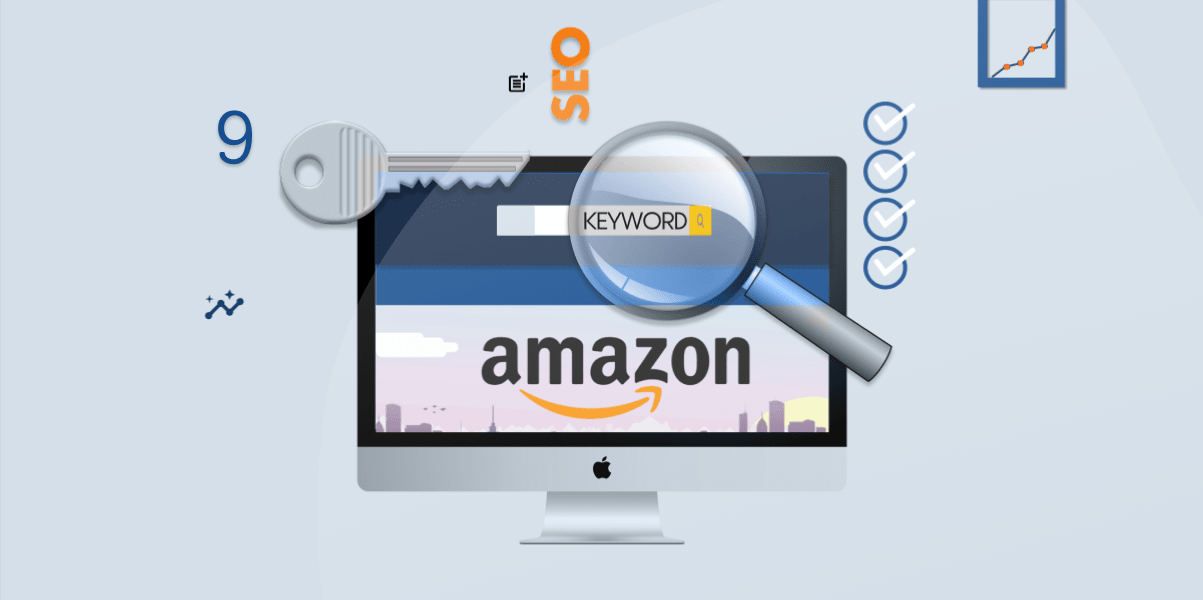 9 Amazon Keyword Tools That Will Enhance Your SEO Strategy
Without the proper Amazon keyword tools, doing SEO is a chore. You check the results manually, put them into a spreadsheet, start gathering data on them, analyze the competitors, and more. By choosing to do your SEO keyword research by yourself, you're wasting time and money on an outdated process.
By properly managing your keyword research with keyword tools or through a professional, top-tier, results-driven Amazon marketing Agency, you'll save resources and consistently yield higher product rankings.
Amazon keyword tools take the guesswork out of your SEO strategy. They supply you with a plethora of data such as search volume, keyword density, competitive analysis, cost-per-click, and more.
When searching for a keyword tool, you'll need to consider your ultimate goal with your keyword research. Are you trying to analyze your competitors? Are you looking to rank your product with a specific keyword? Do you need help finding keywords for your product or niche? These questions can be answered through the use of a Keyword Tool.
>> TAKE THE SUCCESS QUIZ NOW: This 2-Minute Quiz Accurately Predicts Whether Your Brand Has What It Takes To Succeed On Amazon Today
Here's Why You Need a Keyword Tool for Your Amazon SEO
With heaps of sellers trying to compete for a spot in the Amazon search result pages, you can't possibly beat them by only working manually. You have to go farther than that. You need to make educated decisions backed by research and statistics to properly optimize your Amazon products with the right keywords.
With an Amazon keyword tool, you can adequately analyze your product rankings and how it stacks against your competition while identifying opportunities to improve your listings.
Amazon Keyword Tools Allow You to Do Away with Manual Work
While some research will still happen using Amazon's autocomplete feature, using a keyword tool can help you strategize. Instead of adding each individual entry manually, you can instead rely on a keyword tool to take away this hassle. Amazon keyword tools manage everything from filtering and sorting to the exporting of your keywords.
You Get a Lot More SEO Data Than Amazon Autocomplete
With a keyword tool, search volume, difficulty, and other types of data are all available at your fingertips. And the data is easy to export too! Here's some of the data you can get:
Search Volume: Search volume is the average number of times a specific term is entered into the Amazon search engine. The results can be filtered by year, month, week, or daily, depending on the tool you use.
Keyword Difficulty: Keyword difficulty is how hard it is to rank for a specific keyword. This is measured on a scale of 1-100, with 100 being almost impossible to rank for and one being easy to rank for. Knowing this metric can help you determine if it's worth your money and time to work with that specific keyword.
CPC (Cost Per Click): Cost per click is the price paid when a customer clicks on an advertisement or link with that specific term. CPC allows you to determine if the keyword is in your budget.
Competitive Density: Competitive density represents the number of advertisers you'll compete against in paid search for a particular keyword. This affects your ranking in advertisement results and your overall budget.
Each piece of data helps your business make an informed decision around its SEO strategy. This narrows your focus and helps make profitable keyword decisions.
The 9 Amazon Keyword Tools You'll Love Most
There are a bunch of tools out there that claim to be the "best" at doing Amazon SEO. However, the reality is that they're all good at something specific and not so much for other tasks. Each keyword tool will perform the same primary function: to find keywords that contribute to your Amazon SEO strategy. We've ranked each tool according to what they do best.
Keyword Tool #1: Amazon Keyword Tool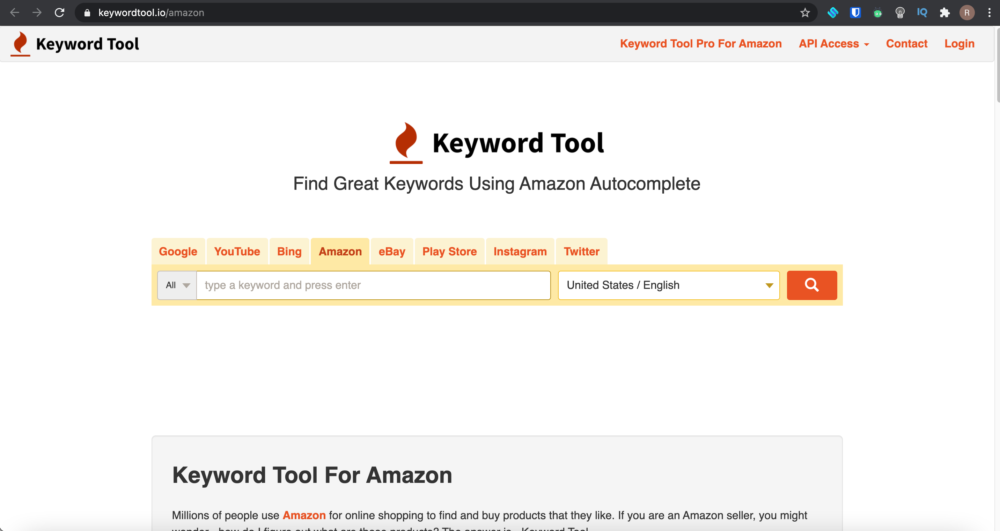 If you want the most accurate data available to you during your keyword search, go straight to the source with the Amazon Keyword research tools, which can be located through your Amazon seller app. Once you enter your keyword through Amazon's search tool, you'll be able to get results. These include cost per click, search volume, competition, and any related keywords to your search. The downside is the hefty price tag associated with viewing the full results, with plans starting at $89 a month.
Keyword Tool #2: Ahrefs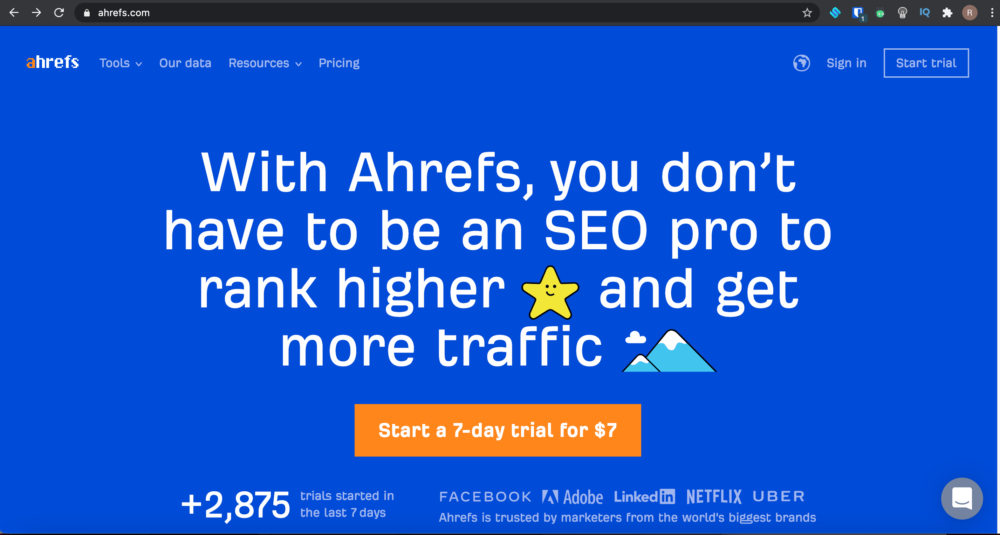 Ahrefs is one of the most popular SEO toolsets on the market. Ahrefs provides hundreds of tools, community help, and accessible learning tutorials to integrate users into the platform. However, Ahrefs takes their keyword explorer tool a little further by providing "Clicks" Data.
While a keyword may be searched often on Amazon, it doesn't mean customers click on products associated with the keyword. Ahrefs shows the number of clicks on the search results. Use this tool to assess if a keyword is worth your time to use.
Keyword Tool #3: Jungle Scout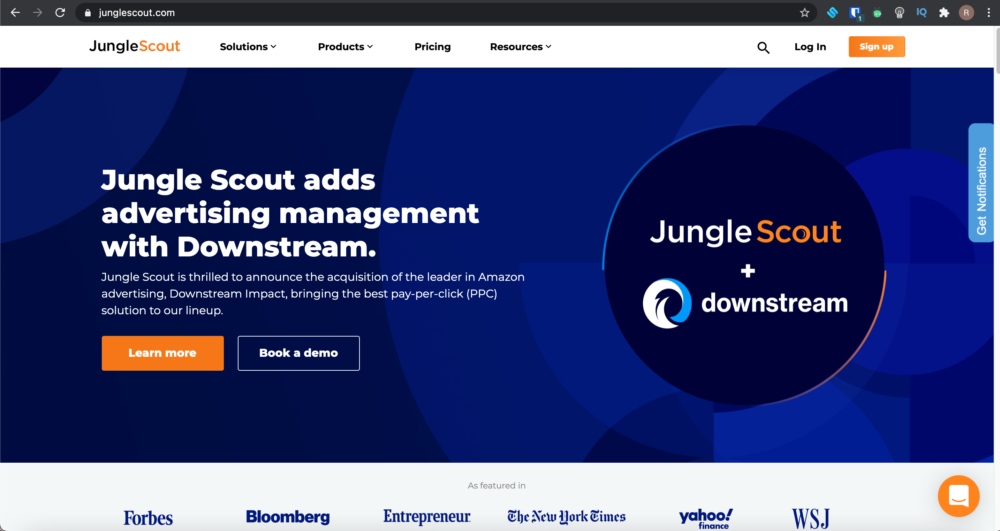 Jungle Scout features a collection of tools that sellers on Amazon can use to boost their online sales. However, the most valuable tool on the platform is called the Keyword Scout.
Keyword scout uses Amazon data to provide the exact keyword volume search based on year, month, or day. It will provide a relevancy score on the keywords you choose and generate valuable keyword ideas for products and campaign listings.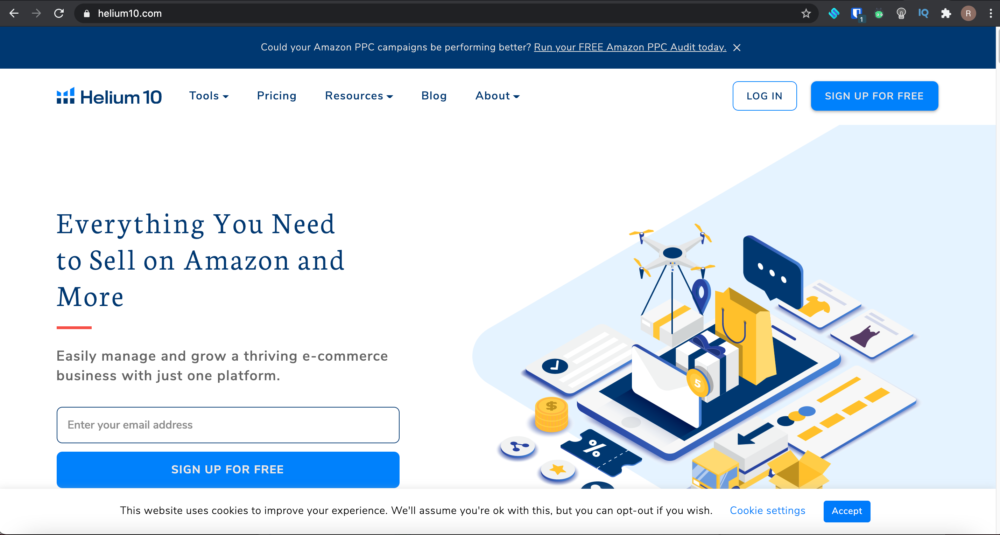 If you're looking for an Amazon keyword research tool that dives deep into your keywords, Helium 10 is your go-to platform. Unlike other tools that only display basic keyword information, Helium 10 gives you an in-depth look at your best keywords. Once you type in a keyword, you'll be able to view reports associated with the keyword, such as top products, Amazon recommended, word frequency, distribution, and volume.
Keyword Tool #5: SellerApp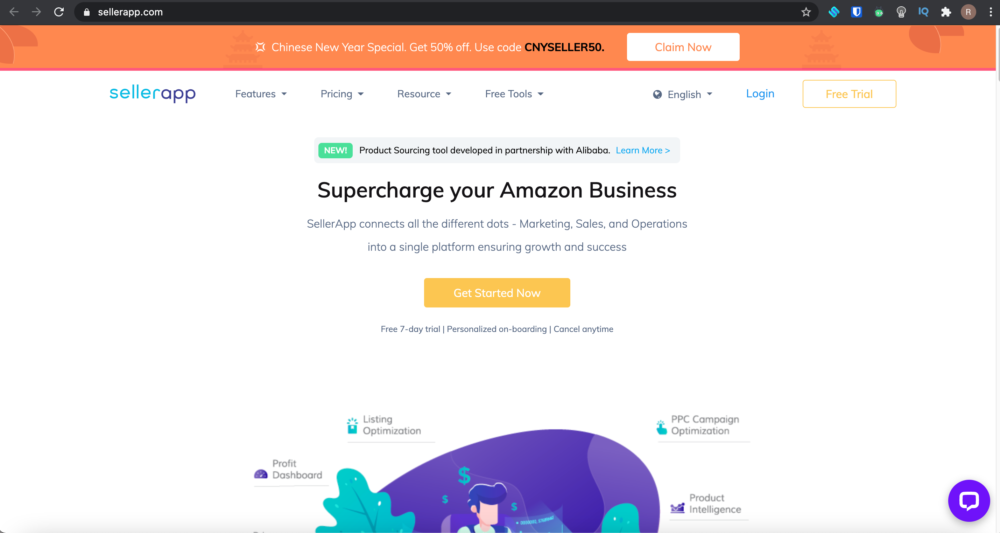 If you're on a tight budget, SellerApp is an excellent tool to check out for identifying keywords on your Amazon PPC campaigns or product listing. The keyword tool is completely free and made up of over 100 million keyword suggestions, which allows you to find low-level competition keywords to help benefit your Amazon sales.
Keyword Tool #6: Keyword Inspector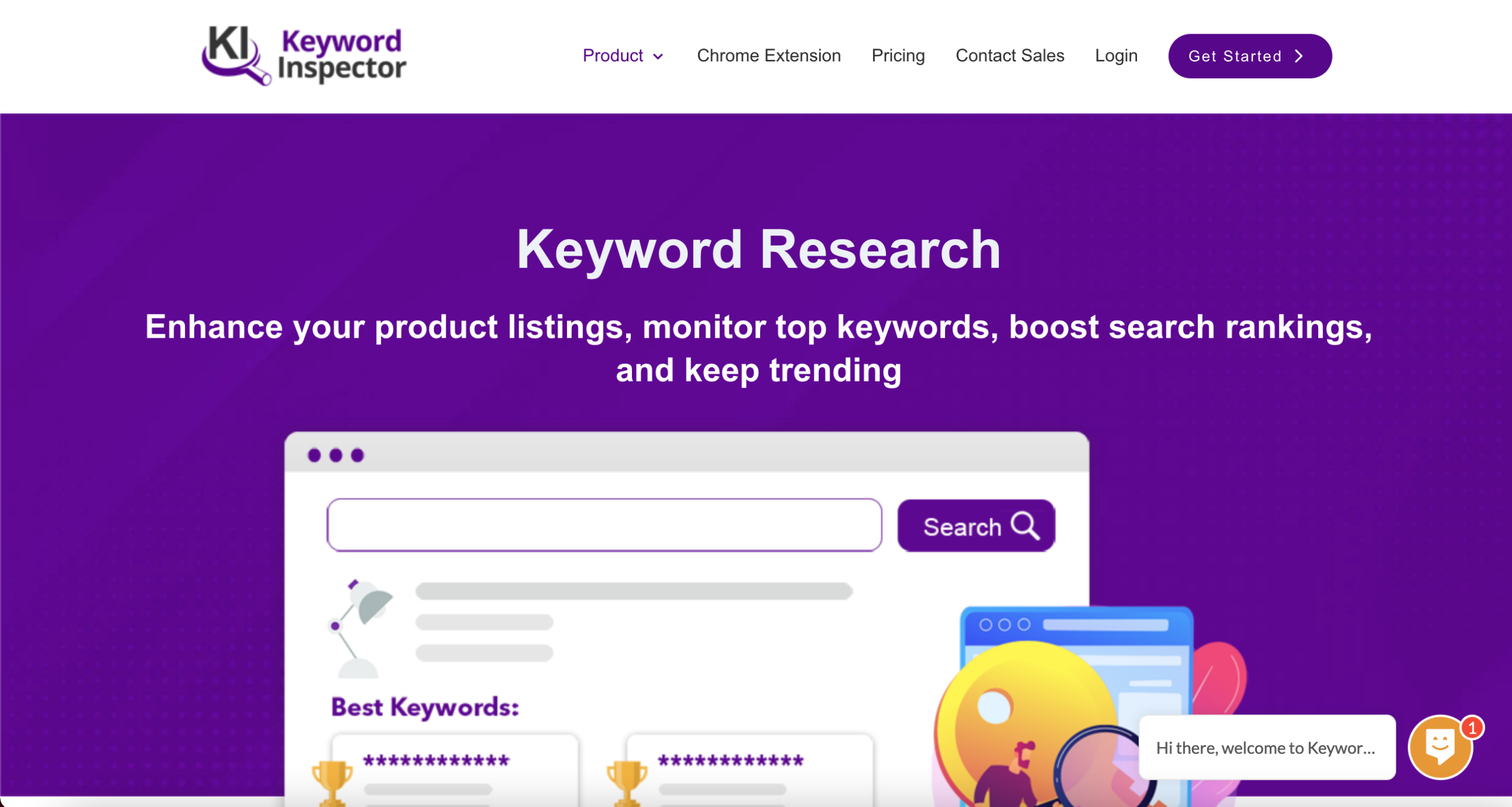 Keyword Inspector is a fantastic tool to find reports with over 500 million keywords available in their database alone. The most distinct feature of Keyword Inspector is the ability to search reverse ASIN on either your own or your competitor's products.
To use this feature, insert any link to an Amazon product in the Keyword Inspector platform, and you'll be able to see what keywords rank the best on that listing. This information can help you to stay ahead of your competitors or analyze your own listings.
Keyword Tool #7: Merchant Words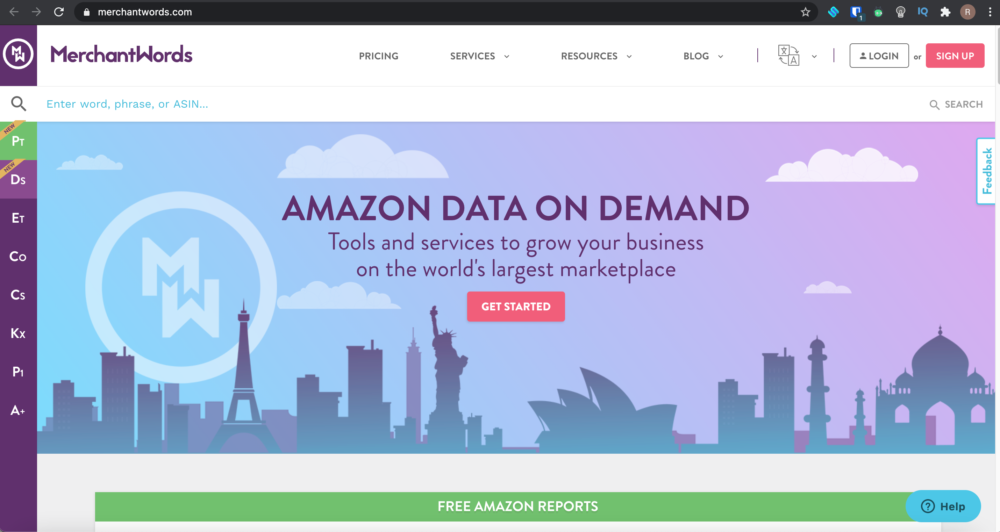 Merchant Words is both a highly affordable and well-rounded keyword research tool for most Amazon Marketplace niches. Merchant Words has been building its database for over eight years and has been continually improving its data quality. The best feature of Merchant Words is the ability to provide long-tail keywords, which Amazon sellers often ignore, but is a great way to rank in a keyword within your specific niche.
Keyword Tool #8: Scope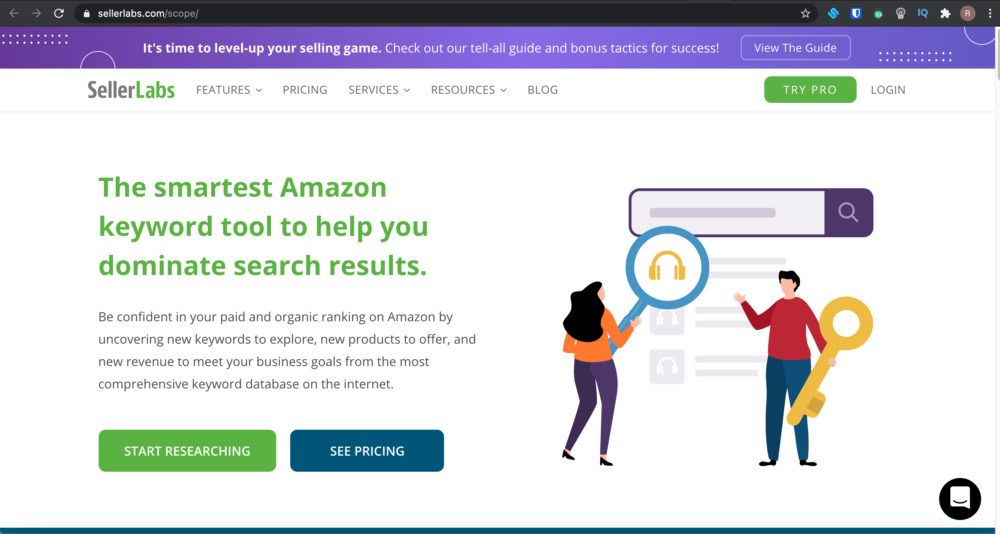 If you want to dominate your search results, use the Seller Labs Scope keyword tool. If you use Amazon FBA or already run an Amazon store, this is an easy way to scout keywords that are profitable and the products that rank well within those specific keywords. Seller Labs Scope keyword tool is a great way to ensure your keywords match your products or proper product category.
Keyword Tool #9: AMZ Tracker Tools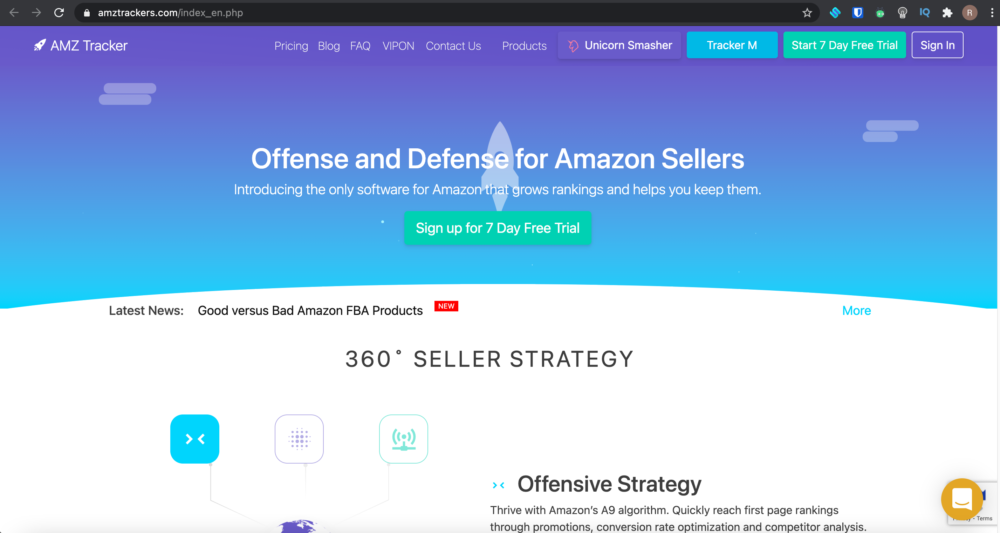 Not only does AMZ Tracker Tools provide amazing insight into the right keywords for your products, but it will also help you integrate the right keywords into your advertisements or product descriptions on Amazon. AMZ Tracker Tools boast tons of tips to help Amazon sellers reach their goals, including promotions assistance, first-page ranking techniques, and keyword tracking.
Each tool has its own pros and cons, so you want to make sure you're getting maximum value out of each, knowing that they're not going to suit you well for specific purposes. Understanding your goal with your keyword research will help you determine the best keyword tool for your Amazon SEO strategy.
Increasing Your Brand's Visibility On Amazon With SEO
SEO is known for its incredible power to give business owners a predictable way to generate revenue and acquire new customers. However, preparing a great SEO strategy in 2021 is far from easy. Keywords are only one part of the equation in your Amazon SEO strategy.
Furthermore, if you're trying to rank high in Amazon's search results, you also need to consider the following:
The Number & Rating Of Your Reviews
Your Product Unit Percentage Rate
The Number Of Customers That Add Your Product To Their Shopping Carts
The Volume Of Sales
Your Product's Relevancy
Your Product's Listing Optimization (Titles, Images, Backend Search Terms)
It can be overwhelming to produce results with SEO on Amazon and can often feel like a full-time job. If you're feeling overwhelmed, consider using an Amazon marketing Agency, like Sunken Stone, to handle all of your Amazon Marketing needs. Being the experts we are at Amazon Marketing and Branding, we'll create strategies that work for your business.
Does Your Brand Have What It Takes For Amazon Success?
Take the Sunken Stone success quiz and see how you measure up to the competition. It's quick and easy, but it accurately predicts whether or not your brand has what it takes to succeed on Amazon today.
Don't waste another minute wondering if your brand has what it takes—click the image below to take the success quiz. If it turns out that your brand isn't going to succeed, we'll explain several steps to take so that you prepare for Amazon seller success!
Request A Free Proposal
You're not alone. Many businesses find it difficult to scale on Amazon. That's where we come in. We are a full-service, technology-driven Amazon Services agency focused on driving results for our clients..
We have a proven 4-pillar process that helps businesses achieve higher sales, AOVs, ROIs, and other 3-letter acronyms. Let us show you how we can help you achieve the same success. Click below to request a free proposal.
Frequently Asked Questions
Are Amazon's SEO Tools Free?
Using Amazon's Keyword Planning Tool is not entirely free. You will be able to access limited reports for free. However, to receive the complete data, you'll need to pay for a monthly package, with the lowest-priced package pricing at $89 a month.
What Is A Keyword?
A keyword is a term that is searched on Amazon, and when entered, yields results that relate to that keyword. For example, if you search the word "glue" by typing it into Amazon's search bar, you'll receive results showing you different glue types you can buy that best match your initial keyword search.
Is Amazon Keyword Tools The Only Keyword Planner?
Not at all! There are tons of other keyword tools to choose from on the market. As we listed above, each tool has its specific advantage to help you with your Amazon SEO strategy. Choose the Amazon keyword tool that makes sense for your particular company goals.
How Do I Do Amazon Keyword Research?
Keyword research is a process that involves finding relevant words or search terms that customers can use to find the services or products you offer. The process itself can seem a little confusing, so check out our complete guide on how to conduct Amazon keyword research.
Why Is Keyword Research Important?
It's essential to focus on keyword research to make sure that your product pops up when customers are searching for it. Without keyword research, your products can get lost among the millions of other products available on the marketplace. It's important to conduct keyword research to ensure you stand out from your competition and increase your overall profitability.