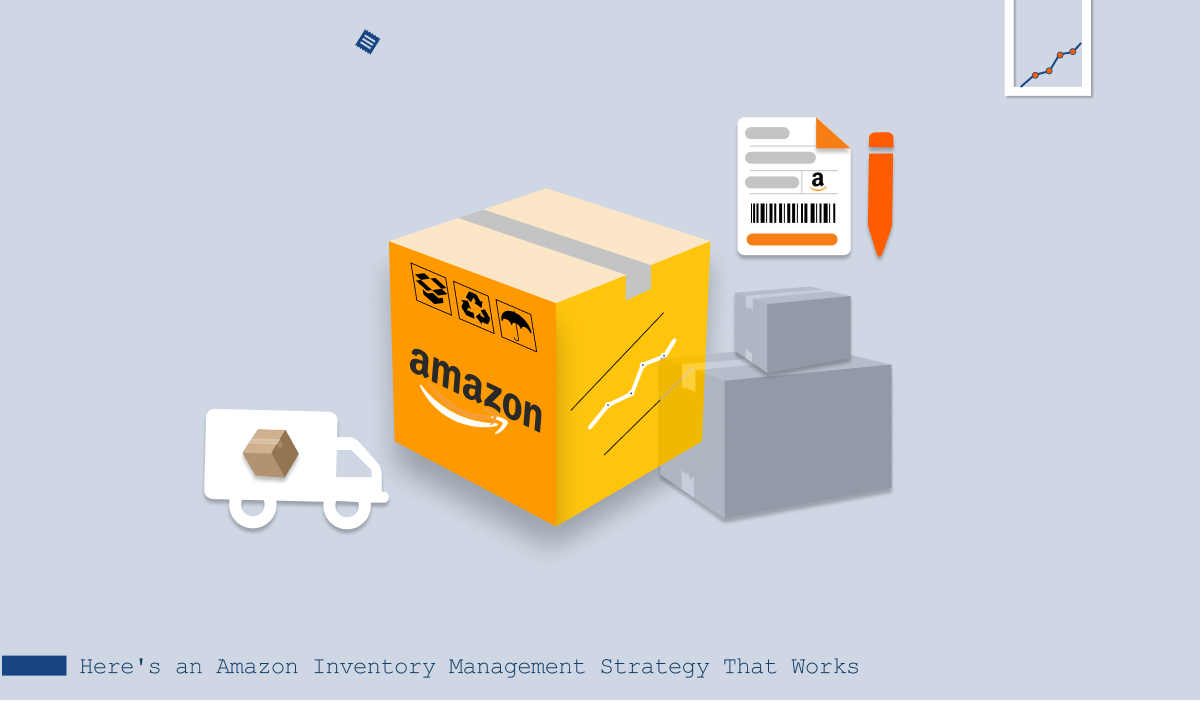 Here's An Amazon Inventory Management Strategy That Works
Amazon is the largest online retail marketplace in the world, bringing in over 386 billion dollars in revenue during the year 2020. Amazon is packed with potential for both small and large businesses to build their business profits and expand their reach in the online marketplace.
However, Amazon is very different than most online marketplaces because of its massive size, capabilities, and strict seller guidelines. If you want to succeed, you need to have excellent inventory management, so it only makes sense that you need to invest in a strategy that works for your needs as a seller. But what does that mean?
An inventory management strategy is a set of processes created to ensure that you can meet customer demand when selling your products. It's the method of selling, storing, and sourcing your inventory at the right place, time, cost, and stock.
A successful inventory management strategy can lead to a significant increase in sales, high ranking seller ratings, positive reviews and contribute to your business's overall success.
With the right processes in place, most of your inventory management can be completely automated, either with Amazon's online selling tools or through a professional inventory management company.
This allows you to focus on the more essential parts of your business instead of the everyday mundane tasks. By understanding the importance of proper management strategies to implement within your business, you're sure to find success within your industry.
>> TAKE THE SUCCESS QUIZ NOW: This 2-Minute Quiz Accurately Predicts Whether Your Brand Has What It Takes To Succeed On Amazon Today
What is An Amazon Inventory Management Strategy?
As an Amazon seller, your goal is to increase brand awareness while maintaining and potentially increasing profitability in the marketplace. To do that, you must have a substantial inventory management strategy.
Your Inventory Management strategy is all about finding ways to drive your costs down efficiently while delivering a flawless experience to your customers. The most important ideas behind implementing a thorough inventory management strategy include:
Understanding your inventory
Supply lead times
Supply chain components
Creating systems to automate the issues you find within those components
Implementing strong, repeatable fulfillment procedures
By investing in an Amazon inventory management strategy for your business, you'll be able to:
Consistently make sales while attracting your customers because you'll have the inventory and products to support your orders.
Manage any losses, theft, or inventory errors in your inventory.
Confidently project inventory needs which will help decrease the price to store products or money lost on unsold goods.
Stay on top of expiration dates, and reduce the amount of lost product due to unsellable goods.
The long-term benefits of creating an inventory management strategy go well beyond Amazon. Once a customer finds your products and likes what they receive, they're likely to check out your website, become loyal customers, and even recommend other people they know to your products. Plus, you're able to market to users worldwide by leveraging the visibility Amazon provides to sellers.
Why Bother Implementing Good Inventory Management Practices?
It's one thing to sell a few products on Amazon. However, it's another to scale into a fully-fledged business. Without proper management, your inventory will become a mess over time, which can affect how well you can deliver products to your customers.
With the appropriate systems in place, you're able to effectively manage your inventory, including accurate count numbers, data to support your sales, and complete control of your supply chain so you can make the best decisions for your business.
If you're curious how inventory management can make a true difference in your business, consider the following Amazon's top sellers who could properly implement inventory management into their business.
PharmaPacks

: With over one million total sales, Pharmapack sells everyday medicine, nutrition, baby, health, hair care, makeup, and other household products by reselling popular household brands like Tide and Scotch. They use giant warehouses to store their products and plan their stock levels efficiently to keep up with demand. By doing this, they have a consistently high rating on all of their products, none falling below 4.5 stars.
Utopia Deals

: Utopia is a top retailer on Amazon, selling their brand line of bedding, towels, home, kitchen, and clothing items worldwide. They have around-the-clock warehouse operations, which helps to attribute to the success of their business. Utopia works closely with its supply chain to ensure that products arrive on time and that they can provide the best prices to their customers.
Feetures

: Feetures was able to scale from a one-woman operation to a multi-figure profitable business by utilizing fulfillment by Amazon. Feetures used to ship from a manufacturer to a private warehouse and would then need to pick and send orders to customers. However, this process became unsustainable as orders started to grow.
They decided to change their procedure and have their manufacturer ship directly to Amazon fulfillment centers, allowing her to capitalize on Amazon's resources, including their enormous warehouses and staff to pack, pick and ship their orders. Instead of spending hours filling orders, their business could focus on growing and reaching more customers.
Having an Amazon Inventory Management Strategy is imperative to your success. In each example we listed, the seller found a process that they could consistently repeat to guarantee success. They manage their product inventory and order fulfillment efficiently, which boosts their profitability while keeping their customers happy.
Where to Start With Your Amazon Inventory Management Strategy
The hardest part of any project is the very beginning when you have nothing in your hands to say that you've made it. That's what it feels like to create an inventory strategy from scratch. You'll face many hurdles when starting your Amazon management strategy, and that is entirely normal.
Like anything you must create from scratch, you have to start with the basics, including picking your products and creating attractive Amazon listings to attract customers to your page.
Then, you need to evaluate your supply chain to ensure you have the right amount of products in an appropriate amount of time to maintain your inventory and fill your customer's needs. Finally, you'll need to evaluate how much stock you keep on hand, how you store it, and the best fulfillment strategies to scale your business.
---
7 Steps to Make Your Amazon Inventory Strategy More Effective (& Efficient)
If you want to make the most out of your Amazon inventory management strategy, you need to start thinking in smaller steps. Analyzing your inventory chain's pieces will ensure you're making the right decisions for your business to increase sales and decrease unnecessary expenditures.
Depending on your specific industry or niche, you may need to tweak your process. However, the following steps' overall strategy can work for anyone selling on the Amazon marketplace.
Strategy Step #1: Analyze Your Listings
If you want to make sales and reach customers, you need to ensure your products entice customers. If you're using unprofessional content that contains grammatical issues, missing photos, descriptions, keywords, or provides no information at all, you will not be able to make sales.
You need to analyze your listings to create descriptions that captivate your audience and sell your products. Using clean and clear photography with white backgrounds will convey a sense of professionalism and trust in your products.
Check your listings in bulk for errors, and analyze the keywords you're using to guarantee you're reaching your proper target market.
Strategy Step #2: Calculate Your Inventory Turnover Rate
Next, analyze your inventory. Your inventory turnover rate lets you know how fast you sell your products on Amazon by examining your sales data. With this information, you can buy the proper amount of inventory to retain stock levels between shipments.
By knowing how much product you need, you're less likely to overbuy and sit with the extra product that's not selling or underbuy, potentially leading to no inventory, loss of sales, and poor customer reviews.
An easy way to figure out the amount of stock you're selling is to use Amazon's built-in inventory forecasting tool called Amazon Selling Coach, located on your seller central dashboard.
This program will monitor the number of sales you make compared to your available stock and recommend the amount needed to replenish your inventory.
Strategy Step #3: Evaluate Your Supply Chain's Lead Time
Once you know how much inventory you'll need, it's essential to compare that with what your supply chain can provide.
Your supply chain can make or break your Amazon store's success, so it's crucial to analyze each part of your supply chain, including sourcing your product, how it's made, how it is shipped, and how it arrives at your warehouse. Check each component to ensure that you're using the most affordable and efficient vendor for your product needs.
Your product's lead time is the amount of time it takes to source, ship, and stock your product after placing an order. If your supply chain's lead time is two weeks, that means from the moment you order, you'll have to wait 14 days before receiving your products.
Understanding this time can help you schedule your orders efficiently to meet your customer's demands and avoid low stock.
Create a backup plan with your suppliers to ensure an alternative way to deliver the products you need. If your usual overseas supplier's products are stuck in customs, plan which alternative vendor you could rush order from that is located closer to home.
Analyze each component of your supply chain to see how you can speed up the process to meet your product needs. For example, if the shipping process is consistently delayed, consider using a new shipping company. If your product source is overseas, consider using a vendor in your same country to avoid these issues.
Strategy Step #4: Plan For Seasonal Inventory
Certain times of the year, such as specific seasons or holidays, can impact your inventory because your product's need increases. You want to understand when your products will be in demand and when you're going to see a slower selling season.
Comparing the average sales of your product throughout the year will help you to find these critical times.
You'll want to forecast how much inventory you'll need at least a few months in advance, so you can stock up and order more merchandise before your busy season.
Consider checking-in with your suppliers before the rush to confirm that they can meet the amount of product you'll need during this time of the year and that there will be no shipping issues or delays.
Strategy Step #5: Plan Out Promotions
Don't use promotions without some type of strategy behind it. Using promotions such as offering a special sales price or free shipping can help your business grow.
However, having too many sales can wipe out your entire inventory and cause you to order last-minute additions, resulting in backorders, angry customers, and low ratings.
To combat this issue, you need to set a limit for the number of promoted items you want to sell in your inventory through your Seller Central account. Once this number or limit is reached, the promotion will be removed from your listing, and the rest of your products will be sold at a regular price.
When you manually remove a promotion, it takes a minimum of four hours for that change to occur, so ensure you have enough stock to cover at least a four-hour selling period.
Strategy Step #6: Consider Dropshipping
Instead of paying for your product in advance and managing your own inventory, consider skipping this process and shipping directly to your customers instead. Dropshipping is a form of online selling where the retailer doesn't have to pay upfront for the products they list online.
When a product is ordered, the supplier will pack and ship the item instead of a retailer having to do the work. The dropshipping process allows a retailer to keep their prices low and takes away the burden of storing or managing inventory.
It's essential to choose suppliers that will offer competitive pricing so you can make a profit on the products you sell. Your suppliers must also be compliant with Amazon standards, which states that they must ship as promised and report inventory levels. If they're not compliant, your seller account could be impacted and even suspended.
Strategy Step #7: Scale With Amazon Inventory Management Software
Amazon FBA inventory management can do the hard work for you, including storing, picking, packing, and shipping your items. To participate, you'll need to set up your FBA account through your Amazon selling account.
Once approved, you'll prepare all of your products in your warehouse, send them over to Amazon, or have them sent to Amazon facilities directly from your products' manufacturers. Using Amazon warehouses cuts out the need to pay for a dedicated warehouse for your products, as they will be stored in Amazon warehouses.
Once a customer orders your products online, an Amazon fulfillment center will receive their order. Amazon's staff will find the items, pack and ship them directly to the customer. Amazon's shipping centers are fast, delivering most products with Amazon prime services that offer two-day or same-day delivery.
Using Fulfillment By Amazon is an easy way to manage your Amazon inventory and allows you to scale your business without the headache of storage or packing orders.
---
Your inventory management strategy will probably look a bit different than the examples in this post, depending on your specific industry. However, you'll still need the overall structure provided in the steps above to create your inventory management foundation.
Amazing Inventory Management Without The Headaches
Without proper inventory management, your growth on Amazon will stall. Creating an efficient inventory management process might seem overwhelming to handle on your own.
Amazon requires a lot of your time to make your product listing, create product content, answer customer service inquiries, manage your seller central, and forecast your future sales.
It's a lot to put on one person's plate. However, it doesn't have to be your problem. Thankfully, professional Amazon inventory management services, like Sunken Stone, exist to solve your struggles.
Allowing professionals who know how to grow Amazon sellers will help your business scale while taking away the pain of managing everything yourself.
---
Frequently Asked Questions
Why Is Inventory Management Important?
Managing your inventory allows you to always know how much of your products you need to ensure you can fulfill your customer's needs. It includes evaluating your inventory chain steps, including where you buy your products from, how your products get to your warehouse, how much of a product you have on hand, and how you ultimately fulfill your customer's orders.
What Tools Can I Use To Sell On Amazon?
Amazon allows you to sell in two ways, either FMB (Fulfillment by Merchant) or FBA (Fulfillment by Amazon). Fulfillment By Amazon will enable merchants to send their products to Amazon, where they will store, pack, and ship items as they are sold. 

Fulfillment by Amazon is an excellent option if you're looking for a hands-off approach to fulfilling your orders. Plus, you get the additional Prime shipping benefits and fast turnaround times. 

Fulfillment by Merchant allows you to have more control over how you fulfill your customer's orders. It enables you to make more money and incur smaller fees by choosing your own fulfillment options.
How Do I Improve My Amazon Customer Reviews?
To maintain positive Amazon customer reviews, make sure that you always have products in stock, the products are accurate to the listing content, and that you deliver quickly to your customers. By ensuring that you have proper Amazon Inventory Management, you can meet your customer's needs. 

Bad reviews are usually due to low-quality products or slow fulfillment. If you realize you're low on inventory, consider pausing your marketing efforts or raising your prices until you receive more merchandise. If you have a problem with low-quality products, it's time to consider a new source or supplier for your products. Use any negative customer reviews as a way for your company to improve your products and customer experience.
How Do I Start Managing My Amazon Inventory?
Using your seller central dashboard through Amazon will help provide important information about your inventory. By clicking into your manage inventory screen, you're able to change pricing or quantities, add products to your inventory, view sellers' fees for each product, track FBA shipments, and view your FBA or Merchant stock levels. If you're looking to forecast your inventory purchases using sales data, click on the Amazon Selling Coach.
Should I Use Drop Shipping For My Products?
Dropshipping allows retailers to forgo having to buy, store, or stock inventory. When a customer places a sale, the supplier will pack and ship it directly to the customer. Dropshipping can be beneficial if you don't want to pre-purchase inventory, you require lower-overhead costs, you need a way to scale your operations, or you prefer less direct involvement with your products. 

However, downsides to dropshipping include that you'll make less profit off each item, shipping can be complicated, and you're not able to accurately keep track of the inventory you have to sell to your customers. The option to use dropshipping or not to use dropshipping depends on personal preference and your business goals.
How Does Amazon FBA Work?
Amazon's FBA or the Fulfillment By Amazon program allows you to automate the process of order fulfillment by shipping your products directly to Amazon's warehouses. Amazon will keep your products in storage until a customer places an order. Amazon will then handle the picking, packing, shipping, and tracking process for you, along with any customer service issues like refunds or returns
How Do I Make Amazon Inventory Management Easier?
If the idea of creating an Amazon inventory management process makes you feel overwhelmed, you can outsource this job to Sunken Stone, a professional Amazon inventory management team. 

Sunken stone will ensure that your account is optimized using selling best practices to help you save money, time, and energy on Amazon. From managing and labeling your inventory to creating brand stories and compelling listings, you're sure to find scalable solutions to your inventory management problems.