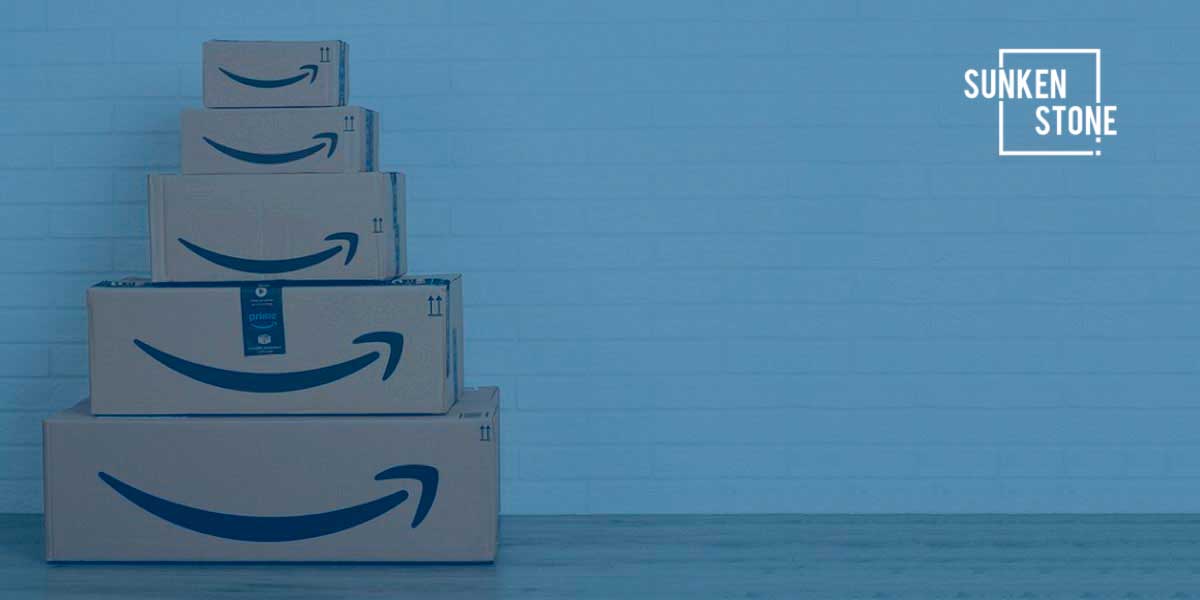 7 Efficient Amazon FBA Tips to Grow Your Business
The Amazon FBA space is dense as more third-party sellers set up shop to meet consumers' demand for high-quality products.
As such, FBA businesses need to be diligent in finding avenues to stand out against the competition.
Nailing down a solid product offering that fulfills a need or solves a pain point your customers face is essential, but it isn't enough on its own.
To really elevate your FBA business and thrive entrepreneurially, we've laid out some of the simplest, yet most effective Amazon FBA tips.
7 Efficient Amazon FBA Tips To Grow Your Business
1. Track And Record Everything
It is crucial to track and document as much as you can—key metrics, numbers, keywords, etc.—on a consistent basis.
Without proper tracking, there is no way to determine the true pulse of your business. You won't be able to effectively grow if you don't know the truth of how your business is performing compared to where you would like it to be.
Amazon offers some built-in analytics tools and reports for third-party sellers, but this native reporting falls flat of what FBA sellers should be regularly tracking.
There are numerous useful analytics tools designed to help Amazon businesses keep track of everything that's integral to growing the business.
SellerApp, for instance, offers a range of handy solutions for Amazon sellers, including estimating profit margins, automating PPC campaigns, and "real-time sales, costs & profit tracking for all your products."
Image source: SellerApp
Another useful tracking tool for Amazon sellers, Zonguru, offers product research, listing optimization, keyword tracking, and several other helpful services.
In particular, Zonguru's Business Dashboard (below) keeps track of your revenue, ad spend, best and worst performing SKUs, and much more.
Image source: Zonguru
Ideally, everything from day one is tracked and accounted for. Many businesses make the mistake of skimping on the amount of data they are keeping track of and analyzing.
But the importance of recording as much as possible cannot be understated, especially as your business grows and one day you may decide to sell it.
It would also be beneficial to set up multiple sources of tracking, or 'redundant tracking' to determine that the information that you are basing your business decisions on is truly accurate.
Additionally, Amazon's revenue calculator is a helpful resource to determine if selling specific products via Amazon is cost-effective after fees and expenses are accounted for.
2. Capitalize On Your Strengths And Passions
It may be tempting to focus on whatever may earn you the greatest profit, but it's a fruitless pursuit.
Entrepreneur Alec Rose says, "When you're first looking at online businesses, it can be kind of exciting to see there are so many different ways of making money online…so just try and focus on one thing and become an expert in that field."
Instead of constantly chasing the next big venture, let your passions and strengths guide your business decisions.
Being passionate about what you are selling is going to give you a true advantage in your industry, especially over the long term.
It's essential to not only identify a market need but to also see where that need intersects with your strengths and passions to ultimately create an FBA business that stands the test of time.
Take Tolu Akinola for example, who used his passion for tackling challenges across the board to create a solution for frustrated Shopify app users.
Maybe you, too, could direct your passion toward finding a product that improves the lives of others in some way.
In FBA, personal passion can also be helpful in seeking out exclusive relationships that can grant you a significant competitive advantage.
Use your passion to leverage existing connections that you may have in the industry. If you need to hire, make sure you are hiring people who share a similar passion for what you are selling.
This can help the business move forward as a united team rather than remaining stagnant and separated as individuals.
In addition to leveraging existing connections, it is important to nurture and improve these connections moving forward.
For instance, Entrepreneur suggests simply reaching out to your supplier routinely and asking about improving quality, communication, and/or costs.
If you don't ask, you can never know if they are willing to work with you or not. This is also a good way to gauge if the supplier you are currently working with is your best bet for a longer-term relationship.
If they are unwilling to work with you on simple requests, it might be time to look elsewhere.
3. Build Your Own Platform
One major pain point with running an FBA business 100% through Amazon is that the platform withholds direct access to your customer data. But obtaining and analyzing customer information can be monumental for long-term business growth.
As such, it's worthwhile for an FBA business owner to find an alternative method to capture customer data. This can be effectively done by establishing yourself with a corporate brand.
Amazon can be your surrogate while you build a dedicated website for your business.
Image source: Feedvisor
Here are three ways you can use a separate website to help grow your FBA business:
Maintain Your Own Brand.
Having your own web presence outside of Amazon can allow your business to obtain its own direct searches instead of Amazon absorbing all your customer traffic.
In addition, this allows your business to grow through another customer acquisition channel while still benefitting from the convenience of an FBA business model.
Use Your Corporate Website To Collect Affiliate Commissions From Amazon.
Normally, by selling a product through your FBA business, Amazon will take 30% of your revenue. By using your own website to link to your products on Amazon, you can collect an additional 5-10% affiliate commission from Amazon, adding a material increase in margin to your product.
Perform Email Capture On Your Own Website.
By building a website with the proper tracking (Google Analytics, Google Tag Manager, and UTM codes), you can determine who purchased from your site, where they came from to find your business, and what their email address is.
All of this is valuable information that can be used later to optimize your business' sales funnel.
Learn how to create a website for your FBA business with this useful overview.
4. Take Advantage Of Email
The value of email should also not be underestimated when it comes to growing your FBA business. Email is a sustainable traffic source and a valuable tool for learning about customers and elevating your business to the next level.
Email addresses can be an incredible asset to a business and ultimately help increase sales if used correctly.
These addresses can be used in a myriad of ways. You can use your email list to send email newsletters that keep customers up to date with your business, and you can use email marketing campaigns to announce sales or promotions that you are offering.
Email drip campaigns are a great way to retarget those customers who may have browsed but not purchased or purchased in the past but not for 6 months, or even added something to their cart but didn't follow through with the transaction.
These types of emails not only keep your customers engaged with your business/brand but can also drive 'lost sales' back to your site to hopefully convert. Here is a helpful guide by Mailchimp to help you learn more about drip campaigns and how to implement them.
Facebook is another tool that can be used to make the most out of your email addresses. It allows a few specific forms of targeting through paid advertising, the first being Facebook Lookalike Audiences.
Facebook describes lookalike audiences as a way to "reach new people who are likely to be interested in your business because they share similar characteristics to your existing customers."
Meaning, after you upload your email list, Facebook finds 1-2M other people on their platform that have similar interests and behaviors to those in your uploaded list.
In addition to lookalike audiences, Facebook also allows you to create Custom Audiences. These audiences are a bit simpler than Lookalike Audiences, as they allow you to simply upload a specific list of email addresses and show your ads only to those in the uploaded list.
5. Optimize Best Sellers Rank
The Best Sellers Rank (BSR) of your key product listings is an important metric for your customers and sales. Your BSR is a representation of how your product's orders compare to "other products in the same category within a given amount of time."
The key is to focus on outselling your competitors. If you can't seem to keep up with the competition's BSR rank, it might be time to switch up your product offering and find something less competitive.
To maintain a solid BSR ranking, it's crucial that you don't give your customers a reason to rate your product down or write poor reviews.
One additional BSR tip is to win the Buy Box, AKA the white box to the right of the product image (or below on mobile) that contains the "Add to Cart" and "Buy Now" buttons.
The seller represented in the Buy Box is the one whose product gets added to customer's carts/purchased right away, so it can pay off immeasurably to win it—especially as some 82% of Amazon sales go through the Buy Box, and this percentage is even higher on mobile.
For more information about the Buy Box and how to optimize your business for it, head over to this article by BigCommerce.
6. Experiment With Your Advertising
Advertising can be used as an effective tool when it comes to building your customer base and growing your business. Unlike the slower effect of SEO, paid advertising is a relatively quick solution that can drastically lower customer acquisition costs if done correctly.
Constant experimentation is crucial to successful advertising. Even if you think you know your business, it can surprise you. The best way to learn about what advertising works for your business is to conduct multi-variant testing across each step of your sales funnel.
For instance, testing the creative on your ads first (images and copy) can help lower CPC. People click on advertisements based on what they see.
They generally first see the image and then read the copy. By A/B testing images first, you can determine which image will get you the highest CTR for the lowest CPC. The same goes for testing copy, too.
Optimizing images and copy first can allow you to reallocate ad spend to focus on the more expensive process of audience testing and optimization.
Image source: AdEspresso
Moreover, ensure you are using all the email addresses that your business has accrued over time (as mentioned above) to build retargeting, custom, and lookalike audiences to advertise to.
Head over to AdEspresso's Facebook A/B testing breakdown to learn how to conduct A/B testing in the most efficient way possible.
7. Utilize Content Marketing
If you haven't tried to create your own content, 2022 might be the year to test your skills as a copywriter. By building a blog that relates to your product niche (if there is enough of a defined niche) you can drive traffic towards your products.
SEO research shows that the ideal blog post length is roughly 1,700 – 2,400 words. By focusing on creating content of this length that demonstrates you're an expert in the industry, you can gather up organic traffic from people who are most likely to convert on your Amazon products.
You will have to do some basic keyword research (which the tools mentioned earlier can help out with) and decide which topics might be too competitive to rank for.
This work can be outsourced, as can the copywriting, so an effectively run blog doesn't have to be a time-drain and could very well make all the difference to your business.
Using the blog to gather email addresses could also lead to a new way of communication with potential customers. Once you have enough contacts, you can try weekly newsletters and push notifications to create more engagement.
>> REQUEST A FREE PROPOSAL: Take 30 seconds to request a proposal and receive a customized roadmap to skyrocket your sales, beat your competition & make your brand thrive on Amazon.
Closing Thoughts On Amazon FBA Tips
You can run an FBA business with a bit of upfront capital (less than a traditional e-commerce business) and some hard work. But growing that FBA business into one that has surpassed its competitors is where the main roadblocks lie.
Much like running any other fulfillment e-commerce business, the basic keys to success all surround utilizing the resources you have. Wisely optimize each step of your process along the way.
Amazon offers a wealth of resources that sellers can use to make their FBA business successful; make sure you tap into everything they offer and try to be as diligent as possible with every process. This will make your FBA business airtight and optimized for growth.
If you're interested in learning more Amazon FBA tips like the ones described in this article, we have other useful advice for Amazon sellers here. If you are interested in selling your FBA business now or down the road, we offer free valuations to help you get started on the process.
---
Do You Feel Like Your Amazon Business Is In A Rut?
You're not alone. Many businesses find it difficult to scale on Amazon. That's where we come in. We are a top-tier, turnkey, performance-based Amazon marketing agency that can help you take your business to the next level.
We have a proven 4-pillar process that helps businesses achieve higher sales, AOVs, ROIs, and other 3-letter acronyms. Let us show you how we can help you achieve the same success. Click here to schedule a call with a strategist.
Request A Free Proposal
Are you tired of losing sales to your competition on Amazon? It's frustrating for otherwise successful brands to underperform on the leading eCommerce platform.
Sunken Stone will help you find a solution to increase your profits on Amazon. Click "Request My Proposal" below to receive a customized roadmap to beat your competition and uncover new areas of opportunity for increasing sales.
---
Frequently Asked Questions
Is FBA still profitable 2022?
Amazon FBA can be profitable for businesses in 2022. Before selling products using Amazon FBA, you'll want to determine how much you'll spend in fees. There's also an option to try Amazon FBA with a few products to see how successful it is for your business.
Is Amazon FBA still worth starting in 2022?
For businesses that are looking to expand their product offerings and reach a larger audience, Amazon FBA can be a great option in 2022. While there are some fees associated with using the program, businesses can make use of Amazon's fulfillment services to save time and money.
Can you get rich doing Amazon FBA?
Most new Amazon FBA sellers can expect to generate $100 profit per month. However, depending on the products you sell and the time you invest in your business, it is possible to make a significant income from Amazon FBA.
How much do Amazon FBA sellers make a year?
More experienced Amazon sellers make around $1,000 a month in sales, with there being a wide range in earnings for those who use the FBA program. The amount you make will depend on factors like the products you sell and how well you market your business.